Are you a blogger, coach, freelancer or online entrepreneur?
Do you want to legally protect your online business in less than 30 minutes?
Meet Kristen!
Kristen wanted to protect her live tarot reading business from the start, and she "works with people one on one." She has clients that need her tarot services.
Her customers have even asked her about how she safeguards their personal information?
Because Kristen had purchased my VIP legal bundle, she was able to direct them to the Privacy policy page on her site without hesitation.
She loves our VIP legal bundle because of the "excellent pricing", great customer service, and credibility that comes from having the templates made by a lawyer and entrepreneur (aka me!).
In just 1 minute, watch how Kristen felt BEFORE and AFTER purchasing my legal bundle below!
Watch the full video
here
.
Thank you so much, Kristen, for this wonderful testimonial! I am so glad that my VIP legal bundle relieved you of stress and worry as you grow your business.
In case you haven't noticed, my VIP legal bundle is the absolute BEST legal bundle available, providing you with the MOST legal protections for the lowest price!
Why our VIP Legal Bundle is the BEST legal bundle available?
You will receive 16 popular legal templates as well as 16 BONUSES.
Because the bundle is DISCOUNTED, you save $1000!
You will receive a Private Membership Access where you will be able to download templates at any time and ask questions in our Facebook support group!
You get Lifetime FREE updates
Can use the templates over and over again on multiple businesses of your own!
You deserve to have peace of mind and know that your business is operating LEGALLY!
Grab the
VIP legal bundle and 16 incredible bonuses
here
.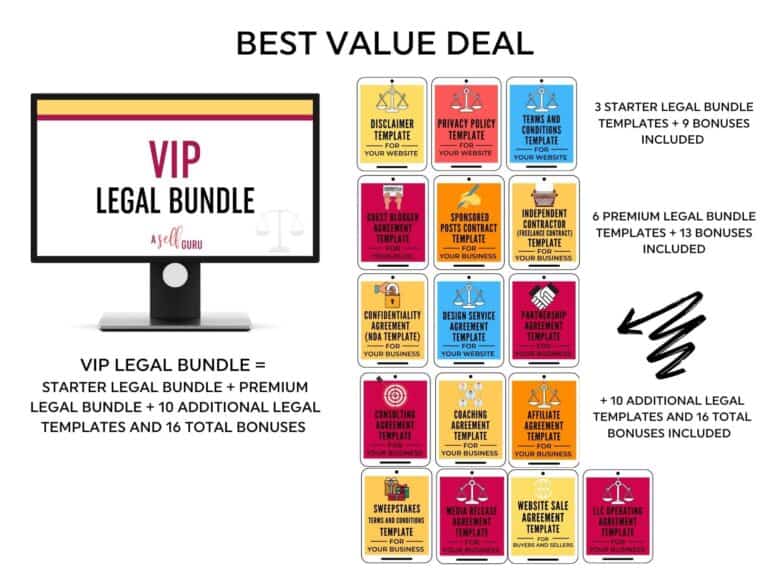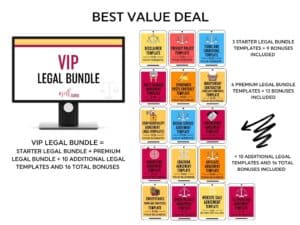 They omit key provisions that are critical to the protection of your online business. This defeats the purpose of using them!
Shiho became aware of this and decided to invest in my
VIP legal bundle
instead.
99 percent of legal mistakes made by entrepreneurs can be avoided if they took action to legally protect their businesses.
My entrepreneur father is an example of this, and we could have avoided the nightmare of fighting a $90,000 lawsuit if we had invested in proper legal documents and contracts!
You can, thankfully, avoid all of that stress and financial loss.
To legally protect your blog and comply with the laws, you must have at least these three legal pages here.
Earn Your Small Investment Back Tenfold from my VIP Legal Bundle!
After purchasing any of my legal bundles, you can join my high-paying affiliate program and earn a generous 40% commission on each sale! I've paid more than $150,000 to my customers in affiliate commissions already.
Watch this video below to learn 8 secret tips and tricks to earn your small investment back tenfold!
Related Blog Posts to A Self Guru's VIP Legal Bundle:
ARE YOU READY TO SAY YES TO ALL OF THIS AND PROTECT YOUR BLOG AND BUSINESS LEGALLY?
Comprehensive legal templates
Written by a lawyer
Super easy to use
Instant download
Use it on multiple websites of your own!
Come with a Facebook support group
Free lifetime updates
16 Incredible Bonuses!
Take a look inside the templates here. I can't wait to see you legally protect your business too!