Legal pages for websites and blogs are super important to prevent lawsuits!
But do you know what legal pages you must have on your website and why?
If you'd rather watch than read then…Learn more by watching this video below:
Without proper legal protection, your online blog or business is at risk of being sued, fined, or worse, SHUT DOWN.
Now I know that sounds a little bit dramatic.
But hear me out…
Many online entrepreneurs and bloggers FORGET to invest in necessary legal documents for their businesses.
This results in unexpected (and COSTLY) legal problems down the road.
I know because I watched my father's business get sued for $90,000, which could have been easily avoided with a proper legal contract.
Then when I became a lawyer, I started to see other entrepreneurs suffer the same fate.
As busy entrepreneurs, we tend to neglect the legal side of our online business.
I know because as a seven-figure blogger myself, there's always TONS to do but I'm also a business lawyer first. So I know the legal consequences of not protecting your online business with proper website legal pages are quite serious.
You could get sued and fined by the Federal Trade Commission (FTC) like these online businesses or worse, get sued by your customers or clients resulting in LONG, EXPENSIVE legal battles.
A lot of things can wrong legally without proper legal pages on your website turning your world upside down (trust me, I've experienced it first-hand when we lost our family business to that devastating lawsuit in a heartbeat!). 
And it doesn't matter what kind of online business you are running whether it's blogging, freelancing, coaching, e-commerce business, or any other kind of business. You are still going to need the RIGHT legal pages on your website BEFORE you launch your business.
It's terrifying to even think about but planning for potential legal issues is the first step to making sure all your hard work isn't derailed.
If you are a smart savvy entrepreneur, you'd obviously learn and take ACTION to protect yourself and your online business legally!
I work full-time as a lawyer, so I've had the honor of helping over 50,000 bloggers, coaches, freelancers and all kinds of entrepreneurs in the last 10 years. 
Entrepreneurs and ecommerce business owners from the US, UK, Canada, Australia, China, India, New Zealand, Thailand and so many other countries have purchased my legal templates to make their website legally compliant and protect their businesses in as little as 15 minutes.
Watch this video below to see what I mean and WHY entrepreneurs like you LOVE my legal templates and services here.
What I've also seen is TONS of entrepreneurs getting into legal trouble and all kinds of ugly disputes that could have been easily avoided with the right legal documents and contracts.
Actually, my father was one of those entrepreneurs who got sued for $90,000 because he didn't use a legal contract in his business.
But you are smarter, right?
I have a feeling you are because you are taking the time to educate yourself about the essential legal pages and documents you need for your business.
So let's get started!
If you'd rather get my FREE legal guide that sums up everything below nicely as a pdf guide you can download and read at your leisure then grab it here –
3 Must-Have Legal Pages on Your Website to Protect Your Blog or Online Business
There are 3 essential legal pages all websites and bloggers need to comply with the laws and protect themselves legally!
Those 3 legal pages on your website should be:
Privacy Policy,
Disclaimer (also includes your affiliate disclosures so you don't need a separate legal page for that), and
Terms and Conditions page. 
I'll explain all 3 legal pages for websites in detail below and why they are SO important for your online business.
Just keep in mind that you should have these 3 legal pages on your website BEFORE you launch your blog or online business.
I see so many entrepreneurs struggling when it comes to writing the legal pages for their website.
Look at how Andrew for example – how he felt before he purchased my legal templates: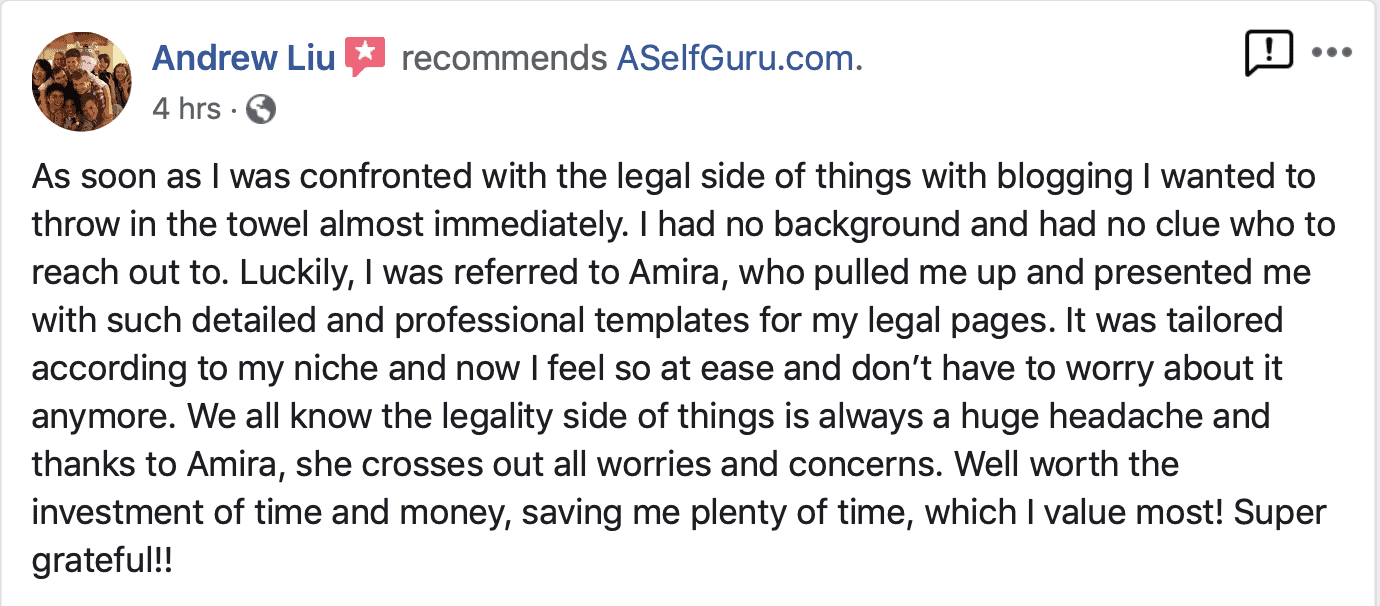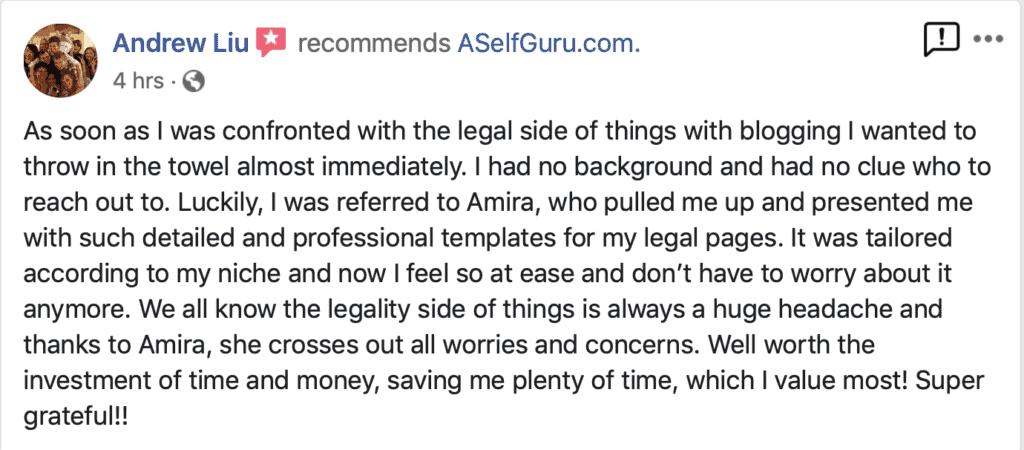 Can you relate to Andrew? This is what I hear from fellow bloggers all the time:
"I started writing my legal pages, but it's very confusing"
"These darn legal pages are so daunting to me"
"How do I begin writing these legal pages and make sure I am using the correct wording"
"I know I can't copy other people's legal pages but I have absolutely no idea where to begin" 
"Can you show me how to create a privacy policy for my blog?"
First, you absolutely cannot and should NOT copy someone else's legal pages.
That's copyright infringement (and you will get sued!).
In order to use someone's content, photos, videos, basically anything, you need to seek permission otherwise you don't have the legal right to use their stuff.
I get it, unless you are a LAWYER, you wouldn't know how to write the most comprehensive legal pages covering all your legal bases and ensuring your compliance with all kinds of privacy laws.
Lucky for you, you don't even have to waste time trying to write these legal pages yourself anymore.
Snag my best selling DISCOUNTED Starter Legal Bundle here or any other legal bundle of your choice to get done with all your legal pages in just 15 minutes!
You should also check out these 15 legal tips to blog legally. 


Free Video Lesson on How to Protect Your Blog Legally
Before I explain all 3 legal pages you need on your website, check out this FREE video lesson on how to blog legally.
I created this video lesson for the Create and Go students, which is part of their paid course but you can also watch it for FREE here.
Subscribe to my YouTube channel here to watch testimonials from other entrepreneurs using my legal templates!
First Legal Page For Websites: A Privacy Policy
The first legal page you need on your website is a Privacy Policy.
A privacy policy is a legal document that informs your website visitors WHAT information you are collecting from them and HOW you are going to use their personal information.
The important thing to remember is that you are gaining access to someone's personal information that identifies them, and they have the right to know how you are collecting and using this information.
You are legally required to have a proper Privacy Policy on your website that's GDPR and CCPA compliant.
General Data Protection Regulation (GDPR) Compliance
GDPR stands for General Data Protection Regulation. It's one of the toughest privacy laws in the world.
GDPR applies to you no matter where you reside if you have visitors from the European Union coming to your website. These could be people you are targeting through your website or your customers or simply your email subscribers!
Non-compliance with the GDPR results in some serious hefty fines of up to $20 million or 4% of the annual revenue from the prior year, whichever is greater.
Clearly, GDPR compliance is vital and one of the big ways to ensure compliance is by having a proper legal document like the Privacy Policy page on your website that clearly outlines how you comply with the regulation.
As if the GDPR wasn't enough to make your head hurt, you also need to comply with the CCPA.
California Consumer Privacy Act (CCPA)
CCPA stands for California Consumer Privacy Act. This law gives special rights to California residents.
The CCPA also grants California residents the right to request detailed information about their personal information collected from your website and they could also ask you to delete it.
You must know that violations of the CCPA are enforced by the California Attorney General, who can bring actions for civil penalties in the amount of $2,500 per violation or up to $7,500 per intentional violation!
Also, the California residents themselves can also bring a private lawsuit against you.
So the penalties for non-compliance with the CCPA are BIG.
As you can see, every online business, blog, and website MUST have a privacy policy to ensure compliance with the laws and prevent lawsuits.
So make sure you have a privacy policy on your website!
It is NOT optional.
More and more internet companies are being sued for violations of people's privacy such as Facebook, Yahoo, Snapchat, Target, and others.
See different examples here.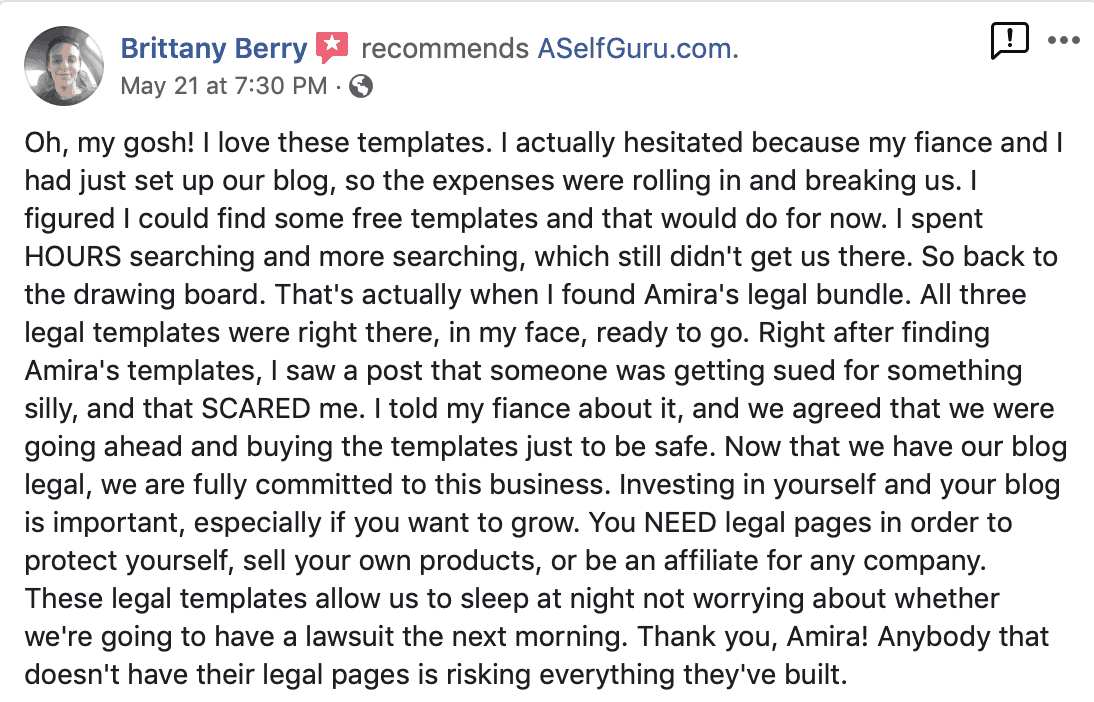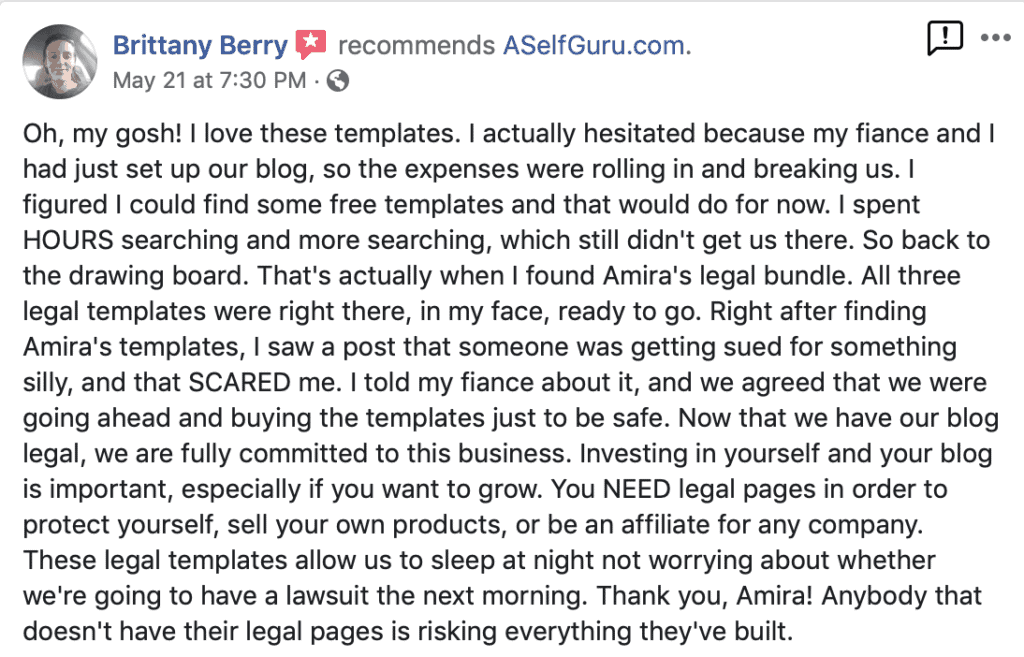 How to Write a Privacy Policy for Your Website
There's a lot of important information your Privacy Policy needs to include to cover you legally. As I mentioned earlier, it's not easy to write a privacy policy yourself.
In a nutshell, your website privacy policy needs to:
Be compliant with the CAN-SPAM Act, GDPR, CCPA, and many other laws
Inform visitors from the European Union about personal data collected from them because of the General Data Protection Regulation (GDPR) requirements
How you collect email addresses and names of your visitors using Mailchimp, ConvertKit, Kartra, or any other email marketing service
Include a cookie policy because all websites use cookies to collect information like your IP address, geographic location, date and time of visitors, and the law requires you to inform your visitors about this in your Privacy Policy
Third-party Privacy Policies– you are most likely going to advertise third-party products or services such as affiliate links or ads, so you need to inform your visitors about those as well
Children's Privacy law – you also need to ensure compliance with Children's Online Privacy Protection Act (COPPA) where you are not collecting information from children under the age of 13
Personal Information Protection and Electronic Documents Act (PIPEDA) – this is a Canadian privacy law, if you are in Canada then you'd want to ensure compliance with PIPEDA as well
and more!
These are just some of the significant things you must include in your Privacy Policy, and I wanted to show you that it's not easy to put together a proper Privacy Policy yourself.
Check out my Starter Legal Bundle here that includes a GDPR and CCPA compliant Privacy Policy template + the other two legal pages you need (and also comes with 9 bonuses worth thousands of dollars!)

FREE Privacy Policy Generators or Free Legal Templates
Now you may be tempted to go for a free privacy policy template like this but WAIT, did you know that the free legal templates DON'T protect you legally?
You don't even know who wrote them. I've personally audited all of them and here's what I found:
Free legal templates lack key legal provisions exposing you to lawsuits
Free templates and generators are too generic and don't meet all your legal requirements
They are missing GDPR and CCPA provisions and often you have to pay for them, hence, they are not FREE
They definitely don't have all the legal disclaimers you should have on your site
Free legal templates are not written or vetted by a real lawyer, so how can you trust them to protect your online business?
To see my complete audit results of the free legal templates, read this post.
Related Post
In this post, 50+ entrepreneurs like you reveal why free legal templates SUCK and why they chose to purchase my Privacy Policy template and other templates instead.
So definitely read the post to avoid making that legal mistake yourself!
You may also wonder about PAID privacy policy generators like this?
I have audited this as well and by the time I got done adding all the options to generate my Privacy Policy, it was going to cost me $200+ for JUST a privacy policy whereas you can grab my entire BUNDLE of 3 legal pages for your website plus 9 bonuses here for less than that!


CCPA and GDPR Compliant PRIVACY POLICY TEMPLATE FOR YOUR WEBSITE
The good news is that as a lawyer, I've done the hard work for you!
I sell a comprehensive Privacy Policy template for your website, so you don't have to worry about writing the "legalese," on your own.
You would also get the peace of mind of knowing that these templates are actually drafted by a REAL lawyer.
So you have the option of just getting the Privacy Policy template from my legal store here
OR
Grab my Starter Legal Bundle (first bundle on this page) to get done with all 3 legal pages for websites!
I don't have to tell you that the bundle is a better deal because you literally save $150 off on it right now!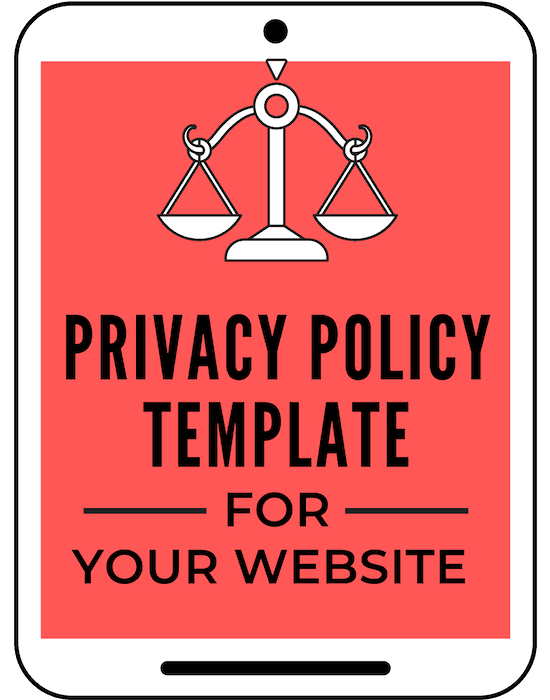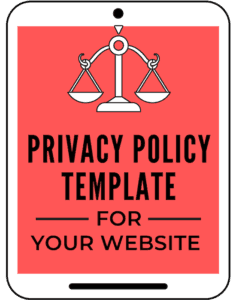 We already discussed why you shouldn't go for free legal templates available online that fail to offer you the complete protection you deserve as an entrepreneur.
Most people don't realize how deficient free legal templates are or what language is missing in them until they get into legal trouble and it's too late by then!
Unlike the free templates, as part of my Privacy Policy template, you get a professional legal template that's written by a lawyer (who is also a blogger/entrepreneur just like you!) to protect your online business without you having to hire an uber-expensive lawyer or wasting hours, days or weeks researching the legalese on your own!
You also get these 3 AMAZING bonuses with your Privacy Policy template ($400 value):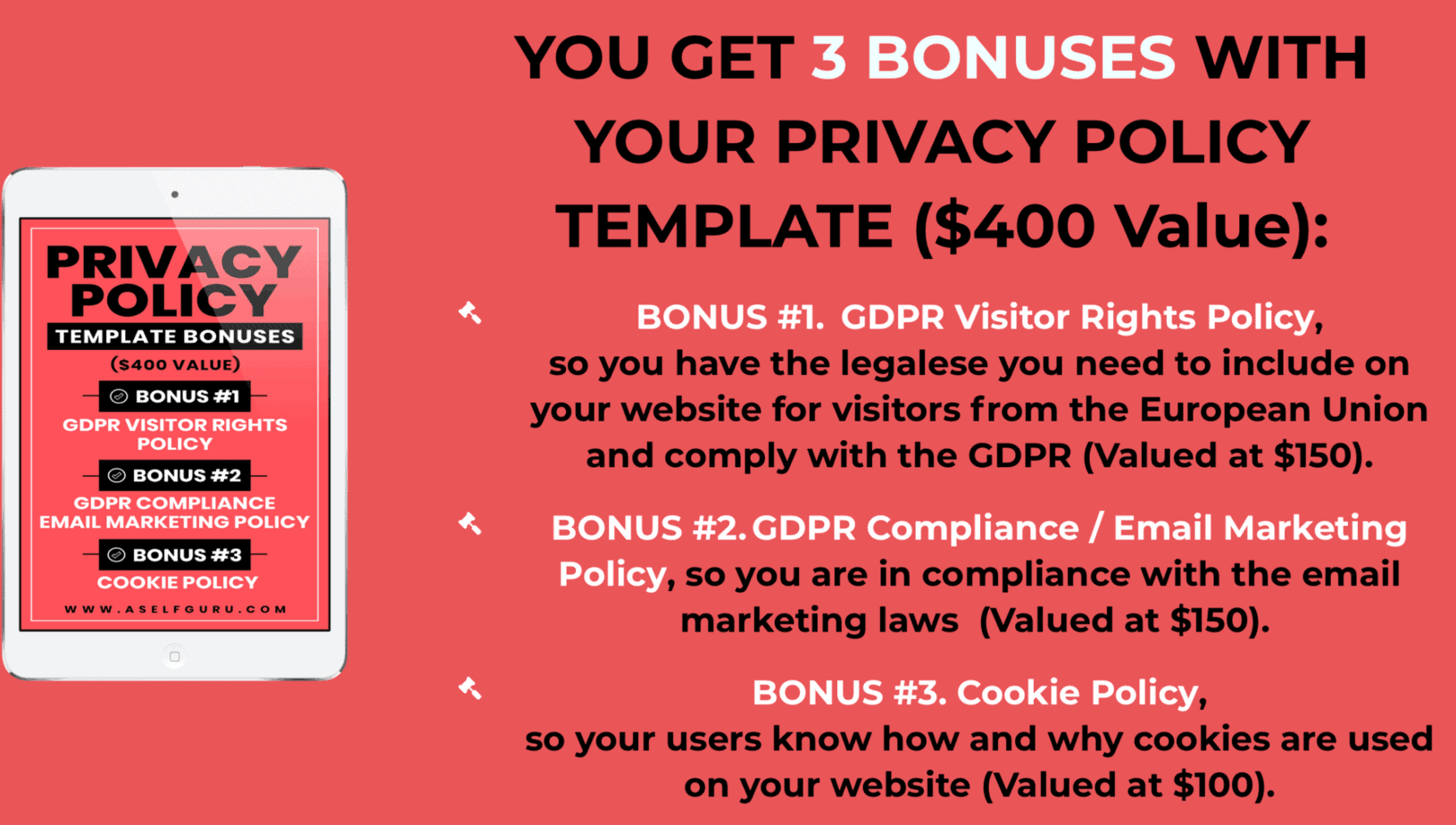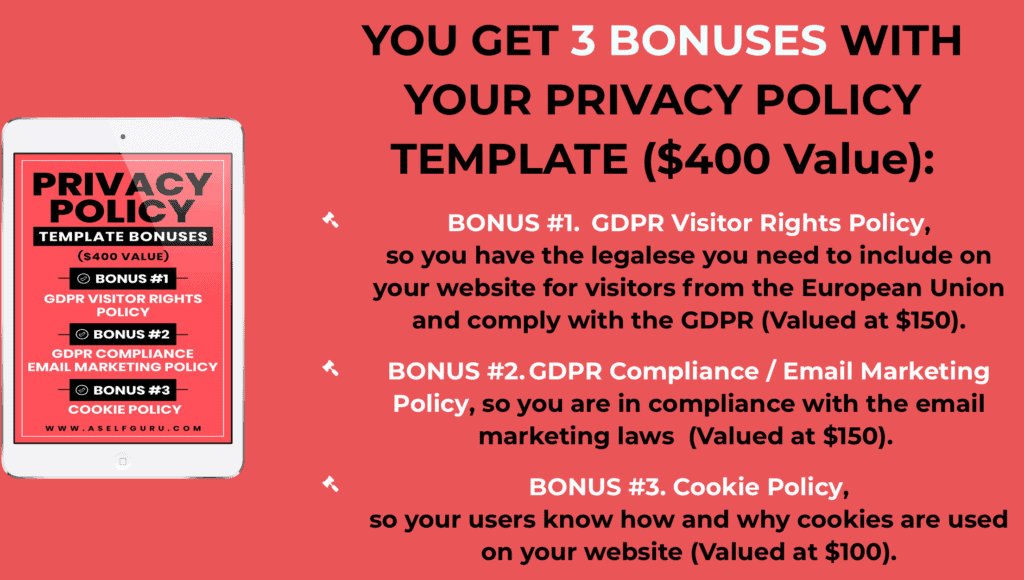 Click here to JUST get your Privacy Policy template
or save more money and
Click here to get my best selling legal bundles
Grab your easy FREE legal guide to avoid making these 3 legal mistakes I see bloggers and entrepreneurs making all the time:
Second Legal Page For Websites: A Disclaimer
The second legal page you need on your website is a Disclaimer.
You must have seen disclaimers everywhere like medical/health disclaimers or see my legal disclaimer below, which goes like this:
"Although I'm a lawyer, I'm not YOUR lawyer. All information on this website is for educational and informational purposes and does not constitute legal advice."
Think of a disclaimer as a way to legally protect you for the content you publish on your website. I'm sure you don't want to be legally held responsible for what you say or write!
That's why you need a proper disclaimer page on your website to cover you legally. You want your disclaimer to be tailored to your specific niche.
So let's say, if you blog about health-related stuff, then you'd obviously want to make sure your website has some medical/health disclaimers where you are telling people to consult a doctor for their particular needs instead of solely relying on the information presented on your website.
Similarly, let's say you are a personal finance blogger, you'd want to disclaim liability for the financial recommendations you make on your website, so your readers don't sue you!
As you can see, it's SO important to have a disclaimer on your website to limit your legal liability and protect you from lawsuits.
Also, a Disclaimer protects you from other issues such as the accuracy and completeness of the content you publish.
Not everything you publish will be up to date or accurate at all times. What you published a few months ago may not be accurate today because information changes quickly.
So the last thing you want is to be responsible for the inaccuracies found on your website.
A well-written disclaimer includes all kinds of legal liability language in there to protect you from all those legal issues as well.
Disclosure vs. Disclaimer
A disclosure is different than a disclaimer.
A disclosure is where you inform your readers about the products and/or services you are promoting, so they can make informed decisions.
This could be paid sponsorships and affiliate relationships.
So legally, you are required to disclose your affiliate relationships (think affiliate disclosures) or paid sponsorships, and those should be included as part of your Disclaimer legal page.
You don't need a separate disclosure page for that. With my Disclaimer template here, you get everything (all your disclaimers and disclosures) in one place!
The FTC regulates affiliate disclosures and paid sponsorships, and there are serious fines for not complying with the law!
If you don't want to face a hefty penalty up to $11,000 and be sued by the FTC, then please make sure you have a proper Disclaimer page that outlines your disclosure relationships as well.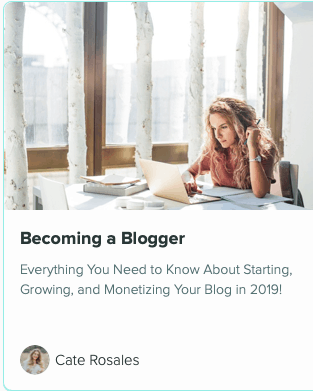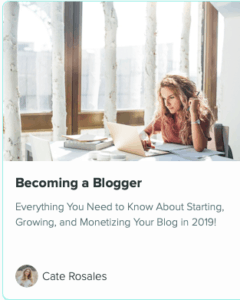 How to Write a Disclaimer For Your Website
In a nutshell, you'd want to include some of these important things in your Disclaimer:
No advice – it should be clear that you are not offering any kind of professional advice on your blog. This needs to be tailored to your niche. But it should be clear that you encourage your visitors to consult a professional in a specific area.
Limitation of Liability – you should have appropriate provisions in place to protect you from all kinds of legal liabilities arising from your content and also from any third party links that you publish on your website.
Additional Disclaimers – these could be earnings disclaimers, product review disclaimers, sponsored posts disclaimers, and others. Basically any additional disclaimers that are needed based on the type of content you publish on your blog.
Affiliate Disclosures – as mentioned above, a Disclaimer usually includes all your affiliate disclosures as needed under the FTC. You are required to comply with the FTC regulations and you can read more about them here.
and more!
In the United States, the FTC takes consumer rights very seriously. They regularly conduct investigations and bring lawsuits against companies for not following the rules.
You can read those cases and lawsuits here.
A professional Disclaimer written by a lawyer is obviously a lot more comprehensive than something you would be able to put together on your own.
Related Post
In this blog post, I cover blog disclosures and disclaimers in more detail with examples!
Disclaimer Template For Your Website
Because I know the importance of disclaimers, I've written a Disclaimer template that you can grab here
or save more money
and grab my Starter Legal Bundle here that also includes this Disclaimer template.
My Disclaimer template includes all the legal protections you need along with 3 additional bonuses that everyone loves!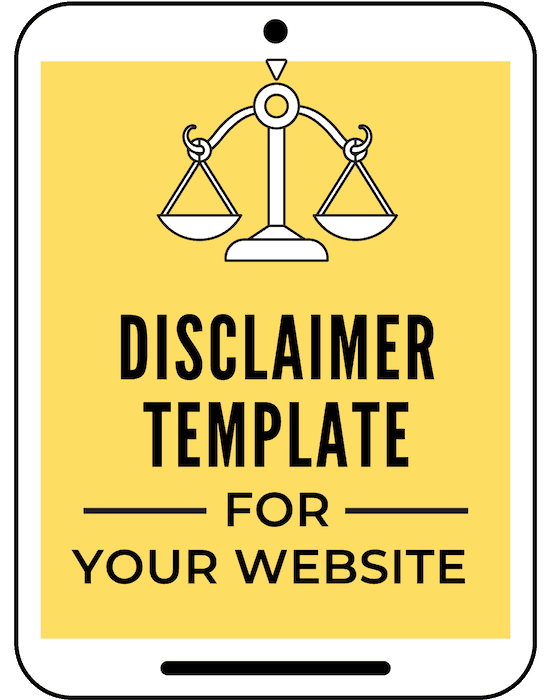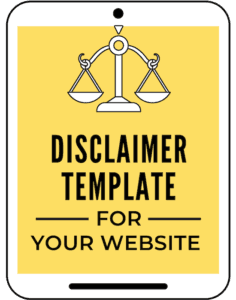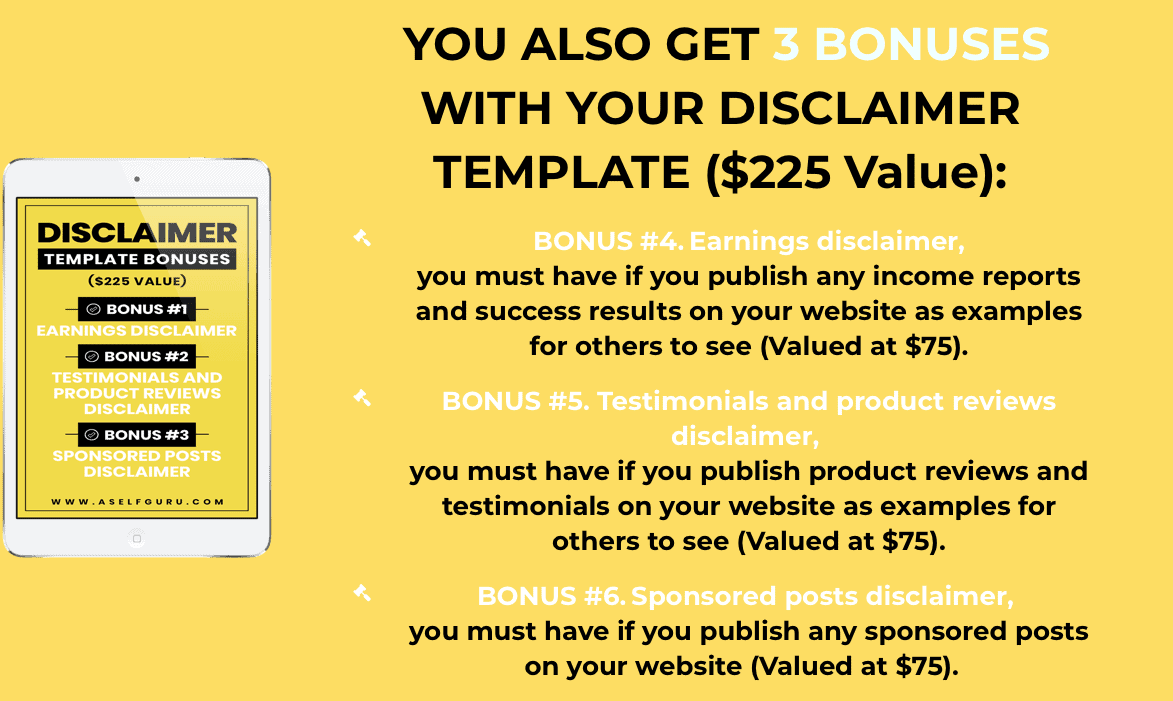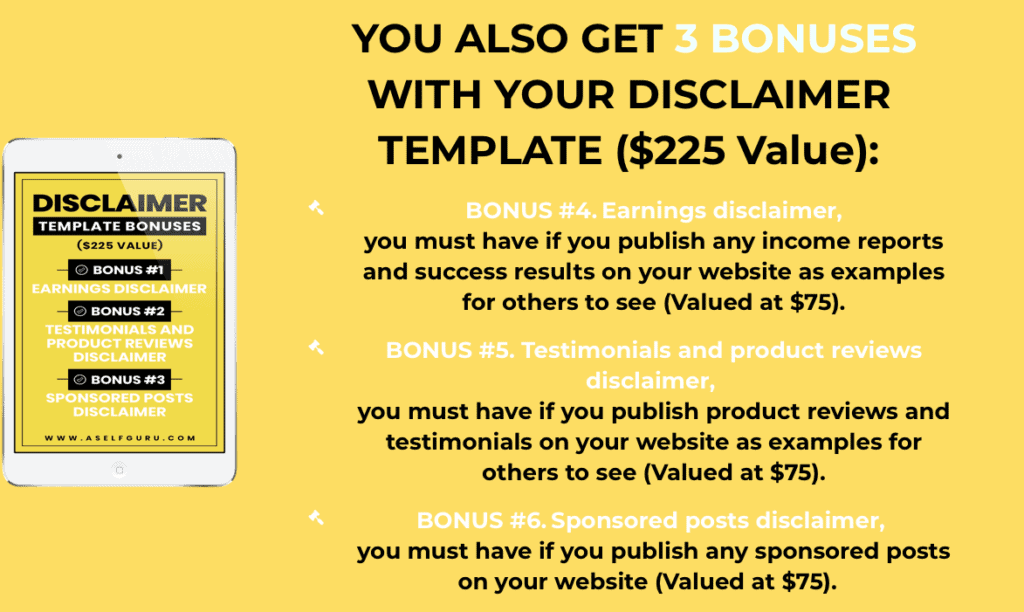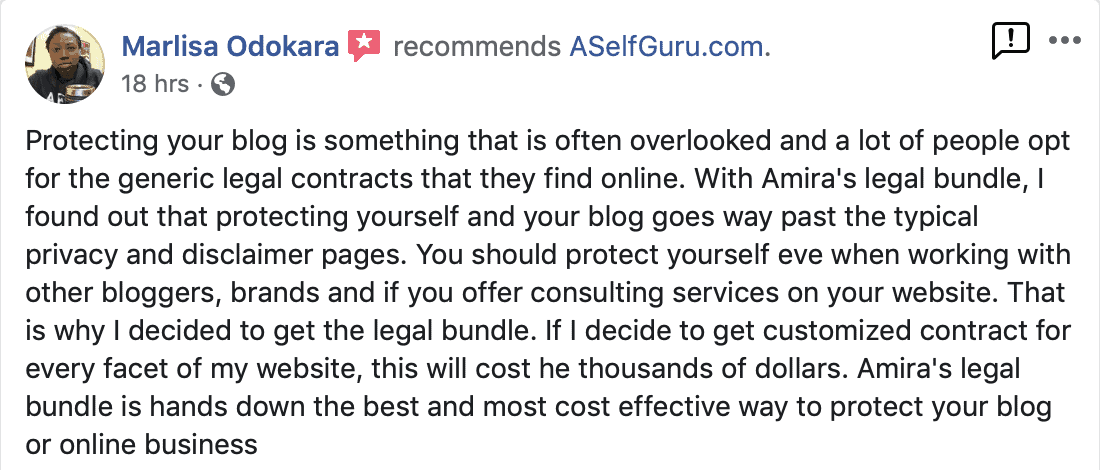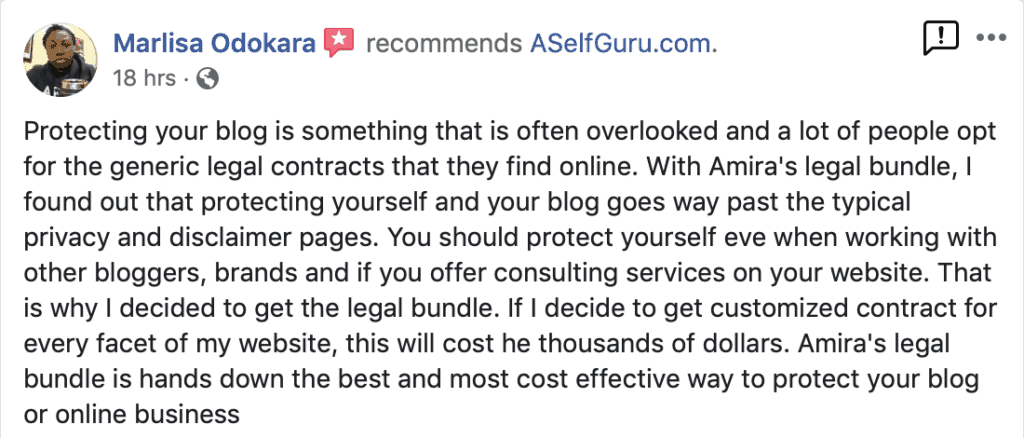 Third Legal Page For Websites: Terms and Conditions (also known as Terms of Service or Terms of Use)
The third legal page you need on your website is called Terms and Conditions.
Terms and Conditions are also known as Terms of Use or Terms of Service. They all mean the same thing!
Think of your Terms and Conditions page as your website rules and regulations like what you allow or don't allow on your website.
Your Terms and Conditions also encompasses your Privacy Policy and Disclaimer and serve as a legal contract between you and your visitors or customers
Without proper Terms and Conditions, you risk getting your content stolen and have no recourse when you run into legal issues with customers over your products.
Unfortunately, bloggers forget to include this important legal page on their website. Don't make that legal mistake!
Terms and Conditions will protect you from lawsuits and help resolve legal disputes easily.
For example, let's say, you sell a product but have NO Terms and Conditions that outlines your refund or exchange policy.
Then a customer asks for a refund of the entire product. You are stuck giving that refund and losing money instantly! (this happens all the time)
But if you had a refund policy as part of your Terms and Conditions page then you could tell the customer that you are not legally bound to issue that refund.
This is just one of the ways you avoid having legal issues by having a Terms and Conditions page.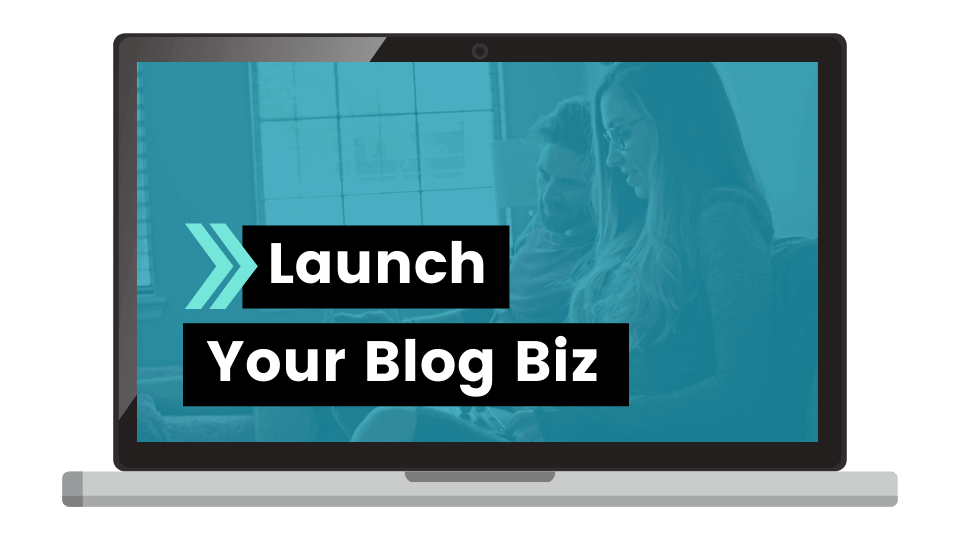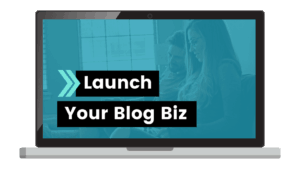 How to Write a Terms and Conditions Legal Page For Your Website
You want to do this right! Just like the other two legal pages above, your Terms and Conditions page is VERY important for different reasons such as:
explaining your intellectual property rights to protect your content from copyright infringement and other legal issues
your right to terminate anyone's use of your website at your sole discretion
your refund/exchange policies for the things you offer
what is the intended age of your visitors
dispute resolution- where and how you will handle legal disputes if one arises,
and much more!
By having a comprehensive Terms and Conditions on your website, you limit your risk of legal liability for errors, omissions, and inaccuracies found in your content and also protect yourself legally from other disputes.
Terms and Conditions Template For Your Website and Business
Unlike other lawyers who only provide you a Terms and Conditions Template just for your website, my Terms and Conditions template works for BOTH your website and any products you sell from your site!
This is great if you are selling FREE or paid digital products like ebooks or printables from your website.
This saves you SO much money and time because you won't have to purchase a new template when you are ready to create your own product and need Terms and Conditions for that!
In this post, I go over Terms and Conditions in much more detail, so save it!
Now with that said, if you do create an online course then I have a separate Terms and Conditions template specifically made for course creators that is comprehensive and includes everything you need! Check it out here.
Related Blog Post: Online Course Agreement Template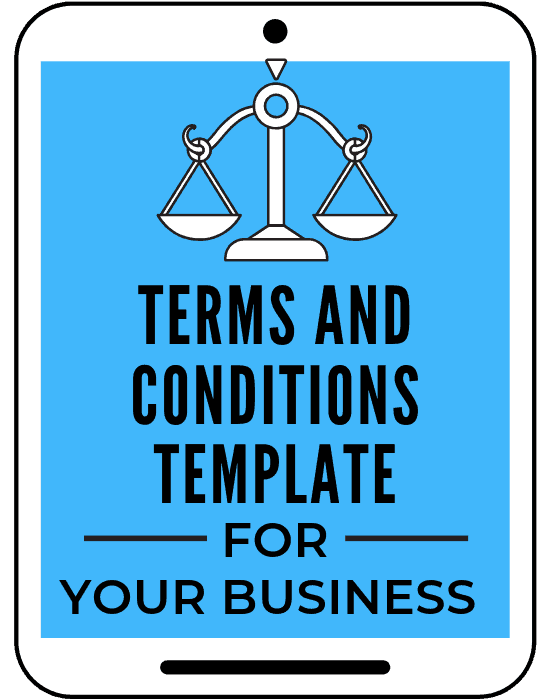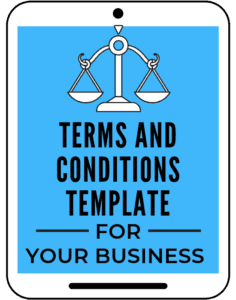 To sweeten the deal, even more, you also get 3 AWESOME bonuses worth $550 for FREE with this Terms and Conditions template as well: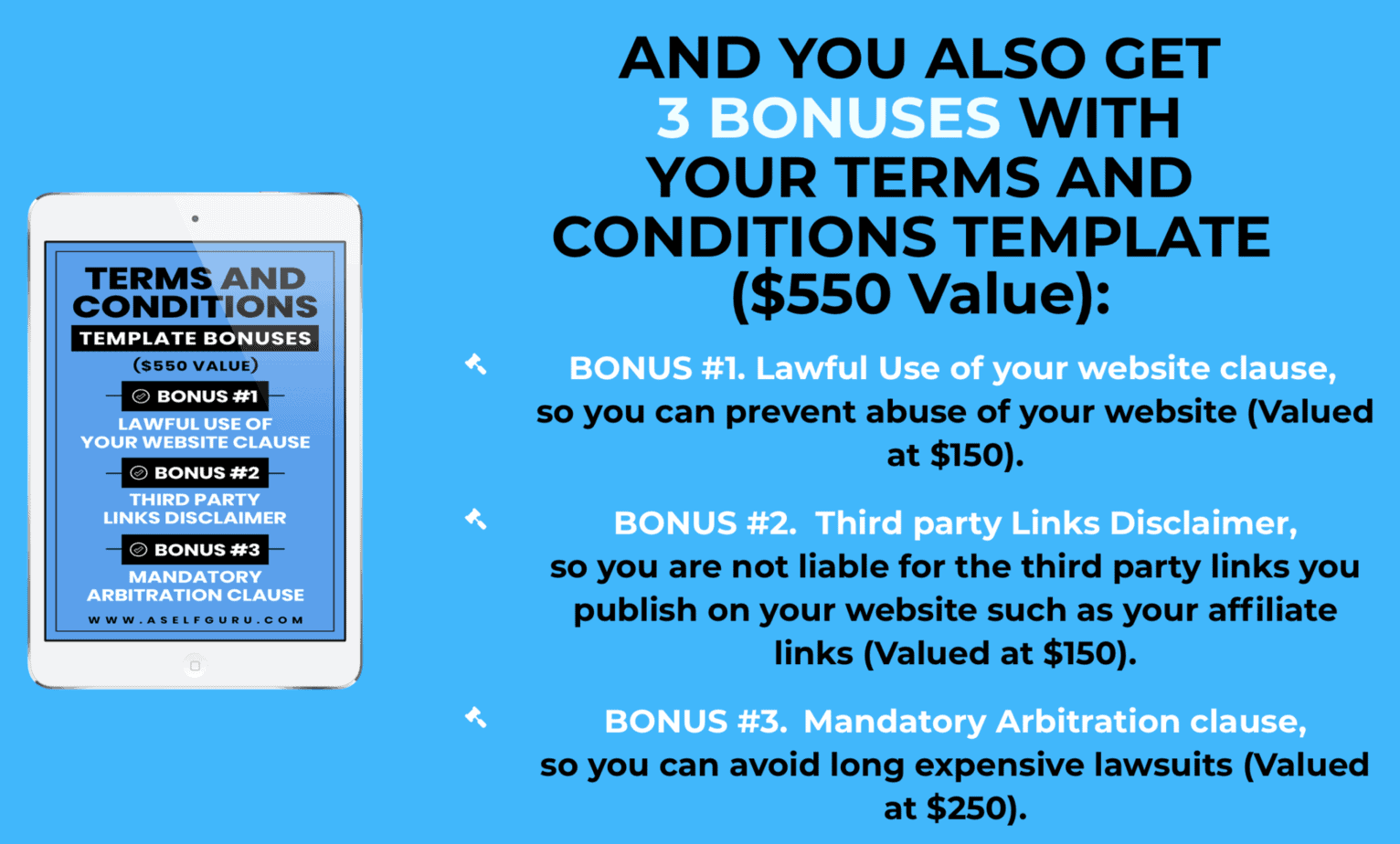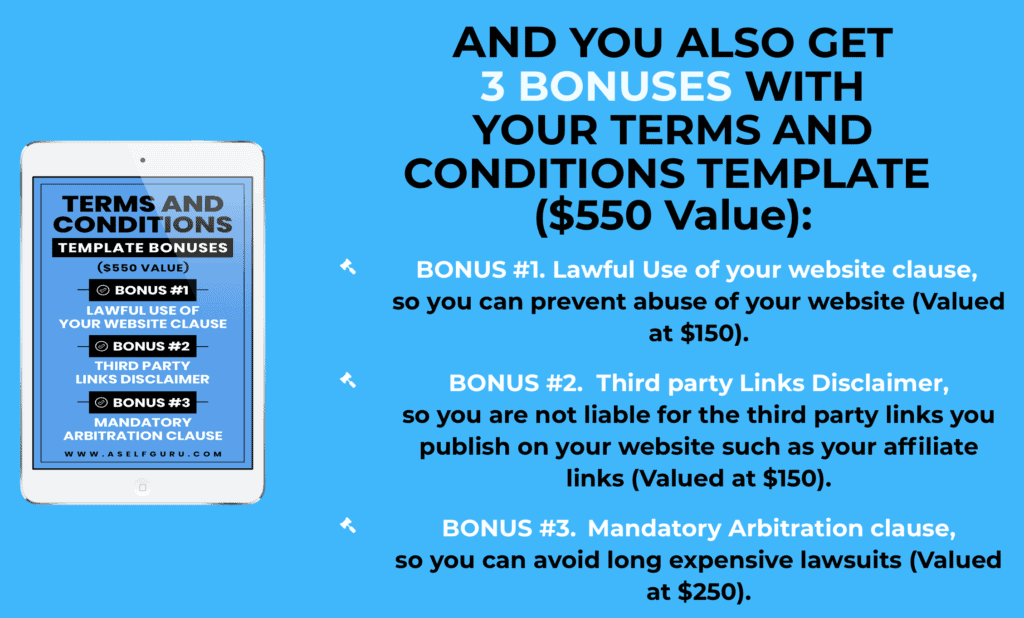 Click here to JUST get your Terms and Conditions template
or save more money and time
Click here to get my best selling legal bundles
How to Create All 3 Legal Pages For Your Website in Just 15 Minutes?
I'm sure you are excited about starting your online business! You should be.
After all, it's the beginning of something beautiful you are about to create and be proud of!
But you don't want to risk your time and investment, do you?
Get done with all 3 legal pages for your website right away, so you can continue focusing on the creative aspects of your business (things you actually enjoy working on!).
Writing or creating legal pages for your website is not your specialty. It's my legal expertise.
So let me handle it for you!
Watch this video below to see what comes in my legal template bundles and which one you should get:
When I started my blog in 7 days while working full-time as a lawyer, I was so overwhelmed with the amount of work I had to do (learning WordPress, creating a pretty website, picking a theme, customizing it, creating pins, editing photos, promoting your blog…list goes on and on!!).
You know the work never ends! but I still took care of all my legal pages prior to launching my blog! 
Now I know what you might be thinking—
"Amira, you are a lawyer, so this legal stuff comes easy to you."
You are right! The legal stuff is definitely the easiest part of blogging and running my online business (for me!) but what if I made it just as easy and simple for you too?
Now you can also get done with all your legal pages for a website in just 15 minutes or so with my super affordable Legal Bundles!
There are 3 different legal bundles available to you: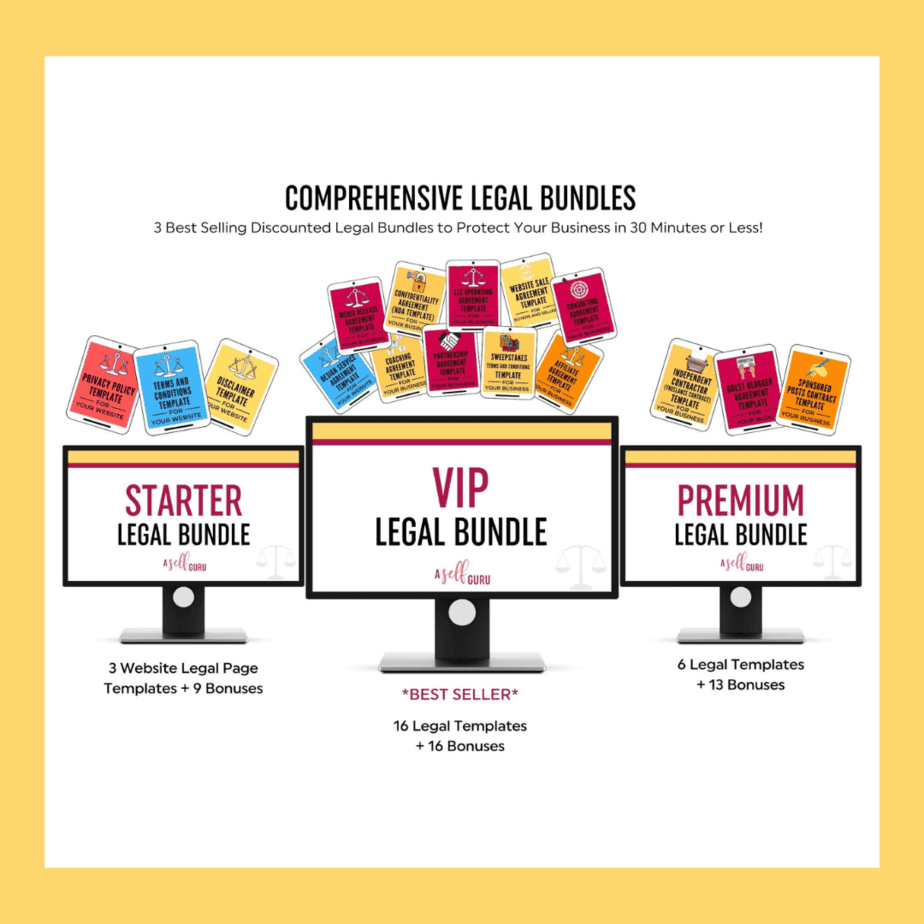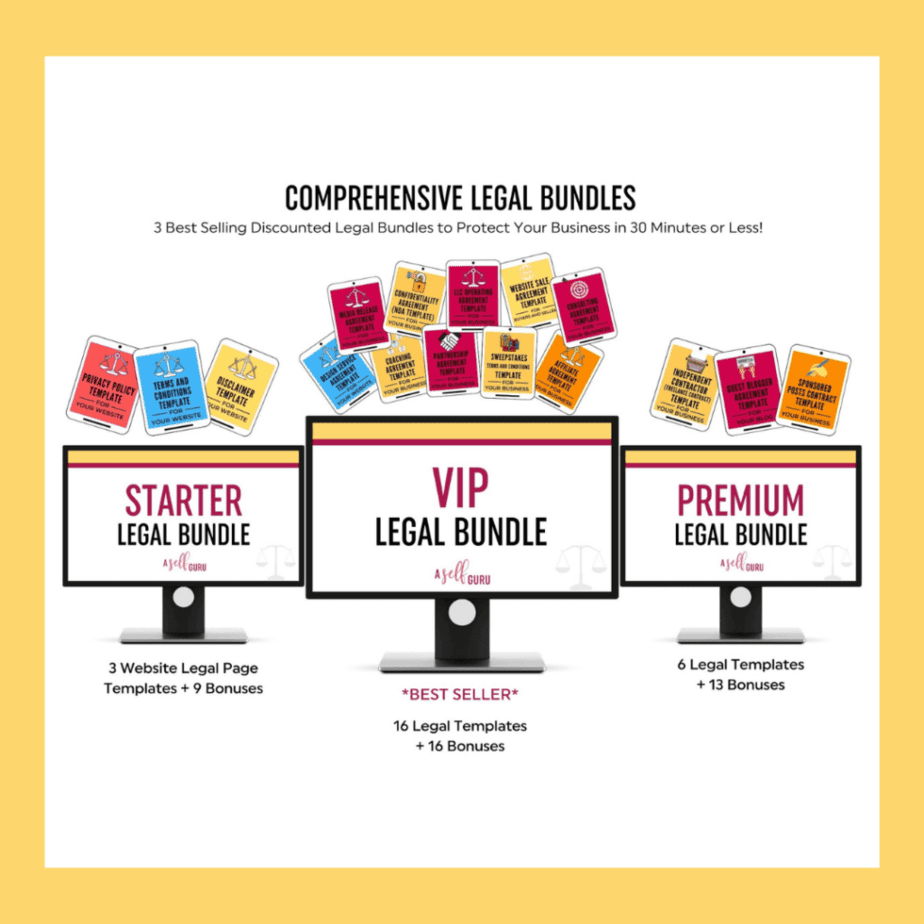 My Starter Legal Bundle (For Your Website Legal Pages)
This Legal Bundle is a detailed comprehensive package that includes all three legal pages for websites + 9 bonuses that come with each template! 
It includes these legal templates to protect your blog and online business:
A privacy policy template for your website
A Disclaimer template for your website
A Terms and Conditions template for your website
9 Awesome bonuses + a private Facebook support group where you can easily reach me!
You get done with ALL the legal pages for your website in 15 minutes or so, as you can see from the testimonials here.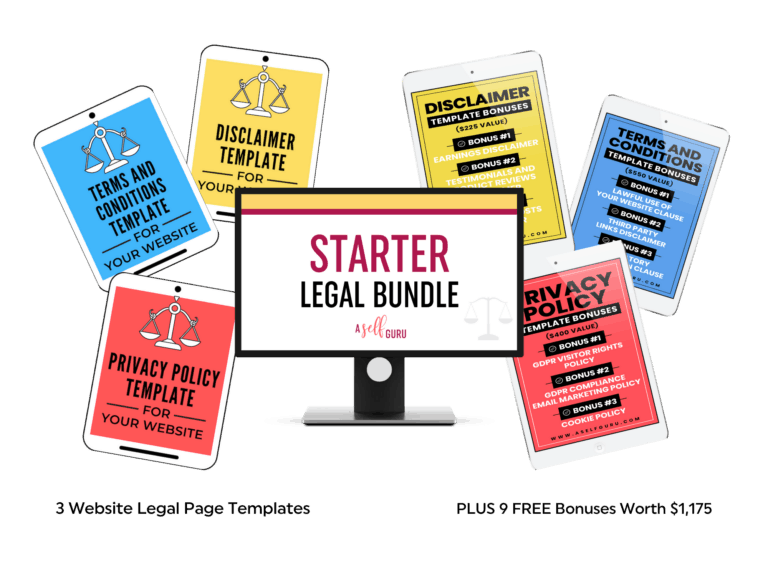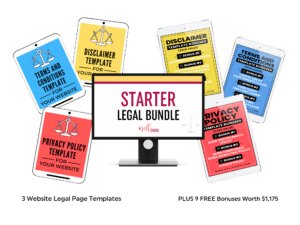 Think of how much time you are saving! No wonder, customers often tell me,
"thank you, these templates are a lifesaver or that money well spent and time well saved."
It's a no-brainer to get this Legal bundle at a huge discount right now unless you like paying $250 – $500 an hour just to speak to a lawyer.
100+ 5- Star Facebook Reviews
100's of people have given me 5-star reviews on Facebook and check those reviews here.
Read and watch tons of video testimonials on my Facebook page to find out how EASY and FAST these legal templates are! (You can join my Facebook group too).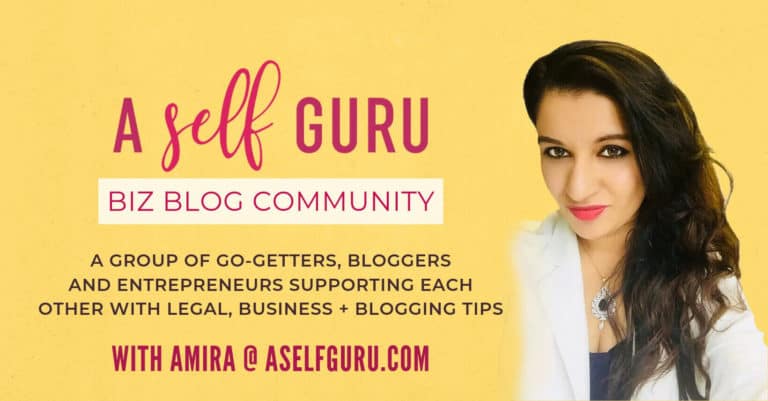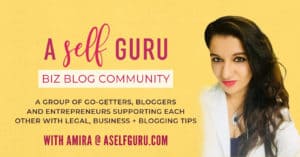 My Premium Legal Bundle (6 Legal Templates + 13 Bonuses!)
This is the second legal bundle on the sales page here. It's one of the most popular legal bundles because you save a lot more with this bundle than you'd on the Starter Legal Bundle.
With my Premium Legal Bundle, you literally save $300 off right now and receive 6 popular legal templates you need plus 13 bonuses!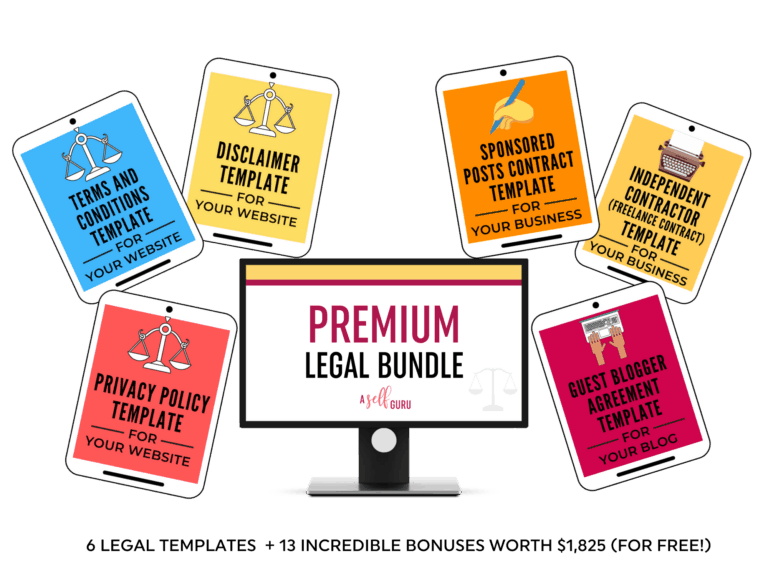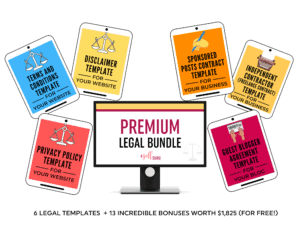 Here are the 6 important legal documents and legal contracts you get in this bundle:
Privacy Policy template for your website to comply with the laws
Disclaimer Template for your website to avoid lawsuits
Terms and Conditions Template for your business to avoid disputes with customers and protect your intellectual property
Sponsored Posts Contract Template to collaborate with brands and get paid on time!
Freelance Contract Template (AKA Independent Contractor Agreement) to hire freelancers or offer your own freelance services to clients
Guest Blogger Agreement Template (you need this agreement before you accept guest posts on your site, and this post goes over this in more detail)
The Premium Legal Bundle is perfect for bloggers and online entrepreneurs who are serious about building their business and understand that they need more than legal pages!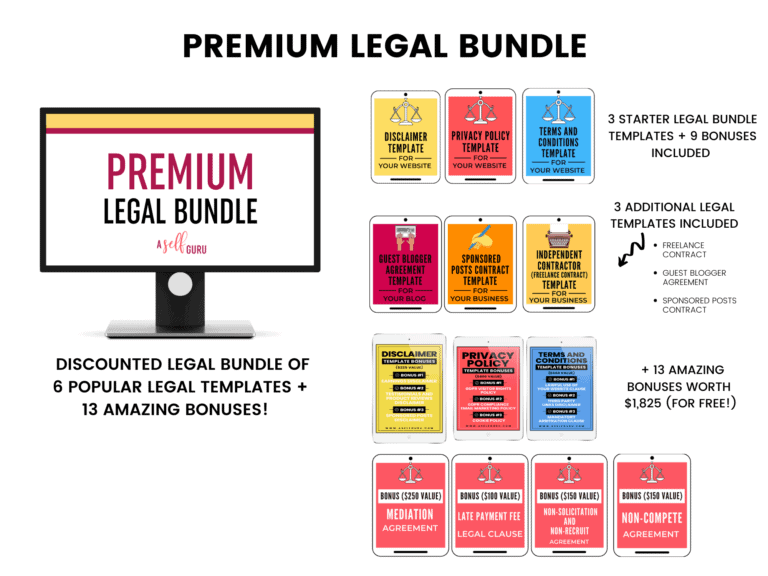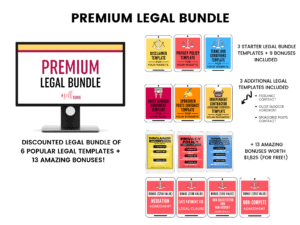 With this Legal Bundle, you will have everything you need to partner with brands, contractors or other bloggers like a pro while protecting your business legally and financially!
These easy legal templates have worked for thousands of bloggers and entrepreneurs in the US, UK, Canada, Australia, India, South Africa, New Zealand, China, and many other countries! 
Watch how Rayna from Thailand uses this bundle to protect her online business (she went from having a panic attack to instantly calming down after purchasing these templates)-
VIP Legal Bundle (16 Legal Templates + 16 Bonuses!)
I saved the best deal for last! This is the third legal bundle you see on this page. It gives you all three legal pages for websites and a lot more!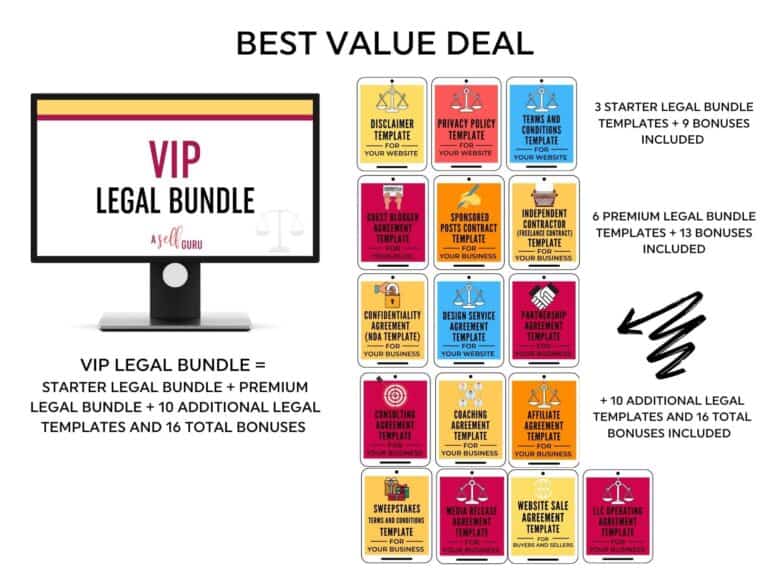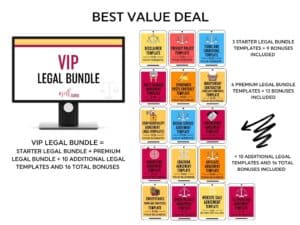 It's the ultimate best deal out there! You will not find anything like this at this low price!
You literally get to save $1,000 off right now for a limited time to become my VIP customer!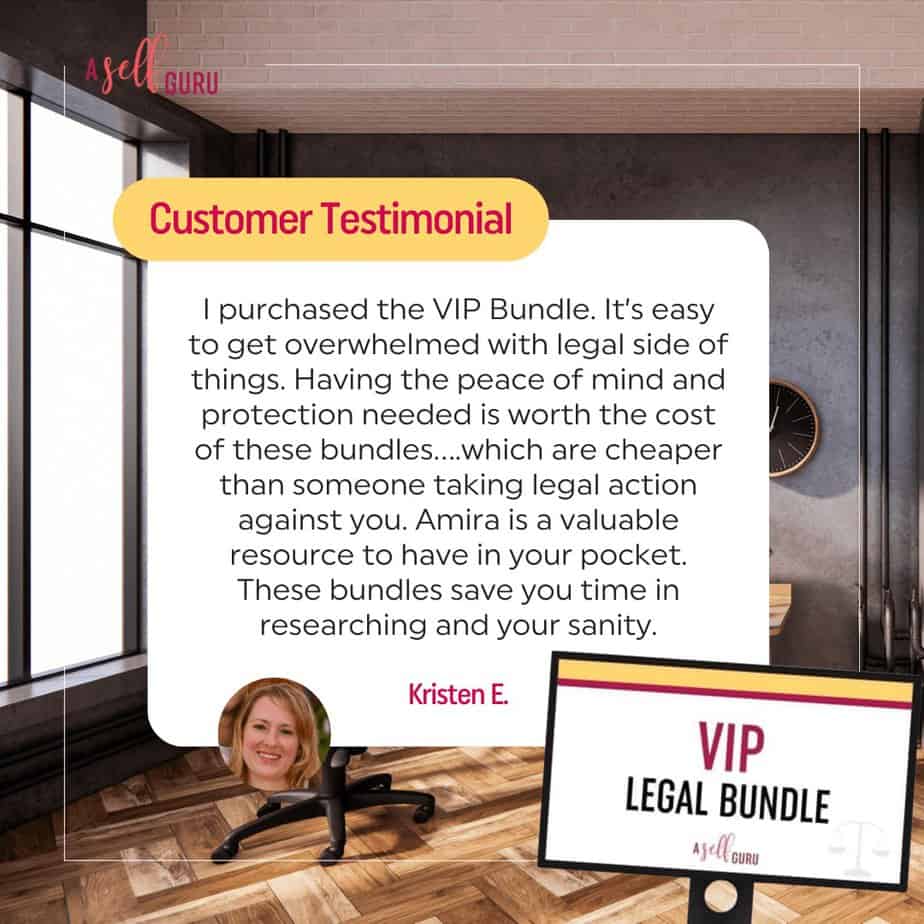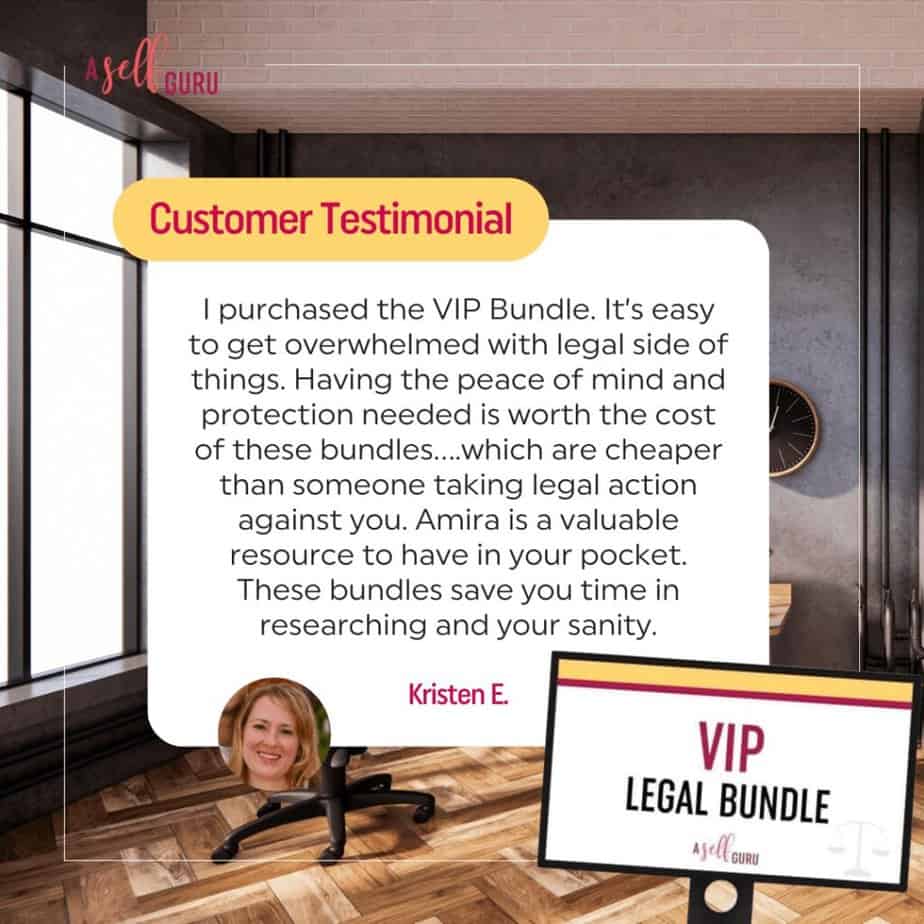 This is my MOST popular legal bundle because you get the MOST legal protections for your business at the lowest price.
After purchasing this legal bundle, my customer Lisa said, "Amira saved me hours of time, a pretty penny, and a LOT of stress. Best purchase of 2020!"

Take a look at what else Lisa had to say after purchasing my VIP Legal Bundle: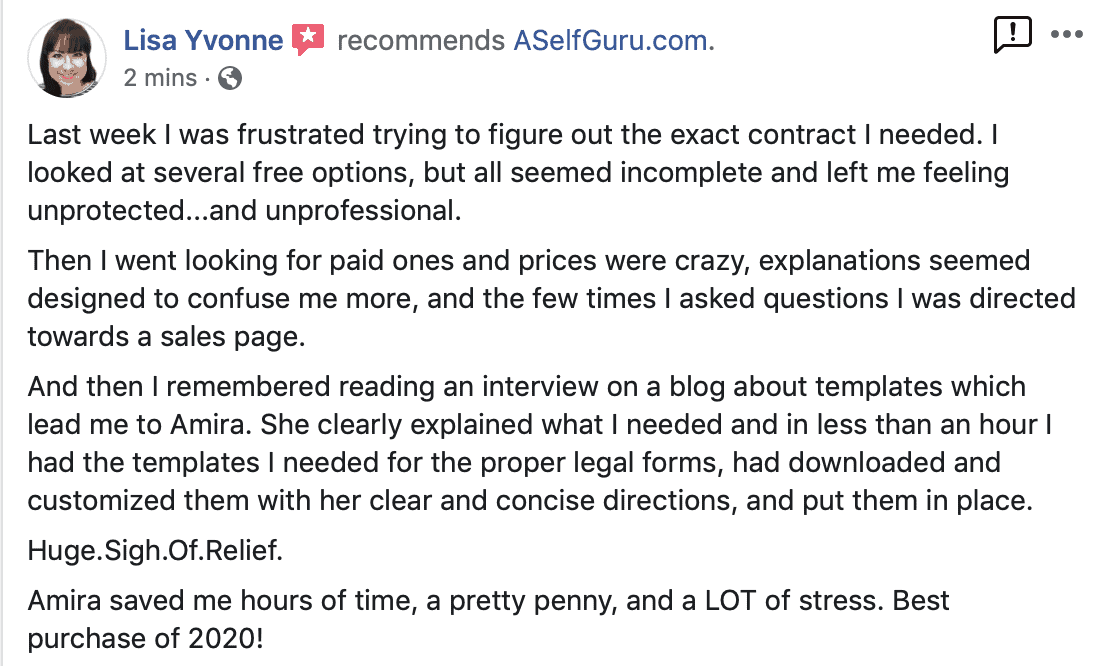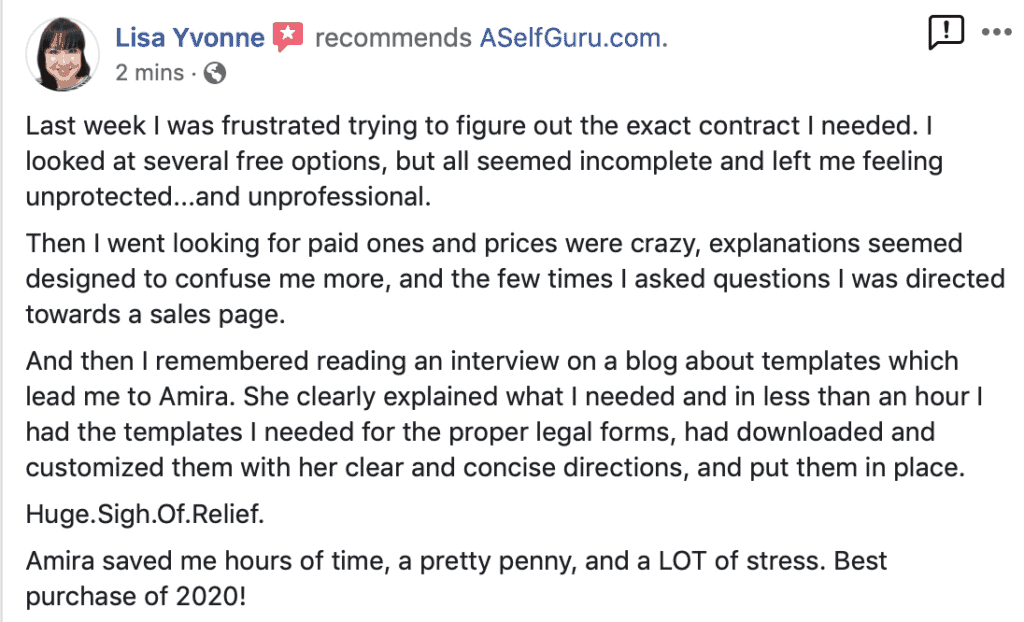 Just take a look at ALL 16 templates you are getting and don't forget to check out the bonuses here too (you get everything in my Starter + Premium Legal Bundles + 10 additional legal templates and a total of 16 awesome bonuses with it!)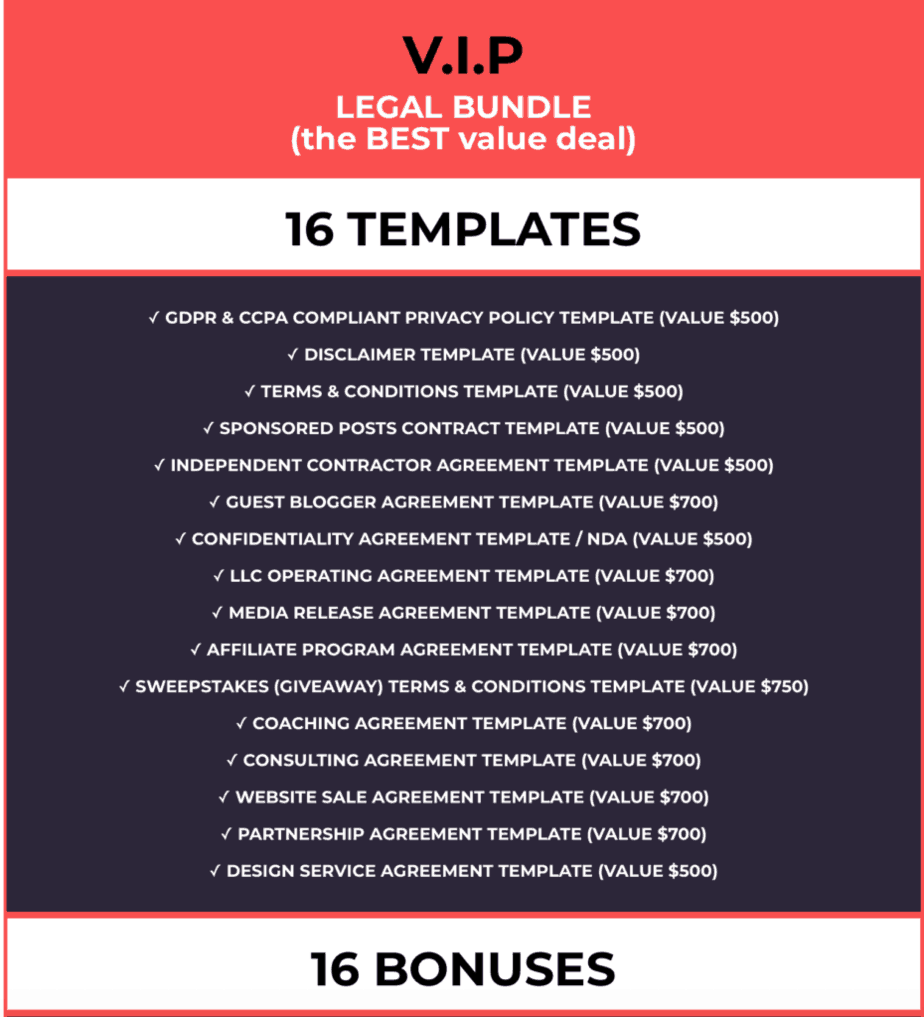 Watch how Maia went from STRESSED, ANXIOUS, AND SCARED to feeling instantly RELIEVED, PROUD, AND ACCOMPLISHED with these 4 easy legal templates for your blog and online business:
Protect yourself with these easy legal templates that have worked for thousands of bloggers and entrepreneurs in the US, UK, Canada, Australia, India, South Africa, New Zealand, China, and many other countries! 
Is Your Website ADA Compliant?
In addition to legal pages for websites, you need to ensure your compliance with the ADA.
ADA stands for American's with Disabilities Act, and it prohibits discrimination against people with disabilities. You may have heard about the recent ADA lawsuits relating to websites not being compliant.
Unfortunately, I know a lot of bloggers, coaches, and business owners who have been sued or have received demand letters claiming damages for ADA violations. The last blogger I know settled an ADA lawsuit for $50,000!
Many of you emailed me asking whether your website needed to be ADA compliant – yes, it does even if you are outside the US.
There are accessibility laws around the world and business owners are getting sued in the US, UK, Canada, European Union, Australia and other countries because their websites are not accessible to people with disabilities.
That's why I've created this ADA and WCAG Compliance Bundle for you!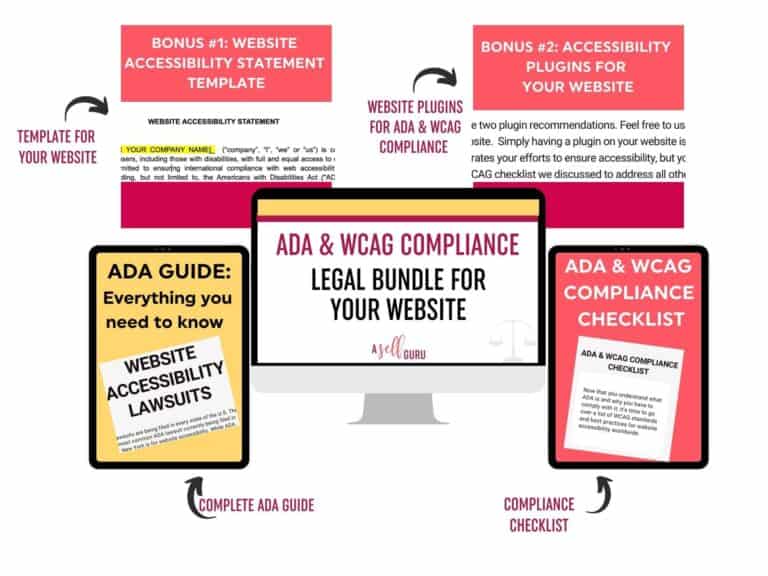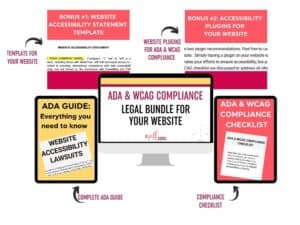 Avoid those costly legal disputes and discrimination lawsuits and make your website accessible using my new ADA legal bundle that gives you everything you need!
You'll get:
✔ ADA Guide explaining what it is, why you need to comply, recent lawsuits, and website accessibility guidelines. $50 VALUE
✔ ADA and WCAG Checklist that shows 16 steps you can take to improve accessibility and ensure compliance. $100 VALUE
✔ BONUS: Website Accessibility Statement Template that you can post on your website (available for a limited time only! This template alone is worth the price of the bundle). $100 VALUE
✔  BONUS: Two Recommendations for Accessibility Plugins you can use on your website to improve accessibility, make your website design accessible to all users regardless of their impairment and ensure compliance. You only have to use one plugin. $50 VALUE
Take a sneak peek inside to see everything you get.
Do you want to…
Save LOTS of time and money and make your website ADA compliant, so you can avoid lawsuits?
Have the right accessibility plugin on your website and 16-step to ensure compliance with accessibility laws and prevent fines?
Have the peace of mind knowing you posted the right Website Accessibility Statement on your website?
This is the ONLY bundle that comes with an ADA Guide, ADA and WCAG Checklist, Website Accessibility Statement, ADA Plugins, and more!…works for US, UK, Canada, Australia, and other countries!
Watch the first video here where I explain more.
Bonus Legal Tips: Legal Contracts You Need to Protect Your Blog and Online Business
In addition to legal pages for websites (the privacy policy, disclaimer, and terms and conditions pages), you need some essential business contracts.
Here are three examples of popular legal contracts you will need depending on your business:
Independent contractor agreement (freelance contract)
Confidentiality agreement (NDA or Non-disclosure agreement)
Sponsored posts contract
Let's dive into each of these a little more!
Related Post: Check out all 16 different legal documents and contracts for your business in this post.
1. Independent Contractor Agreement (Freelance contract)
After getting the legal pages for websites, you'll most likely use a freelance contract.
A freelance contract is necessary if you're one of two people:
Freelancer (contractor) looking to find clients
Client looking to outsource to freelancers (contractors)
This independent contractor agreement template is designed to cater to BOTH of these people.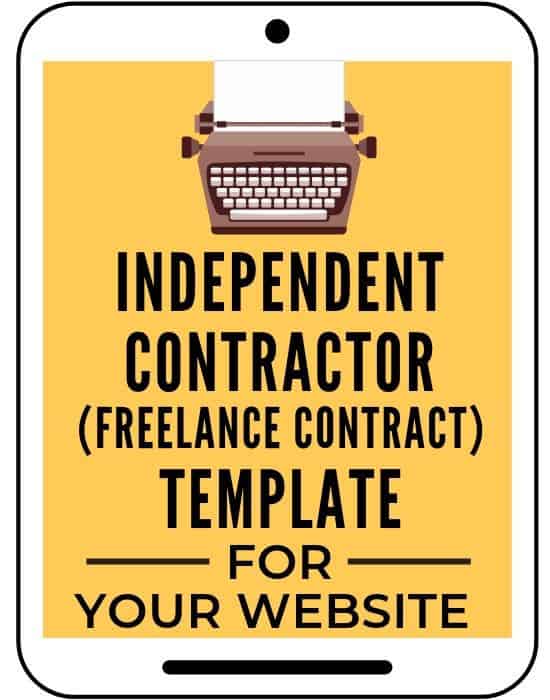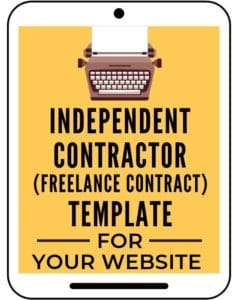 This contract is incredibly robust and includes all the necessary sections.
The beauty of a contract like this is that once you have a template, you can easily customize it for each specific scenario. 
The main things discussed are:
Services to be provided
Effective date
Compensation
Ownership of intellectual property
Unless you outline all the necessary terms of a contract, you're not positioning yourself for success.
You could even get sued! That's what happened to my dad as an entrepreneur.
If you want a complete breakdown of the freelance contract template, just watch Keesha's video below!
The main thing to note is that if you have NO legal experience, you shouldn't be drafting your own independent contractor agreement. 
Just ask Keesha! She tried to do it and then purchased my template instead because she was so frustrated trying to figure out everything on her own!
That's why I put together the independent contractor agreement…
So you can breathe easy knowing you are avoiding these business and blogging legal issues.
Keesha has also purchased my other legal templates for her blogging business and watch what she had to say:
2. Confidentiality Agreement (NDA or Non-disclosure Agreement)
We all share our business ideas and information with others at some point. But do you make sure to keep that information confidential?
This is where a confidentiality agreement comes in.
You may have heard of it commonly as NDA (Non-disclosure agreement). It serves to protect your "secret sauce" as they say, meaning your confidential business and proprietary information so other people don't steal your ideas, trade secrets and become competitors.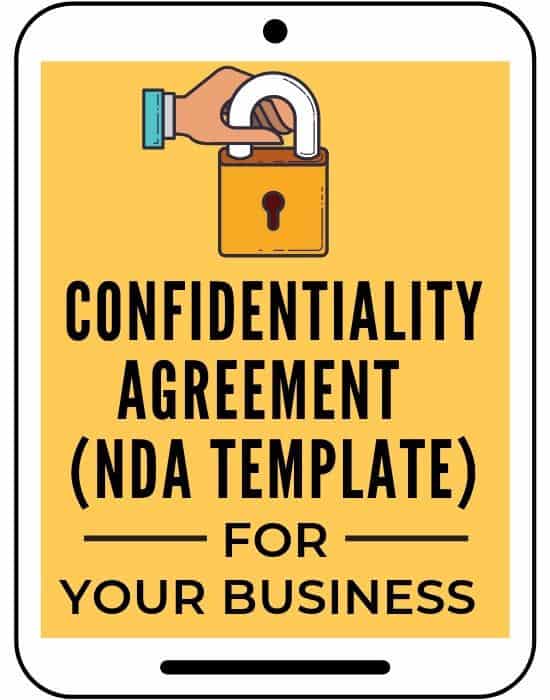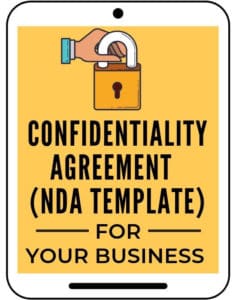 Don't underestimate the power of this important confidentiality agreement because, without it, you are out of luck when anyone copies or steals your business idea!
For example, you could be:
discussing a joint business partnership with someone to expand your business
bouncing off ideas on your next product with a friend
hiring a virtual assistant to help you with your business
collaborating with others on anything big or small
You would need this contract in all those situations above.
Basically any time you are about to share your business information (ideas, financials, trade secrets, strategy, etc) with others, make sure to protect your business with the confidentiality agreement. Have the other person sign this NDA before you start sharing any information!
Here's what Ken and Betty had to say about this NDA template.
Read this post to learn ALL about why this confidentiality agreement is a MUST for your business and how to use it!
3. Sponsored Posts Contract Template
If you ever engage with brands and companies for sponsored posts, you'll know that there is ALWAYS going to be a negotiation process.
Why?
Well, the brands want to know what they're getting out of it, but you also need to outline how you're going to get paid and what the deliverables are.
Sponsored posts can be a great way to monetize your blog and expand your brand's reach, but only when you have a mutually beneficial relationship.
The sponsored post contract template does that.
If you don't know how to make money from sponsored posts then you need this course to get started!
It outlines all the necessary elements that need to be finalized before ANY work is done on the deliverables.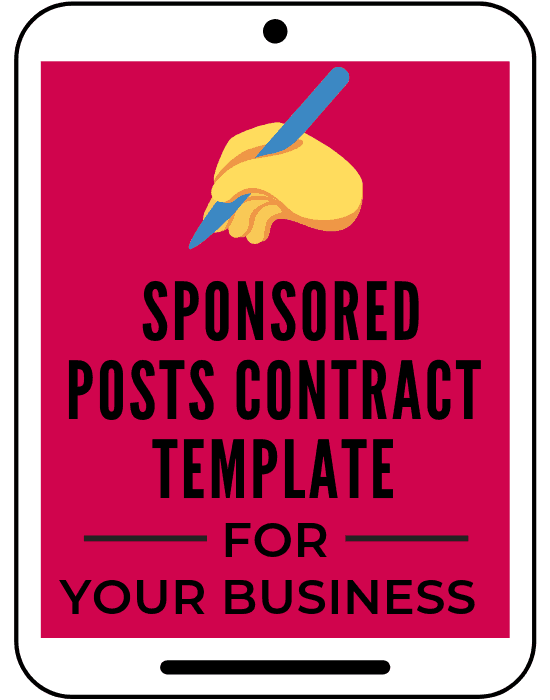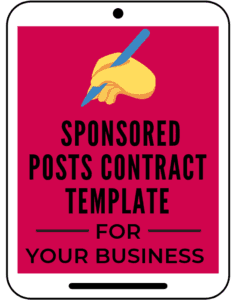 Here are some of the important sections included in the contract:
Services to be provided
Clear payment terms
Ownership of intellectual property
Legal compliance and FTC disclosures
Confidentiality provisions
Termination clause
This contract template covers all kind of sponsored content, including (but not limited to):
Blog posts
Social media posts
Videos
Podcasts
My point is this…
IF you plan on including sponsored posts in your monetization strategy, you need a contract to protect your blog, your business, and your sanity.
There are even three bonuses to sweeten the pot!
There are 10+ legal templates and business contracts available here.
The great news is that with my Premium Legal Bundle here (second one on the page), you will get 6 different legal templates plus 13 bonuses!
Now the legal templates in this bundle are not just your legal pages for websites but 3 additional important legal contracts you will need for your business.
But when people realize how much they are saving with my VIP Legal Bundle ($1,000 off right now), it becomes a no-brainer to grab that bundle instead.
Check out all 3 legal bundles here and see how you are saving thousands of dollars instead of paying for each template individually!
Earn Your Small Investment Back Tenfold from my Legal Bundles!
After purchasing any of my legal bundles, you can join my high-paying affiliate program and earn a generous 40% commission on each sale! I've paid more than $150,000 to my customers in affiliate commissions already.
Watch this video below to learn 8 secret tips and tricks to earn your small investment back tenfold!
Final Thoughts – Legal Pages For Websites & Essential Legal Contracts You Need
Any professional blogger or entrepreneur would tell you that if you are serious about your business, then you need to protect it legally from day one!
Otherwise, you'll need to hire an expensive lawyer and pay thousands down the road to clean up the legal mess for not following the rules, but why take that financial risk, to begin with?
Do things the right way and make this small investment right now to protect yourself and your online business!
In this article, we discussed:
Everyone knows how EXPENSIVE and LONG LASTING lawsuits can be before a case is finally dismissed! Anyone that has been sued once knows what I am talking about!
I know ALL about that pain because my dad was sued as an entrepreneur for $90,000, all because he failed to enter into this business legal contract with his freelancer at the time.
Watch my customer, Michelle's journey here where she was also sued and that lawsuit lasted an ENTIRE YEAR! 
As a lawyer, I have handled thousands of cases that continued for YEARS before my clients could sleep in peace.
That's YEARS of lost sleep, peace of mind, happiness, money and a lot more! 
So as a lawyer who has seen it all, one of the first things I think about is:
 I am putting in countless hours into my online business (literally!!) but what kind of legal protections do I have?
 How can I protect all my hard work and limit my financial and legal liability if a legal dispute arises?
 How much money, time, and sleep will I lose if I don't comply with the law? My business could be audited and shut down!
 How detrimental will my actions and negligence be for my family?
 Do I want to make my loved ones suffer because of my legal mistakes?
I think the answer is pretty simple for ALL of us — it's much easier to protect yourself and your business NOW than to pay thousands fighting lawsuits later. 
Protect yourself with these easy legal templates that have helped thousands of bloggers and entrepreneurs in the US, UK, Canada, Australia, India, South Africa, New Zealand, China, and many other countries! 
100's of customers have given me 5-star reviews on Facebook and check those reviews here.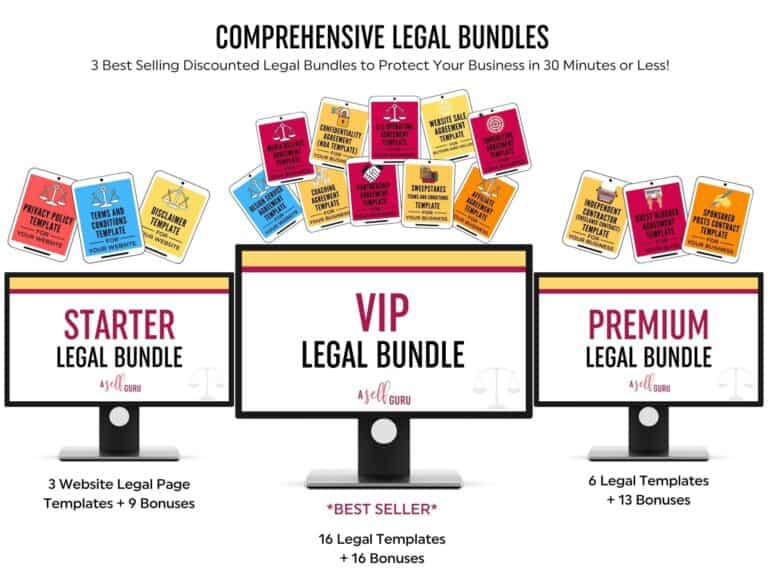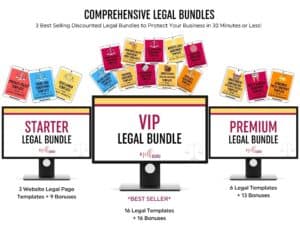 Don't forget to join our Facebook community here for more FREE legal and business tips!
Customer Video Testimonials of My Legal Templates
In addition to legal pages for websites, check out more LEGAL TIPS on this page for your business. Watch HOW entrepreneurs like you are using my legal templates to protect their online business:
Related Blog Posts to Legal Pages for Websites and Legal Contracts for Business
This blog post is a must-read for all entrepreneurs! It will show you why free legal templates are not enough and why proper legal pages for websites are essential for your business.
It's because, in this blog post, 50+ savvy entrepreneurs like you reveal why free legal templates suck and why they decided to protect their online business with my affordable legal templates instead.
Check out these other important blog posts as well:
15 Most Important Legal Tips for Bloggers to Protect Themselves
Hosting a giveaway? Learn all about Sweepstakes Rules and grab your Sweepstakes Terms and Conditions template here
Accepting guest posts on your website? Learn how to protect yourself!
What other legal contracts you should have? Check these 16 DIY Legal Templates
Want to use someone's photos, testimonials or videos legally? You need this Media Release Agreement
Want to start your own affiliate program or already have one? Protect yourself with an Affiliate Agreement
Are you a coach offering 1:1 or group coaching? Learn about the 3 essential legal contracts you need as a coach!
50 Entrepreneurs Like You Reveal Why Free Legal Templates DON'T Protect Your Online Business
Protect Your Business Secrets With a Confidentiality Agreement
Looking to hire a freelancer or provide freelance services of your own? This is the Freelance Contract You Need!
Everything You Need to Know About Blog Disclosures and Disclaimers (with Examples)
Grab your FREE legal guide below revealing the 3 legal mistakes bloggers and entrepreneurs make (plus it sums up everything nicely as a pdf guide you can download!)
Check out more LEGAL TIPS on this page for your business.
Are you blogging legally? Have you met all your website legal requirements? Tell me in the comments below!