Are you using Pinterest templates in Canva to create pins that go viral? If you are not, then you are seriously missing out!
Don't waste hours creating Pinterest pins anymore. I made this blogging mistake when I was just starting out and didn't know I could buy Pinterest templates to make my life easy.
Pinterest templates are the easiest and fastest way to create Pinterest graphics to get clicks to your website, which increases traffic to your site!
More clicks = more traffic to your site, more subscribers and obviously more sales for you.
I have invested in many different kinds of Pinterest templates to give my pins variety and boost because Pinterest loves when you create new pins daily! That's right, you should be uploading a new pin daily.
This is the secret to making my pins go viral these days.
As you can see below everything on my Pinterest from Impressions, Total Audience, Engagement to Engaged Audience has gone UP almost 40%!!!!! This is just in the last 7 days by implementing this secret strategy of using these beautiful Pinterest templates and adding a new pin every day!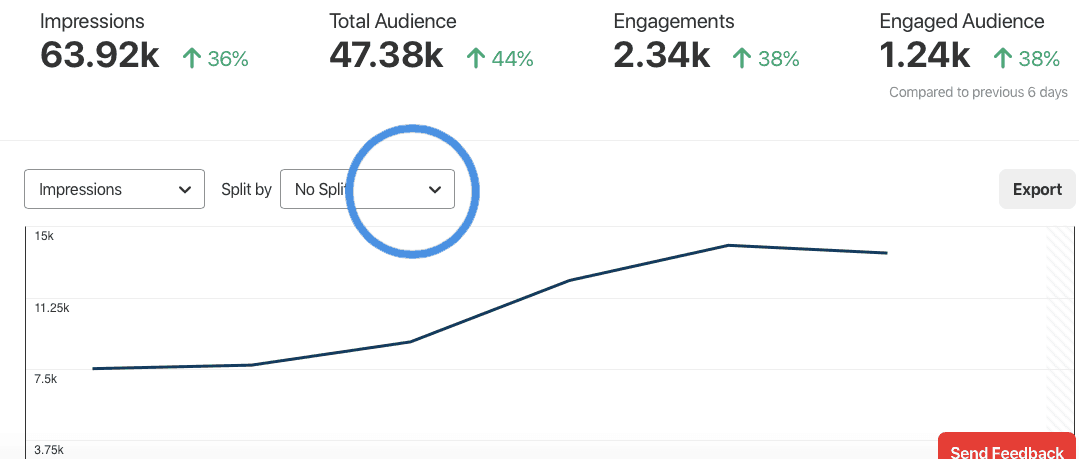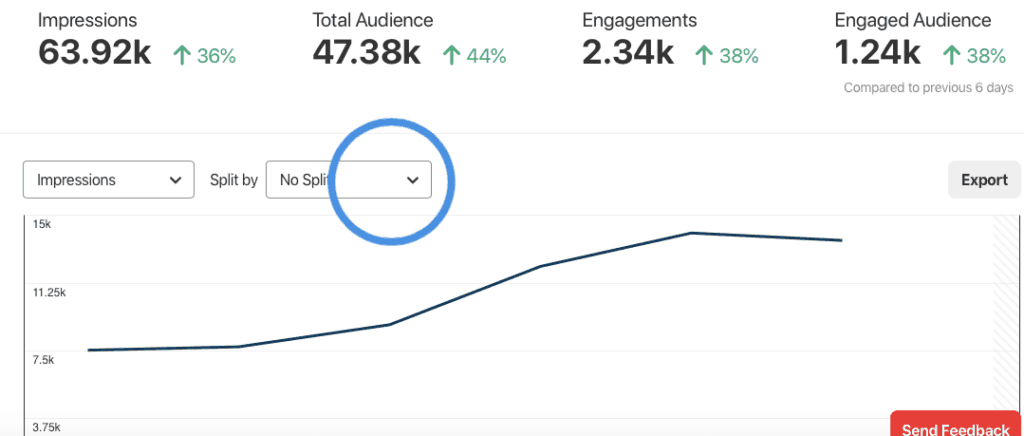 I'll discuss how you can achieve the same result with different Pinterest templates that you can easily use and edit in Canva to save you so much time! Plus your pin designs will start looking professional and more eye-catchy.
Also, check out this 380-page e-book(PLUS FREE BONUSES) so you can start building loyal followers and drive massive traffic from Pinterest back to your blog!
Let's get started with this brief video first –
1. Gorgeous Unique Pinterest Templates – 30 Pins (plus bonus templates!)
These templates are my favorite right now! Take a look at them and let me know what you think in the comments below.
You get really eye-catching uniquely designed templates that will truly save you HOURS!
You can easily drag and drop these Pinterest templates, adjust your image, and BAM… you have your customized pin done in seconds!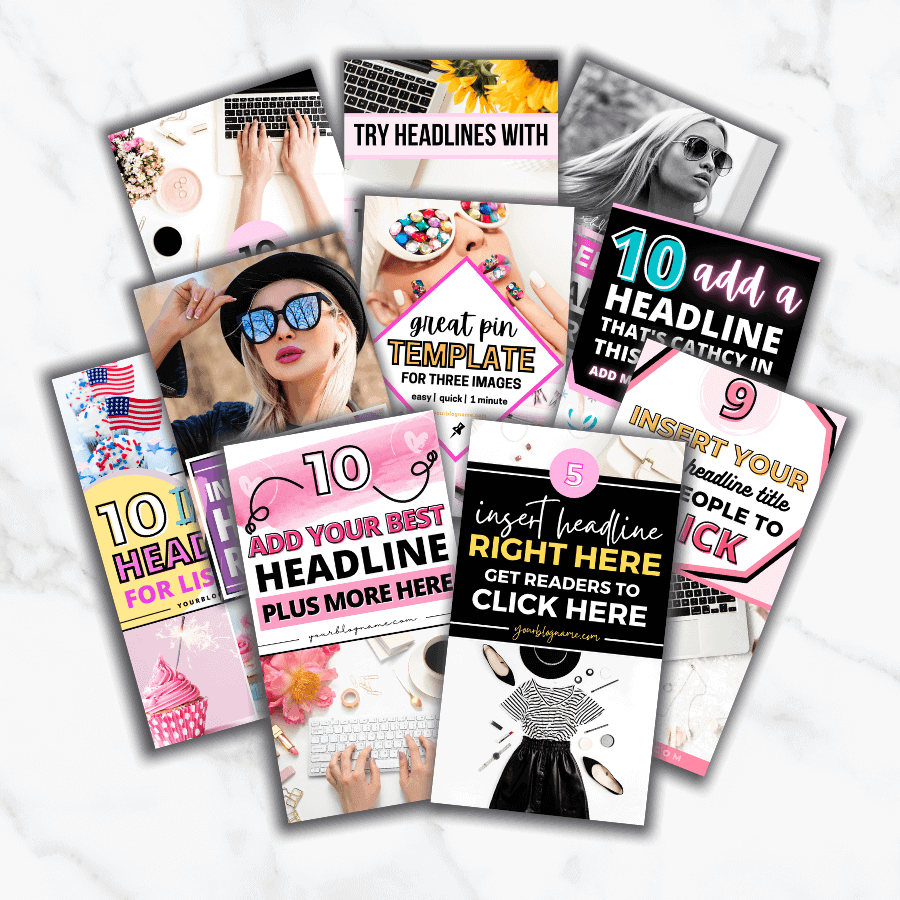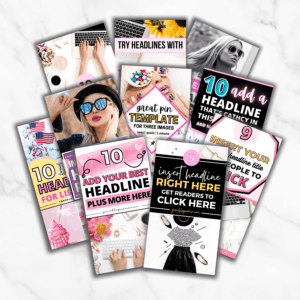 2. Really Beautiful Pinterest Templates – 86 Pins
These 86 Pin templates are so pretty. Trust me, you won't regret buying them! Use them for 15 blog post, landing page, sales page links of your choice and that's 1,200+ FRESH NEW PINS! (86 x 15)
These pin templates are super affordable as you can see here so definitely check them out! You get A LOT of pins and won't have to purchase new ones anytime soon! Here's an example of my pin using these templates.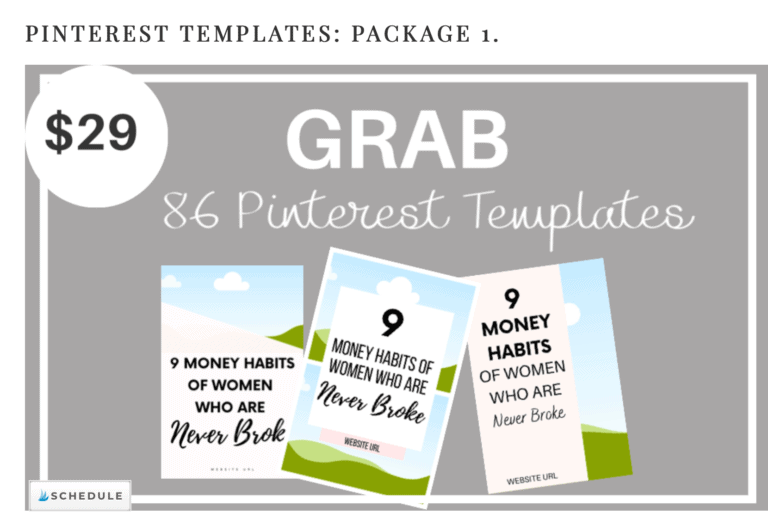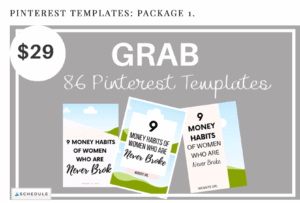 3. Pinterest Templates Bundle – 30 Pins
This Pinterest Templates bundle comes with 30 Pinterest templates that are easily editable in Canva. You only need the free version of Canva to work with these templates.
Note: If you want to experiment, you can also design pins here along with Canva.
These Pinterest templates come in 3 different sizes below:
     

(10) 600px – 900px

     

(10) 1,000px – 1,500px

     

(10) 600px – 1,250px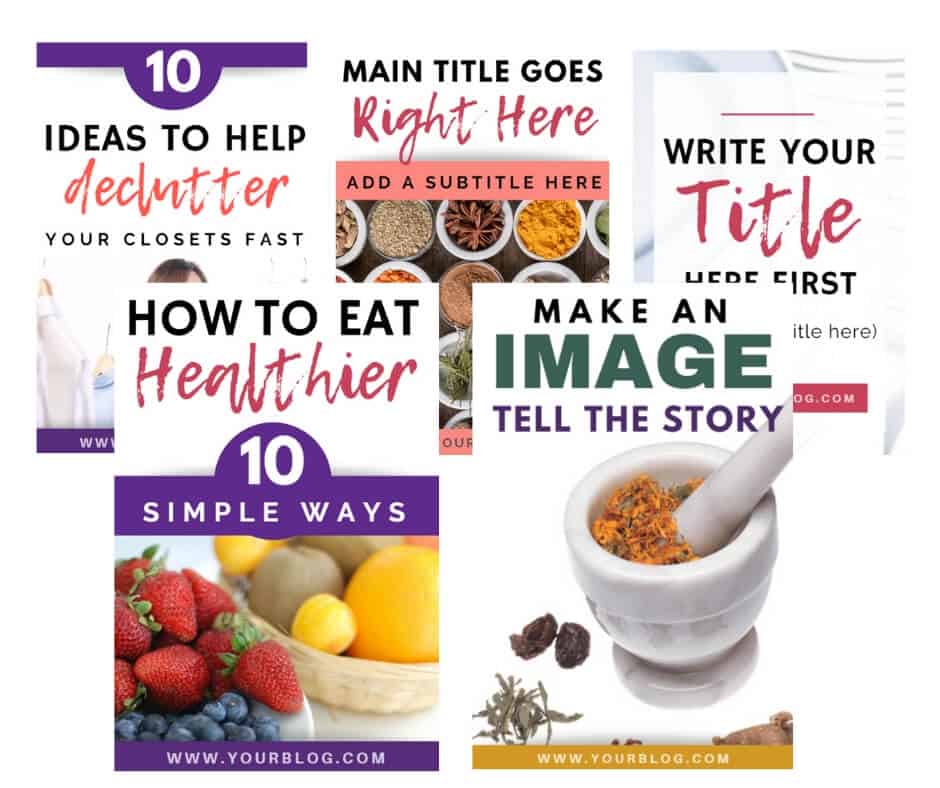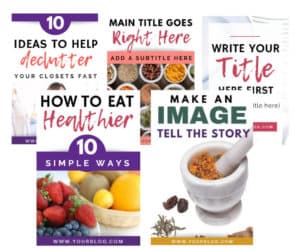 There's also a Downloadable PDF with written instructions and recommendations. You also get Video Instructions on how to download, save, and edit your Pinterest templates in Canva with a mini Canva Tutorial.
Needless to say, it's a breeze to work with these Pinterest templates in Canva as I showed you in the video above.
You also get a really cool bonus with these templates – 100+ List of Trigger Words to include in your Pin titles for higher click throughs.
The best part is that all of these resources are available for such a low price here, and you can use and edit these Pinterest templates for a lifetime! 
Can you imagine what it would be like to stop stressing over Pin creation on a daily basis? 
Think of all the things you could be doing instead to grow your blog such as:
I only spend half hour on a Sunday and create 30 pins that last me for the whole month! (all while watching TV).
It's mindless easy work instead of paying someone to do it for me or wasting time creating ugly pins that no-one will click on.
Now you can just edit dozens of Pin Templates in minutes without having to worry about what design to create, if they are even good enough, or click-worthy.
—> Click here to check out these 30 templates + the bonus! 
The creator of these templates also has another fabulous blogging resource book for you – check it out here.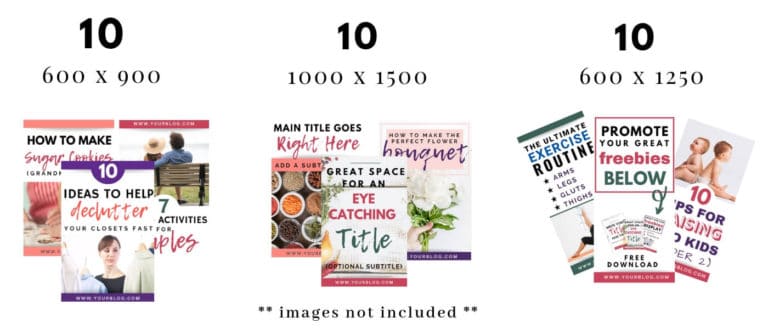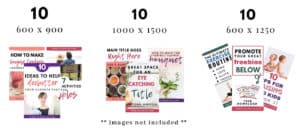 4. Beautiful Pinterest Templates – 20 Pins
Next are these 20 very pretty Pinterest templates that I showed you in the video and they also make my pins go viral!
The creator of these templates, Nadalie, is a pro at Pinterest! She gets millions of views and massive traffic from Pinterest every day, so she really knows what works! She also teaches you how to take your pins to the next level with this short easy course.
That's why I was so excited to get these templates from her as soon as they came out!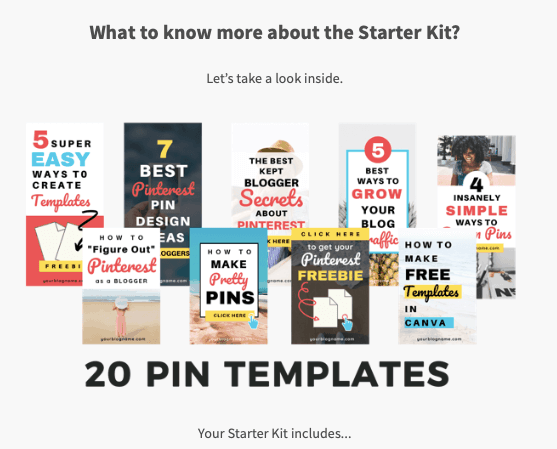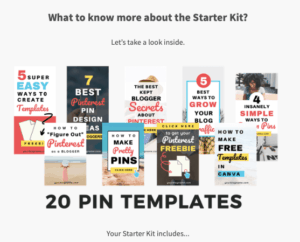 With these Pinterest templates, you get 2 sizes of pins:
(10) 600 x 900 Canva Pinterest Templates that are easily customizable to your blog and branding.
(10) 1260 x 600 Canva Pinterest Templates where you can add your unique style.
There are two awesome bonuses with these templates as well:
12-Page Bonus Design Guide that shows you exactly how to customize each pin template, from where to add or change color to how to change backgrounds and more.
BONUS Branding 101 Color Scheme Video to help you choose your brand colors. With an introduction to color theory and how to choose complementary colors you'll always know which ones to use in your pin designs.
I've always sucked at picking colors that go together so for me, the bonus branding 101 scheme video in here was super helpful!
As you can see, now the colors on my pins here go well together. Here are couple of examples of the pins I created recently from these templates.
—>Click here to check out these templates + 2 bonuses! 
Pinterest Course and Free Training
Related: As I mentioned that Nadalie is a Pinterest pro, you will also love her Pinterest course here.
Here's my interview with her.
Take her free live training to learn:
How to Design Click Worthy Pins
Learn to Write Engaging Pin Descriptions
How to Create a Simple Pinning Strategy that works!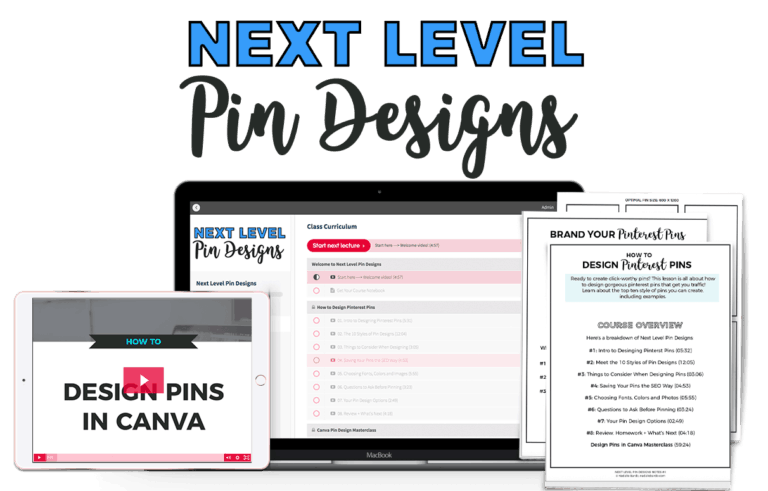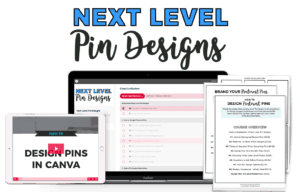 —>Click here to learn how to take your pins to the next level! 

4. Pinterest Templates- 90 Pins
This Pinterest templates bundle gives you good value because you get 90 pins for a very reasonable price. You also get 5 different sizes in templates, so that's total of 300+ templates for you!
Just like the other Pinterest templates above, you also get access to a video tutorial and PDF instructions.
There's also a private FB support group, which is nice! This way, you can ask questions easily although you won't need to! But it's still great to have a support group.
It also comes with 4 Bonuses!
—->Click here to check out this value-packed Bundle 
5.  Blazing Canva Graphics Kit – 60 Templates for Social Media
This one is a very unique and beautiful kit of all kinds of Canva graphics you can think of starting from Pinterest, Facebook, Instagram and others!
If you are tired of struggling with designing social media marketing graphics for your business and want to get on the "​fast track"​ to ​cranking out EPIC graphics​ to promote your business on social media then check this amazing kit.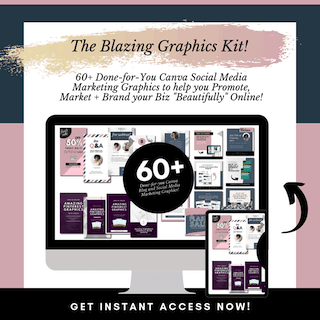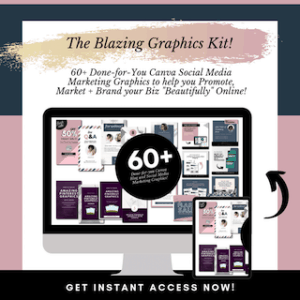 These 60 done for you Canva graphics are perfect for your business. This kit comes with:
(​10​) Instagram Stories Templates to help you create beautiful and eye-catching IG stories animations
(​10​) Gorgeous Facebook Marketing and Promo Graphics!
​10​) Lead Magnet Promo Templates to help you grow your email list like a CHAMP!
​10​) Instagram Marketing Templates to help you create beautiful IG Feeds that get your brand the attention it deserves!
A (​15​) page eBook and Workbook template that you can use as an email opt-in, pair with a course or free training.
(​10​) Pinterest Click and Shareworthy Graphics for marketing your brand like a PRO on Pinterest
Video tutorials to show you how to edit and customize your graphics using the FREE version of Canva!
Graphics are easy to customize and style to match your current branding!
Beautiful stock photos included to spice up your graphics and make them visually appealing!
+ more! I simply LOVE this Canva Graphics kit because it includes EVERYTHING you can think of, not just Pinterest templates but graphics for all social media platforms for your business. You should definitely check it out because it's SO affordable!
—–> Click here to get this Canva Graphics Kit
Canva 101: How to Use Canva
Also, click here to learn how to design stunning graphics and ebooks yourself in Canva. This course shows you how to use Canva in ways you can't even imagine!
It will get the wheels turning for you on the DIY design front and learning more about Canva and ways you can use it to enhance your business.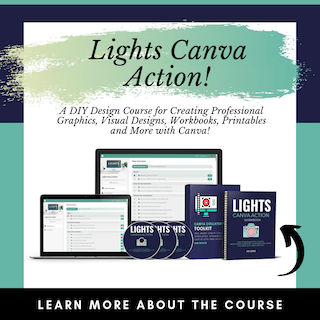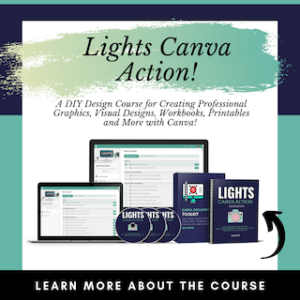 Pinterest Courses and Resources For You
Pinterest is not an easy platform to master. With all the algorithm changes and updates, your traffic does suffer but it's still a great source of organic free traffic that you can't beat.
You should definitely use this tool to pin daily and schedule pins for the month instead of spending too much time with manual pinning daily.
This way, once you use any of the Pinterest templates above, you can quickly create pins and upload a new pin every day.
Also, make sure all your posts are shareable, meaning people can easily click on a button to pin them! Use this tool to make your posts shareable.
There are 4 Pinterest courses I'm going to share with you. If you are struggling with Pinterest then you should definitely invest in one of these courses to learn how to use it correctly. One new technique can make all the difference in the world and grow your Pinterest.
Each course creator is different, and I learn from multiple sources because I always find something new!
So depending on your budget, select the course that works best for you. I'm going to discuss them in the order of least to most expensive so you can compare and decide for yourself.
Most Affordable Pinterest Course
This course is the most affordable out of the ones I'll discuss here. Chelsea, the creator, is a fellow six-figure blogger and her content never disappoints!
She has a solid Pinterest marketing strategy that she shares with you in the course to bring traffic to your site quickly. This is a perfect course for a beginner blogger that's packed with info you must know!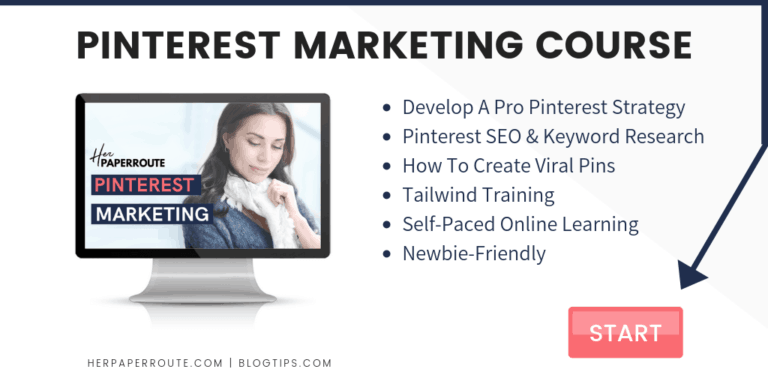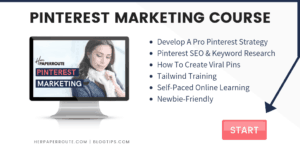 Here are the key highlights of this course: 
How To Develop A Professional Pinterest Strategy
Pinterest SEO & How To Do Pin Keyword Research
How To Create Viral Pins
How To Rank In Pinterest's Topic Feeds
Chelsea, the creator, of this course also has another amazing course, which I absolutely love. Check it out here.
2. Best Priced Pinterest Course
For the value it delivers, I feel this is the best priced Pinterest course in the market right now. It was recently updated with all the 2020 changes as well!
What I love is that the creators constantly update the course as the Pinterest algorithm changes and strategies change with it. Pinterest is the main source of traffic for their blogs (they run two blogs), so they pay very close attention to all the changes.
You get free updates for a lifetime once you enroll, and the course comes with an awesome FB support group where you can easily ask questions and get help at all times.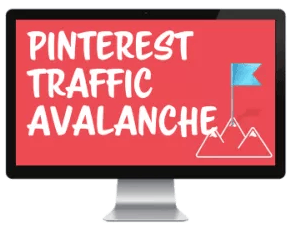 This is a beginner to an advanced level course that goes in depth and teaches you how to drive 100,000+ free monthly visitors to your blog on auto pilot, so definitely pay attention to all the videos and strategies in the course!
Their students have achieved some great results and some of my favorite tools from the course were Viral pin checklist, beginning with the end in mind video, pinning recommendations and more!
—>Click here to learn more about this course
3. Great Value Course
This Pinterest course is structured really well and Nadia, the creator, explains breaks down the basics for you. If you take the two courses I recommended above then you don't need this one. But if you don't take those then this would be a great one to start with!
As you already know how much I love and appreciate Pinterest templates, this course comes with 6 templates that you can use right away!
She also has a list of group boards that are accepting contributors, which was very helpful instead of searching for those on your own.
—>Click here to learn more and see what others have to say 
4. Best Comprehensive Course
I saved the best Pinterest course for the last! I went through this course after taking all the ones above and still learned something new. Nadalie has a way of breaking down things into simple ways that you can easily digest to avoid any overwhelm.
She teaches you how to get Tailwind for free! It's a simple little trick but not everyone knows about it. I certainly didn't.
That alone is worth taking the course so you never have to pay for Tailwind again but there are so many other things you'll learn such as how to use Pinterest SEO and pin the right way. She also shares manual pinning strategies that work.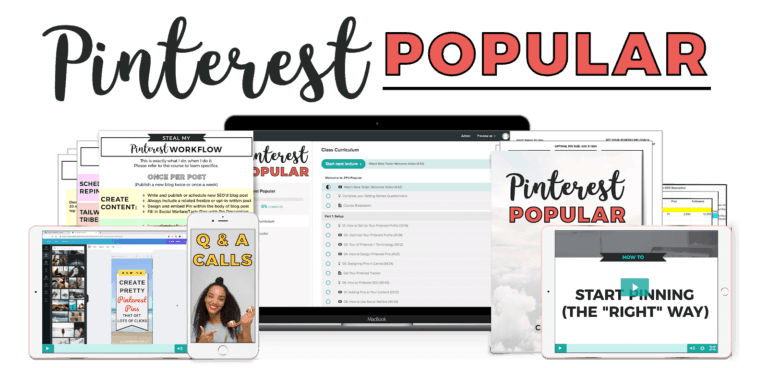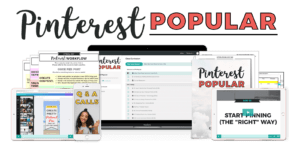 For a better understanding of this course, take this free live training to get started with Pinterest!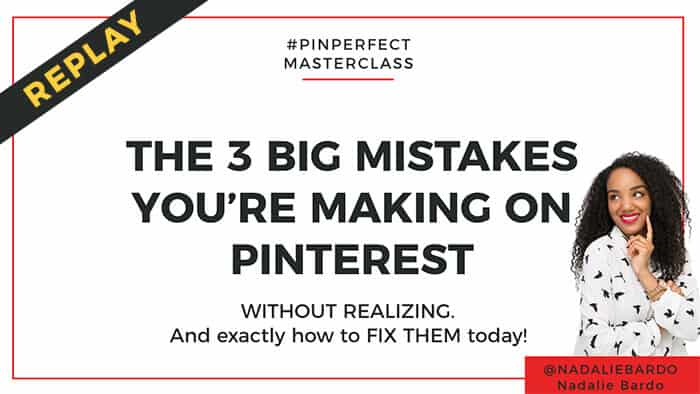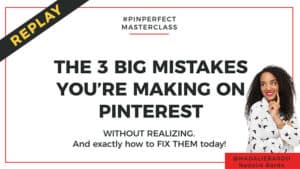 —>Click here to check out this course
—>Click here to join the free training to avoid making these 3 mistakes on Pinterest
Lastly, don't forget to join my support Facebook group to increase traffic to your blog and connect with other entrepreneurs!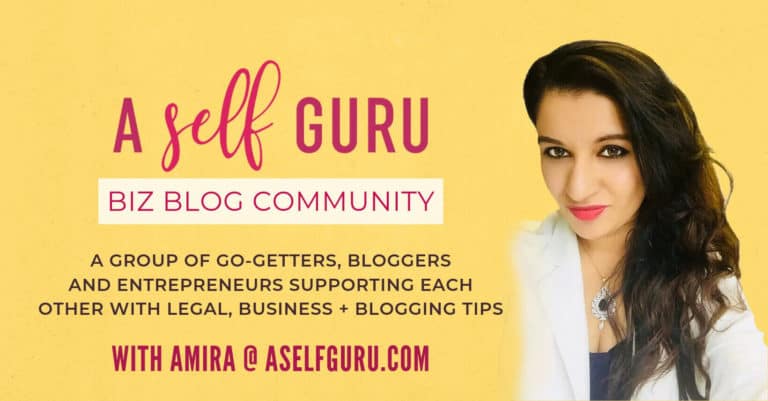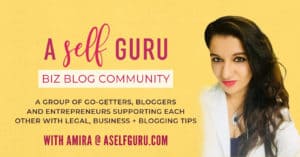 Final Thoughts – 100 Pinterest Templates to Create Viral Pins on Pinterest
I know we talked a lot about how to create viral Pinterest pins without spending too much time on them!
BEAUTIFUL CLICK WORTHY PINS ARE EVERYTHING ON PINTEREST!
Remember you could have written the best most epic post filled with such valuable information but what's the point if nobody on Pinterest is clicking on your pin to get to your website to read it? You must have a beautiful looking pin that stands out!
Here are the 6 different Pinterest templates you can use to create viral pins (I use all of them – yes, I'm crazy like that!):
Then we talked about Pinterest courses you need to take to go from a beginner to an advanced blogger. Those are:
Related Posts to Increase Blog Traffic
Check out these other blog posts to learn the different ways you can increase blog traffic (I bet you don't know all of them!)
So tell me, when it comes to Pinterest, what are you struggling with right now? Do you use Pinterest templates to create pins? Comment below!