[This is a guest interview with Nadalie from It's All You Boo on how to slay your goals in life and business. Goal setting may be easy but how to achieve your goals as busy bloggers and entrepreneurs is not that easy!
Nadalie provides you the exact tools and strategies you need to become a goal slayer in no time with her best selling Slay Your Goals Planner, Goal Setting 101 course + become part of her Goal Slayer communityto truly understand what slaying your goals means and how to stay focused on your goals at all times!
I've interacted with Nadalie on multiple occasions, so I can personally attest to the fact that she's quite amazing and inspiring! She has helped tons of bloggers and entrepreneurs with her step-by-step Goal Slayer programand loves helping you achieve your goals! Read the Q & A below to find out more!]
 Guest Interview with Nadalie Bardo: How to Slay Your Goals
1. Can you tell us about yourself and your blog?
Hey boo, I'm Nadalie Bardo, the Founder of It's All You Boo, a personal development blog dedicated to helping you slay your goals in life and business. I am obsessed with curating the very best content to help my readers make real progress in their lives.
In a former life, I've been a student, a photographer, a web designer, a public relations specialist and now I'm enjoying life as a blogger and content creator. I'm just enjoying being a girl with a blog.
[That's awesome, Nadalie! Love how your background is so diverse and inspiring!] 
2. What inspired you to start a blog?
I wouldn't say that I ever really intended to become a blogger, it sort of just happened. Back in my 9-5 life, I worked in public relations and collaborated with bloggers on a daily basis. It must have seeded in my mind somewhere that THIS was something I could do.
Then, after I escaped the working world, I started my blog as a place for my declaration of freedom. My first posts were really just me wrestling with making this choice and choosing to chart my own course.
[Very interesting and great job on escaping the 9 to 5 life! Launch Your Blogging Biz the right way with this]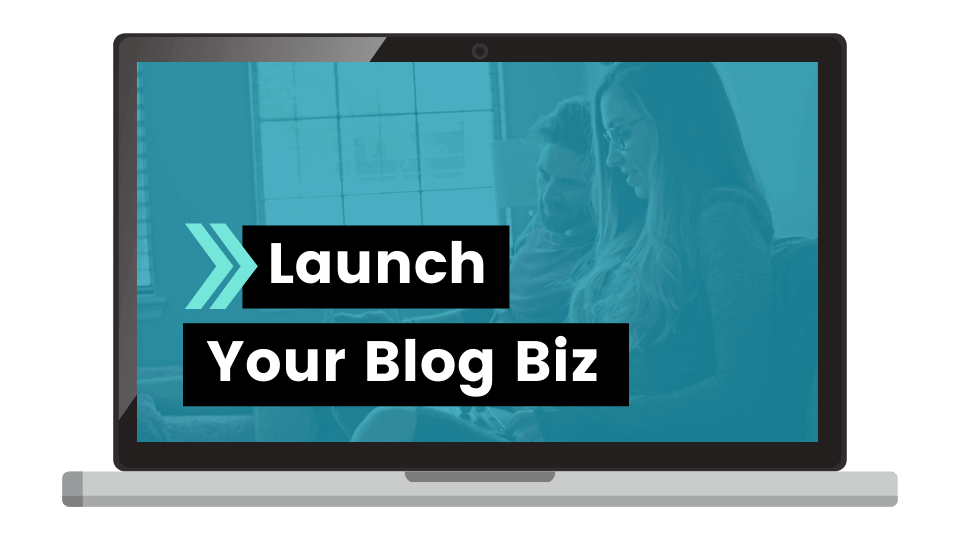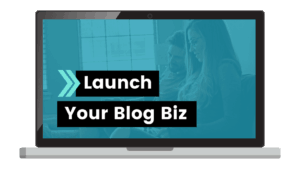 3. What do you love the most about blogging and what frustrates you?
There is so much that I love about blogging. As a former professional student, I am addicted to having to constantly learn new things and try new strategies. It's the perfect field for anyone who loves change, who wants to keep things fresh.
To be honest, there really isn't anything that seriously frustrates me at this point. I think I'm passed that stage and really at the point where I'm catching my stride. But, I do remember times a while back when WordPress frustrated me, keeping up with everything like blog posts, product creation, emails, and social media stretched me thin.
Any frustrations I may face in the future are nothing compared to how much I love this.
[That's wonderful to hear! I love blogging too but I can't say nothing frustrates me yet 🙂 There's always so much to do, so slaying your goals and keeping up with everything you said – blog posts, product creation, social media, etc is definitely not easy and requires lots of time and dedication]
Goal Getter (A Productivity...Shop on Amazon

Goals!: How to Get Everythi...Shop on Amazon
4. As a professional blogger, how many hours per week do you blog? What does your typical day look like?
This is a kind of hard question to answer. As a blogger, I find that the least amount of time is actually spent "blogging." Usually, content creation takes up about 4 days a month. Other things like social media, Pinterest particularly take up maybe an hour or less per day.
The bulk of my time is actually spent creating products, from filming videos for my upcoming courses and interviewing guest experts, to writing sales pages and tweaking email funnels.
I actually don't believe in using alarm clocks, so a typical day starts when I wake up, which is usually around 8AM. The first few things I do every morning are drink water, have my breakfast, and if I'm good I'll do some Tai Chi. Then I'll settle into checking my stats, my site, my emails and my social media's quick to make sure things are running smoothly.
Most of my day, say 10AM to 5PM will go towards whatever task I've planned to work on that day. I plan my months in advance and break down my weeks and days ahead of time so there's no guesswork about what I should be working on.
Throughout the day, I'll take breaks to eat, chill out, watch an episode of TV, and while working I'm usually sipping on coffee or tea and feeling motivated by the music. Plus, chatting with fellow bloggers on Facebook.
Then, typically around 9-11PM, I might get a second wind and be inspired to just get a head start on something else.
[That's an awesome schedule and sounds like a good healthy balance of work and play!]
5. I see that you have helped tons of bloggers with your Slay Your Goals Planner and Goal Setting 101 E-course, can you tell us more about it?
Not just bloggers, my goal setting coursesand Slay Your Goals planner are really for anyone who needs help getting started, staying focused and finally following through and achieving their goals.
The Slay Your Goals Planner is a 60+ page printable that guides you from intention to action. With it, you'll get to the heart of why you want to pursue a goal, then get super clear on what your goal actually is, then you'll create an action plan for achieving it. Plus, with pages for months, weeks, and days you'll have fun plotting it out.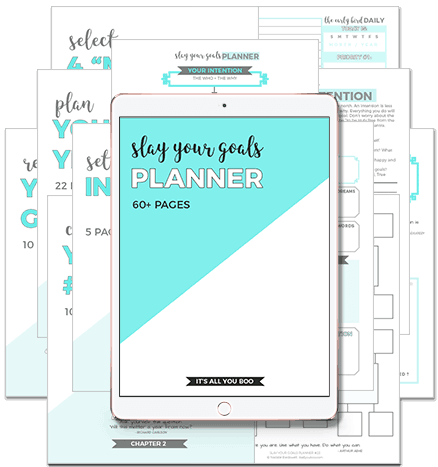 Goal Setting 101 on the other hand, is a fun and easy introduction to goal setting. I created it with the absolute beginner goal setter in mind, so we really break down these concepts into relatable examples. Each chapter has workbooks and planning pages so once you graduate, you have an approachable and achievable plan for getting started with how to achieve big goals in business and life.
The big difference is the format.
Slay Your Goals Planner is a printable and form-fillable planner, for those who are ready to just sit down and plot it all out.
But Goal Setting 101 is a course with chapter lessons that teach you how to set goals.
Both are helpful options to get serious about how to stay focused on your goals and slay your goals as a blogger.
[Personally, I find goal setting to be easy. But staying focused on your goals and really staying positive and never giving up on your goals are the hard parts. This is where your Slay Your Goals Planner and Goal Setting 101 course truly help! Your printable goal planner is a great way to write down and define your goals clearly, so you know what actionable steps you need to take to achieve your goals in life and business!]
6. What can bloggers expect to learn from your Goal Slayer Course + Community?
The Goal Slayer Course + Community, or #GoalSlayer, is a deep dive into how to actually achieve your goals – no BS. You probably know from experience that achieving your goals isn't as simple as just setting goals.
Together we explore to satisfaction topics from productivity and motivation all the way to being more positive and building in accountability. We all face common challenges like a lack of confidence, being unable to take action, needing motivation and even being too hard on ourselves.
In this program, you work through all those issues and more so you can emerge a "Goal Slayer" ready to take on your goals.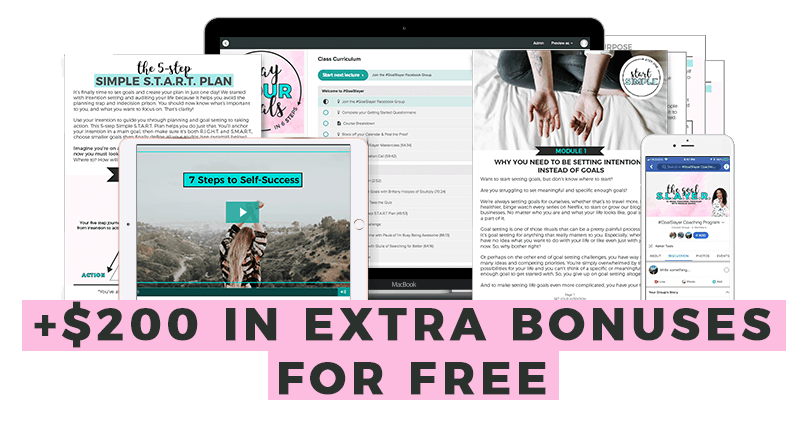 [Having a community is so important! It fuels your passion and motivates you to work even harder to slay your goals! Definitely check out this awesome program with tons of bonuses for free!]
7. If you could give us one tip to slay your goals, what would that be?
I'd say as a blogger, my number one tip on how to slay your goals would be to choose a goal and stick to it. Success in blogging is largely a matter of commitment and consistency. With so many ways to "make it" online, it's way too easy to get distracted. To be the person at the end of the year with 20 ideas and 10 hardly started projects.
Choose your path to success, whether that's affiliate marketing, ads, products, SEO, Pinterest, Facebook, Instagram and so on.
Pick your strategy for success and see it through.
Forget what everyone else is doing and for the most part ignore all the get rich quick blogging stories. Blogging is hard work, and it takes time to not only learn everything but for results to show up.
BUT, the best part is that blogging success isn't linear, it's exponential. Meaning you might be making $5 a month now, but $50 isn't far behind, then $500 is just around the corner.
[Wow, I love what you said! I couldn't agree more about your tip on how to slay your goals! Especially as a blogger, you are right, it's so easy to get distracted but if you stick with one or two ways to monetize your blog and have clear goals to see those through then you are more likely to achieve your goals]
8. A lot of entrepreneurs mistakenly believe that blogging is a quick-rich scheme, how long did it take you to make your first $1,000 from your blog?
Would you believe me if I told you that I actually don't remember? I wasn't really keeping track. But, I recall it being pretty early on from selling my design services to other bloggers and entrepreneurs using my blog as a reference.
As a blogger, you become expert in a lot of marketable skills pretty quickly, like WordPress and social media marketing. You shouldn't be afraid to offer these services to help you make money in the beginning.
[Yes, that's so true! So many bloggers I know are multi-faceted and they have leveraged their real life skills and experiences to help others succeed with their blogging business! This includes me! I love to provide blog legal audit services and business coaching calls to bloggers to help ensure they know how to blog legally while also providing them the help and support they need with their blogging business]

9. How long did it take you to make a full-time income from your blog?
Am I? I feel like this is one of those phrases people throw around a lot. What is a "full-time income"? What one person needs as a living wage and another isn't always the same. You and I live completely different lives; thankfully my standard of living isn't high.
Also, added bonus of quitting the 9-5 is you actually cut your costs by a huge margin – at least I did.
A lot of people bridge the gap between their full-time employment and becoming a blogger.
I didn't – for good choice or bad call – I skipped that part and started out with no plan and no money (quite a bit in the hole to be frank).
So, for me there was no "waiting to make enough." This was my reality from the beginning, I'm still standing and I just make it work.
To answer your question, the blog on it's own has been keeping the lights since I launched my Slay Your Goals Planner in around Oct 2017.
To give you a bit of a timeline, I published my first post in September 2016 and started taking blogging seriously in March 2017.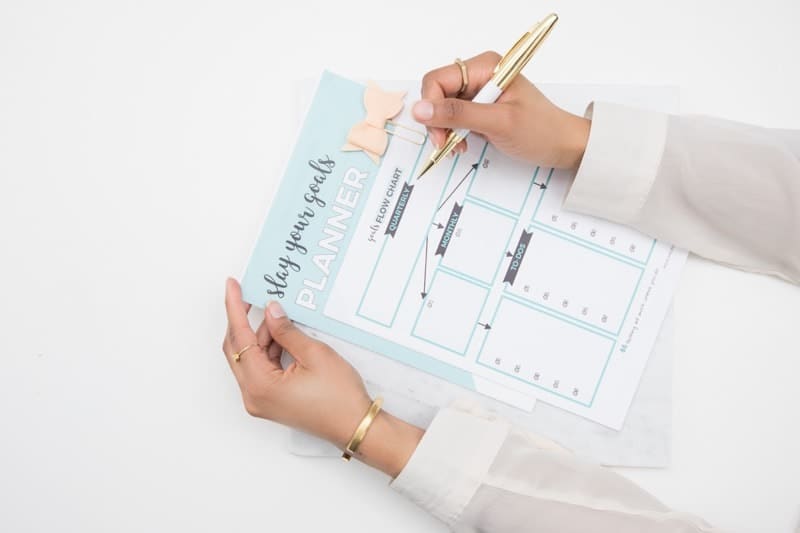 10. Based on your blogging experience, what are some of the best ways to make money blogging?
I've tried a few things over the years, but I'd say it's a combination of selling your own products with an affiliate program + freelancing your skills or coaching. Also, once your traffic is high enough you can easily increase your income with ads.
[Yes, I completely agree! My 3 favorite ways to make money blogging are affiliate marketing, selling my own products and providing business coaching services. I also love making money from sponsored posts because those are fun!]
11. What do you think is the best social media strategy for getting traffic to your blog?
Given that your time is limited and it's really stressful in the beginning, I would focus entirely on Pinterest. For the energy and effort required, the return is the highest in terms of traffic to your website. Focus on one channel and master it before moving on.
[Yes, Pinterest is a game-changer for me! One viral pin can bring you tons of traffic in a day and everyone should focus on it right away! Here are some awesome Pinterest resources for bloggers to master it – Pinterest Traffic Avalanche and Pinterest Marketing and here's Nadalie's popular Pinterest course that tons of my readers have taken and loved!]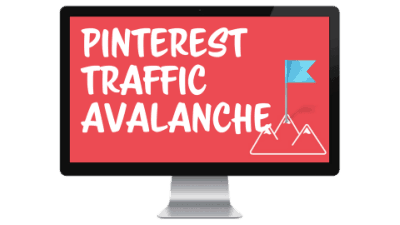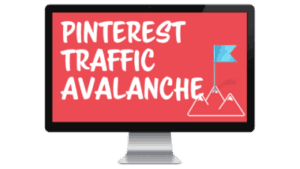 Check out the free Pinterest masterclass here.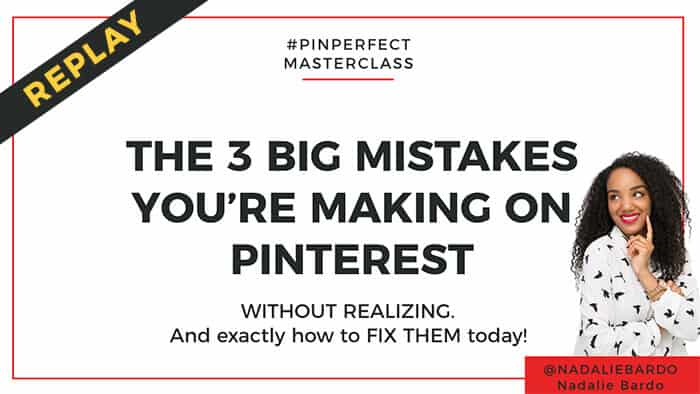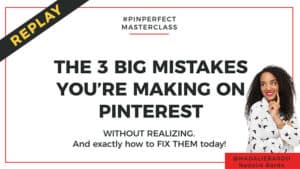 12. What are the top 3 things new bloggers should concentrate on first?
That's easy!
#1. Pinterest – You need a way to get traffic. It's the best choice. Learn how to use it, how to pin properly, how to design clickable pins and so on.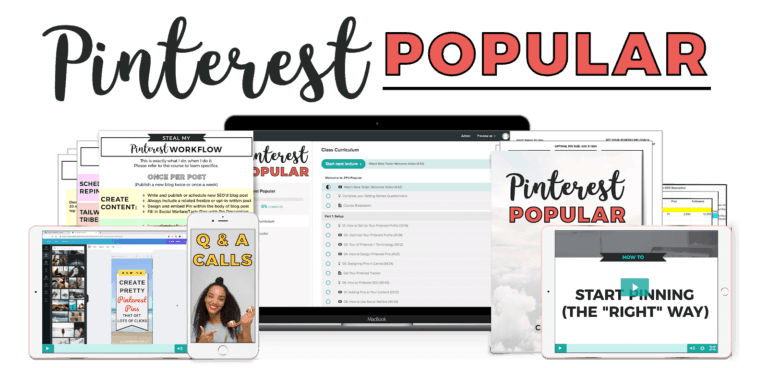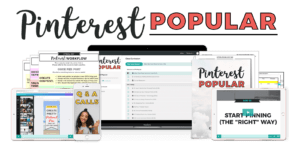 #2. Product – You should create an entry-level product of your own like an eBook or printable. Figure out what problem you can solve and provide a solution. Don't wait, just create and launch something. This is what I used to create 10+ products in less than 6 months.
#3. Partner – You cannot do this on your own, you need to build a network. Make friends with other bloggers, join a community, partner, collaborate, write guest posts for others and create together.
And lastly, it never hurts to create a blog business plan. It doesn't have to be 10 pages, but a simple plan goes a long way to help you slay your blogging goals.
[These are excellent tips, Nadalie! They have worked wonders for me, and I talk about some of the same things in the 7 blogging lessons I learned after making $10,000 from a new blog here]
13. Based on what you've seen, what are some of the biggest mistakes new bloggers make?
I know from experience that one of the biggest mistakes new bloggers make is overspending on unnecessary courses and software you don't actually need. Like, every blogger has shiny object syndrome and goes on a spending spree.
They also either completely ignore or waste time trying to figure out all the legal stuff on their own. They think they can just DIY it or that it's not important.
A better choice is to just make the one-time investment in something like these Legal Bundles.
Also, unlike yet another course you'll never complete, your blog legal pages – blog disclosures, blog legal disclaimers as well as terms & conditions are pages your blog needs now!
Whether you know it or not, you're exposed to lawsuits without it and it should be your number one concern.
As a blogger, remember to always only buy what you need now. And trust me, you need this Legal Bundle to protect your blogging business legally from day one.
Related post: 3 Ways to Legally Protect Yourself + Your Blog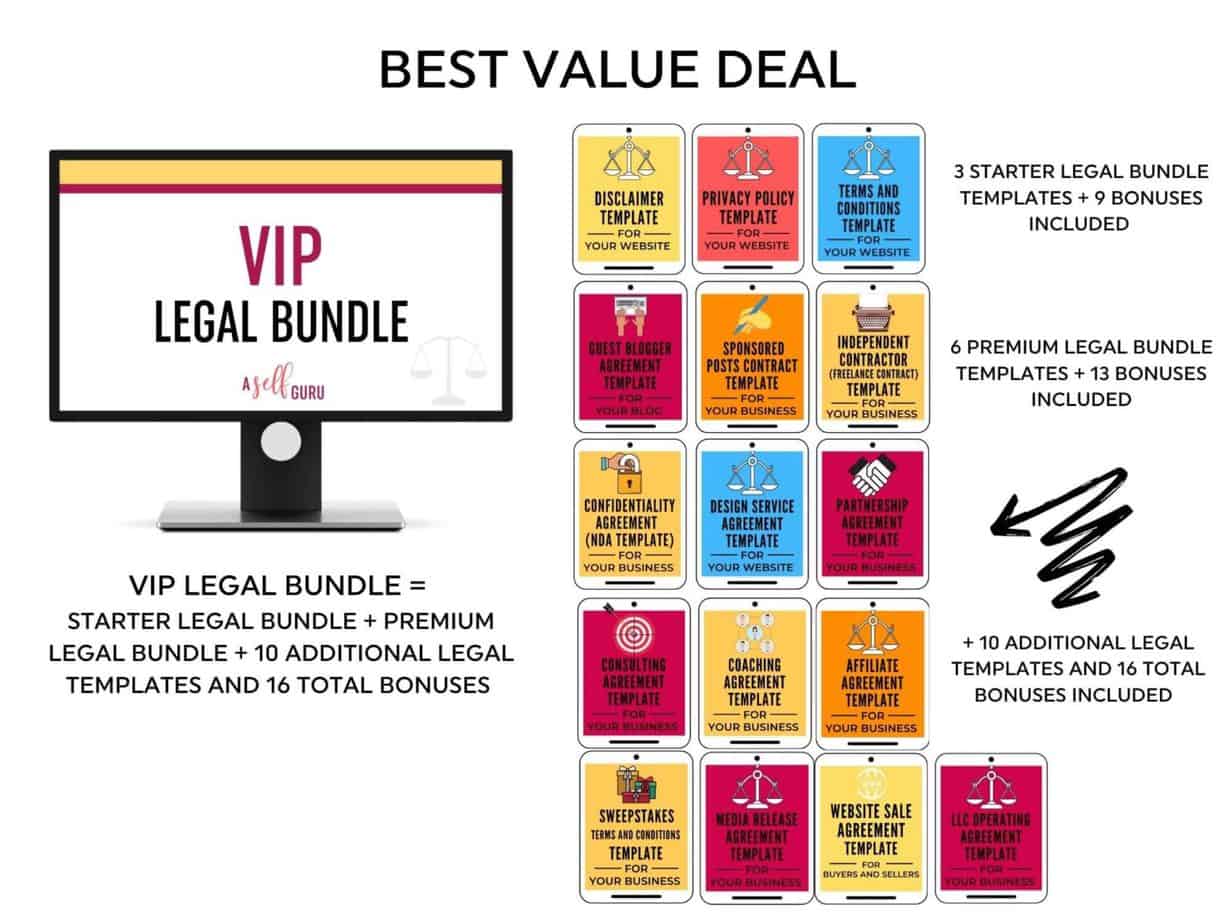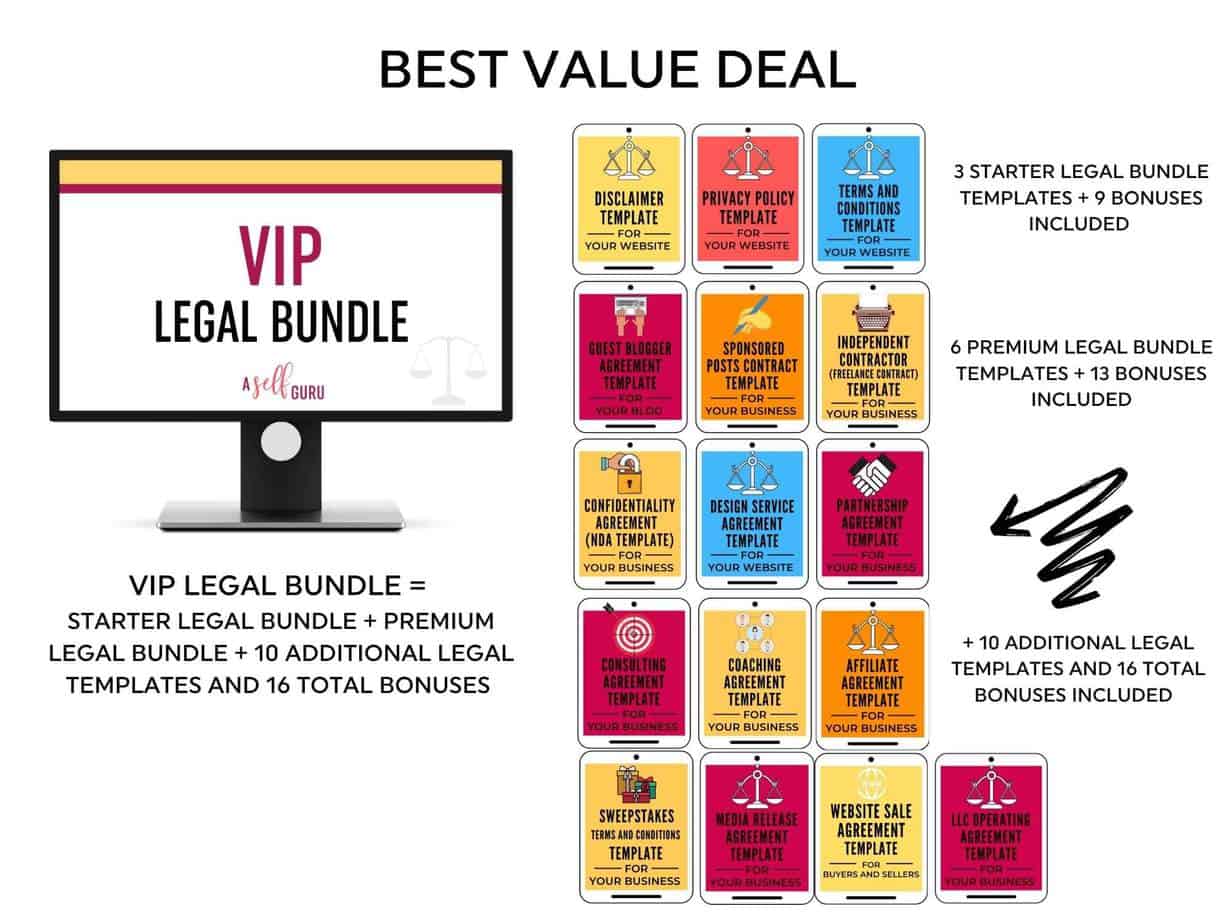 [I must admit, I went on a spending spree a little bit with all the blogging courses and tools in the beginning but at least I use these daily! But thank you for emphasizing the importance of blogging legally with my Legal Bundle because I also see this as one of the biggest mistakes new bloggers making where they forget or procrastinate on protecting their blog with legal pages. You are absolutely right about spending money wisely and there's nothing more important than learning how to blog legally and making sure you have the right blog legal pages on your site before you launch!]
14. Any other blogging or business-related tips that you would like to share?
Just be you. There are so many imitators out there; they're all trying to be the next Marie Forleo. Everyone's writing the same emails, copying everyone. Be creative, be yourself, do your own thing!
[That's the best advice!! I always say the same thing – be unique and carve your own path!]
15.  Let's get personal, just a little!
What's your Favorite Book:
The Obstacle is the Way
Check it out here –
What's your Favorite TV Show:
Battle Star Galactica
What's your Favorite Food:
Anything pasta
What's your Favorite Hobby:
Photography
One Entrepreneur that Inspires You:
No one in particular, every woman who is working hard doing her own thing – the countless entrepreneurs we don't even know about!
Final Thoughts – How to Slay Your Goals in Life and Business: Interview with Nadalie Bardo
Well, I hope you guys enjoyed this guest interview with Nadalie as much as I did! I'm so glad she took the time to participate in this interview and provide her valuable feedback.
Check out her 3 awesome goal slaying products below to help you achieve your goals now!
About Nadalie: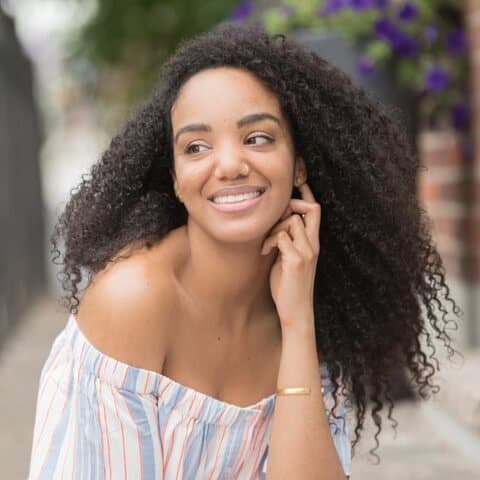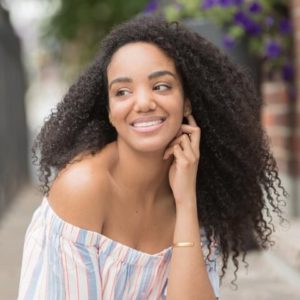 Nadalie Bardo is here to help you slay your goals, so you can pursue your boss life with confidence + action. As the Founder of It's All You Boo, she curates the very best content to keep you motivated and inspired to slay your goals in life and business. Her signature creation, the Slay Your Goals Planner is a 60+ page printable dedicated to helping you actually achieve your goals this year.