Why should you work for yourself? Is it really worth it? Below are 7 great reasons why you should be self-employed.
1. AUTONOMY
You desire and love to work on your own terms. You want the freedom to wake up, sleep, work, and travel whenever you want. No more dealing with traffic or asking for sick days or vacation. When you have a job, you have set hours and very less flexibility with your time.
You can't structure your days the way you want to. But if you want your own schedule such as working from home then consider being self-employed part-time to start with to see how you like it and then work towards turning it into a full-time self-employment! Learn how I started my blog while working full-time here. 
2. MENTAL HAPPINESS
Very few people think about this one! But being your own boss truly brings a special sense of accomplishment that translates into happiness! When you don't have to report or answer to a boss, you are automatically more happy and likely to be more creative as well.
Being self-employed truly reveals your inner potential to yourself and to the world that working for someone else does not. Think about that time when you were running late for a work meeting and started worrying about what your boss will think or say? Or another time when you were working on a project that your boss gave you but couldn't meet the deadline?
At a job, you are constantly in a state of having to "prove yourself" to someone or meet someone else's expectations. In between this entire process, you lose yourself and who you are as a person.
Remember when your mind is free from this stress, that's when creativity flows.
You will be surprised to know so many people got fired from their jobs or failed to meet someone's expectations and that pushed them to go out on their own and create something magnificent. Today those are the same people that are more successful than they could ever imagine before.
If you ever find yourself in a rut at work, maybe it's a "blessing in disguise" to motivate you to do something more with your time and create your own business.
3. HIGHER EARNING POTENTIAL

This brings me to my next point, what is your earning potential at your job? Whatever it is, you don't have the same opportunity to make unlimited income as you would if you are self-employed.
When you work for yourself, your success corresponds directly to your efforts and hard work, and you don't mind going the extra mile because you know all the profits/rewards are yours to keep in the end. You are in complete control of your finances.
But when you work for someone else, you could be burning the midnight oil yet you are not pocketing that success; you are making someone else shine and look good!  Basically your hard work is making someone else rich. Once you have this realization, you will notice that you won't look at your "job" the same way again.
READ ABOUT THE TOP TAX DEDUCTIONS AND TIPS OF WORKING FOR YOURSELF HERE. 
4. YOU ONLY LIVE ONCE
At some point in your life, you have to ask yourself whether you are living the life you envisioned or are you compromising with your circumstances?
See we only live once so in order to make it worthwhile, you have to decide how you want to live and what are your hopes and wishes and of course how will you achieve all that? If you feel, having a job makes you feel content and fulfills your life's purpose then that's wonderful.
But most people feel they can do MORE with their life and aren't fulfilled with just working for a paycheck. They have the passion to pursue something bigger and be truly in control of their future. If that sounds like you then you are meant to be self-employed. Get my FREE business checklist to get started today! 
5. YOUR OWN TEAM

A job comes with people you either like or dislike and if you are lucky to get along with everyone, that's great. But it's a gamble because if there's someone you don't like and yet you still have to work with that person, then you are bound to be stressed and miserable.  It truly ruins your happiness at work and creates this environment of negativity that you don't need.
Because we spend most of our day at a job, it's so important to have good supportive people around you. Unfortunately, we don't get to pick the people we work with though! You may be in charge of hiring some employees to work under you but still you are never in charge of hiring every single person unless you were the owner!
I remember prior to law school, I worked as a paralegal for a senior attorney at a law firm. This senior attorney had extremely high expectations and a very abrasive attitude and demeanor. When he spoke, it felt like fireworks were going off!  I wanted to quit my very first week because it was an extremely uncomfortable and miserable work environment.
I am sure many of you have come across at least one such person at your jobs!   Obviously, if you are self-employed, you don't have any these issues because you get to pick the people you want to work with. You decide whether you are working solo or hiring a team of employees to help you. Either way, it's YOUR team and you run the show.
6. JOB SECURITY
Gone are those fortunate days when you worked at one job for life and retired there. Such jobs are very rare these days. Today, there's no job security and people get laid off all the time. The longer you wait to be self-employed, the harder it gets! Because you don't have the same energy, will power, time, etc.
Ever wondered why there are so many young entrepreneurs these days?  Because they are smart to start the process early when they have no risk and fewer obligations to fulfill. The older you get, the more risk you are taking because for instance, you might have a family to support, a mortgage to pay, and can't just quit your job to venture out on your own.
But if you were young and still living with your parents then your risk tolerance would be very high and you won't have much to lose by experimenting on your own.
When you are self-employed, you have a better job security than being at the mercy of someone else's decisions. When you work for yourself, you have the ability to diversify your income and control your risks so even if you lose income through one source, you are not completely out of money. Also even with the changes in your business, you have the ability to adapt to the changes, control your expenses, organize your resources to increase income and still continue to be successful.
Being self-employed empowers you with the tools and options to secure your income through different ways, which as an employee, you cannot.
7. A SELF GURU
What do I mean by a "self guru" and how does self-employment help you become one? The word "Guru" means a teacher, expert, master, leader and so forth. You become a "self guru" once you become a master of your destiny, both intellectually and financially.
Self-employment will serve to teach you new skills every day and enhance your existing business skills that will last you a lifetime. Not many people have any business skills and most people can't even handle their finances. Think about how invaluable these business skills are for your personal and professional growth. The longer you are self-employed, the better expert you become!   If this thought of becoming a self-guru excites you then go for it and take action! Be in control of your future.
PIN ME: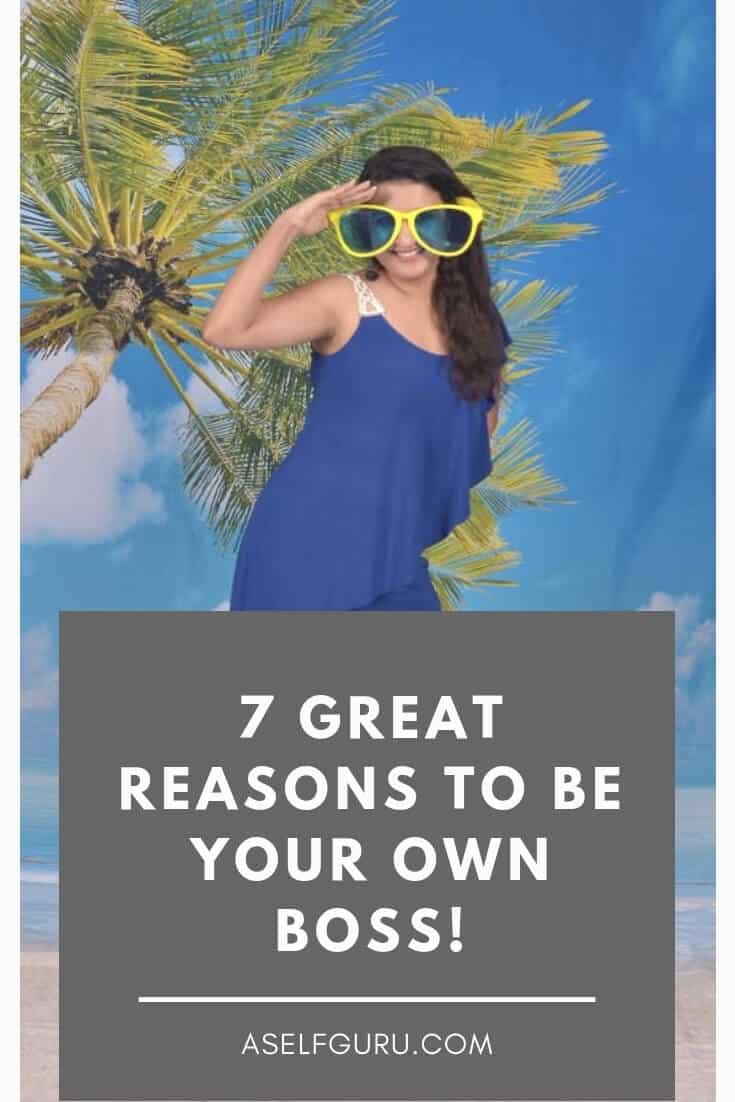 WHAT ARE SOME OF YOUR REASONS FOR BEING YOUR OWN BOSS?