How I Made $3,700 Blogging in My First Two Months
This post is about how I made $3700 in my first two months of blogging while working full-time as a lawyer ($3,320 comes from selling my own products as shown below and rest is affiliate income and a sponsored post for which I was compensated).
My fellow bloggers wanted me to write this post to share how I was able to achieve this so quickly.
So let's get started!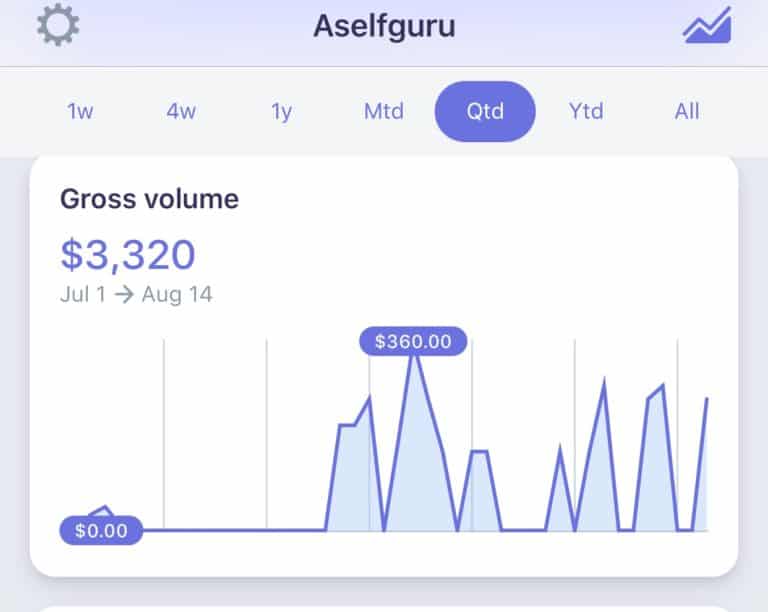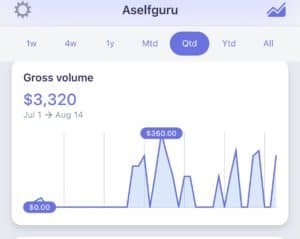 This is my first blogging income report, and I think it's educational and inspiring to see how you can make your first $1,000 as a beginner blogger.
This income is from my first two months of blogging only and now I make over $20,000/month blogging, which you can see here.
I'm not sure if I'm going to continue sharing income reports but it doesn't hurt to share the first one!
I think the first ones are always more exciting and memorable, right?!
I made my first $1,000 in my first month of blogging and thought about writing this post at that time but then I got so busy (you will see why below) with my blog that I just couldn't get to it until now.
Well, the good news is now I have even more to share with you 🙂 This is going to be a long post so grab a coffee, sit tight and enjoy!
How I Started My Blog
I launched my blog in 7 days while working full-time without any technical background. 
You can read all about it here.
Clearly, I didn't waste time in launching my blog and totally recommend starting with Bluehost.
It will literally take you less than 30 minutes to start your blog.
I'm a business lawyer so time is money for me. I used this course to launch my blog the right way in 7 days with my full-time job.
I work full-time as a lawyer and have been practicing law for more than 8 years now but have been teaching business and legal skills to entrepreneurs for 10 years.
Before I became a lawyer, I was a teacher so I'm very passionate about helping and working with people all the time.
My current job as a lawyer is quite demanding as you can imagine so I only blog on the weekends and weeknights after I come home from work.
I regret that I cannot dedicate more time to blogging because I absolutely love it!
How I made Money Blogging as a Beginner
Right now, there are three ways I make money as a beginner blogger:
Affiliate marketing which is recommending other people's products and making money through affiliate commissions
Writing sponsored posts and
Selling my legal templates that all entrepreneurs need!
I will discuss these in detail below along with what blogging tools and resources helped me make money quickly.
All this with only 13 blog posts published at the time, 55 subscribers (my subscribers have increased A LOT since then!) and $0 on advertising costs.
Since most of my time was spent on creating my own products, I had no time for anything else.
What digital products did I create?
I created four (4) digital legal products that every blogger, coach and online entrepreneur needs for their website within 2 weeks after launching my blog.
This included setting up everything like
Creating my own products certainly meant I had more control over my income. So take the time to create products that solve a real problem. If you need help, this is the course I used to create all my legal templates in my first-month blogging!
Here are some of the legal templates I created to help entrepreneurs protect their online business legally within 30 minutes or less, all without having to hire a super expensive lawyer –
1) The Legal Bundle for your website which includes all three templates below at a huge discount + additional bonuses! (saving you tons of time, money and headache!).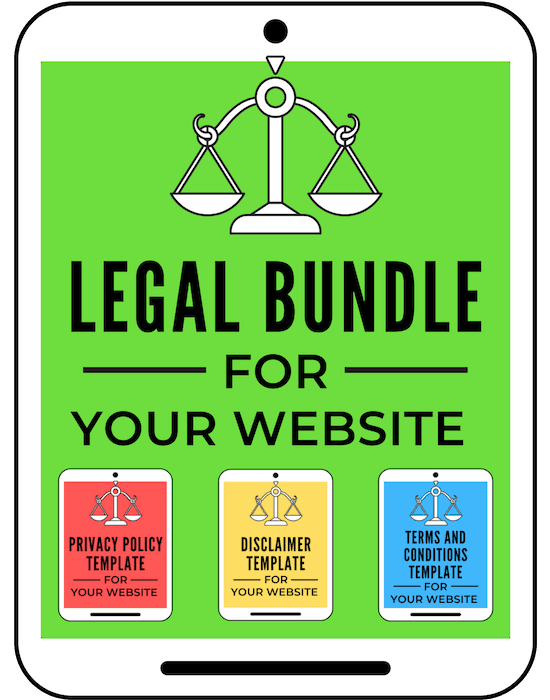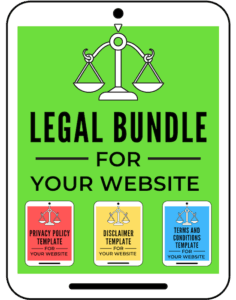 2) a Privacy Policy template for your website,
3) a Disclaimer template for your website and
4) a Terms and Conditions template for your website
This Legal Bundle includes all the templates above at a huge discount. If you were to hire a lawyer like me to write these for you, it would easily cost you more than $1,000!
As an online entrepreneur, this is the only legal bundle you need to comply with the laws and protect yourself + your business legally in 30 minutes or less!
Related post: 3 Ways to Legally Protect Your Website, Blog and Online Business 
PRIVATE FACEBOOK SUPPORT GROUP
Join my  FREE private Facebook support group where you can easily reach me, ask any questions, and connect with other go-getters and entrepreneurs!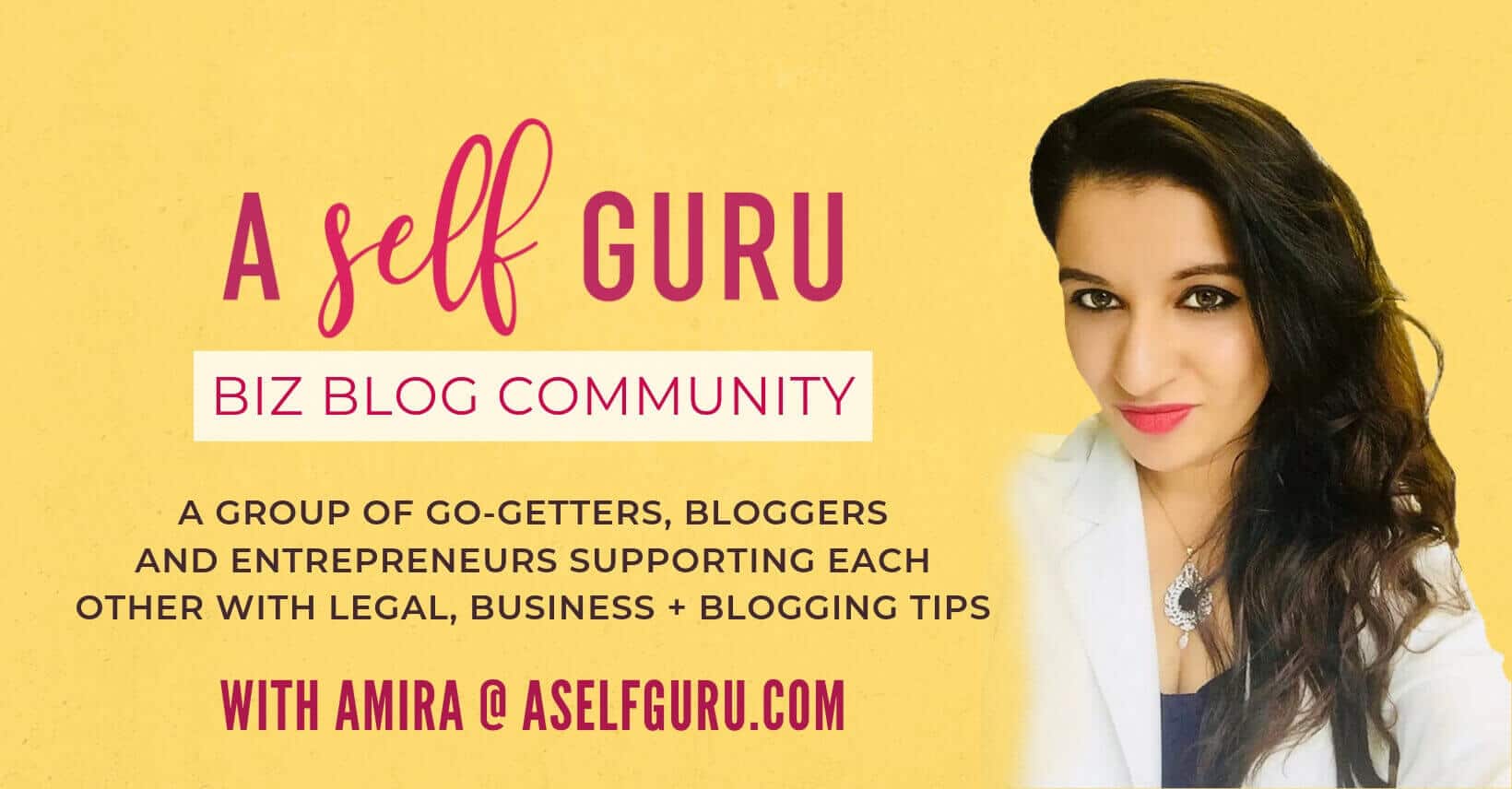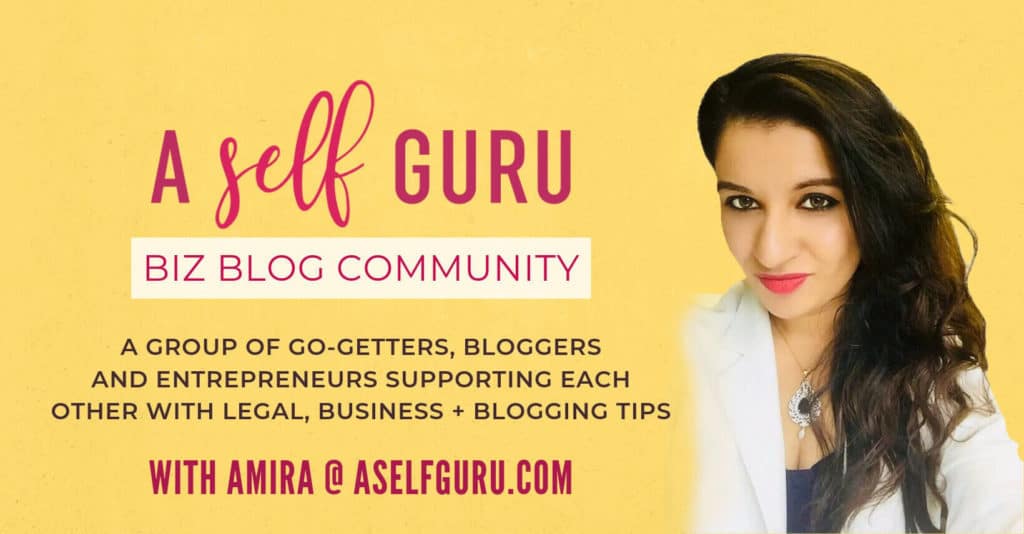 Here are 4 main reasons you should join our Facebook group!
CLICK HERE TO JOIN THE COMMUNITY!
Why did I create my legal templates right away?
Contrary to popular belief, I did not waste time in creating my digital products.
Everywhere I read, it said to wait to create your own products and first focus on growing your email list and learning more about your target audience.
All this is excellent advice, and I don't disagree but I took a course that changed my mindset completely or shall I say changed my life completely!?
It taught me how to identify my target audience, find their pain points and then provide valuable solutions – this is the essence behind creating your own products.
I saw several bloggers and online entrepreneurs struggling with writing legal pages for their website (in 15+ Facebook groups that I'm part of), so I decided to help those people by selling legal templates they could easily afford and customize in 30 minutes or less.
So I help busy entrepreneurs go from being confused, frustrated, stressed and ready to give up on the legal stuff to
feeling relaxed, at ease, happy and having peace of mind in 30 minutes or less like this busy mom felt here.
Click to watch the video to see what I mean!
When I saw in EVERY Facebook group that so many entrepreneurs were clueless, confused and needed help with their legal pages, I decided to put my legal education to good use to help them!
If you are not a lawyer, you don't know what legal language you should include in your legal pages to protect yourself.
Just like you go to a doctor for health issues, you need a lawyer to write the legalese for you and protect you from lawsuits and hefty fines down the road.
If you need some FREE legal and business tips then click here.
So if you are struggling to make money, create valuable products that help other entrepreneurs but first, you need the right tools to do that.
How did I create my digital products so quickly?
Don't waste time creating products on your own and making mistakes. You will get confused, frustrated and give up!
Instead, invest in a course like this that teaches you exactly how to create your digital products.
This is exactly the course I took to create and launch not one but four different products in just 2 weeks!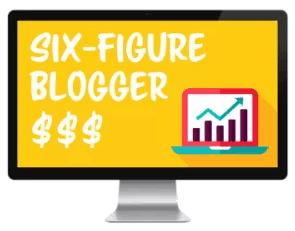 The creators of this course make $100K per month not just from one blog but from two blogs!
I knew immediately that they were going to be my blogging gurus, and I wanted to learn from them.
Rest is history as they say…
I did not waste time purchasing their Pro Blogger Bundle to start blogging and this bundle included the course I need to make my digital products.
Why the Pro Blogger Bundle? Because it has EVERYTHING you need to take your blog from $0 to $100K per month.
I knew I was serious about making money from my blog, so why not treat it like a real business from the start and learn from the best?
I firmly believe, "time is money" because it really is!
Otherwise, you will just end up wasting precious time trying to find free information on the internet and wonder why you are not making any money!
I wanted ALL the right tools, tips, tricks and strategies to make money from blogging so I did my research and found the Pro Blogger Bundle course to be the best value for the money instead of purchasing each course individually!
HOW DID THE PRO BLOGGER BUNDLE HELP ME MONETIZE MY BLOG?
The Pro Blogger Bundle comes with ALL the courses and everything you need to become a six-figure blogger-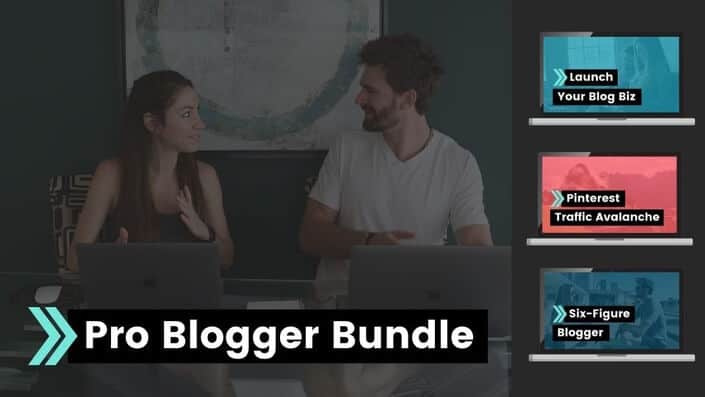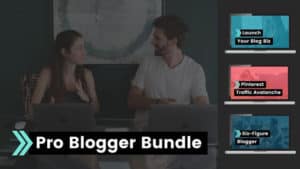 Launch Your Blog in 30 days (guaranteed!)
I launched mine in 7 days. That should tell you how effective the course was!
You can read about my 7-day launch here.
This course showed me how to launch quickly and make my first $1,000 selling my own products and through affiliate marketing.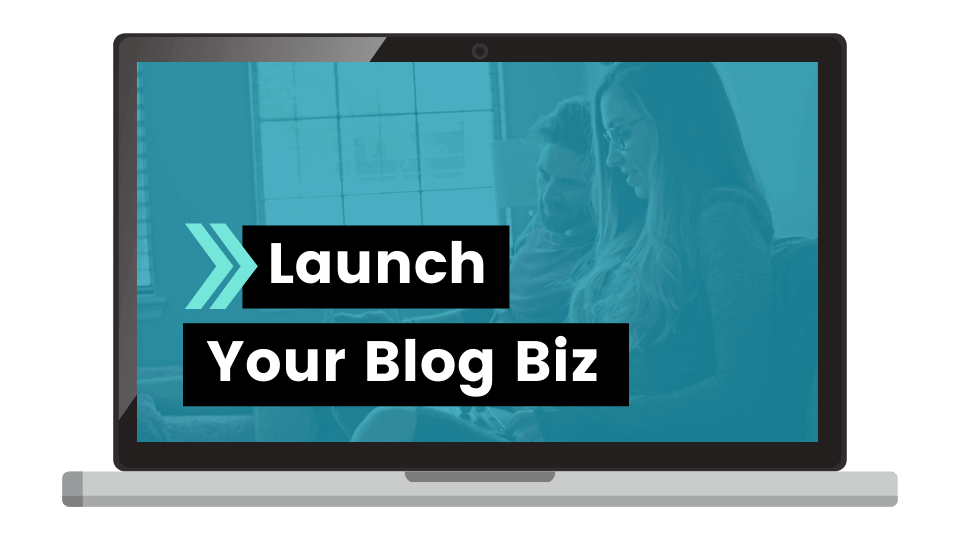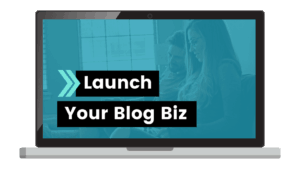 Keep in mind, it does not show you how to make $1000 in just a month. That depends on your hard work, time and dedication.
You work at your own pace and can take as much time as you need to complete the course and implement all the money-making strategies.
But the most important thing is that it teaches you all the essential tools, strategies and tips you need to make money blogging as a beginner!
2. Pinterest Traffic Avalanche
This is the perfect course to drive 10,000-100,000 visitors to your blog!
I jumped from 0 to 20K views in just a month of focusing on some of the strategies outlined in the course.
I use Tailwind more to increase my pinning!
I don't have to tell you why traffic is so important for your blog. More traffic means more sales whether that's through your affiliate links or your own products, etc.
Related post: How to Create Pinterest Pins in 5 minutes that go Viral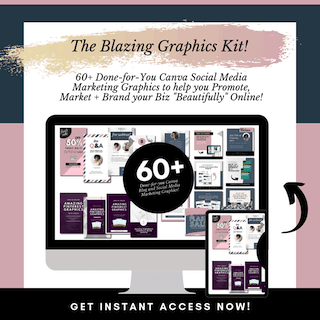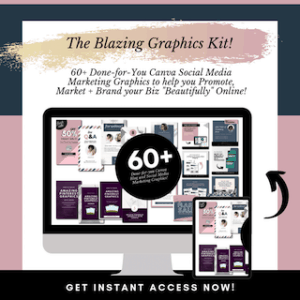 Obviously, I've used this course the most because it teaches you how to scale your business by selling your own products and services.
Clearly, it works!
Because in less than a year, I became a six-figure blogger by following all the strategies and templates easily laid out in this course.
You can read this post to see my blogging success.
This course taught me everything about how to create my own products and make sales!
It is one of my favorite courses because I love enhancing my sales pages and often watch the video lessons again to see where I can improve further.
For example, I recently added a video testimonial to my sales page, and I'll be working on adding more video testimonials.
I learned all that from this course. I always ran away from creating videos but now that I've learned how to create my first one, I look forward to creating many more! They are so much fun.
This is the best course I took to gain more confidence on camera.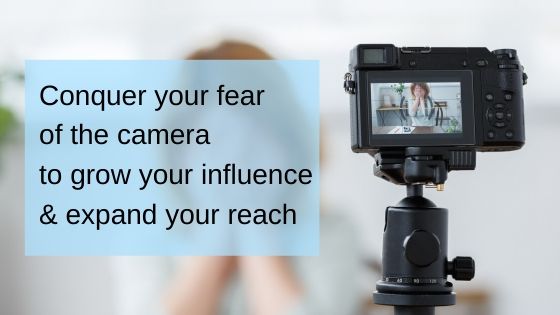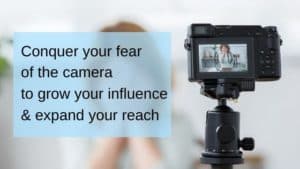 Did you know that sales pages are a science that you need to master?
I learn something new every day from this course every day.
Just read the testimonials, to see what I mean!
Ok so now that I have outlined all the courses, do you see why I didn't blink twice before purchasing the Pro Blogger Bundle?
Obviously, I needed ALL of them if I wanted to become a six-figure blogger one day.
They took my blog from 0 to $20,000/month in less than a year while working full-time as a lawyer during the day! 
All of them have been instrumental in my blogging journey from starting a blog to making my affiliate sales to creating and selling my own products so quickly.
The results are in front of you –
I wouldn't have been able to launch my blog in 7 days and make $1,000 in my first month without the Launch Your Blog course.
And without a doubt, I wouldn't have been able to create my own products (not just 1 but 4 of them!) without the Six-Figure Blogger course.
I wouldn't have made my affiliate sale from Pinterest if it wasn't for the Pinterest Traffic Avalanche course. I'm also part of 50+ group boards on Pinterest and got into them very easily because I used the template provided in this course.
How did Kartra help me make money?


The courses mentioned above taught me what I needed to do to make money but Kartra turned that vision into reality!
If you don't know, Kartra is your one-stop-shop for everything you need.
Here's why I love Kartra:
I created all my sales pages in Kartra easily within minutes with their pre-built templates. They are so many to choose from! You don't have to spin your wheels trying to do it yourself because everything is done for you! The best part is that not only these sales pages look stunning but they convert into sales! 
I use Kartra for all my email marketing and it's wonderful.
I created my email opt in forms and landing pages in Kartra easily within minutes (thanks again to their pre-built templates!)
I host all my products in Kartra without having to use anything else
Kartra has a built-in affiliate program so I didn't have to do anything about setting up an affiliate program for my products. It was already done for me! All I had to do was set the commission I wanted for each product.
Kartra comes with a free membership site to host anything you want. This is so convenient because in the future when I create video lessons, I will have all that in one place – Kartra
I can't rave enough about Kartra. I started with Convertkit but no other company besides Kartra gives you everything at this low price point.
I've done my research with Convertkit, Lead Pages, Clickfunnels, Teachable and others but none of them is your one-stop shop.
I did not want to sign up for 4 different companies when I can do everything in Kartra for a fraction of the price!
It only costs me $89 per month for everything above. 
Click here to try Kartra for just a $1.00!
That's what I did and after that, I never went back to Convertkit. I imported my email list from Converkit which was very easy and that was it!
If you don't want to create your own products then start with Convertkit.
What else helped me make money?
Having my own affiliate program from Day One
It's so important to create your own affiliate program from day one otherwise you are losing money.
Just like you promote other people's products and earn commissions, you want to set up your own affiliate program from the beginning where your buyers can become your affiliates and promote your products for you.
My affiliate program is open to all (not just my buyers) and you will make a very generous 40% commission on each product.
It's free to sign up as my affiliate in Kartra (another reason, I love Kartra because it made it so easy to have the affiliate program already part of it).
All the legal templates in my legal store are set at 40% affiliate commission.
For example, at the current price of the Legal Bundle, you will make more than $60 per sale!
See how much money some of my affiliates have made already!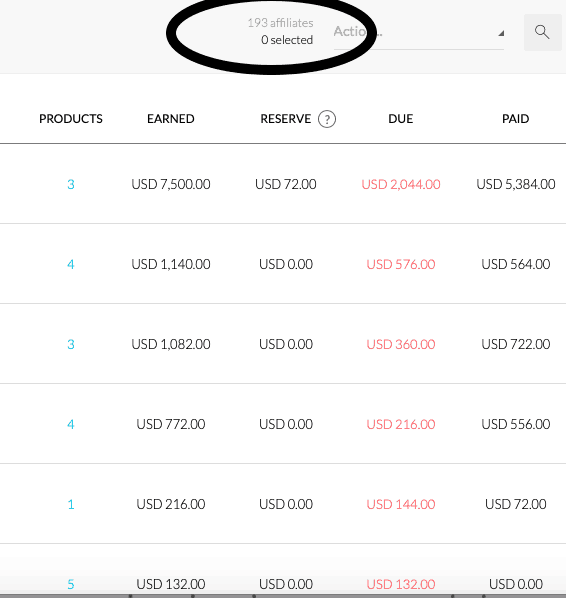 If you'd like to make money on autopilot then join my free affiliate program here.
2. Affiliate Marketing
Just like I recommend you to have an affiliate program for your products, I also recommend you join other affiliate programs.
I'm part of quite a few affiliate programs myself because it does not cost you anything to sign up. If you don't try them then how would you know what works?
The easiest way to promote all your affiliate products is by creating a Resources page on your website.
This way, you can quickly and easily add all your affiliate products there, and it can be an ongoing list of all the products you recommend.
I only recommend products that I personally use to be honest and transparent with my audience. That's how you build trust and credibility.
Remember I said I made a total of $3700 in two months. Well, $380 is the affiliate income including a sponsored post I got paid to write.
As for my affiliate income, it comes from various sources here
Shareasale has a lot of different products in various niches that you can easily start with as an affiliate.
If you want to know the complete list of affiliate programs that worked for me then you can sign up below, and I'll send you the list right away!
3. Productivity and Time-Management
When you work full-time, it's imperative to maximize your time. If you follow me, you already know I'm a firm believer in "time is money" (you will hear me saying this all the time!) and I don't like to waste it in any way.
To stay super organized, I rely upon two planners (not just one!).
First one is for personal use (errands, bills, things I need to take care of in my personal life) and second planner is for professional use (my lawyer job and blogging work).
But out of all, I LOVE this planner the most. This has helped me achieve my goals quickly.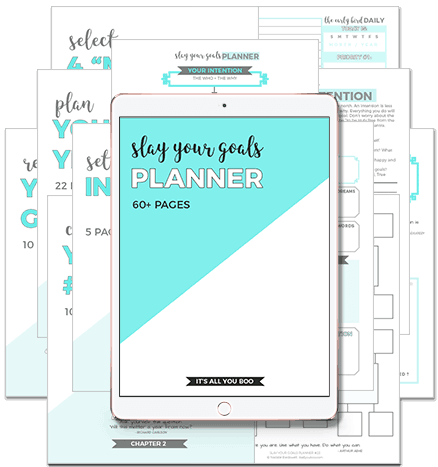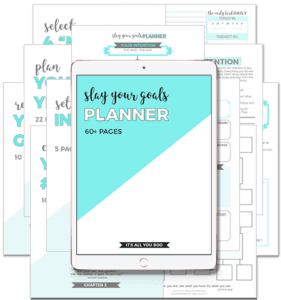 Read this post to stay organized and slay your goals in life and business.
4. Collaboration
Collaborating with fellow bloggers and brands to publish guest posts, sponsored posts, discuss ideas, promote my products, etc has been very beneficial to get my name out there.
I have become friends with some of the most talented and successful bloggers out there.
I also got to publish my guest posts along with my first sponsored post – both have really helped bring more traffic and sales.
Read all the guest posts I've written here.
Guest posts are a great way to get a backlink to your website, gain domain authority but most importantly, a way to connect with fellow bloggers and make friends!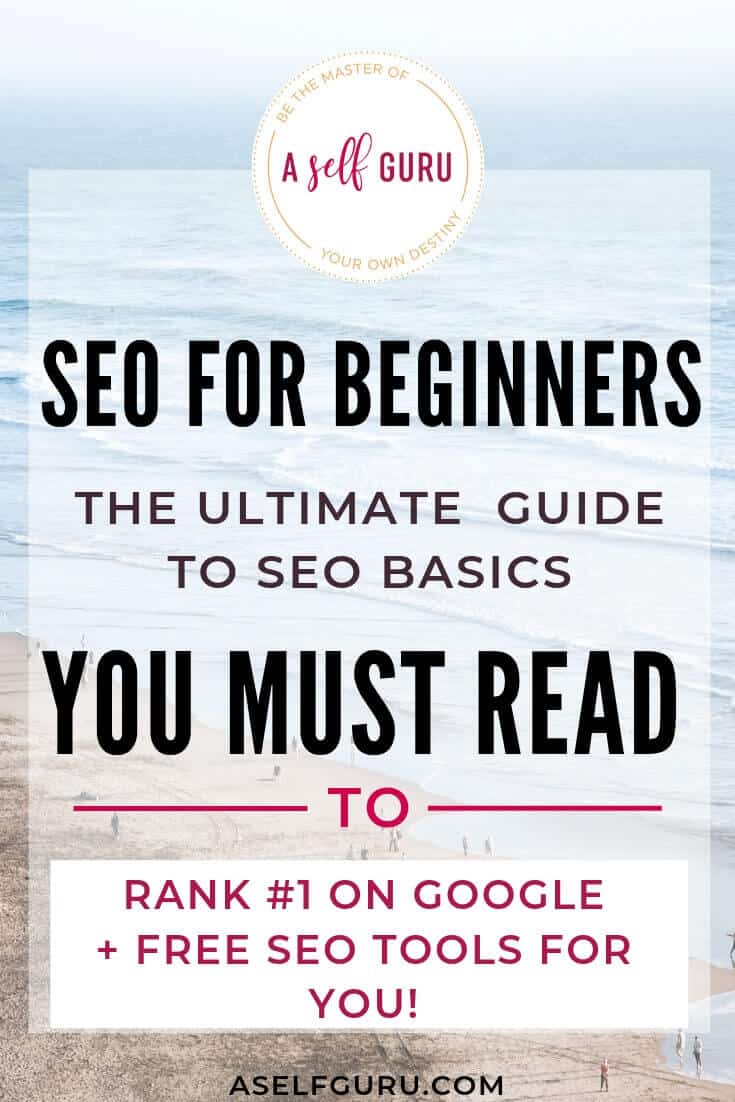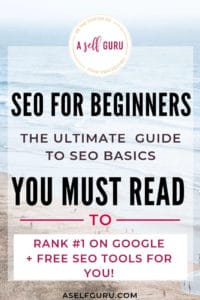 For this reason, I'm also accepting quality guest posts on my blog! Check more details here and it includes examples of the current guest posts published on my blog.
I don't like to work in a vacuum, and I love interacting with entrepreneurs, which you already know by now.
I have yet to spend any money on advertising for my business.
Eventually I will look into spending money on Facebook ads but for now, I don't need to.
Through guest posts, Pinterest and my Facebook, I gain decent traffic to my blog daily.
But collaboration is the key! Don't work alone.
If you have a product or idea that can help someone then don't be afraid to reach out and see where it takes you both! If you have a product that would be a great fit for my audience then I'm all ears.
5. Be Active on Social Media Platforms
I'm going to be honest, I barely used Facebook prior to blogging. I did not care for social media platforms but ever since I started blogging, I knew I had to change that.
I created all my accounts – Pinterest, Facebook, Instagram, Twitter, etc so I could engage with my audience.
I also added these social media buttons on my blog to make it very easy for my visitors to share my blog posts on Pinterest, Facebook, Twitter, etc. This really helps!
Now do I think you have to be active on ALL social medias? Absolutely not!
But it does help to have a presence in all and then you can pick which ones you like to focus on.
For me, Facebook, Instagram and Pinterest have been the best and Twitter is my least favorite. Sorry Twitter, maybe one day, I will understand your significance but for now, it does not add much value to my blog!
I took my Instagram from 0 to 1000+ followers in two months with the help of Tailwind.
With my hectic crazy schedule, it wouldn't have been possible without being able to automate my posts on Instagram.
I use Tailwind for Pinterest as well. I like being able to schedule both my Pinterest pins and Instagram posts all in Tailwind.  It's free to sign up and you are probably using it already for Pinterest so try it for Instagram as well and make your life easier.
This post shows you why I love Tailwind.
I took my Pinterest from 0 to 1000+ followers in just two months.
This course has already helped me achieve that! Plus I simply love how easy it is to create Pinterest pins with these templates.
Facebook has been great because I can easily connect and talk to fellow bloggers any time in the different groups.
Since I help bloggers and entrepreneurs with the legal side of their business, having my own Facebook group has been even better because this way, everyone can easily reach me in our Facebook community.
It also allows me to establish deep personal connections with you that I can't foster easily in other Facebook groups.
Final Thoughts – How I Made $3,700 Blogging in My First Two Months
I wish I could tell you there was one specific thing that magically worked to help me make money blogging as a beginner but that's not the case. It's a combination of everything I shared here.
If you need personalized help with anything to help you monetize your blog such as setting up Kartra, creating products, affiliate programs, sales pages, etc or a blog legal audit then you can always schedule a coaching call or see other ways we can work together here.
I'm happy to help you because I know it's not easy!
Here's the recap of what we discussed:
Other Helpful Posts For You:
It took me DAYS to write this blog post because it's packed with a lot of information so if you found it helpful, will you please comment with your feedback and pin it?
I also make it very easy and convenient to share this post on any social media! So please share it with others.
PIN ME: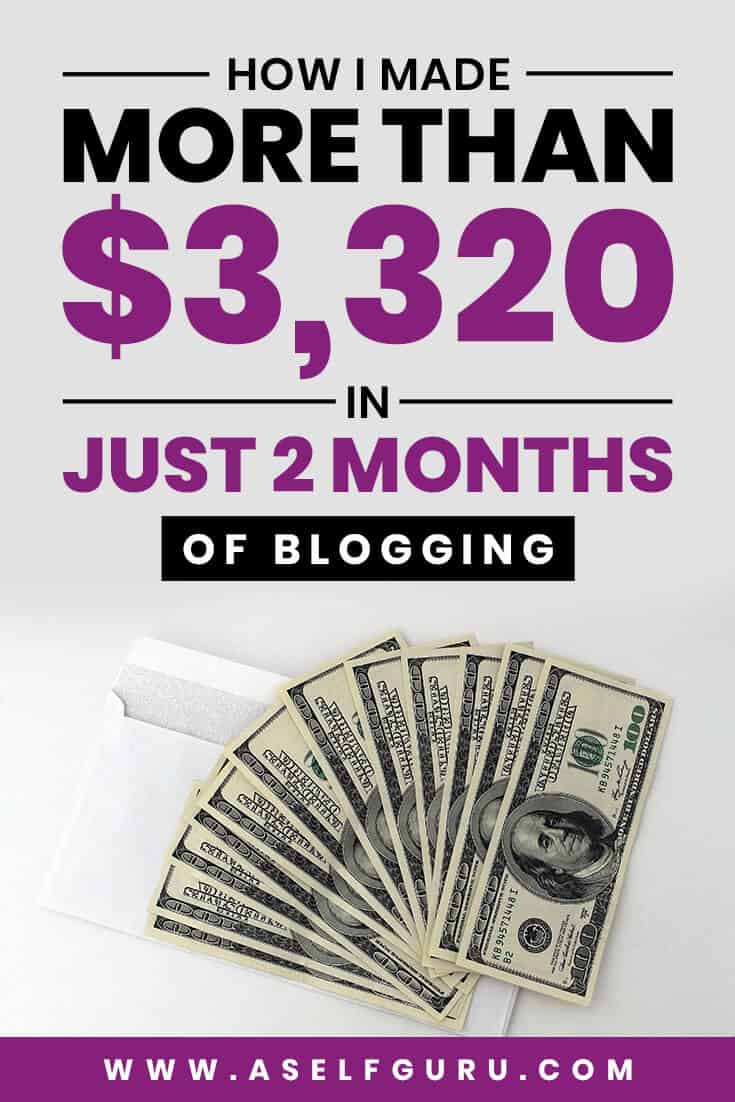 Thank you,