[This is a guest post from Sasha Lassey at Everyday She's Sparkling on how to increase blog traffic. She provides 13 easy ways you can market and drive traffic to your blog. Most bloggers know about Facebook, Pinterest, etc but Sasha also shares 9 other unique places where you can market and share your blog to boost traffic for free!]
Why Sharing is Important for Marketing and Increasing Blog Traffic
When you first set up your blog amidst the millions of other blogs, very few people besides maybe your friends and family are going to know that it's even in existence.
Until you gain some traction with Google and start to rank with search engine optimization (SEO), you'll need to do all of the legwork to increase the traffic to your blog and build your viewers.
The best way to drive traffic to your blog in the beginning is through sharing your content on a regular basis. Social media is an excellent platform for this. You can literally reach millions of people on all different platforms.
In 2017, 66% of marketers reported using blogs in their social media content. (Social Media Examiner)
There are a ton of places that you can share your content on social media. In fact, the plugin Shareaholic or Social Warfare (the ultimate sharing arsenal) boast the ability to share to over a hundred different platforms!
In this article I'm going to talk about only a handful of places but you can see that sky is the limit for places to share and engage with your audience.
How Sharing Can Help Increase Your Blog Traffic
1. Grow readers
Initially, like I said previously, you won't have many people visiting your site except for friends and family.
In order to get other people who are interested in reading your content, you'll want to get your blog name and posts out as often as possible and to the right audience.
Research shows that 94% of people who share posts do so because they think it might be helpful to others. - @edssparkling @aselfguru
Hopefully, the right audience will share that with their audience and you will start to see rapid growth.
2. Become an authority in your niche
Let's face it, you are a needle in a sea of needles as a new blogger. In fact, the number of bloggers is expected to reach 31.7 million in 2020. (Statista).
So how do you stand out? The best way is to become an authority in your niche.
Creating and sharing regular posts around similar themed content to others on social media will help you to grow your authority in your niche.
When readers see that you are consistently posting information on the same topic, they will start to remember you for your knowledge and will likely watch for future posts that can help them with their struggles.
This is how you build fans and repeat readers!
3. Increase your chance to rank in Google
Websites with a blog tend to have 434% more indexed pages. (TechClient)
Spending some time getting out your links on social media helps Google to start to recognize that you are an authority in your niche and increases your chances of ranking on Google pages and searches.
This will mean more organic traffic in the future!
4. Build relationships
Collaborations are another avenue of building your blog. It's often overlooked but networking in this business is crucial.
Building relationships while sharing your content may give you an opportunity to guest post or build backlinks to your blog. Finding other bloggers to support you and to collaborate on future plans is so important!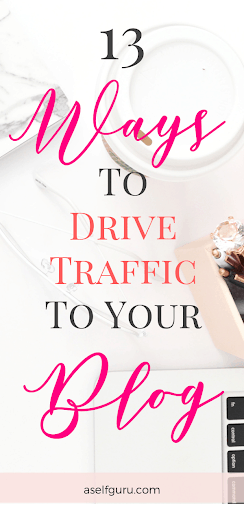 4 Common Places to Market and Increase Traffic to Your Blog
The obvious places for sharing on social media are Facebook, Pinterest, Twitter, and Instagram. I often refer to these as the fabulous four. They will be a great starting point for most of your social sharing.
You have a variety of different platforms to choose. While some people like a pretty blog to look at, others prefer the simplicity of an article-style read, some prefer graphics and visual interest, others like to watch videos, and some people only have time to listen to content on their way to work.
The more places and platforms you can share and promote your material to, the more audience you have to reach.
More audience equals more readers. More readers equals more fans. - @aselfguru, @eddsparkling
Facebook
Facebook has a massive audience, and this will likely be your number one source of traffic in the beginning. Within Facebook there are several different communities or platforms that you can use to increase traffic to your blog.
Naturally, there are personal and business pages, if you have a Facebook group that's related to your niche, you can share your content in it, and you may have also joined other Facebook groups that are focused on sharing threads. This is where you will want to focus.
In these threads, group members post their content and rely on reciprocal sharing to get their content out to new people. I currently belong to around 15 share thread groups that change their topics daily so I have a variety of ways of sharing my content, whether it be pins, posts, or comments on my blog posts.
Try to stay away from "share all" threads. They can get you in Facebook jail, make you look spammy in Pinterest and Twitter and can hurt your SEO. Sharing content and following sites that are not within your niche is confusing to your audience and Google.
Pinterest
Pinterest is the queen of all sharing sites for bloggers. This is second in line for most traffic driving in the beginning, but once it gets up and running, it will likely be the source of most of your blog traffic. It's actually less of a social media site and more of a search engine, but it is essential in your blogging game.
If you haven't already, to get the most out of Pinterest, you'll want to make sure that you have set up a Pinterest business account.
Within Pinterest, you can share your pins but with the new communities coming on board, you now have more of a social aspect to it and an opportunity to share your post again in related groups. There is also an opportunity to join niche-specific group boards that focus on helping each other share content.
Twitter
Twitter is a fairly new platform for me but it has shown to be effective in reaching a different audience group. Thousands of tweets are going out every second and so because your content can get lost in it, it's easy to share your content over and over again before you would look spammy.
Instagram
Instagram is great if you are in a visual niche specially like fashion or food. Instagram is based mainly on beautiful pictures but also the captions allow for you to tell your story and connect with your readers.
There are opportunities to share your content as part of your grid and captions, or also as a story which is becoming a more popular way of getting your information across in a fun and interactive way.
9 Other Unique Places to Market and Increase Traffic to your Blog
Mix
Mix is the new version of StumbleUpon. The platform is designed to help you search new content to read as well as upload your own. It has an intuitive interface that learns your habits so the more you read and upload, the more it understands your audience and who to show your content to.
It is relatively new and still gaining some traction so you might not see interaction from here as much as some of the other platforms, but it's still a new audience to reach. You can easily create a profile and upload your link to your blog post and it will populate your post to the platform.
Medium
Medium is a simple, article-based site. This is a great platform because it reaches people that like no-nonsense articles without all the frill of a blog in one place.
As well as being a great place to research new blog posts ideas, you can also add your own posts to it for others to read. You can simply copy and paste each blog post into Medium, fix the spacing and titles and voila, new content uploaded.
And here's the best part, only 8% of marketers plan to add Medium publishing to their content strategy. (HubSpot) which creates an open market that's not being utilized by others!
Quora
Quora is a bit different of a platform than the others as it's mostly used for people to ask questions and allows anyone to answer. You can easily go in and search for top questions that would fit within your niche, and then use your information and your posts to help people find their answers.
Try not to look spammy on this one. Be sure to write helpful comments and spend some time adding value before dropping your link. You can even save your answers back to your other social platforms for extra credibility.
Once you've answered a question on Quora, it will notify you of other questions in the same category, which is a win as now you have the platform coming to you!
To be successful, create an engaging profile to help you get established, follow others in your niche. Posting frequent, relative and thoughtful answers can also help get you noticed by larger publications who may be looking for writers.
As a side bonus, you can even start a blog on Quora to add your own blog posts on a regular basis!
YouTube
YouTube is the number one visual-based platform. Some people are drawn to and prefer a video over reading a blog post.
Anytime I can combine some video content with my blog, I find I gain more readers as I'm reaching an entirely new audience. This way I can link my video in YouTube back to my blog post AND link my post back to the video.
Google also favors blog posts that include video and you'll find that you'll reach higher in rankings and SEO when you use them.
The SEO guru, Neil Patel has even stated in a recent article that "the biggest search opportunity currently lies in YouTube".
Podcasting
Podcasting is an excellent way to reach busy people. And we all tend to be pretty busy these days.
I often don't have the time to read a blog post or even watch a video but I do have a total of an hour commute time everyday to work when I can usually listen to one or two podcasts.
If you're crafty, you can download your YouTube videos into podcasts and share them that way as well- killing two birds with one stone!.
Bloglovin'
Bloglovin' is a site for bloggers to connect. It does take some time to gain readership and traction but it is also another great way to get your content out there.
It's easy to set up a profile and once you have linked your blog directly, it'll automatically upload your blog posts which is great as it doesn't take any additional time to do so.
Facebook Live
Facebook Live is another great way to share your content outside of just a post. Think about doing tutorials or support of information for your posts or even interviews.
Share them within your blog post. Now you're reaching people on Facebook and people on your blog at the same time on different mediums which will increase your audience!.
Article and blog directories
There are a ton of blog directories and article directories that you can load your content and blog URL to. Directories help to give backlinks to your blog, which is great for SEO. You'll also reach new audiences and traffic from blog directories that can be very good.
[box type="bio"] NOTE: Try to stay away from sites that require reciprocal links or badges because Google penalizes this.[/box]
Pods
Pods are another great way of getting your information out there by using share pods. Like share threads in Facebook, the group members help to share each other's content, reaching new audiences.
Pods are usually formed  within a platform like Facebook Messenger or Instagram messaging and you can generally find them in Facebook threads.
There's also a new website called PinSprout has just launched a way to find and interact in Pinterest pods within a specific topic. I've already joined five pods within my niche, and I'm getting some decent traffic from that.
Best marketing practices
I spend about 20 minutes each day in the morning and night sharing and reciprocating other people's shares and another 30 or so minutes on post launch days to upload to the other platforms. Answering questions on Quora is something I try to do a few times a week.
Doing these things on a regular basis helps you to build credibility as a blogger and increase regular traffic to your blog. It's also a chance for you to do some research on what others are doing and what's working. So take that extra time.
Try where you can to connect with others and not just drop links. Even though a share thread might say that you only need to share one or two posts, really look around for content that will help you grow and learn as a blogger. I find so much great information from my fellow bloggers!
Also, don't feel like you are obligated to reciprocate on those who have shared. It's more important that you share content that is valuable for you and your readers than it is to be nice.
If you can, try to acknowledge the people that are supporting you on a regular basis. Keep track of those people and think about future collaborations.
Conclusion
All of these things will help you to gain traction and increase traffic to your blog. Some of them will work better than others, depending on your audience.
I do suggest focusing most of your time on one or two social media platforms first, while also continuing to grow some of your other platforms so that when you are ready to move on, you already have a great starting point.
For me, Pinterest is the main focus but I continue to promote on all of the sites. Once I have mastered Pinterest and set it on automation, I'll move on to another forum. It's hard to do everything all at once, but consistently building in all areas will pay off.
As you can see, there are so many ways that you can share your blog content to the world. Using even a few of these on a consistent basis will help increase traffic to your blog quickly and build your audience.
About the Author: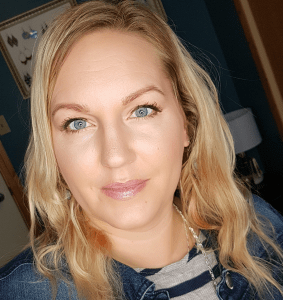 Sasha Lassey is a blogger who has a passion for entrepreneurial life. She has been building businesses and growing teams for the past 15 years and now she helps other women entrepreneurs grow their side-hustles through blogging.
She provides blogging tips and tutorials and offers one-on-one consultations at Everyday She's Sparkling to help you get your blog on track for success.
PIN ME: