Here are 4 social media tips after one month of blogging. Do you remember how you felt after your first month of blogging?
Were you overwhelmed, happy, stressed, or simply elated because you felt a huge sense of accomplishment? Please comment below to share your experiences.
I have been blogging for a month now, and I feel so overwhelmed with "information overload" yet so elated at the same time!
It's one of those feelings  where you know you have made such a huge progress in a short period of time but you feel you still have a long way to go…
If you are wondering which one is better – social media or email marketing then learn the differences here.
Without further ado, let's get into my 4 social media tips after one month of blogging!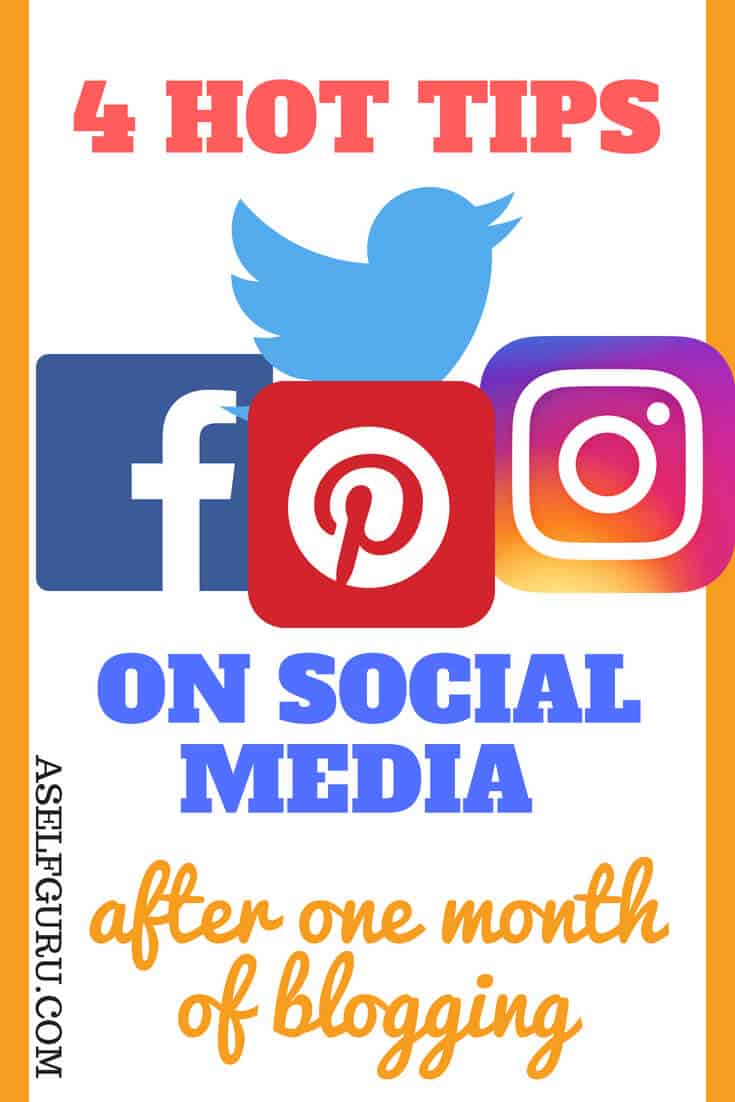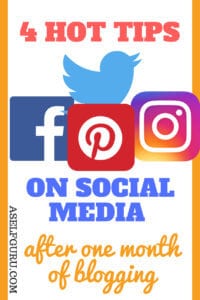 1. Avoid Facebook ban
I recently joined some Facebook groups that have been instrumental in bringing traffic to my blog. I was enjoying participating in group threads until couple of weeks ago, Facebook decided to delete my comments and links from Facebook posts completely!
At first, I thought it was the group admins that were doing this but after couple of days, I realized this was happening to me in pretty much every group. That's when I figured it out that Facebook was responsible for this and few other people also confirmed that they were facing the same issue.
Nobody told me this and I had no idea that Facebook was so particular about posting links. Facebook appears to automatically remove your links if you post them frequently but I did not post my links more than twice a day.
This is all speculation but I think Facebook does not like it when you post the same link in more than one post/group so let's say you're participating in multiple group threads and end up posting the same link to your blog post in more than one thread, then Facebook flags you, I guess.
But Facebook completely shocked me when it decided to just delete my links without giving me any warning! I feel I have no recourse because I have filed a complaint with them already but don't expect to receive a response. I am still waiting for this issue to be resolved.
I just wanted to share this new information with you in case you were not aware of it because I certainly was not! The good thing is that this issue has forced me to start directing my attention to other social media platforms that I have been avoiding such as Instagram and Pinterest.
So since last week, I have been focusing my attention away from Facebook. 
But if YOU would like to help, then please like my Facebook page here so I can be removed from Facebook's ban. I would really appreciate your support!
2. Pinterest tips
Pinterest is completely new for me but the more I explore, the more I enjoy it. If I did not take this course, I would be completely clueless about Pinterest. There is so much to learn and do!
I have spent days learning the tips and tricks and there is still so much to implement. I took an entire course on Pinterest along with a bundle pack on blogging which teaches you how to make a six figure income from your blog. 
One of the tips I will share is to make 3 pins for each blog post. You will need these for your different boards on Pinterest and make pins for your affiliate links also.
One of the mistakes I was making was repining the same pin to multiple boards at the same time showing duplicate pins on my profile. This does not look great and gives the impression of being "spammy."
So don't do that. I have learned to now schedule my pins through Tailwind to multiple group boards with a day interval in between them. This way, you are not pinning the same pin to multiple boards at a time.
Also, this
tool
 really helped me automate Pinterest completely where I no longer have to spend HOURS just pinning and can now concentrate more on joining group boards and creating new pins for my blog posts.
You can also read how I use Tailwind for not just Pinterest but also Instagram here. It's totally worth it and free to try it, so don't waste precious time manually pinning each day. Try Tailwind for free here.
3. Twitter
I don't have many posts on Twitter because I feel it's not the best use of my time. I did not find much success with it for blog traffic. Maybe I need to spend the time to learn how to best utilize it but so far, it has not produced great results for me. I don't get much traffic from Twitter to my blog.
So I kind of gave up on it already! I figured I rather spend my time and energy on other social medias that are boosting traffic and growing my blog.
Follow me here and stay in touch 🙂 I sometimes participate in Facebook group threads to gain more followers on Twitter but again, I am not sure if that's the best use of my time and haven't found that it boosts traffic to my blog.
4. Instagram
Just like Pinterest, I had never used Instagram either. Actually I have been very busy all my life and did not partake in social media stuff at all but if you want to be a successful online entrepreneur then there's no shying away from social media!
Social media platforms like Instagram are a great visual for your followers. I only have 17 posts so far and have already grown my account from 0 to 71 in a week!  Check it out and follow me 🙂
Surprisingly, Instagram has been great in terms of bringing direct traffic to my blog. People easily remember the name of my blog and just google it, so I have been getting decent traffic that way.
I did not post every day. I only have 17 posts all together so I still have to do more. But as a beginner, this was a great result from Instagram.
I think the trick is to be regular in posting on Instagram and with the help of Tailwind, it becomes super easy to schedule your Instagram posts in advance just like you schedule your pins in advance for Pinterest.
I also enjoy using "stories" on Instagram and that has worked well for me. So many people have personally messaged me on Instagram because they saw my story and wanted to ask a question or simply become friends!
I love connecting with fellow bloggers and online entrepreneurs because I feel we have to stick together and help each other grow!
One tip I will share is if you manually add your photos on Instagram from your phone then make a list of your common hashtags you use in your email. Email the post along with the hashtags to yourself. Then all you need to do is copy paste the post along with the hashtags and you are done.
It saves time and you don't have to search for hashtags each time. I have my list of hashtags in different categories (self-employment, blogging, inspiration etc) already saved in my email that I just copy paste when I am ready to post on Instagram!
Fast forward a week- read my recent post here where I show you how I changed my Instagram strategy and instead of plugging away manually for hours a day, I found a quicker solution that took me from 71 followers to 200+ followers in a week! Read more here. You can see my Instagram here. 
*I love Instagram and if you want to stay connected then follow me here, and I'll surely follow back!*
I use Canva and PicMonkey to design my Pins and Instagram posts at the same time. This saves me tons of time! When I design the Pinterest pin, I re-size that pin for Instagram in Canva (this is a paid feature). Then it only takes me 2 mins to complete the post.
But I prefer just posting travel photos or regular photos where I don't have to do any editing or create a graphic.
That's it, guys! What are your social media tips? Which one works best for you? I'd love to hear from you in the comments below.