Do you know what an affiliate or affiliate marketing is? If you have your own affiliate program, do you have your affiliates sign an Affiliate Agreement?
Some of you may have never heard this term. Some of you might even have your own affiliate program or you've purchased something using someone's affiliate link.
Simply put, an affiliate is someone who promotes a company's products and they receive a commission for each sale.
For example, most bloggers are a part of "Amazon Associates." In their posts, they'll link to something relevant that they find on Amazon. If the blogger is writing a recipe for lasagna, the blogger can include a link from Amazon for a lasagna pan.
If someone purchases the lasagna pan through the blogger's link, the blogger earns a commission from that sale.
On a side note, if you're a new blogger and are struggling to monetize your blog, I highly recommend becoming an affiliate for a few products that you love. Then, write a few blog posts that are centered around the product and start making money!
Aside from being an affiliate, you could also have your own affiliate program.
Let's say that you sell budgeting templates on your blog or website. People love them and you sell quite a few per day. In order to increase your sales, you create an affiliate program so others can promote your products as well.
In exchange, you pay the affiliate a commission for each template they sell. By giving someone a small percentage of the sale, you're able to boost your products in front of a whole new audience. It's a win-win situation.
I even have a generous affiliate program myself because I want my easy to customize, professionally lawyer-written, and affordable legal templates to be available to everyone for their online business.
My affiliates get paid a very generous commission of 40% on all of my products that are available in the affiliate program.
You will make anywhere from $60 to $200 PER SALE!!!
Watch the video below where I share 8 secret ways you can make money from affiliate marketing:
Each month I pay thousands in affiliate commissions as you can see below. Last year alone, I paid $80,000 to my affiliates!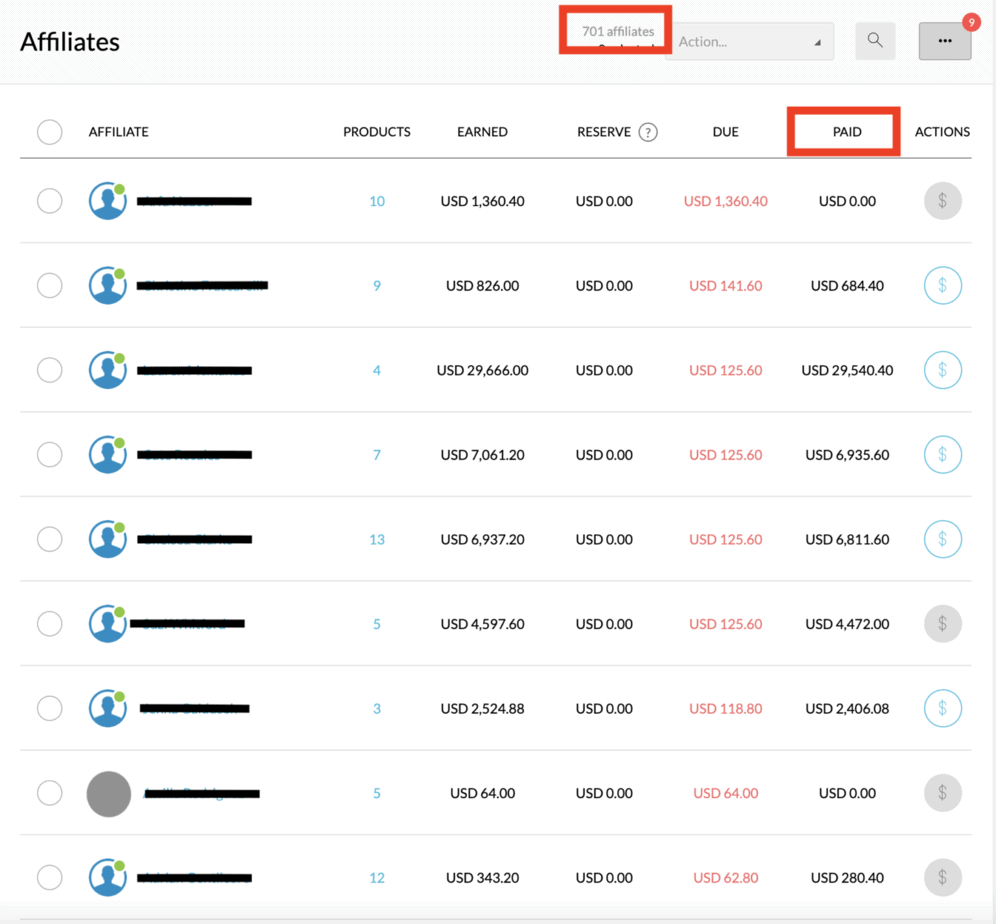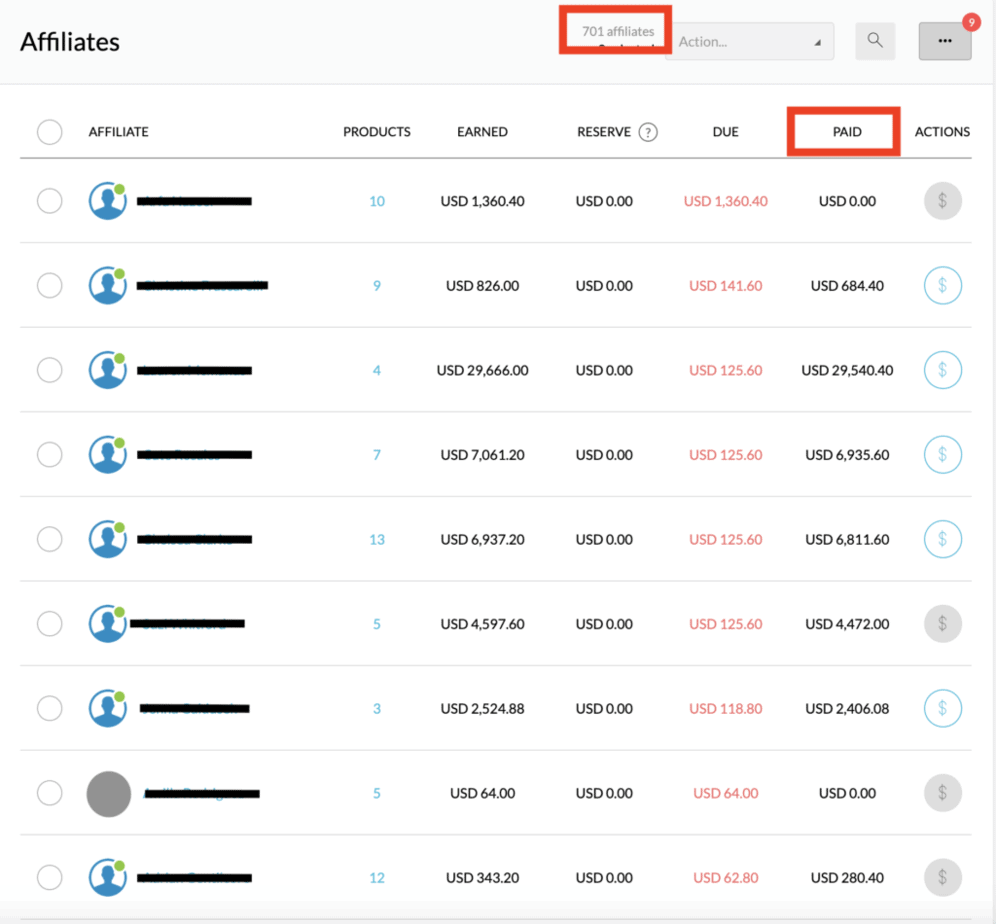 I would love for you to join so you can start making easy money too!
You can sign up right here. It's FREE to join and open to all entrepreneurs because my legal templates are needed no matter what kind of business you run online.
Here are 100's of examples of blog posts on Pinterest written by my customers and affiliates to show you how you can write a post like this to make money with affiliate marketing.

How to Make Money With Affiliate Marketing
Now you may be wondering, how do I make money with affiliate marketing?
Here are my best recommendations for you to master affiliate marketing (these worked the best for me when I first started as a blogger!)
There are many other great recommendations here and check out my complete list of 50 blogging tools and resources I use to run this six-figure blog!
Affiliate marketing sounds easy enough, right? Yes, it actually is. But, things start getting a little slippery when you have an affiliate program for your own products or services.
You want your affiliates to sign an Affiliate Agreement before they start promoting your products and services to avoid any legal issues. 
Don't stress out too much!
You can still run your affiliate program with ease as long as you have your affiliates sign an Affiliate Agreement beforehand.
I know you probably have quite a few questions regarding this agreement, so let's jump right in!
What Is an Affiliate Agreement?
Affiliate Agreements are used by companies all the time such as Amazon and by small businesses like me and you.
Starting your own affiliate program is a great way to promote your products and services.
An Affiliate Agreement is a legal contract between you and your affiliates who promote the products and services of your business.
Watch this video to learn what it is, how to create one, and the 8 MOST IMPORTANT things your affiliate agreement must have! 
If you run an affiliate program and have affiliates earning a commission from promoting your products or services, you need this legal contract to protect yourself from legal issues and affiliates' legal mistakes.
An Affiliate Agreement will state how you run your program, and it should include all the legal clauses to protect you in case of any problems with your affiliates.
Have you signed up to be an affiliate for any product you promote?
As bloggers, we love to share other people's products with our audience if they have helped us personally, so I'm sure you must promote some affiliate products.
Before you were approved as an affiliate, the company you signed up with had an Affiliate Agreement that you signed and accepted with just a click of a button and you probably don't even remember it now!
The point is all successful businesses that sell products have their own affiliate program. They first make you accept their affiliate agreement before they accept you into their program.
Look at Shareasale as an example here.
Think of an Affiliate Agreement to be like their affiliate terms and conditions that protect both parties (them as the creator and you as the affiliate) from disputes.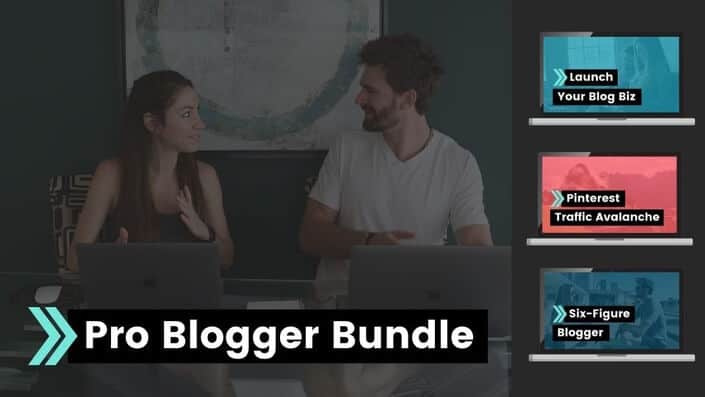 What Are the Other Names for an Affiliate Agreement?
There are several other names in which an Affiliate Agreement is referred to as. You might have even heard of some of these.
These are all used interchangeably to refer to the Affiliate Agreement:
Affiliate program agreement
Partner agreement
Affiliate terms and conditions
Affiliate program terms and conditions
Marketing affiliate agreement
Affiliate marketing agreement
Affiliate contract
Business affiliate agreement
Affiliate sales agreement
Affiliate member agreement
Referral agreement
Affiliate referral agreement
Online Affiliate Agreement
Affiliate Partner Agreement
Affiliate Sales Agreement
and more!
Should You Create Your Own Affiliate Program?
Yes, you should absolutely create your own affiliate program for so many different reasons!
One of the best parts about creating your own affiliate program is that it's a cost-effective marketing tactic.
It's essentially free advertising and you're only paying a commission whenever someone makes a sale through their affiliate link for you. You don't have to pay a dime for other people promoting your products and services through affiliate marketing.
Plus, a well-constructed affiliate program will boost your page rankings in terms of SEO. Your affiliates will link to your website to promote your products and services and this will help your Google rankings.
A big perk of creating your own affiliate program is that your products and services will be promoted to a whole new audience who are likely to buy your products and services. Even if they don't purchase anything, they could potentially sign up for your newsletters.
You're growing your email list for free and they could end up buying your products in the future.
What's even cooler is that this new audience could even make purchases through your affiliate links that you promote on your own posts and you can further increase your earnings.
Lastly, if you're running ads on your site, you can increase your ad earnings because you're getting more traffic to your site.
So there's a ton of benefits for creating your own affiliate program.
How to Create Your Own Affiliate Program?
Honestly, it's very easy to create an affiliate program of your own with this. Kartra is what I use and love it!
You can try it for just a $1 here and see how you like it! It handles everything and tracks all the affiliate commissions for me, so I don't have to do anything.
Now Kartra is not just good for affiliate marketing! It's an all-inclusive business platform (like a one-stop-shop) that handles everything from email marketing, creating sales pages, tripwires, lead magnets, your affiliate program, membership site, calendar, and more!
Read my detailed review of Kartra and how it helped me make over $300,000 with my blog here.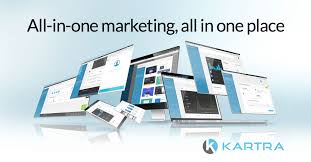 Who Needs to Use an Affiliate Agreement and Why?
The short and simple answer is that everyone who has their own affiliate program should be using an Affiliate Agreement.
As bloggers and online business owners, it's common for us to have an affiliate program.
But, allowing affiliates to promote your products and services without safeguarding you and your business can cause major legal mistakes and headaches.
As a smart business owner, you never want to leave loopholes where small things like this can get you in trouble.
Having your affiliates sign an Affiliate Agreement ensures that your affiliate program, you, and your business are legally protected.
If you want to have a successful affiliate program, isn't it important to make sure it's legally protected?
Why You Need an Affiliate Agreement and What Should You Include in It?
In case I haven't made it clear already, you need an Affiliate Agreement if you want to work with affiliates and run your own affiliate program.
You want to avoid any legal issues associated with having your own affiliate program, and it's easier to have your affiliates sign an agreement than it is to deal with legal issues and headaches later.
It's NOT easy to write an Affiliate Agreement on your own – unless you're a lawyer.
There are quite a few necessary legal provisions to include in your affiliate contract.
Here are a few key pieces of information that every Affiliate Agreement should include:
Parties to be bound
Terms and termination policies
Fees or penalties for violation of the affiliate terms

Outline your legal right to terminate the program and change policies as needed

Your affiliate terms and conditions such as what you allow or don't allow
The expected commission and amount and how often your affiliates can expect payment
The types of advertising your affiliates can use
Any restrictions on the affiliate's use of promotional materials
If and how the commission can be renegotiated or changed at your discretion
Exactly what happens in a lawsuit and where you'd resolve legal issues
Rules regarding where your affiliate links can be placed
Protection of confidential and proprietary information related to your business
How affiliate sales will be tracked and reported
And so more!
As you can see, you definitely need a comprehensive Affiliate Agreement like this that truly covers all aspects of your business to protect you from legal disputes and issues.

How to Use the Affiliate Agreement?
The easiest way to get your affiliates to sign the affiliate contract is when they sign up for your affiliate program.
Affiliates can sign up for my program here.  They input their information such as name, email address, and more. Before my affiliates can access their affiliate links, they are required to sign the Affiliate Agreement. They click to accept my affiliate terms and conditions electronically because it's already part of Kartra where I host my affiliate program.
I highly recommend this method because it's so easy and foolproof. It takes less than 5 minutes to sign up as an affiliate, so it's pretty quick too!
Then, my affiliates complete their tax and payment information so they can get paid their commissions.
So whichever company you use (Teachable, Podia, to host your products, check if there's an option for you to add your affiliate terms and conditions in there that your affiliates will click to accept.
Other methods include:
You can list your affiliate terms and conditions on your website but you do need to make sure your affiliates know about it and get a chance to read and accept your Affiliate Agreement
You can create a Google form outlining your affiliate program guidelines with the affiliate member agreement. Then you can state that "by signing up as an affiliate for our product, you agree to the terms of this Affiliate Agreement."
You can use e-sign service providers like DocuSign to have an agreement signed electronically.
Pick which method works best for you and make sure you get this agreement accepted by your affiliates BEFORE you allow them to promote your products!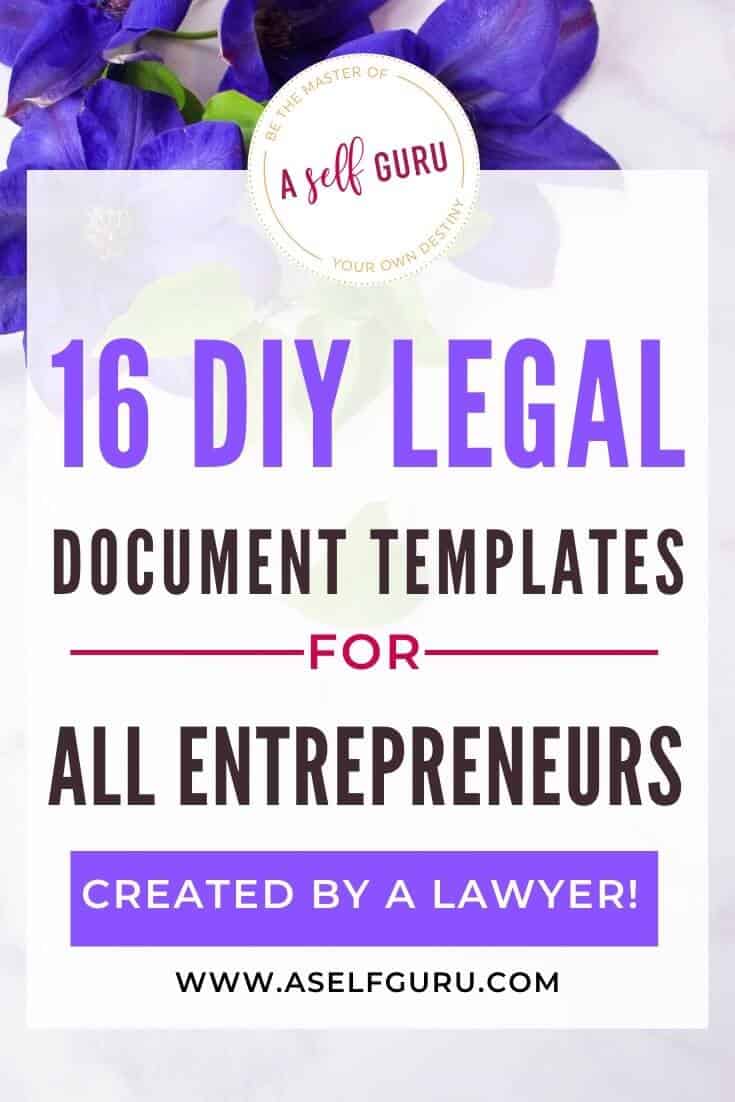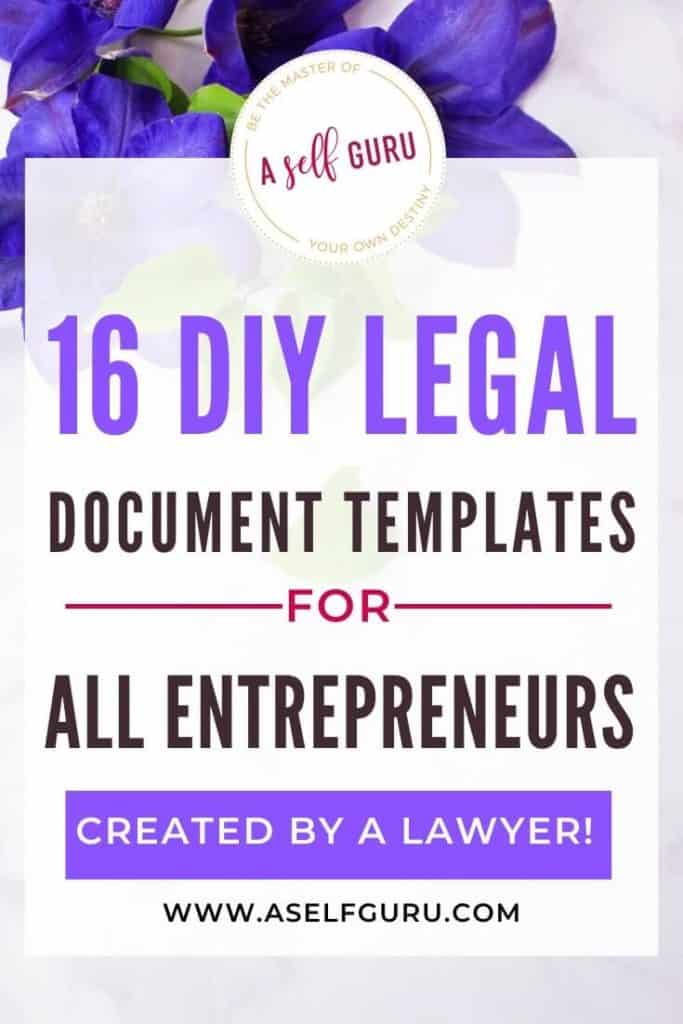 What Could Go Wrong Legally If You Don't Use an Affiliate Agreement?
If you have an affiliate program, you might have not thought about what could go wrong until now if you aren't legally protecting your program.
This is a tough conversation to have, but we need to talk about some of the bad things that can happen if you're not using an affiliate marketing agreement.
You risk more than you can imagine by not having your affiliates sign this agreement before they start promoting your products.
Launching a program without clear rules in place is always a BIG mistake!
Think about it, would you go into any business partnership without an agreement?
Your affiliate program is a business partnership agreement with the people who promote your products and services.
Without an Affiliate Agreement, you look like an amateur who doesn't know what he or she is doing with their business.
You want people to respect you as an entrepreneur and the brand you have worked so hard to build, so make sure to protect it legally.
Here are just a few things that can go wrong if you don't have your affiliates sign this agreement:
Pesky disputes regarding affiliate commissions and payments (this happens all the time! an affiliate could claim someone clicked on their link to make a purchase but they didn't receive payment or that they expected payment sooner than you could release it)
You being held responsible for your affiliate's legal mistakes and non-compliance with the FTC (Federal Trade Commission) rules on affiliate disclosures

Copyright and trademark violations because you didn't clarify how your products, logos, images or other copyrighted materials can be used

Legal disputes over how your products and services should be marketed because you didn't specify how others should promote them
Encouraging affiliate fraud because you have no affiliate guidelines to stop it
Affiliates promoting your content and products that go against your branding
False advertising of your products and spamming
Engaging in any other illegal activities related to your products!
and more!!
Seriously, get your legal ducks in a row before it's too late!
Now that you know how IMPORTANT it is to have your affiliates sign this agreement, you'll want to start incorporating it ASAP.
I can hear you thinking, "Amira, where do I find this agreement?"
Don't even think about the G-word (Google).
Free templates are not comprehensive or legit and they can't save your secret ideas from being stolen. Read this post to see what I mean!
Affiliate Agreement Template (Written by a Business Lawyer)
Lucky for you, I've created a super easy and customizable Affiliate Agreement for your affiliate program!
You get an instant download when you get the Affiliate Agreement here.
Then, you just plug in your business information (as instructed) and start using it immediately!
Plus, most people get done in less than 15 minutes as you can see how easy it is to fill in the blanks (and fun, okay, maybe not fun for you but still pretty easy!)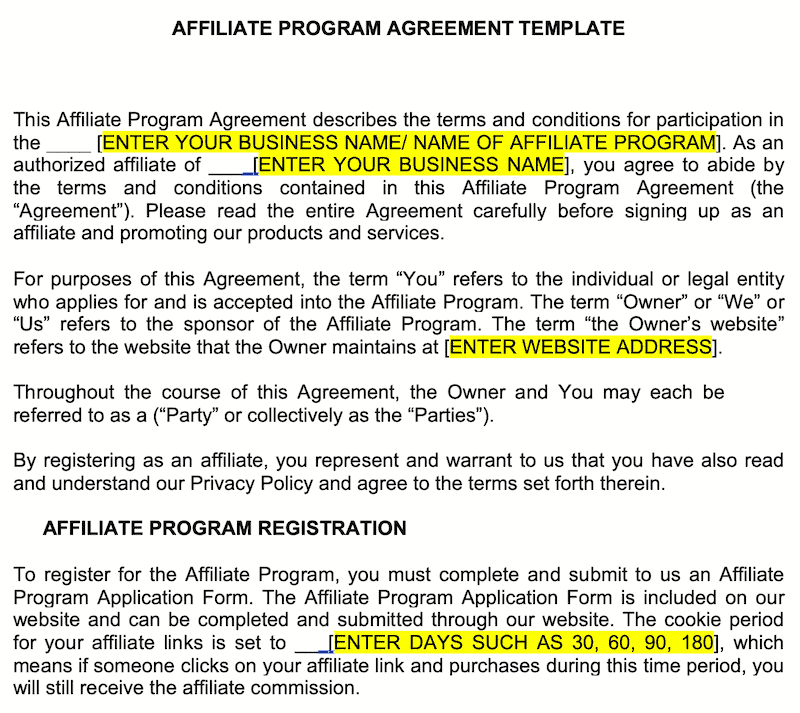 The hard work is done for you!
As a lawyer practicing and coaching clients for more than 10 years now, ​I've already included all the legal jargon you need for your affiliate program.
Just simply add it to your affiliate sign up page for your affiliates to accept before they start promoting your products and/or services!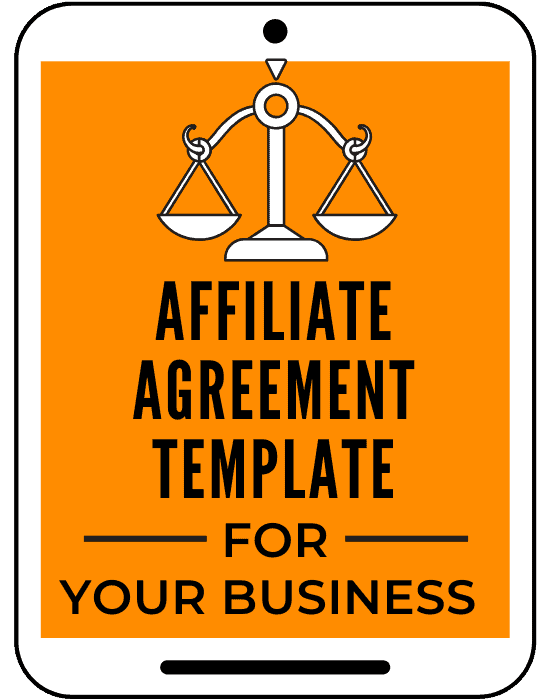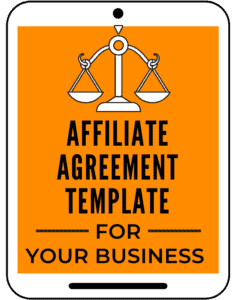 This Affiliate Agreement Template is legit, comprehensive, affordable, AND drafted by a lawyer who is also a professional blogger – me!
This is the same legal template I use with my affiliates to run my six-figure blog.
This Affiliate Agreement Template is your easy and done-for-you legal solution.
Here's what you get with this affiliate marketing agreement template:
A detailed Affiliate Agreement that includes all the legalese you need to protect your affiliate program.
A comprehensive legal template that's going to protect you from all kinds of legal issues with running your affiliate program.
Drafted by an experienced lawyer who has more than 10 years of legal experience.
It comes with easy idiot-proof instructions to customize the template based on your business in 15 minutes or less!
Instant download so you can begin using the legal template right away!
Lifetime access to free updates.
Trusted by over 10,000+ bloggers, course creators, freelancers, my clients, and other business owners just like you!
Watch why bloggers like you love this legal template:
Richard has purchased pretty much ALL of my legal templates (at least 9 different templates including this one!) because he says,
they are incredibly CHEAP, easy to read, and cover every angle! For the money I spent on them, I couldn't even get 15 minutes with a solicitor (by the way, same here with a lawyer in the US). These legal templates will cost you less than a WordPress plugin!
Grab your copy of the Affiliate Agreement Template here and watch more testimonials here.
Final Thoughts: Affiliate Agreement Template
Having your own affiliate program is a great way for you to promote your products and services in front of a whole new audience!
But, it's important to make sure that you are legally protecting yourself and your affiliate program before allowing your affiliates to advertise your products and services.
It's easy AND affordable to do so with this Affiliate Agreement Template.
This affiliate program agreement protects you and your affiliate program from legal issues and gives you all the protection you need to run your program smoothly and legally.
Click here to get your Affiliate Agreement Template and start protecting your affiliate program today!
If you want to save even more, check out my Premium Legal Bundle here, which is a discounted bundle of 6 legal templates and tons of bonuses.
If you want to really SAVE BIG where you literally save $1,000 off then for a limited time, grab my VIP Legal Bundle here, which comes with 16 legal templates + 16 bonuses for your online business!
Get your discount coupon code here before it's gone!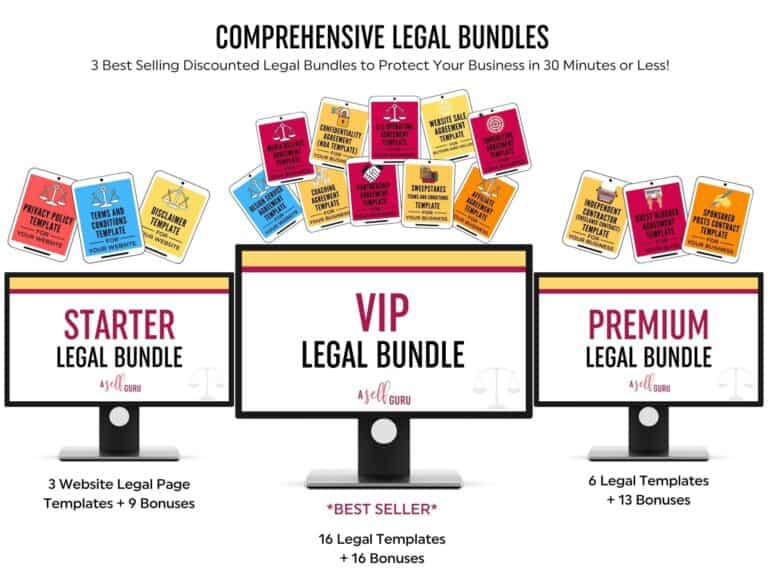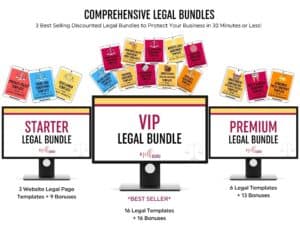 Also, don't forget to join my Facebook group here! My group is packed with business and legal tips. Plus, it's a great way to network with other bloggers and business owners.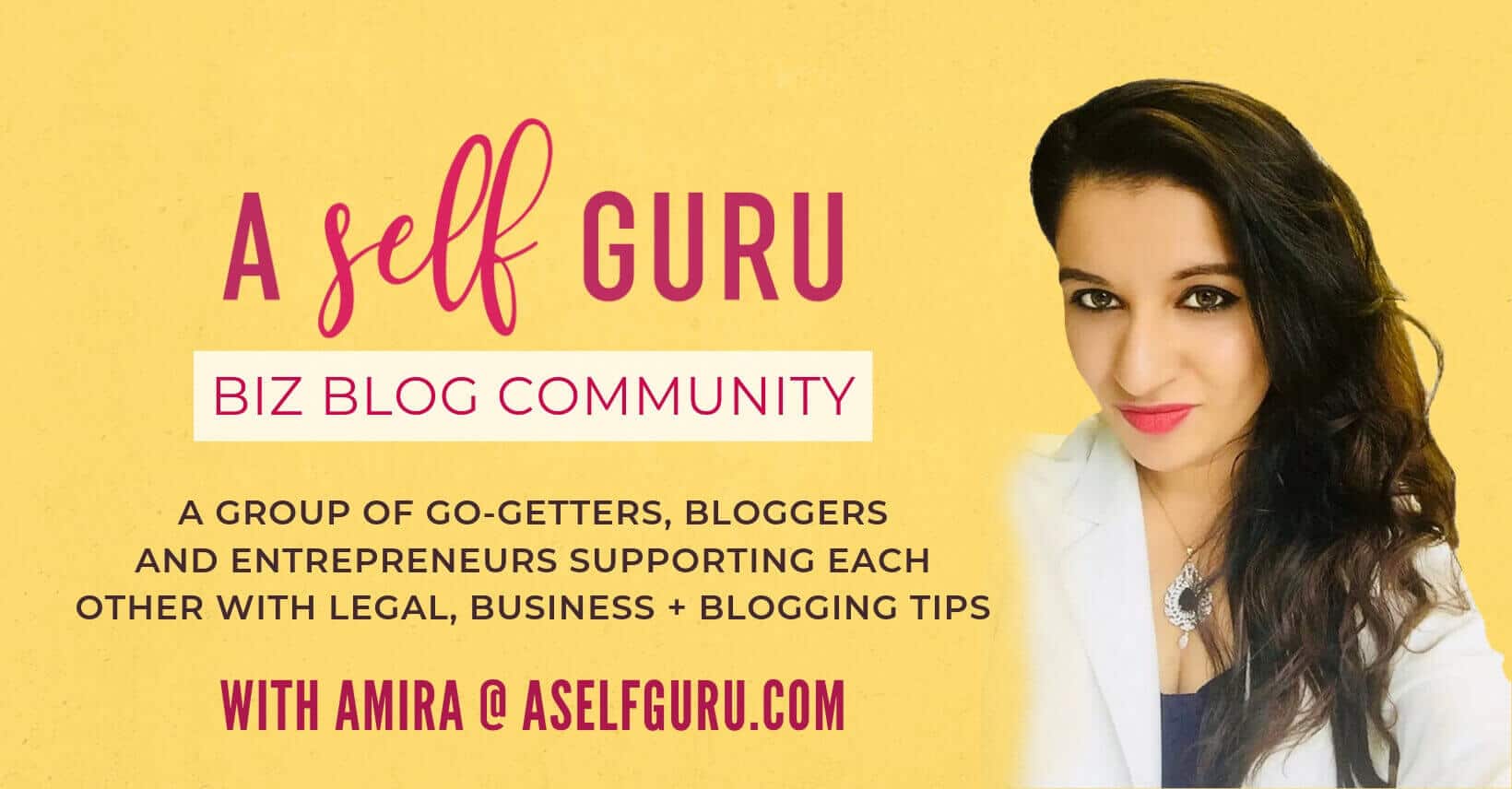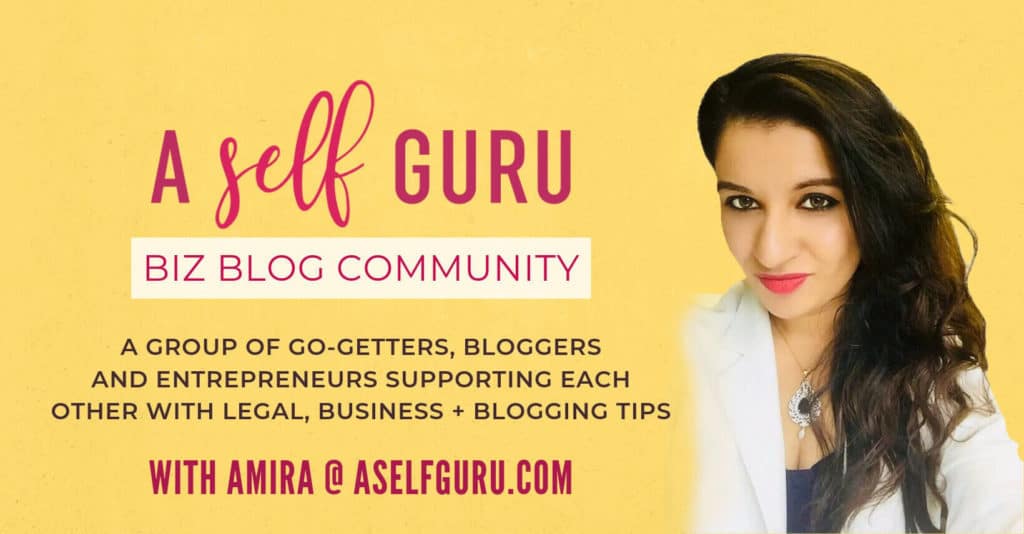 Related Posts to Affiliate Agreement and Legal Templates
Do you sell your own products or services? Have you created your affiliate program? Tell me in the comments below!