ConvertKit vs. Kartra, which one is your favorite? This is my in-depth Kartra review including what I like and don't like about it.
When I started blogging, just like most people, I signed up with ConvertKit for my email marketing needs but luckily within my first month, I learned about Kartra and how it's an all-in-one business platform that allows you to do EVERYTHING you can think of!
So I decided to try it for just a $1.00 here for 14 days and guess what? I never went back to ConvertKit!
Stay tuned till the end of this post because I have a special $700+ BONUS for you!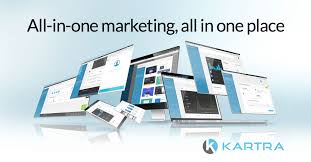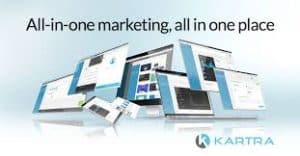 There's really no true comparison between Kartra and ConvertKit (because Kartra surpasses ConvertKit at all levels) but tons of people still ask me why I switched from ConvertKit to Kartra.
So in this post, I'll go over the 8 big reasons that made me switch and stick with Kartra, and how Kartra helped me not only save tons of money but also make seven-figures with my online business!
Watch the full Kartra review here on my YT channel (and subscribe please!)
Here's an example of Juan asking me the same question in my Facebook group here –

So I made this quick impromptu video for everyone in my Facebook group that highlights all the major key points you need to know about Kartra.
Make sure to join our Facebook group here for more business and legal tips!
Click below to watch my quick Kartra review (at the time, it had helped me make $300,000 from my online business)-
8 Reasons Why I Switched From ConvertKit to Kartra & Saved Money: Kartra Review 2022
If you watched my video above then you already got the idea that Kartra is way more advanced than ConvertKit, and Kartra pricing is much more affordable for ALL that you can do with it.
Both ConvertKit and Kartra allow you to collect leads/subscribers from your website and send emails to them. They also have nice looking email opt-in forms that you can use to have people subscribe to your email list.
Both are great for email automation and autoresponders but Kartra takes this to the next level.
Here are my 8 big Reasons Why I Switched From ConvertKit to Kartra, and my in-depth Kartra review to help you:
    1. Kartra's Built-in e-commerce
When I started my online business, I knew I wanted to make money blogging right away but I DIDN'T want to pay for 3-4 different business platforms to accomplish that.
For example, paying for ConvertKit, then Teachable, Lead Pages, ClickFunnels, etc was becoming too costly and not to mention, inconvenient!
Plus I couldn't imagine spending all the time to learn 3 different platforms with the million other things I had to do as an entrepreneur! (you know what I'm talking about)
I wanted a "one-stop" shop easy solution and Kartra was the only such platform that offered everything I needed at the price I could afford as a beginner blogger.
I love that it has a built-in e-commerce capability where you can easily create, host, and sell multiple products right through Kartra.
I sell 20+ different products and they all are hosted and sold through Kartra. You can easily integrate multiple payment options such as PayPal and Stripe and add different price points to make it easier for you to sell through your website.
See my example below (you can even create pretty looking "sales pages" and "checkout pages" within minutes with their built-in templates) –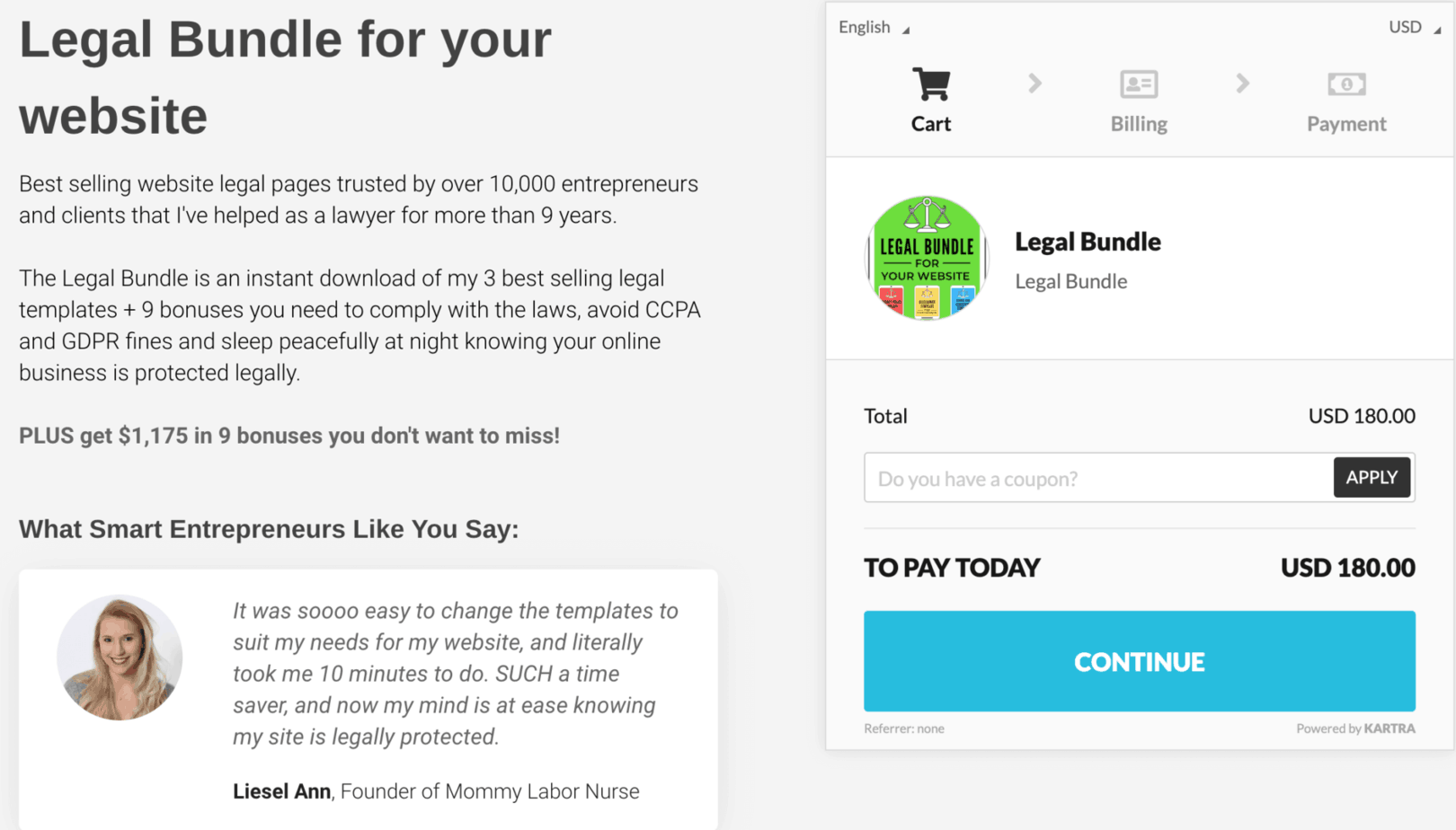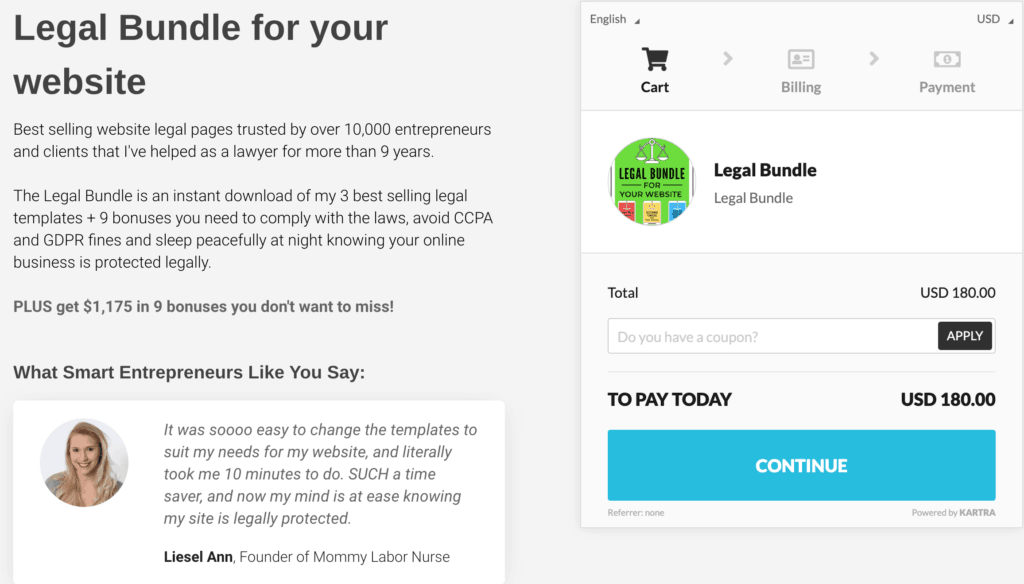 You can even offer upsells, downsells, and bump offers right through Kartra. Any digital products you sell from your website can be easily done through Kartra from the beginning till the end without scratching your head.
You can also see how your products are selling with their cool sophisticated analytics in your Kartra dashboard when you log in.
With ConvertKit, you cannot sell anything from their platform. It's only good for email marketing. If you want to sell something from your website then you'd need to integrate WooCommerce or pay for additional tools like Shopify, Teachable, ClickFunnels, InfusionSoft, etc.
These are all Kartra competitors but cost more. Either way, you will have to pay for ConvertKit in addition to another platform for your e-commerce needs.
So if you do the math in this Kartra review –  with ConvertKit vs. Kartra –  you will end up paying a lot more each month in the end. I've done the price comparison in detail in this Kartra review below.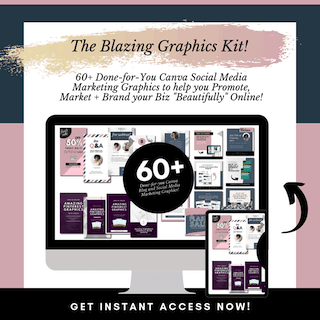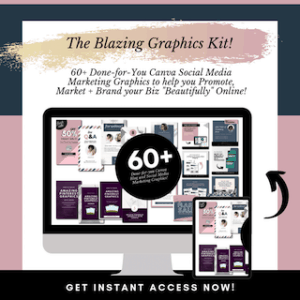 2. Kartra's Well-Designed Beautiful Pages and Forms
This is by far my favorite feature about Kartra – they have built-in templates for everything you can think of! Whether you are looking to create a sales page, thank you page, checkout page, they have it all as you can see below! Plus all kinds of beautiful email opt-in forms for you to pick from.
These are professionally designed templates you can start using right away to save tons of time in your business marketing. Simply plug in your information and change the text or colors as needed to customize it based on your business. No more wasting hours trying to create a sales page from scratch!
Need help with sales page copy? Try this other awesome tool that I love! I promise it will save you SO much time!
I'm all about saving HOURS and DAYS by working with templates, and I do the same with these Pinterest templates too when I design pins for my blog posts.
Otherwise, you will waste SO much time, and as busy entrepreneurs, we don't have the luxury of time on our hands. But Kartra allows you to speed up your progress with tons of pre-made templates for you and you can even create and save your own template for future use.
Side Note: Here are the 4 Pinterest templates you can use to create viral pins: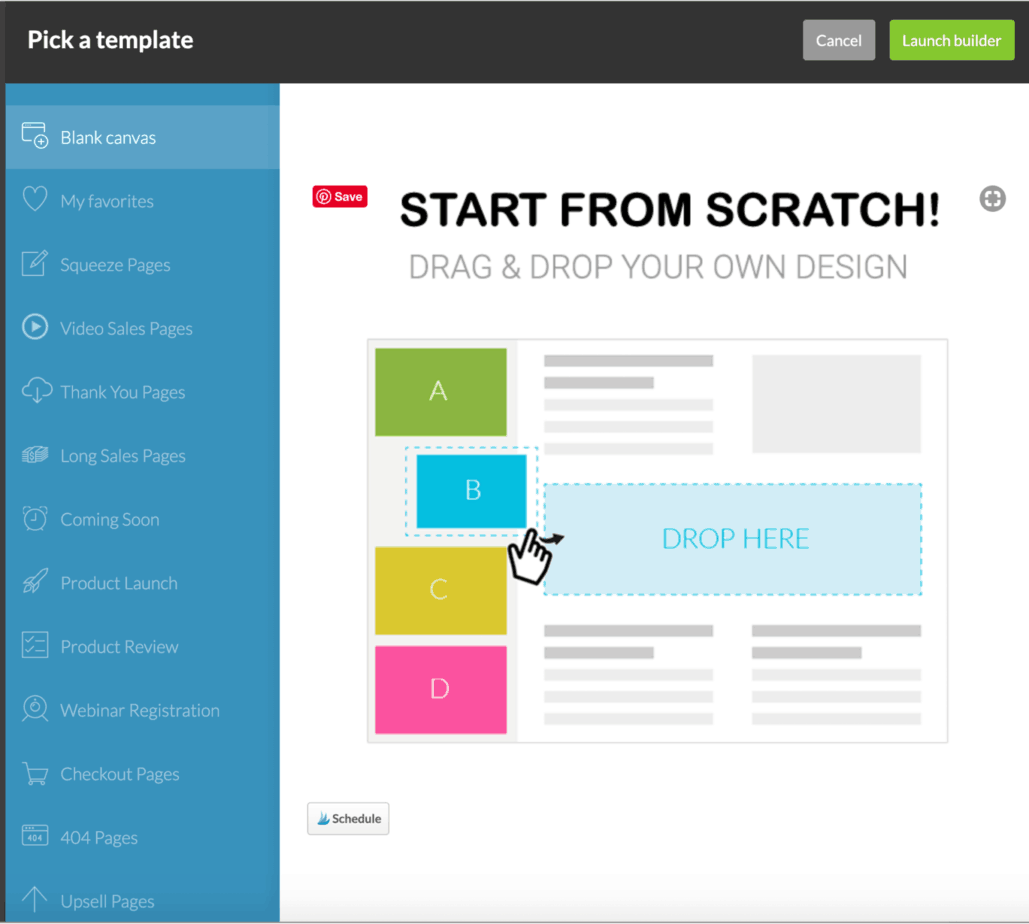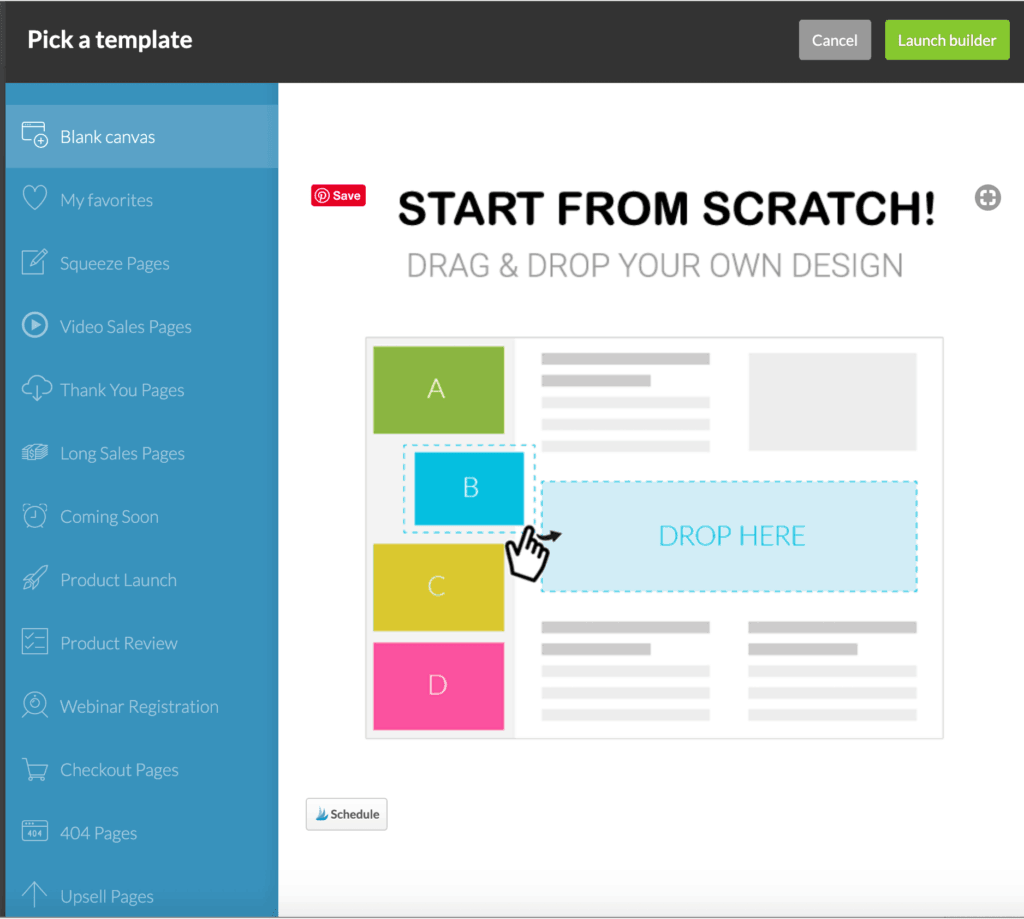 Kartra vs. ConvertKit comes with a built-in landing page creator and personalization.
Kartra gives you a front end page builder where you can design your pages and email forms as you go, meaning you can see everything on the front end. Just like hundreds of page building templates, you also get pre-filled forms for anything you need!
With ConvertKit, you only get a built-in landing page creator but not a marketplace of different templates that Kartra offers!
Here's an example of an email opt-in form I created in Kartra in 5 minutes with their built-in template:
I love that Kartra offers a built-in library of stock photos and design templates you can instantly use in your pages and forms. There are thousands of icons you can easily incorporate into your sales pages and save each section or page for future use. Check out some of the sales pages I designed in Kartra for my legal templates here to see what I mean!
It's also worth noting that these templates provided by Kartra are well-tested in the industry to convert the best and some of the copywriting you see as part of them is simply genius!
Again, you don't have to waste time "thinking" what to write – a lot of times, you can simply tweak the existing copy on these templates. Anytime you tweak a sales page, landing page or an email opt-in form, it gets updated everywhere automatically.
Check out Kartra here and watch their videos to see for yourself!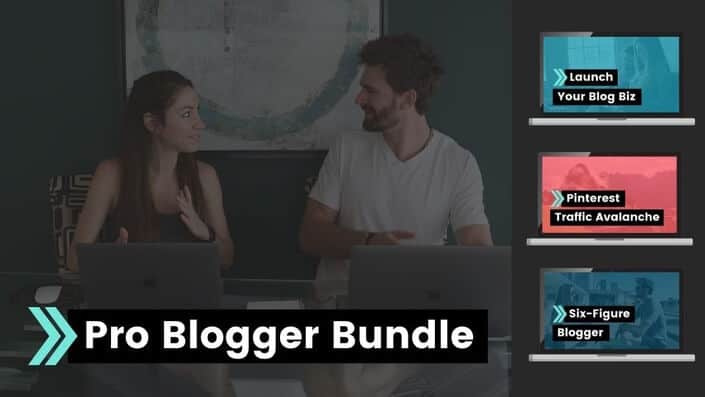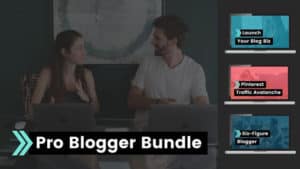 3. Kartra Video Marketing and Hosting
As I mentioned above, you can host all your digital products right there in Kartra. But guess what? You also do the same for your videos! Pretty amazing, right?!
Video marketing is the best way to grow your business as you can see all the benefits of video in this post. Videos also generate more sales and leads.
ConvertKit vs. Kartra does not allow you to integrate or embed videos in their pages. You'd need to purchase another plugin to add videos. But with Kartra, you can easily host all your videos with a customizable player to get more shares, conversions and of course sales!
If you look at my photo above about Kartra pages, you will see that Kartra even has "video sales page" templates because they recognize how powerful and impactful videos are for business marketing these days. You can easily embed videos directly in Kartra.
Kartra also automatically tags the people who watched your video so if someone didn't watch it the first time, you can send them a follow-up email – basically, giving you more chances to convert your leads into paying customers!
This kind of advanced automation is only available in Kartra, not ConvertKit. You can add videos everywhere – in your emails, sales pages, opt-in forms, anywhere else! You can even see how many times your video was watched and for how long.
For example, check out my freelance contract template here where I easily added my YouTube video on the sales page without any third-party plugins or integration. Again, Kartra makes it pretty easy for beginner bloggers and entrepreneurs to use videos on their platform.
Check out more details and read Kartra reviews here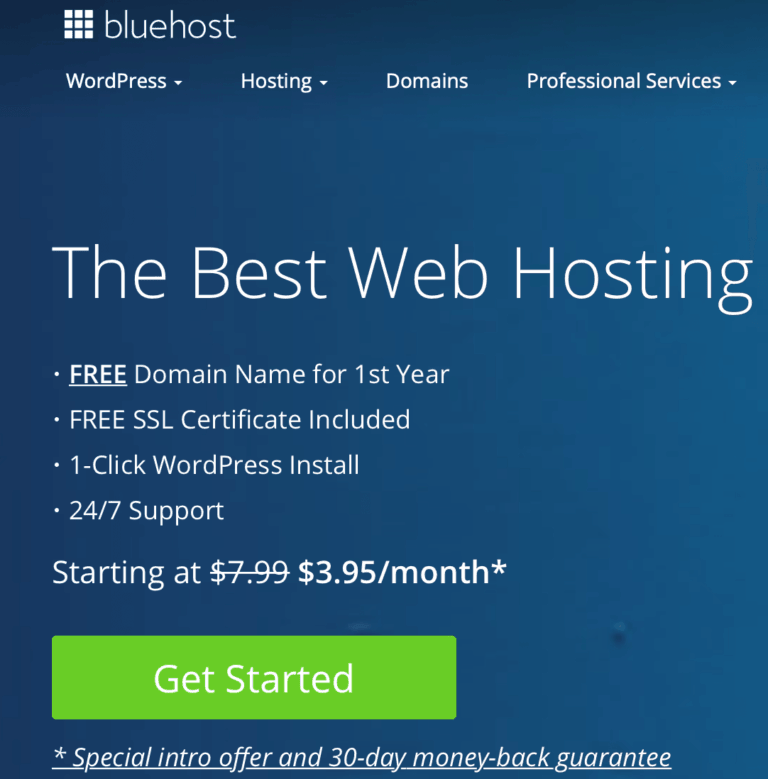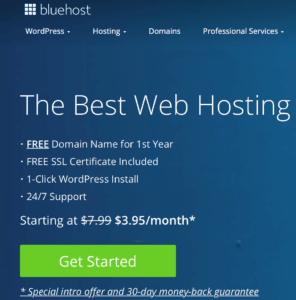 4. Built-in Affiliate Program for Your Products and/or Services
Here's another big way you save money with Kartra – they have an easy affiliate program already built-in for your products and services, so you don't need to pay additional for it. You can manage your affiliates right there in Kartra and it automatically tracks their affiliate commissions.
This feature alone was enough for me to stick with Kartra vs. ConvertKit because I didn't want to pay extra for a third party plugin to host my affiliate program.
If you don't know, affiliate marketing is essential for your business growth, especially if you sell products. You want others to promote your products easily and for that, you need a system that tracks everything like their cookie period, sales, and provides easy access to an affiliate dashboard. Kartra provides all that and more!
Not only you can see all your affiliate sales but Kartra also allows your affiliates to login into their Kartra account and see their analytics like how many people have visited their affiliate links and how many sales they have made in a month, year, etc.
ConvertKit vs. Kartra fails to offer an affiliate management feature, so you are stuck having to pay additional for this through a third-party platform.
Again, do you want to pay extra for 3 different platforms to run your business or have the convenience of everything in one place for you? For me, that choice was pretty easy! I'm all about convenience and Kartra makes my life easy as an entrepreneur.
If it wasn't for Kartra, I'd not have 1000+ affiliates promoting my legal templates today and it's growing every day! I love residual income and unlike ConvertKit, Kartra gives me and my affiliates everything we need to make money together!
So far I've paid THOUSANDS in affiliate commissions as you can see below – thanks to Kartra for making everything so simple!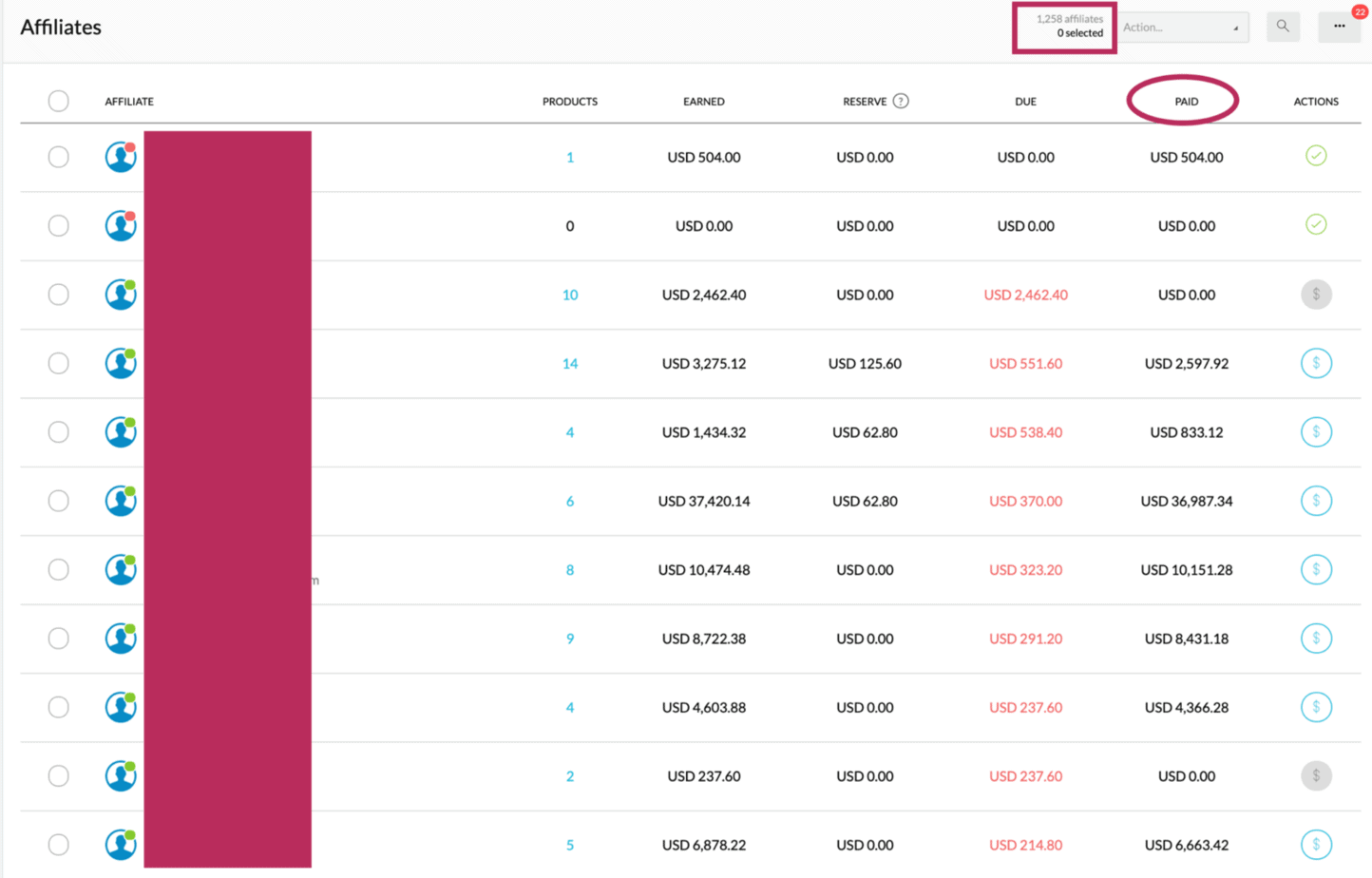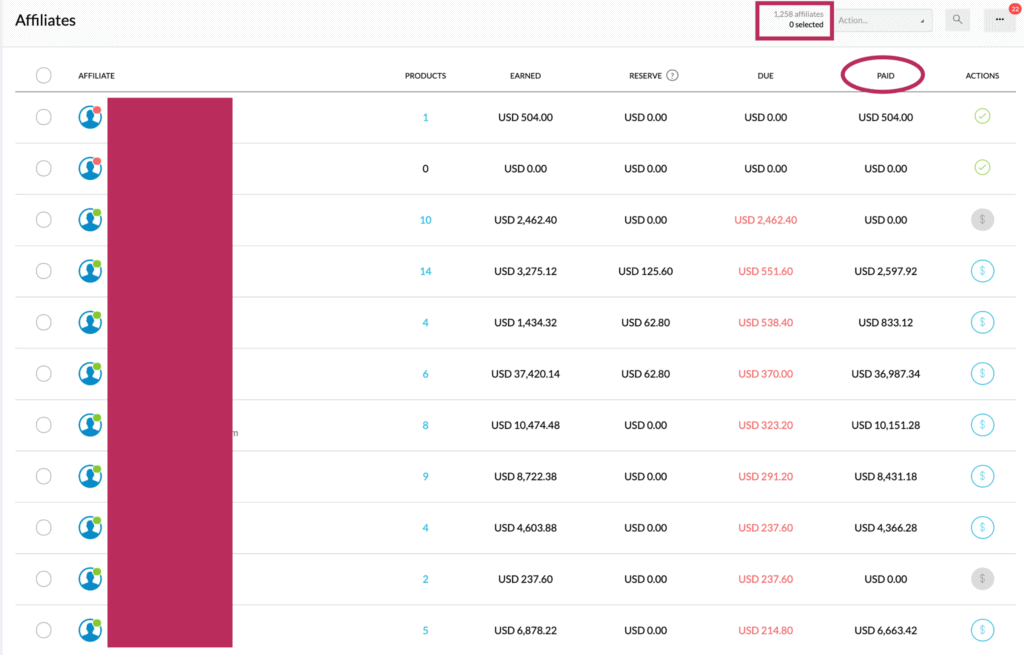 Imagine how much money I'd have lost WITHOUT an affiliate program for my products! Kartra makes it so easy to sign up as an affiliate. You can literally sign up in 5 minutes, grab your affiliate link and begin using it everywhere on your website, blog posts, and social media platforms.
Sign up for my affiliate program here to see how it looks and also earn a generous 40% commission on my legal templates. You'll also get to see the inside of Kartra firsthand.
By the way, it's FREE to sign up as an affiliate for my legal templates here.
Important: If you need affiliate terms and conditions template for your program then get it here.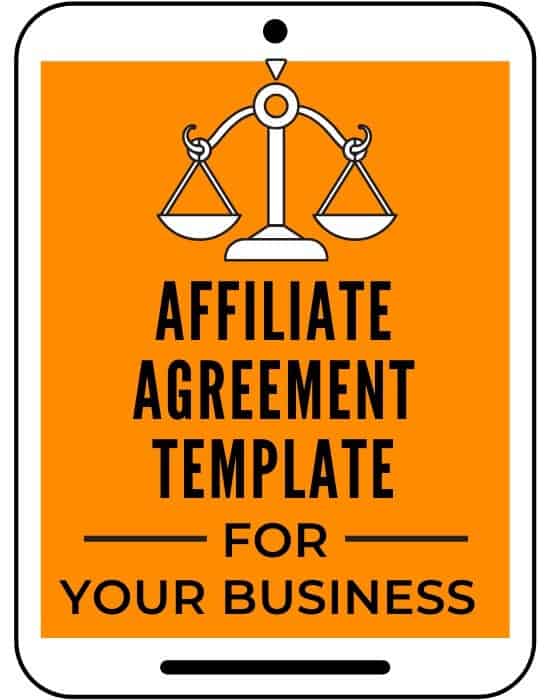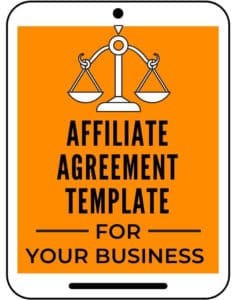 5. Kartra Membership Site / Portal for your courses
ConvertKit vs. Kartra does not have any membership site capability. But if you are a course creator then this is a must for you!
With Kartra, you get a membership site to host your content and you can easily create lessons and modules for your courses. You can also embed videos and build a membership portal to sell multiple courses to a single user.
You can also assign access levels to your members so if they purchased a starter membership then they only get access to that particular content. It's pretty cool how much you can do within Kartra. Again, it truly lives up to what it claims – ALL-IN-ONE platform.
You can also time-release (drip) your content to your users and analyze their behavior due to Kartra's advanced analytics.
This also eliminates the need for paying $99/month for Teachable or any other platform to host your course.
Check out more details and Kartra reviews here.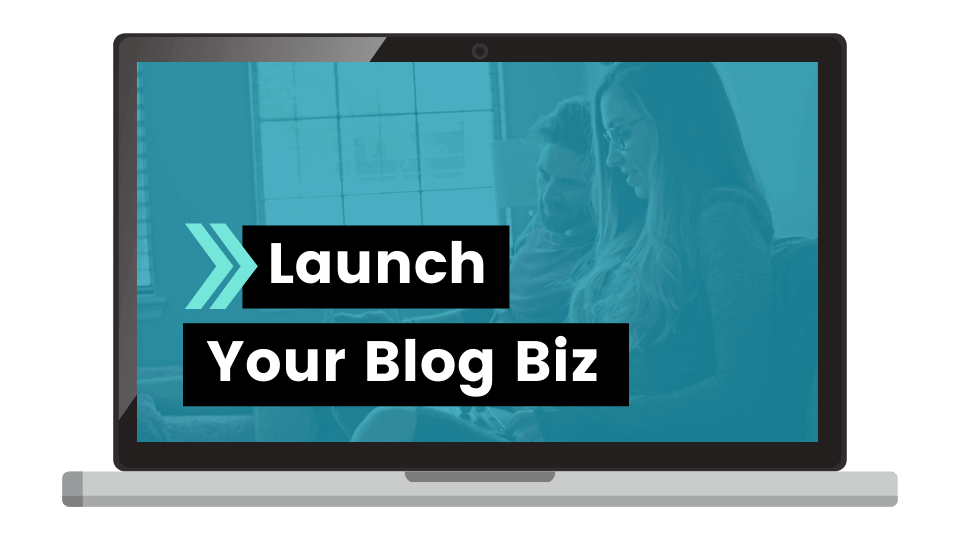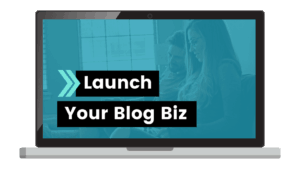 6. Kartra Calendar and HelpDesk Features
Because I offer blog, business, and legal coaching, having a built-in calendar in Kartra is very convenient and important for me! ConvertKit v. Kartra does not offer any such capabilities.
If you are a consultant or a coach, you are going to love how Kartra offers you an intuitive calendar tool where your customers/clients can check, schedule and self-manage their appointments on their own.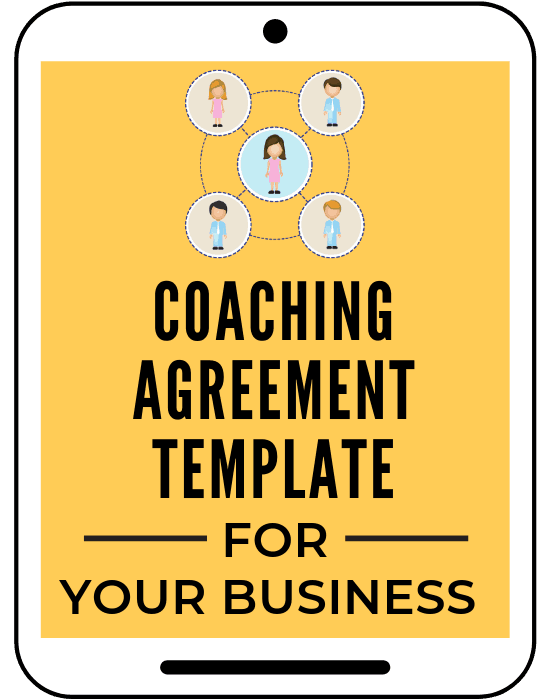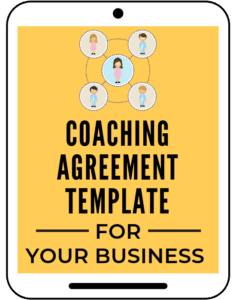 It even sends automated appointment reminders to your clients for you. Isn't that a huge blessing? No more confusion over different time zones either.
With ConvertKit, you'd have to pay extra to use another software as a calendar to book your coaching appointments. You don't need third party software like Calendaly either.
You can offer free or paid appointments through your calendar and you can define your availability schedule and it even offers different kinds of calendars, which is again quite incredible! You can pick from –
Consultant model -You define your business hours, and your users will select their preferred time window for a one-off session.
Recurring class model -You define your business hours, and your users will select their preferred time window for a recurring session.
Gym model- Your recurring sessions will be set at a fixed day/hour of the week, and multiple users may subscribe to them.
Live event model – Your one-off live events will be set at a fixed date and time in the calendar, and multiple users may subscribe to them.
WOW, right? Talk about giving you tons of options to run a smooth business! Kartra doesn't disappoint!
Click here to see the product demo video.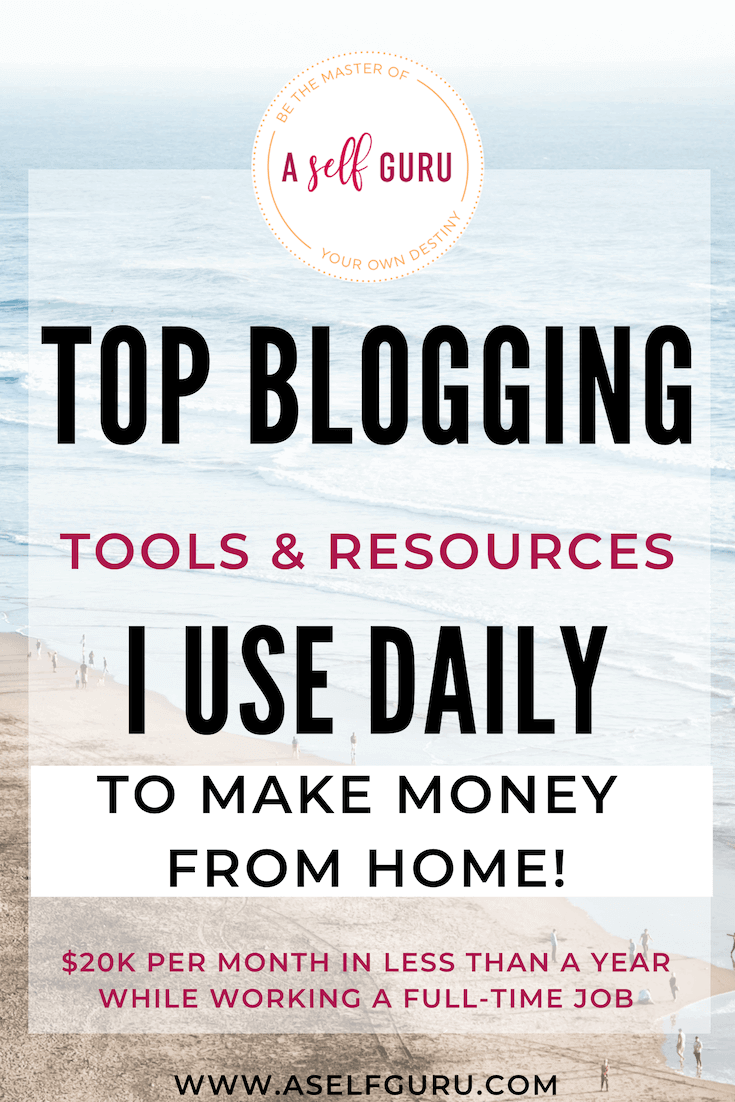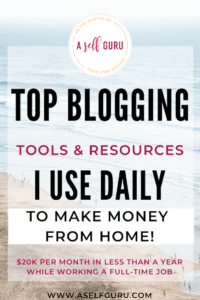 Kartra also offers a HelpDesk feature, which I've not used yet but I love that it's available because as my business is growing, I plan on using it soon.
Their helpdesk feature allows you to offer support to your customers and resolve their issues quickly via live chat or a built-in email reply system. It allows your customers to create a trackable ticket system instead of flooding your inbox! This way, each issue is tracked properly and resolved in a timely efficient manner.
Moreover, it's excellent for customer retention because now your customers can track the status of their tickets/requests and you can also measure the amount of time it's taking you to resolve issues.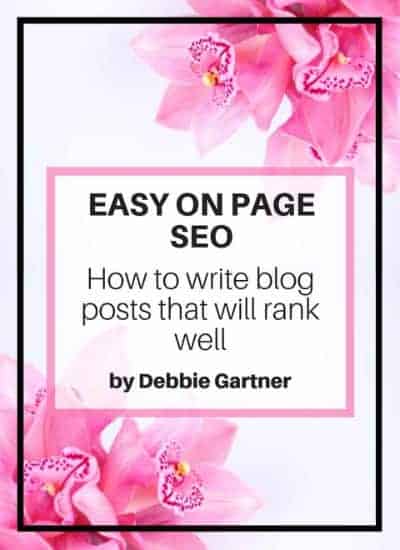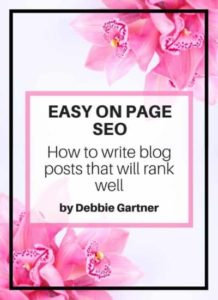 7. Kartra Facebook Community and Kartra Academy
It truly helps that Kartra has a huge Facebook community of over 15,000 members ready to help you! I've used the FB community to ask questions and have gotten answers within minutes!
In addition, once you choose Kartra, you also get access to Kartra Academy where tons of training videos are available to guide you through everything even though most of it is pretty self-explanatory. I have only accessed 1-2 trainings so far to refine my learnings. But everything else, I learned by simply using the platform!
Also, they offer "Done For You" Campaigns that I've not personally used much but tons of entrepreneurs I know use them. These are pre-made campaigns you can download and begin using right away to grow your business such as a sales page sequence, membership system campaign, consulting campaign, product launch, and so many more!

8. Kartra Pricing compared to ConvertKit
So now let's see how Kartra compares to ConvertKit in pricing. ConvertKit's basic plan starts with $29/month and Kartra's Starter plan starts with only $99/month but look at EVERYTHING we discussed above that you can do with Kartra vs. ConvertKit.
No doubt, Kartra's Silver plan is the best option and that's the plan I use now but if I was still with ConvertKit then I'd be paying more than $80 ONLY for email marketing because my subscribers are above $5K! So think about how fast your business will grow and invest wisely. I grew to more than $5K subscribers in my first year!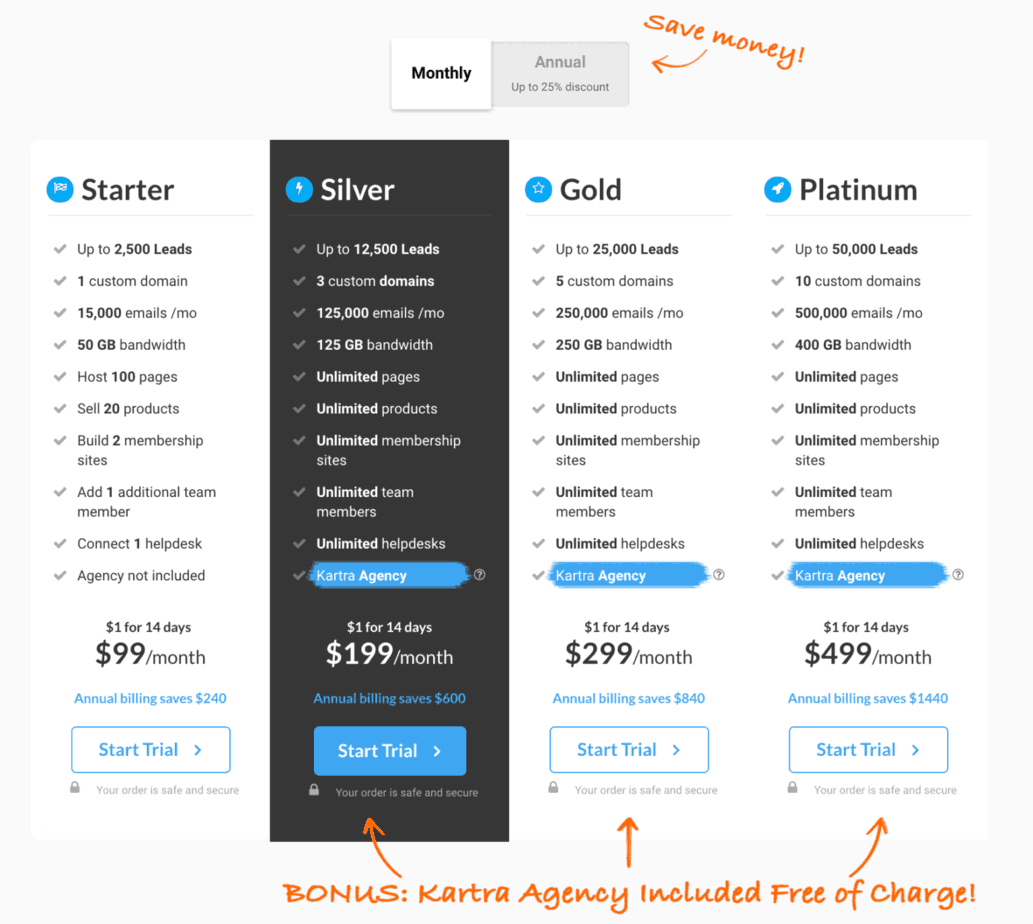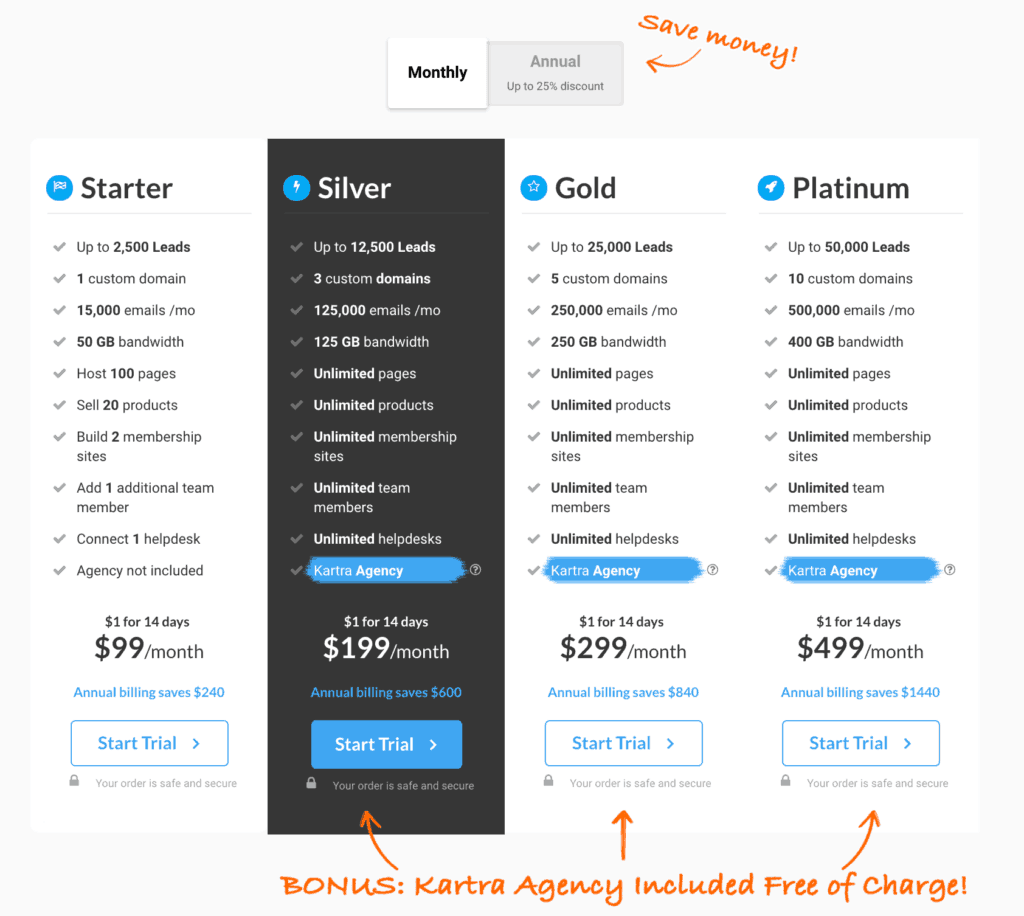 That's why you need to plan ahead and invest in the right platform that gives you the best value for your money.
ConvertKit vs. Kartra fails to offer 6 different business capabilities we discussed above. This means you will pay extra for all those features like hosting your affiliate program for your products, calendar, membership sites, and others.
Let's do the math, it would cost you $300/month extra for these 3 important features to run your business:
Membership site for your courses – $99 for Teachable for example
Affiliate management software – $99 for a third party plugin
Video hosting platform – $99 a month for Wistia for example
If you were to add a calendar or a helpdesk feature or even a page builder like Lead pages to your business then expect to pay $200 additional every month! So before you know it, it would cost you $300-$500 more paying for additional software and tools that you can save by simply sticking with Kartra!
Ultimately, it's a no-brainer to use Kartra for your online business. It's super affordable considering you get tons of features under one roof, saving you time and money each month!
No matter which plan you select with Kartra, you still get ALL the features above and here.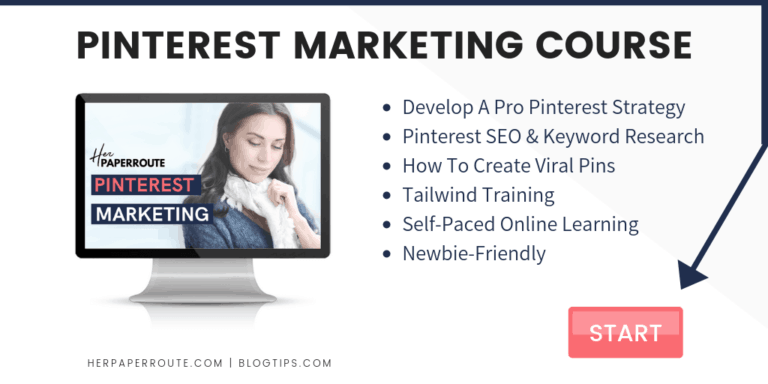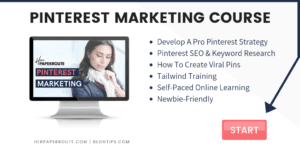 What I Didn't Like about Kartra
This in-depth Kartra review wouldn't be complete if I wasn't honest about what I don't like about Kartra. So far, there's only one thing that I wish they did differently, which is the ability to purchase multiple quantities of a product all in one shopping cart.
In other words, Kartra is not designed to work like WooCommerce or Shopify where you can add as many products as you like in your shopping cart all under one order.
With Kartra, you can only select one product at a time unless you use their "bump order" option, which allows two products to be added to the same shopping cart. So you have to make multiple purchases if you want to buy 2 or more things.
For someone like me who sells 20+ different legal templates and products, this is an important feature that I need to make the buying experience for my customers easy and hassle-free.
If you are selling a limited number of products then you won't miss this feature but if you are like me selling tons of products then you will want this to make it easier for your customers to buy from you!
This is a simple feature that I'm surprised to see missing in Kartra! If they add it (which I believe their Development team) is working on then without a shadow of a doubt, Kartra would be the perfect platform for ANY online business! Their price point is great, their features are out of this world and the ease and support system are excellent as well.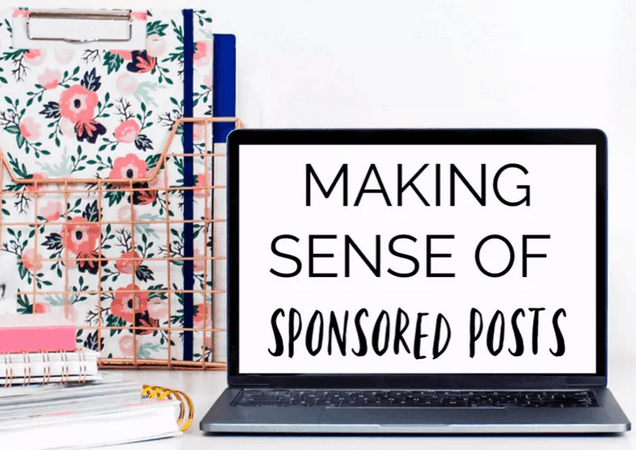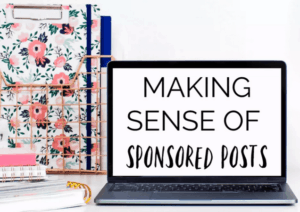 Overall Kartra is a very easy-to-use platform and has inherent characteristics of usage. However, it lacks one more thing, and that is a contented blogging system. So in case you want to integrate a cool blog and use it for content marketing, it can be difficult.
Of course, there is always WordPress as an option but bear in mind that this is complicated, time-consuming, and even frustrating. Luckily, there are other people that think Kartra is awesome for your e-commerce store and they have made it easy to integrate a blog into it. Moreover, DropInBlog is a third-party tool that allows one to integrate an awesome blog into a Kartra website very easily and quickly. They have a great guide on how to integrate a blog to Kartra with DropInBlog, so check it out! Having a blog on your site can help you interact and target your audience to educate and engage them. This leads to an increased conversion rate and strengthens your brand image. 
5 SPECIAL BONUSES FOR YOU ($700 VALUE)
Here comes the BEST part that you've been waiting for!
If you found this Kartra review helpful and decide to purchase, stay with Kartra after your trial period is over through my affiliate link here then I've a special $700+ bonuses for you.
Watch this video where I explain everything!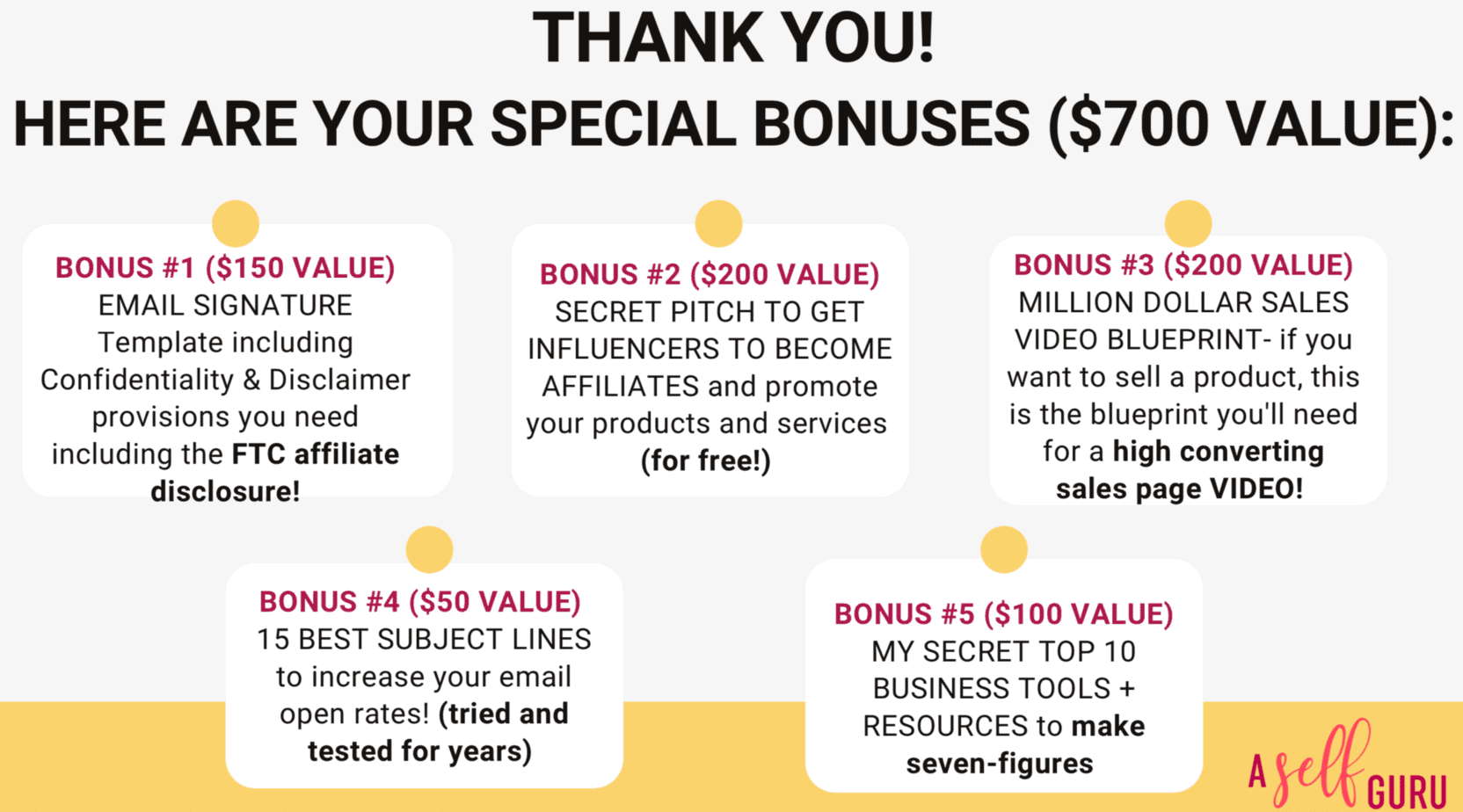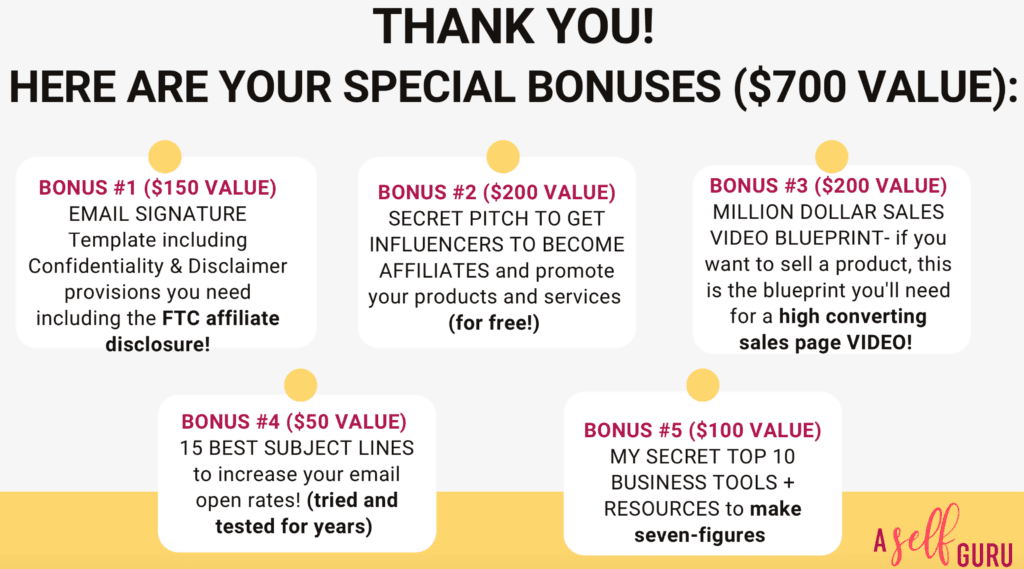 Get excited because you'll get some really cool bonuses that I've never shared before for free! 
You'll get:
BONUS #1 ($150 Value) – Email Signature Template including Confidentiality & Disclaimer provisions you need including the FTC affiliate disclosures you'll need!
BONUS #2 ($200 Value) – Secret Pitch to get Influencers to become your affiliates and promote your products and services (for free!)
BONUS #3 ($200 Value) – Million dollar sales video blueprint- if you want to sell a product, this is the blueprint you'll need for a high converting sales page Video!
BONUS #4 ($50 Value) – 15 BEST subject lines to increase your email open rates! (tried and tested for years)
BONUS #5 ($100 Value) – My Secret Top 10 Business Tools + Resources to make seven-figures
Here's how you can get your 5 special bonsues to help scale your business!
First, sign up for Kartra through my link here
After your trial period, purchase Kartra and stay with them for 30 days or more
After 30 days of purchase, simply email us at [email protected] with your receipt to get your bonuses via email!

Kartra Review Summary- Is Kartra Worth it vs. ConvertKit?
I understand it's not easy to decide where to spend your money! So many tools and so many good options!
I get it, I've been there. But with the right tools, you will reach your business goals much faster like I did where Kartra helped me make $78,000 with my full-time job as a lawyer!
I hope this detailed Karta review vs. ConvertKit really highlighted all the differences between the two platforms. It also showed you how Kartra is truly the best all-in-one business platform at a very affordable price that allows you to do everything you need to grow your business quickly!
If you have any questions about Kartra, just comment below or email me.
Click here to start Kartra for only $1.00 today and start saving money!
Related Blog Posts to Kartra Review:
Comment below to let me know what business platform are you using? Have you tried Kartra yet? Make sure to join my Facebook community here for more business and legal tips!