Your ebook disclaimer and copyright page are two important things you probably don't think much about as an author.
Writing an eBook is super exciting, and thanks to marketing tools like these and publishing platforms like Amazon's Kindle Direct, it's never been easier to get your name on the cover of your very own book. 
However, before that book goes into the hands of any reader, you need to make sure you have your legal protections in place.
I'm referring to an eBook disclaimer and copyright page you'll need to get started. 
Here's everything you need to know about them!
Protecting Yourself as an Author
After spending all the weeks, months, or even years producing your new eBook (by the way, you can save tons of stress and time with this resource), you're probably super excited to click that "publish" button and make it go live. But doing so without doing your proper due diligence would be a BIG mistake!
Many new authors don't realize just how much liability  they could be taking on when they publish their work, whether its fictional or nonfiction and no matter the niche. And, aside from including a disclaimer that protects you from being liable to your readers, you also need to include a proper copyright notice so no one steals your hard work.
If you're new to the world of publishing, here's some information about what you should include before you publish your first eBook, but keep in mind that taking the "DIY" approach to legal stuff is never a good idea.
Protect yourself and your hard work with my legal templates here than trying to write the legalese yourself. There are many different legal templates to pick from depending on different aspects of your business that need legal protection. As a lawyer and published author, I've made your job easier by including all the important legal clauses you should have to protect your book. 
If you're interested in knowing more about these disclaimers and copyright notices for books — and what goes into them — this post with examples below will help you get a better grasp of the legalities of being an author and the pages your final eBook should include. 
If you simply want an easy plug-and-play template then grab it here. You'll learn more about it below.
Why do you need an eBook Disclaimer?
You've probably read an eBook disclaimer before. It's that paragraph of text that basically says the author isn't responsible for anything the reader does with the information they're about to consume. 
They're extremely common in financial and legal books, along with anything remotely related to the healthcare field. Pull such a book off your shelf and you're sure to see an example.
However, with so many sue-happy people these days, it's important that any eBook (fiction or nonfiction) includes the right disclaimer releasing you, as the author, of any and all liabilities that could potentially result from use/misuse of the information you share in your book.
Examples of Nonfiction eBook Disclaimers
The exact disclaimer you include in your eBook will come down to your niche and the information you're wanting to offer. You would obviously tailor it to your niche and release yourself from legal liability for the content you publish in it. 
Here are some mini-disclaimer examples to show you what I mean! I call them mini because you need a little more than this language in your book to fully protect you legally. These are just some examples to show you what a disclaimer looks like:
Medical Disclaimer Example:
The information presented here does not constitute any health or medical advice. Please seek advice from your healthcare provider or doctor for your particular health concerns before changing your healthcare routine or relying on this information. These are just our personal opinions. 
Financial Disclaimer Example: 
The information presented here is for informational and educational purposes only. It does not construe financial or tax advice. You assume the sole responsibility of relying on this information at your own risk and we do not endorse any companies or products offered here. 
Legal Disclaimer Example (this is the one I give as a lawyer that you may have seen on my website too): 
Although I'm a lawyer, I'm not your lawyer and no attorney-client relationship is established with you in any way. All content on this website is for informational and educational purposes only. It does not constitute legal advice. 
Not in one of these niches? You would still need to include a disclaimer! These are just examples from some of the more popular and prominent niches. 
Related Posts to Disclaimers
Aside from an ebook disclaimer, learn more about the disclaimers you need on your website. Check out these blog posts: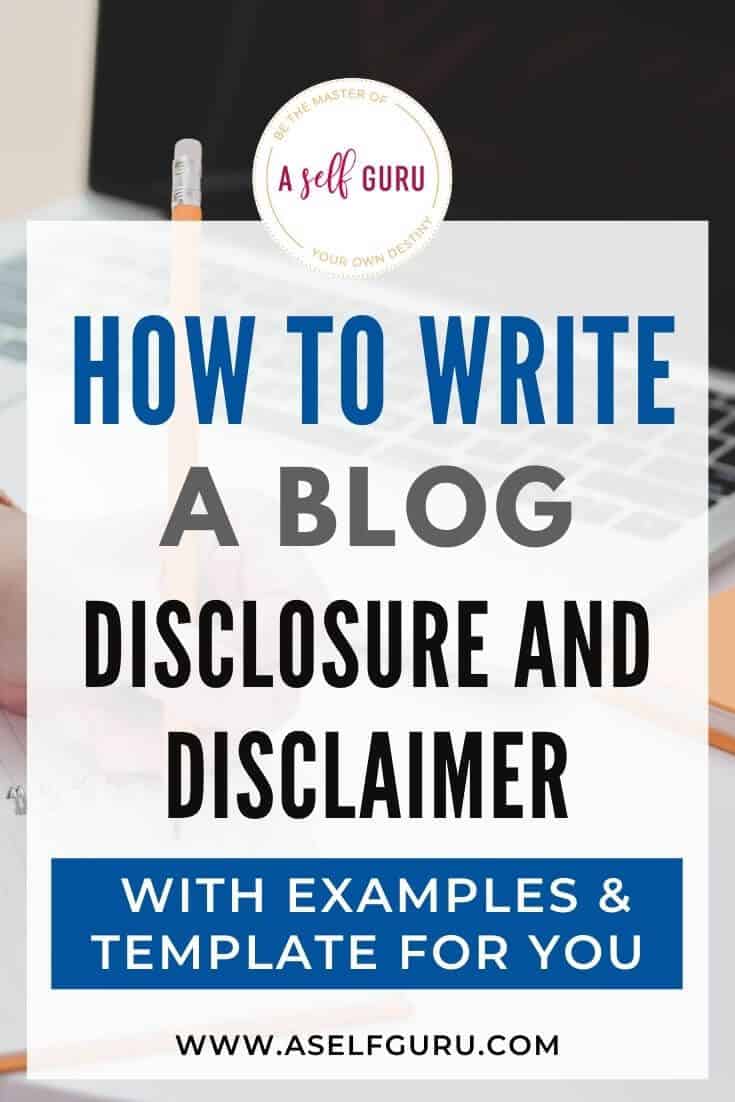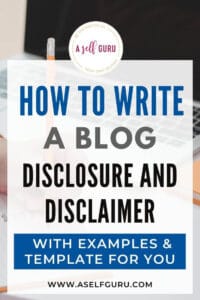 Also, is your website legally protected? If not, watch this video to learn the 3 must-have legal pages you need (and don't forget to subscribe to my YT channel):
Examples of Fiction eBook Disclaimers 
The above examples clearly demonstrate the ins-and-outs of a nonfiction book's disclaimer, but what could possibly need to be clarified for a fiction work?
The fact is, even fiction authors need disclaimers.
Cascadia Author Services shares this example:
This is a work of fiction. Unless otherwise indicated, all the names, characters, businesses, places, events and incidents in this book are either the product of the author's imagination or used in a fictitious manner. Any resemblance to actual persons, living or dead, or actual events is purely coincidental.
Failing to include this disclaimer could lead to lawsuits against you if someone thinks you have used their likeness for any characters in your book.
Lawsuits can also result from any likeness to real places, events, businesses, and so on.
As they say: Better safe than sorry.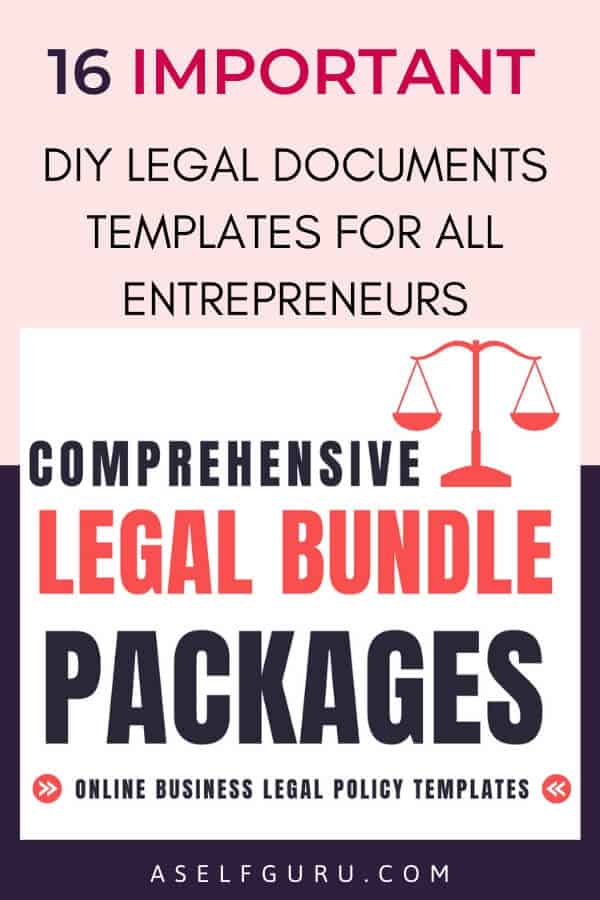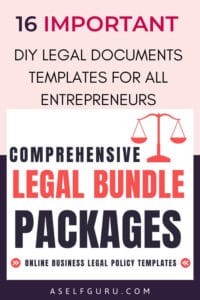 What Could Go Wrong Without an eBook Disclaimer? 
No disclaimer? You could be sued. No matter the level of detail, fictitiousness, or even accuracy, of the information you're offering, someone can come along and say they used your advice and it got them into trouble. 
The fact is, there are plenty of people out there who look for opportunities (like unsuspecting authors) just to launch a lawsuit in hopes of getting a good payout. At the very least, they'll cost you in legal fees.
Ultimately, failing to include a disclaimer leaves you open to all sorts of bad possibilities, so there's no reason not to include one. 
Plus a disclaimer in your book makes you look like a professional, not an amateur who doesn't take his or her work seriously enough to protect it legally.
How to Write an eBook Disclaimer 
Reading through the examples given above will give you a good idea of what's generally said in a disclaimer. Basically, it's fancy legalese for "use at your own risk." Unfortunately, your disclaimer can't just say that.
No matter what you're publishing, there are some specifics your disclaimer needs to include, like advising the reader to reach out to the corresponding professional instead of relying on you for guidance.
In general, to make sure your disclaimer includes the right information, you should make sure it's written by a lawyer who knows what they're doing. Otherwise, the person writing your disclaimer should be giving you a disclaimer themselves! 
eBook Disclaimer and Copyright Page Template (Written by a Lawyer)
Fortunately for you, I have created an ebook disclaimer and copyright page template that you can use for your book to cover yourself legally.
It works perfectly for ebooks and even printed books!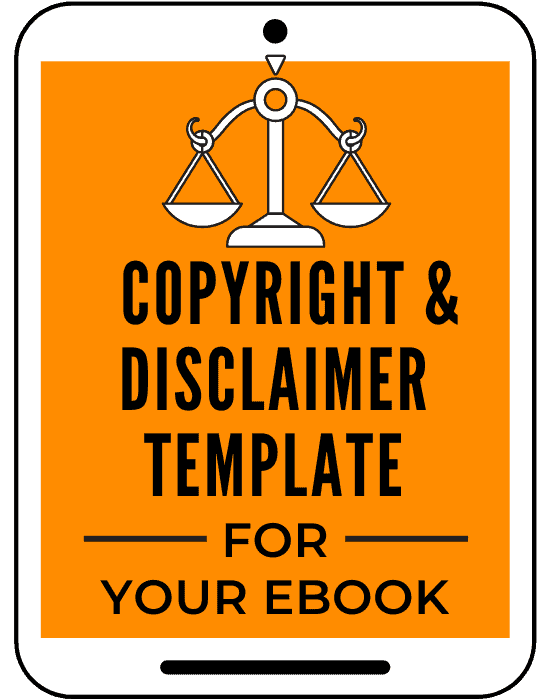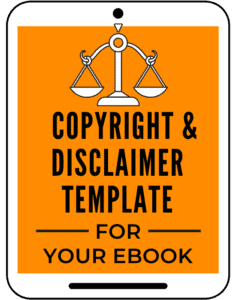 This is the ebook disclaimer and copyright page template you use to include your:
copyright notice in your ebook
all the affiliate disclosures you need if you'll be sharing affiliate links (which is very likely),
disclaimers you'll need to release you from legal liability,
intellectual-property provisions to prevent theft and copying of your ebook
and tons of other limitation of legal liability language to protect you!
Everything is done for you, so all you are left to do is write your awesome book! 
Take a look inside the template here.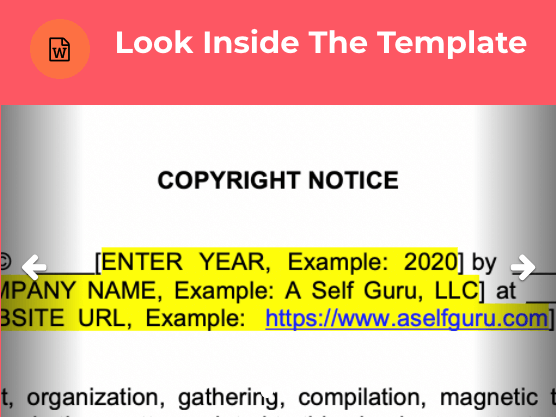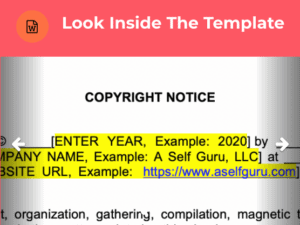 PLUS there's more good news!
You'll receive 2 Extraordinary BONUSES ($100 Value) with it today!
Bonus #1 ($50 Value): 100 Powerful Words to Promote and Sell Your ebook (you will get the best marketing words used by copywriters to advertise and sell).
Bonus #2 ($50 Value): My Top 5 Recommendations on Fiverr to Edit and Design Your eBook (yup, I'm going to share my secret list of best and affordable people to get your book professionally done)
Do I Need a Copyright Page for my eBook? 
While eBook disclaimers are frequently overlooked, the other half of author protection is much more commonly addressed — although sometimes improperly.
Once you have written an eBook disclaimer that dispels any liabilities for what you have written, you will also want to include a copyright page (or notice) to ensure that all your hard work doesn't get taken by someone else.
Your copyright page is an absolute necessity and it basically tells your readers that you are the sole owner of your work and they are not permitted to reuse or publish it without "explicit written consent." This stops people from plagiarizing your eBook and profiting from your work without your knowledge.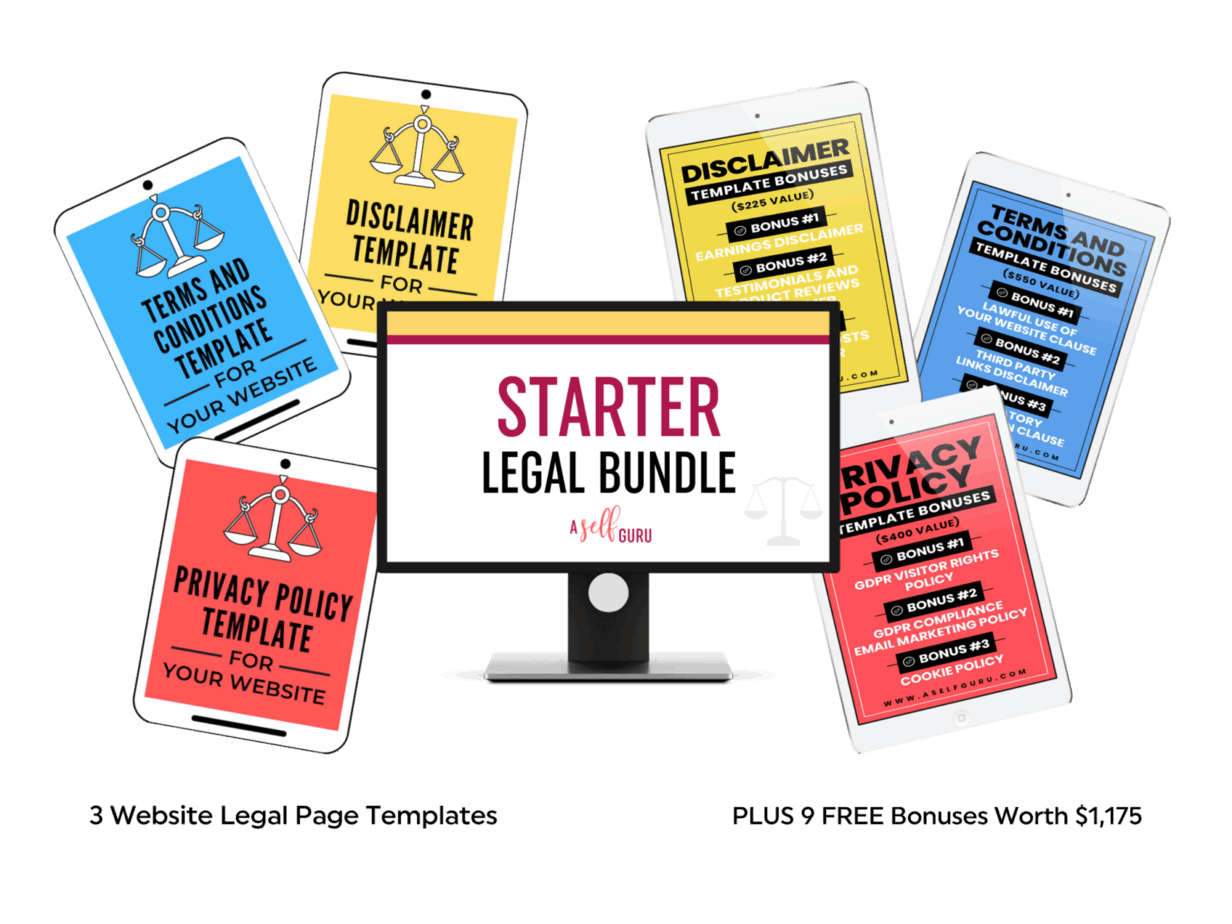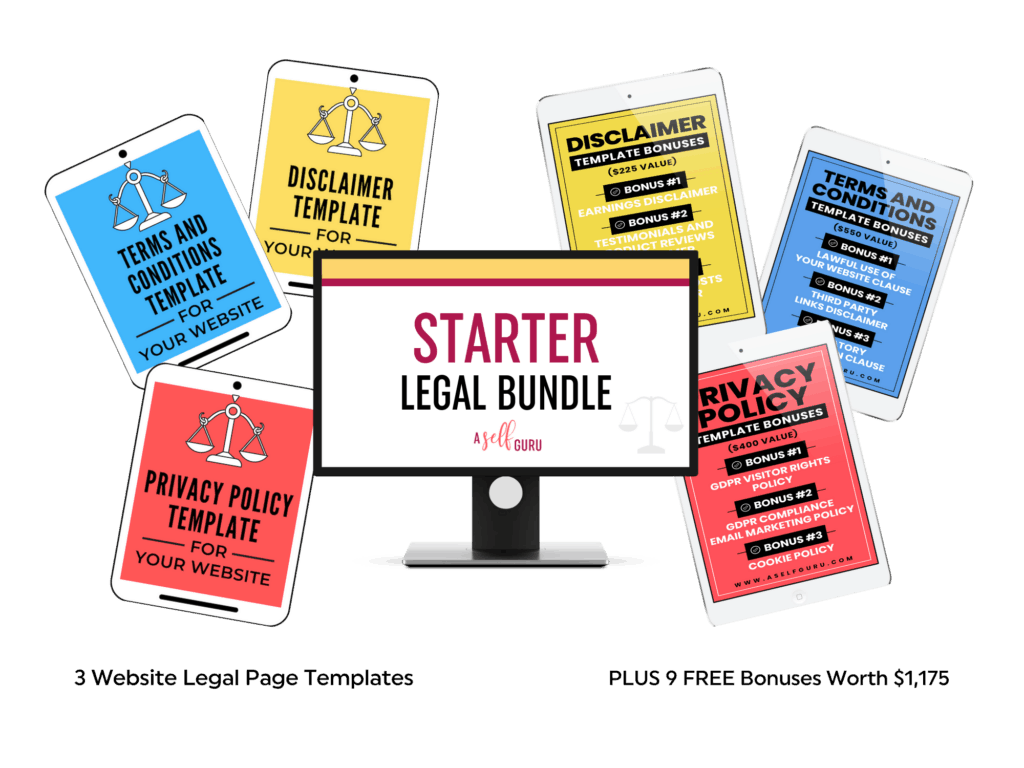 How to Create a Copyright Page for an eBook 
Creating a copyright page for your eBook is much more cut-and-dry than writing a disclaimer. These statements tend to be much more standard across publications, although you should still use one that a lawyer has given the go-ahead.
Here's an example from Kindlepreneur:
Writer's Writing Buddy by Tiana Siedschlag
Published by Cornerstone Writers Group
200 Lakerose RoadMary Lake, MT 03789
www.CornerstoneWriters.com
© 2017 Tiana Siedschlag
All rights reserved. No portion of this book may be reproduced in any form without permission from the publisher, except as permitted by U.S. copyright law. For permissions contact:
Cover by Justin Reber.
You've surely seen many pages like this in the past and likely know the "© Year Author Name" by heart. In addition to that line, though, you should include all the other stuff, too, like the spiel on "all rights reserved."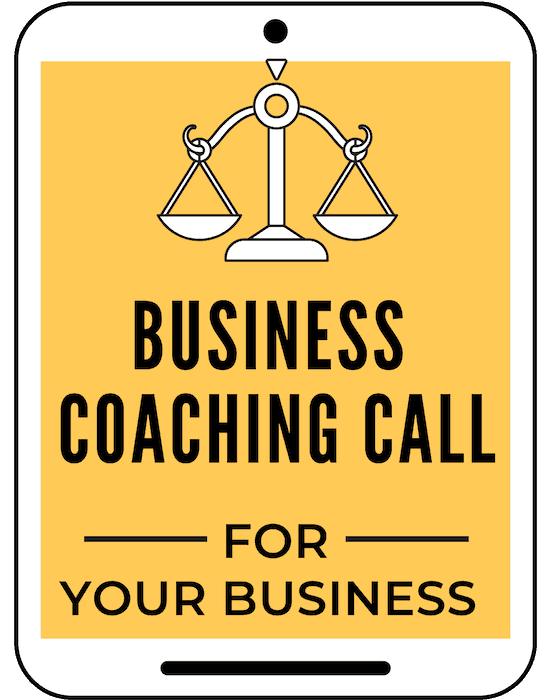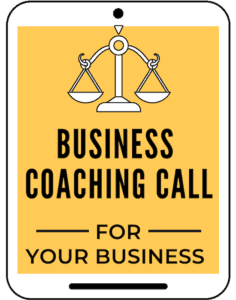 What to Include in Your eBook Copyright Notice 
Here's what you should include in your Copyright Page and Notice:
The copyright notice itself. That's "© Publication Year Your Name" (i.e., "© 2021 John Doe")

The "All Rights Reserved" statement explaining the reader may not reproduce any part of the work. 

The ISBN number, if you have one for your publication. 

Rights and permissions granted to the reader. 

Your trademark notice, if any part of your publication (like your business' name or logo) is trademarked.

Your author website.

Contact information, typically in the form of an email address. 
Depending on how you're publishing, you may forgo some of this information, like the ISBN number if you don't have one. However, you should be sure to include everything else so that your work is legally protected. 
It's the language that follows the "All Rights Reserved", which is particularly important to make it clear that your work can't be reproduced and I include a lot more than the basics in my Copyright and Disclaimer template here.
Where to Place Your eBook Copyright Notice 
In general, your eBook's Copyright Notice needs to be one of the first pages inside the book. It typically comes before anything else, including the title page, although there may be a blank page in front of it.
You should not place your copyright notice at the end of your book.
If you don't want to place it at the very start, add your title page and even your acknowledgments/dedication page, but be sure to place it before the table of contents. 
By the way, you can use this awesome tool to boost your sales page conversions! 
How Do I Copyright an eBook? 
Another common question I get asked all the time is – how do I copyright my book?
The good news is that the US Copyright Law gives you automatic control and ownership over the original works you produce including your book, so there's no need to register.
Same thing in the UK where you get automatic protection for your intellectual property too and don't need to register your book.
Copyright law gives you automatic legal protection as soon as you finish writing or publishing your book. 
So what's the big benefit of officially registering your book with the US Copyright Office? It's when you want to bring a lawsuit to claim statutory damages for any serious copyright infringement. But for that, think big infringements and lawyer fees too.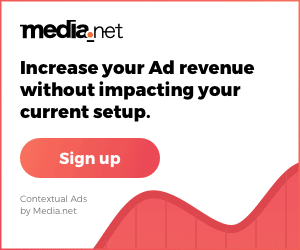 How Copyright Law Protects Your Book
To ensure you are protected at every corner, you do need to include the Copyright Notice so that your readers get the explicit notice that the work they're reading is, indeed, copyrighted and not in the public domain. 
Note that, if your book does include any content that's in the public domain, you cannot copyright those portions, but you can copyright any unique and original additions to it. 
With that said, when it comes to making sure your own copyright protections are respected for the work you have created, you as an author should also be responsible and do the right thing, ensuring that you protect the rights of other creators.
In other words, if you're including any work in your book that you didn't create yourself, be extra sure that you're crediting the respective author/creator of that portion correctly. Failing to do so could result in copyright claims to be made against you and they could also bring into question who has copyright to other parts of your work.
Some commonly overlooked areas where new authors make mistakes include the following.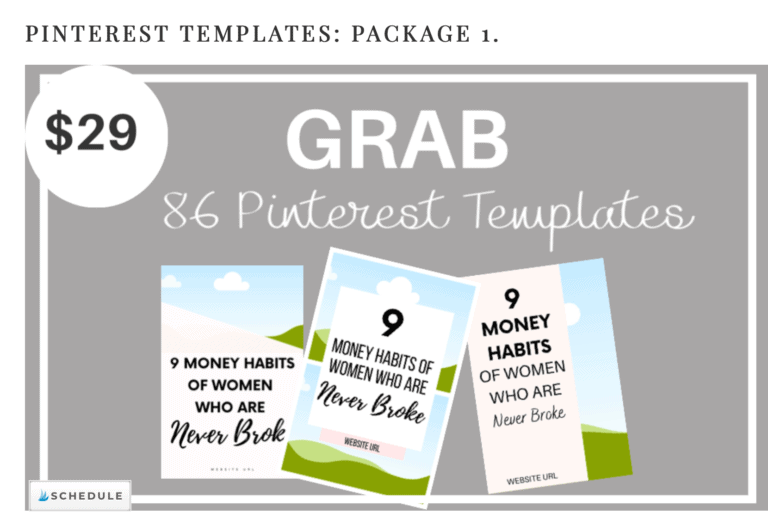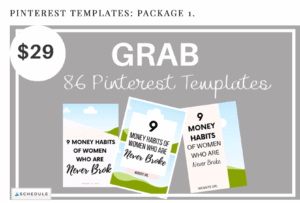 Credit Graphics and Visuals in your Book
You have to credit the creator/source for any graphics or images you may incorporate throughout your book. This includes the pie chart you took from a study or an image of a famous building you found photographed on Wikipedia Commons.
You should also credit the source for any design elements you may use on the cover or throughout your book. The exception is if you buy a commercial license that permits you to use it in a profit-generating work and that license specifies that you don't need to attribute the source/author in your work. 
Also if you are unsure about using an image then avoid all legal troubles with this Media Release Agreement template that gives you permission to use someone else's photos and names and releases you from legal liability.
Use Proper Citations in your ebook
Aside from visuals, you also need to ensure you're citing all the references you used to write your book in the proper fashion. 
Footnotes are a common solution for this, but there are many ways to format references, so make sure you find a guide that works for you and you keep it consistent throughout. 
Minimize Quotes in your book
While there's nothing wrong with including quotes if they are properly cited, the bulk of your work must be original and it has to be adding something to whatever you're summarizing or quoting in order for it to be considered your own unique production. 
Studying up on fair use laws would be a good idea if you plan to incorporate a substantial amount of direct quotes or information from previously written material. But keep in mind, fair use can be challenged by the original author at any time, so it's not a foolproof exception to your copyright violation.
Simply referencing your sources isn't enough to avoid plagiarism — you have to be following the best practices like adding your original take to the topic next to it.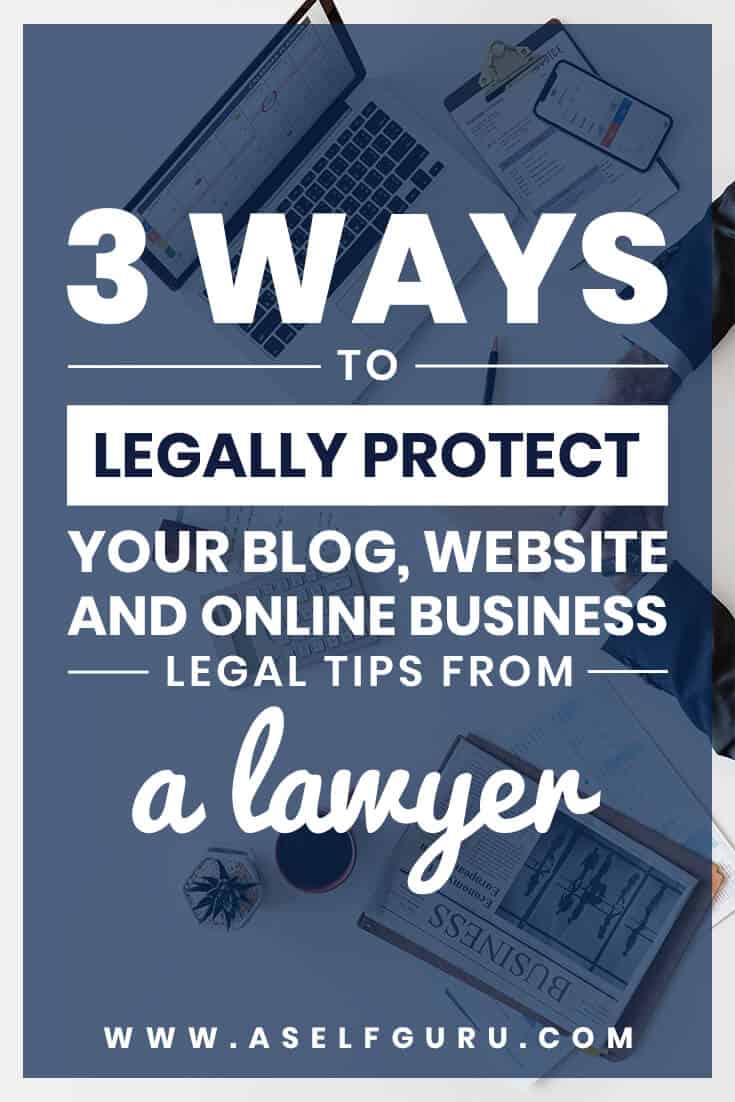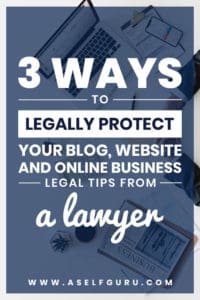 Other Important Things to Include in Your eBook 
You've got your disclaimer and copyright notice. Now what? The final things you should include in your eBook to legally protect yourself include the following:
Affiliate disclosures for any affiliate links you may have within the eBook

Publisher info, which should list the name and general info about the party you're publishing through

Credit to any other author, co-author, or contributor to your work.
If you can check all these boxes, you should be ready to go with your next publication! Use awesome this tool to create that ebook 5x faster than writing yourself. Afterward, you can use this SEO tool to rank your blog posts on the FIRST page of Google (if you decide to write one for your website or ebook). 
And you can use this business academy to get $1,500+ brilliant business resources (including 40 days to publish an ebook course) for only $99!
Final Thoughts – eBook Disclaimers and Copyright Page Template
In this post, we covered a lot of important things you needed to know about publishing your ebook (or printed version). Now you understand why ebook disclaimers and copyright notices are mandatory.
Here are some helpful resources to write, market, and sell your book and other digital products.
Also, here are 21 top tips for writing a book in a month!
It's also worth noting that your affiliate disclosures for the affiliate links you share in your book are NOT optional. You must give affiliate disclosures to ensure your compliance with the Federal Trade Commission (FTC) rules.
To learn more about affiliate disclosures and disclaimers, check out the blog posts I reference in the next section!
If you'd rather concentrate on writing your book and leave the legalities to me (smart idea) then grab my ebook Disclaimer and Copyright Notice template here to make your life easy! This way, you don't have to worry about the legal aspect of your ebook.
Blog Posts related to ebook Disclaimers and Copyright Page
To learn more about affiliate disclosures, disclaimers, and copyright law in detail, check out the following legal tips: