Are you blogging legally? If you have a new blog, there are certain blogging rules and legal requirements you need to know.
As a business lawyer and blogger myself, I have seen many bloggers and entrepreneurs making expensive legal mistakes in their online businesses.
And trust me, you don't want to be one of them! It's so important to make sure your blog is legal.
So to help you avoid legal issues with your blog, I have put together these 15 best legal tips to legally protect you and your blog.
You can also grab this ebook, which includes 23 legal mistakes to avoid as a blogger!
15 Best Legal Tips from a Lawyer to Blog Legally
Think of these essential legal tips as a helpful comprehensive legal guide that you can refer back to from time to time.
We will cover all kinds of legal tips for bloggers including but not limited to legal documents, privacy policies, blog disclaimers, business contracts, website ADA compliance, affiliate links, and more.
These will help you feel more confident about the legal side of your blogging business!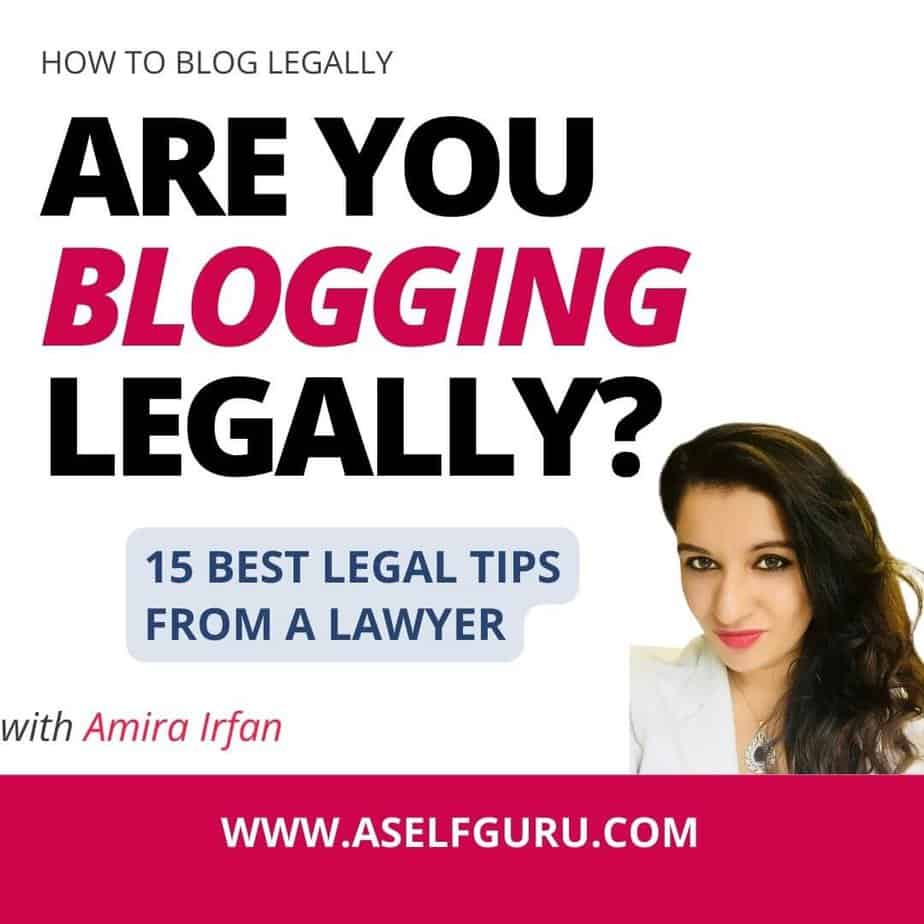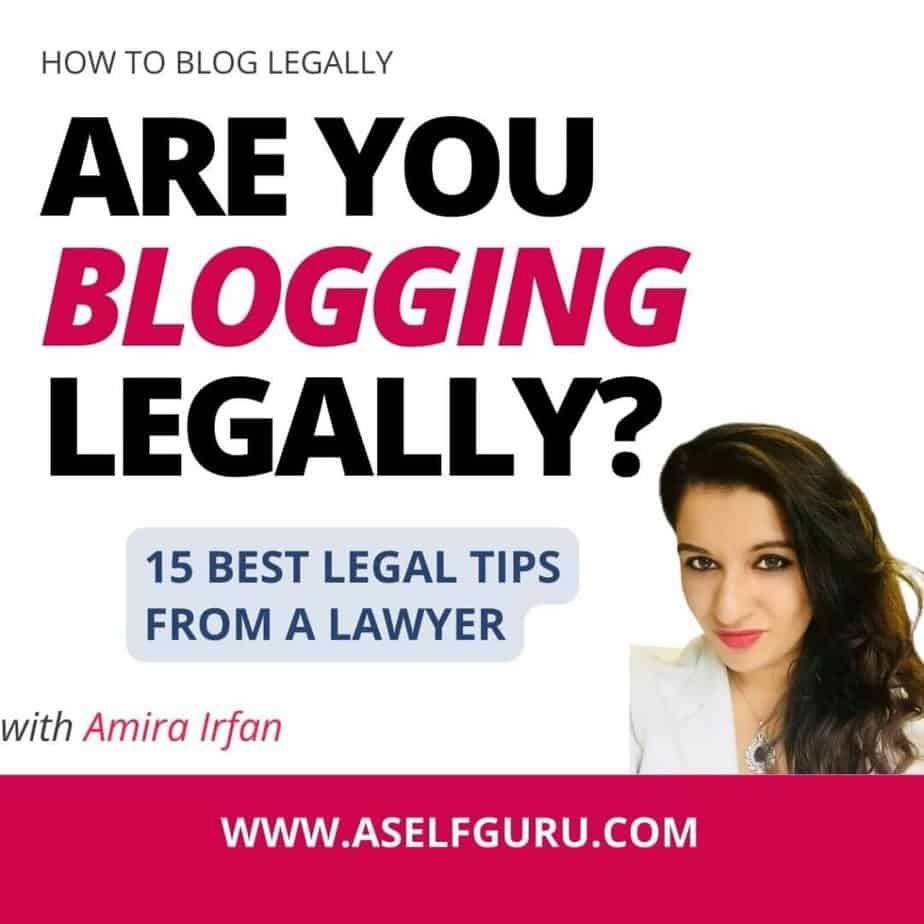 1. Post a Privacy Policy on Your Blog to Comply with Privacy Laws
As a blogger, you are collecting personal data from your readers and website visitors, and you need to be transparent about it.
A privacy policy allows you to inform readers what kind of data you're collecting and how it will be used – all while staying within the legal bounds set by GDPR and other privacy laws.
You are legally required to post a privacy policy on your blog (even if you are not blogging for business).
There are all kinds of personal information and user data your blog is collecting (some from Google Analytics) such as someone's:
name
email address for your email list or sale of products
physical address
credit card information
cookies
IP address
and more!
So that's why it's essential to post a proper privacy policy that complies with GDPR (General Data Protection Regulation) and CCPA (California Consumer Privacy Act) and many other privacy laws.
Therefore, you should not grab any free legal template from online thinking it will be enough to protect your blog because there are many loopholes and legal issues with free legal templates.
Important Things Your Blog Privacy Policy Needs to Include:
There are many essential legal clauses that your privacy policy needs to include such as:
GDPR compliance legal clauses
CCPA and other privacy laws legal clauses
Compliance with the CAN SPAM Act
Third party links disclosure
and more!
Because it's not easy to write a proper privacy policy on your own that complies with all these legal requirements, I have put together this privacy policy template that you can instantly download to begin using it in the next 15 minutes to make your blog legal.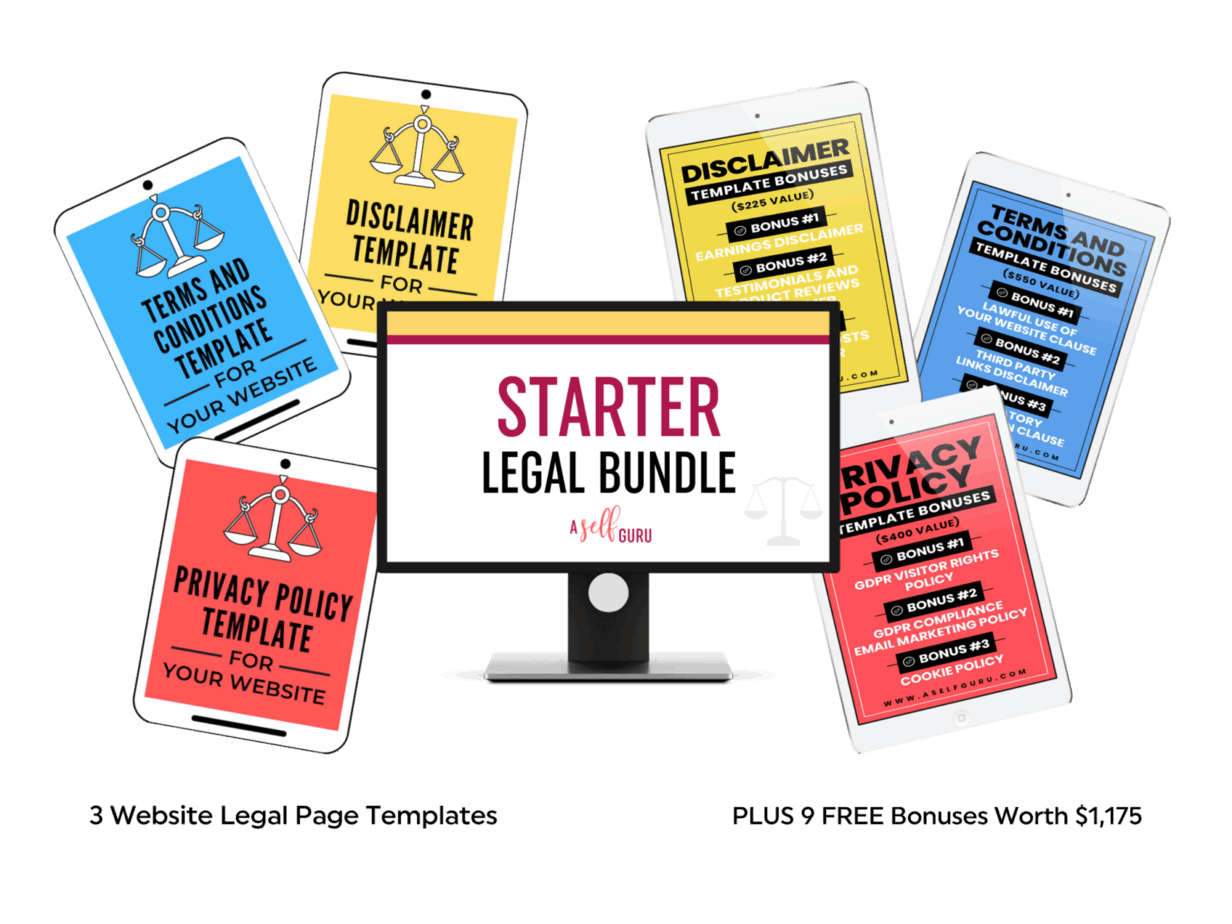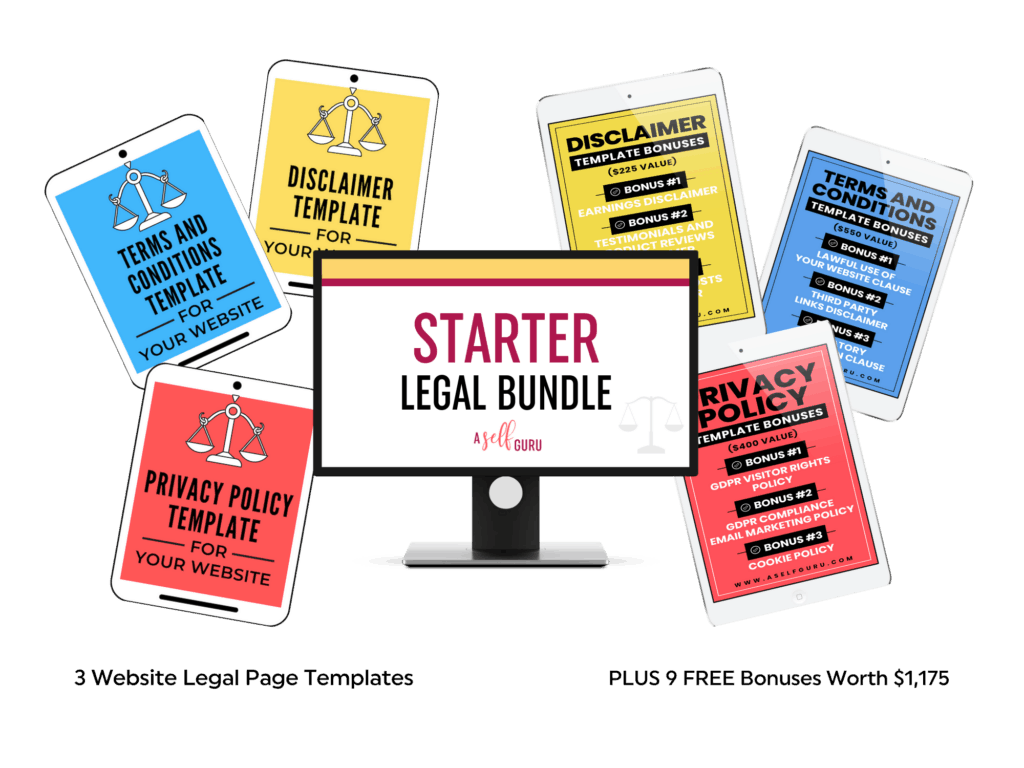 You can grab this template individually from my store but my legal bundles here are discounted, so you save more money and time with them. 
Check out 100's of testimonials from bloggers like you who love and trust my legal templates.
Related Blog Posts on Privacy Policy for Bloggers
Check out these helpful blog posts to learn more about blogging legally:
2. Post a Disclaimer on Your Blog to Limit Your Legal Liability
A disclaimer is a legal statement that you post on your blog to protect yourself from any legal issues that may arise out of the content you post.
Disclaimers can vary depending on your specific needs and should be tailored to fit the needs of your blog.
The whole point of posting a disclaimer on your blog is to limit your legal liability and prevent lawsuits. 
For example, let's say you blog about health and fitness related topics and you publish a piece of content that contains inaccurate advice.
If someone were to follow that advice and suffer an injury, they could sue you for damages.
By posting a disclaimer on your blog, you specify that the "use of this information" posted on your website is for informational purposes only and it should not be considered as medical information or health advice.
Another example is my legal disclaimer where I make it clear that the information on my website is for educational purposes and does not constitute legal advice.
Additionally, you need to include a clause stating that you take no responsibility for any injuries or losses that may result from following the information posted on your blog about third parties.
You can grab my Disclaimer template here, which already includes the legal language you need to limit your legal liability, and it also includes the essential affiliate disclosures you'll need to post on your blog.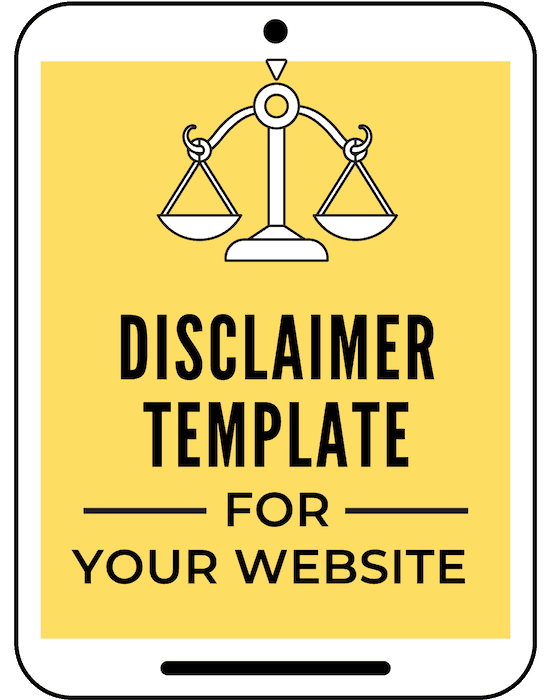 Important Things Your Blog Disclaimer Needs to Include:
There are many essential legal clauses that your blog disclaimer needs to include such as:
Limitation of legal liability language
Affiliate links disclaimer and disclosure to comply with FTC rules
Earnings and testimonial disclaimer
Related Blog Posts on Disclaimers for Bloggers
Check out these blog posts below to learn more about blog disclaimers and disclosures to blog legally.
3. Post an Affiliate Disclosure on Your Blog to Comply with FTC
Under the Federal Trade Commission (FTC) rules, you are legally required to post an affiliate disclosure on your blog if you are going to share affiliate links on your website.
For example, if you monetize your blog with affiliate links, you need to have a disclaimer that states that you may receive commissions from the sales of products and services advertised on your blog.
Blog Affiliate Disclosure Example
Here's an example of a blog affiliate disclosure that you would give if you are sharing affiliate links on your blog:

You also need to limit your legal liability for the affiliate links that you share on your blog, so other people don't hold you legally responsible.
After all, they are not your products. So you'd need to include that limitation of legal liability language in your Disclaimer page.
If you grab my Disclaimer template here, you also get the affiliate disclosures you need for your blog.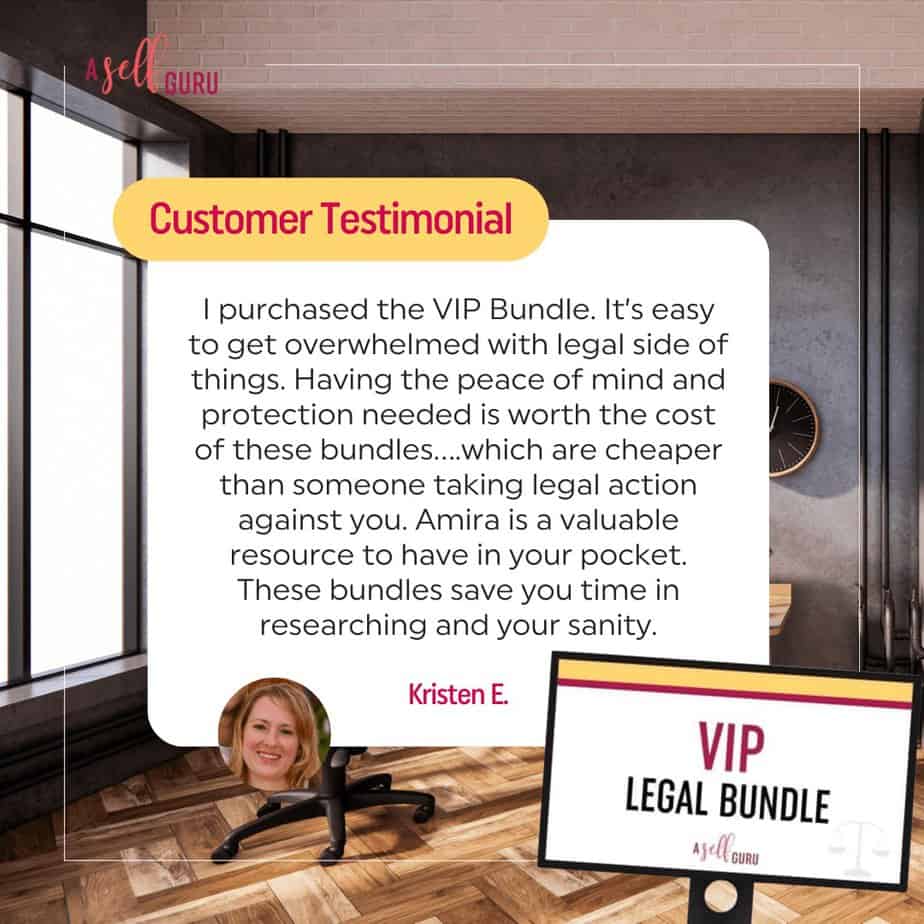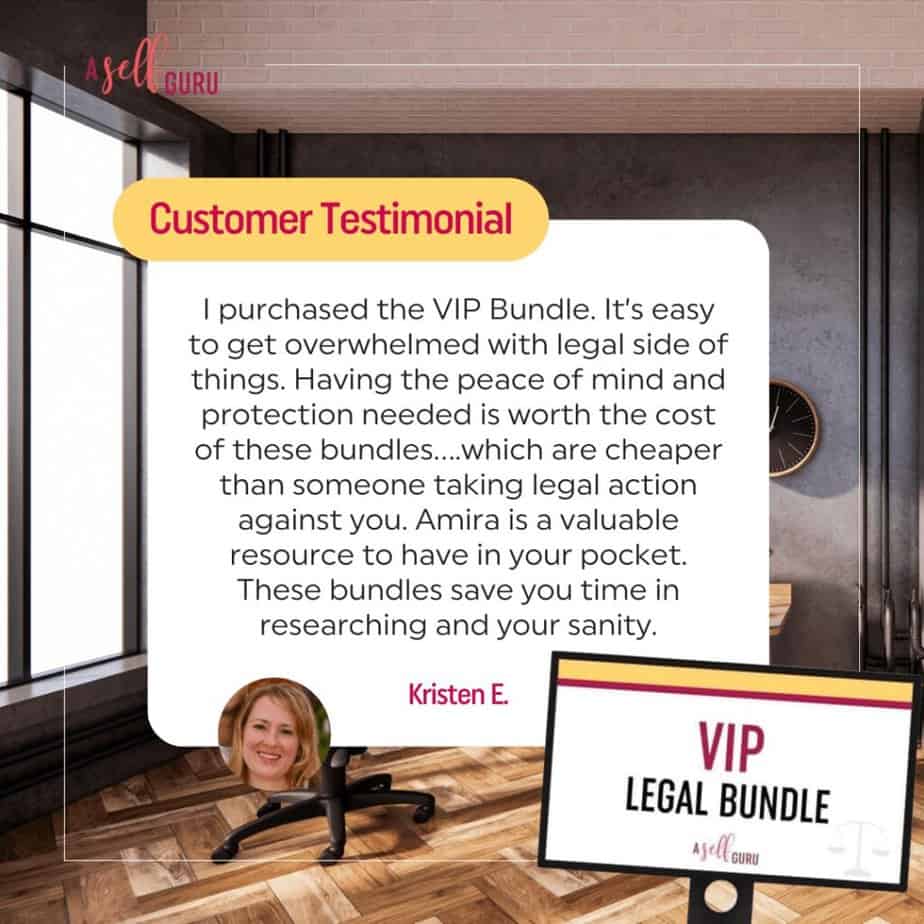 4. Post Terms and Conditions to Outline Your Blog Rules and Protect Content
Another important aspect of blogging legally has to do with the Terms and Conditions you post on your blog, which are considered your website rules.
They form a legally binding agreement between you and your blog readers.
It's important to outline the terms of use for your blog so that you can protect yourself from liability in the event of a dispute or legal claim.
Your Terms and Conditions should inform readers about how they can use the content on your blog, including details like whether they can copy or modify content without your permission.
Use my Terms and Conditions template here which already includes all the legal language you'll need to protect your blog as well as any free or paid products you sell from your blog.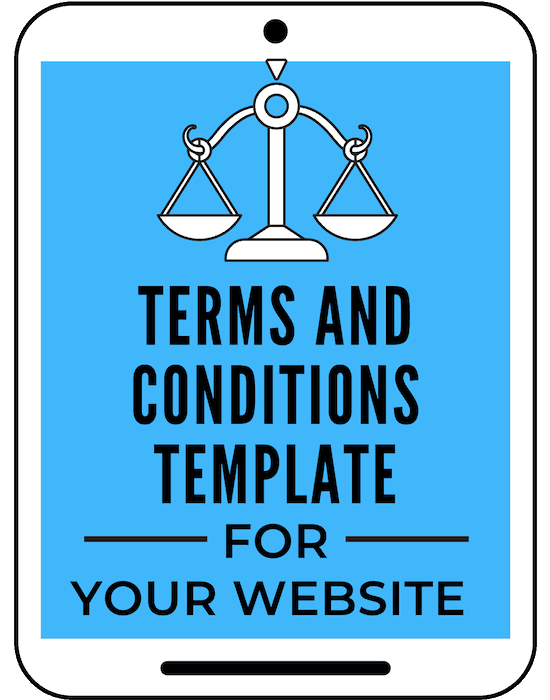 Important Things Your Terms and Conditions Needs to Include:
There are many important legal things that your blog Terms and Conditions needs to include such as:
Protecting your intellectual property
Mediation or arbitration clauses
Lawful use of your blog content
Limitation of legal liability clauses
Refund or exchange policy for products/services
By posting Terms and Conditions, you can ensure that your blog follows the legal rules governing websites and protect the content you create for it.
In doing so, you'll also be taking a proactive step in avoiding any potential disputes or legal claims.
Doing this will help make sure that your blog is following the law and that your readers understand the rules.
5. Post Terms and Conditions in Your Online Courses
As part of blogging legally, you also need to make sure your digital products including online courses are protected.
Many bloggers create online courses for their readers, and if you do, you need to have your own Terms and Conditions that your students agree to before enrolling in the course.
These Terms and Conditions are important for protecting both the rights of the student as well as those of the online course creator.
Anyone creating an online course must include terms and conditions in order to reduce their liability and protect their course content legally.
This is the terms and conditions template that you'd need if you have an online course or are thinking of creating one. It's a small investment and the best way to protect your online course.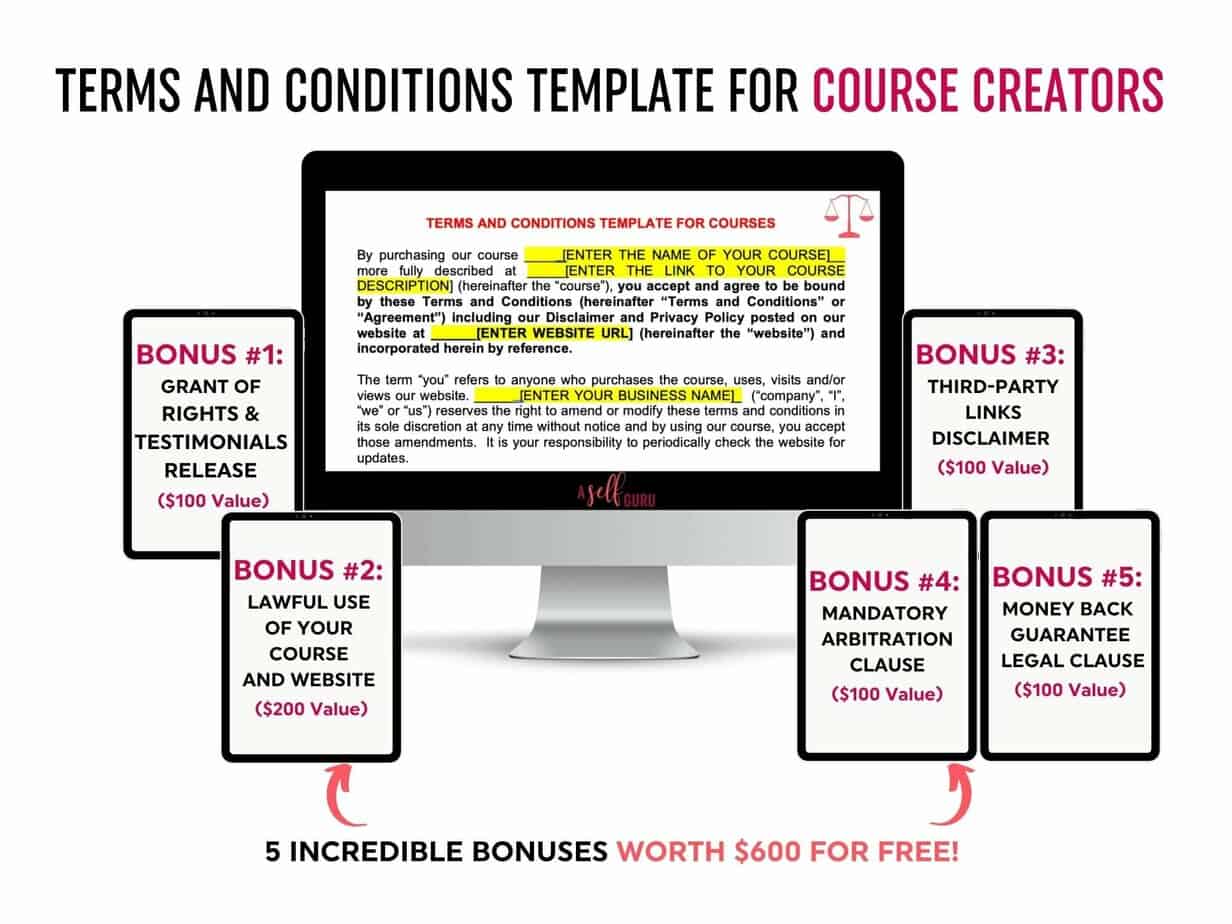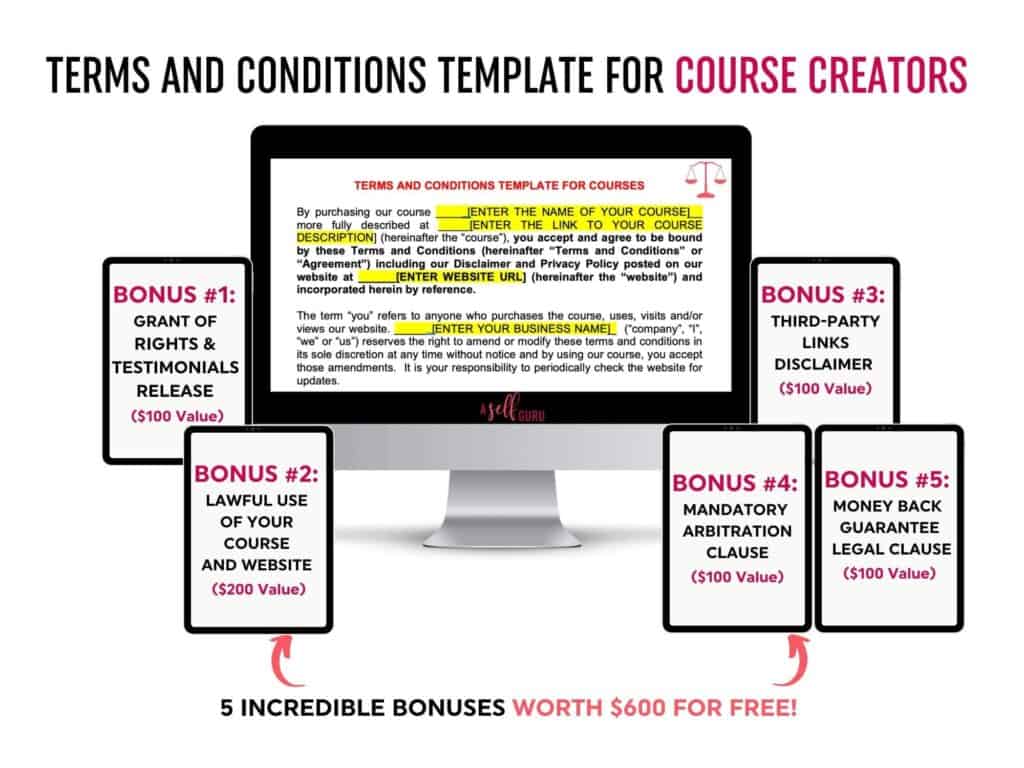 Related Blog Posts on Terms and Conditions for Bloggers
Check out these blog posts below to learn more about terms and conditions that bloggers need:
Sign up for my free video training on how to protect your digital products legally: 
6. Add Copyright Notice and Disclaimer in Your Digital Products
Talking about blogging legally, when you create digital products such as ebooks, printables, guides, and so forth, make sure to include a Copyright Notice and Disclaimer page in there to prevent theft and limit your legal liability for the content you share in that product.
Just like protecting your blog legally, you also need to protect your digital products.
A Copyright Notice is a statement that informs people about the copyright protection in your product and restricts them from using it for their own gain.
A disclaimer as explained above is needed to prevent lawsuits, so other people don't rely on the information shared in your product and come after you for legal damages.
This is the Copyright Notice and Disclaimer template you'd include in your digital products (ebooks, printables, guides, courses, and others) to protect them. It's the easiest way to protect your intellectual property rights and prevent theft.
See what my customer Pea has to say about my legal templates including this one!


7. Use an Affiliate Agreement for Your Program
Talking about blogging legally and protecting your digital products, bloggers often end up having an affiliate program for their products (just like I do here).
While it's a great idea to have an affiliate program for your products or services, it's also important to have an affiliate agreement in place.
This agreement will help protect the rights of both parties involved and ensure that all expectations are set from the start.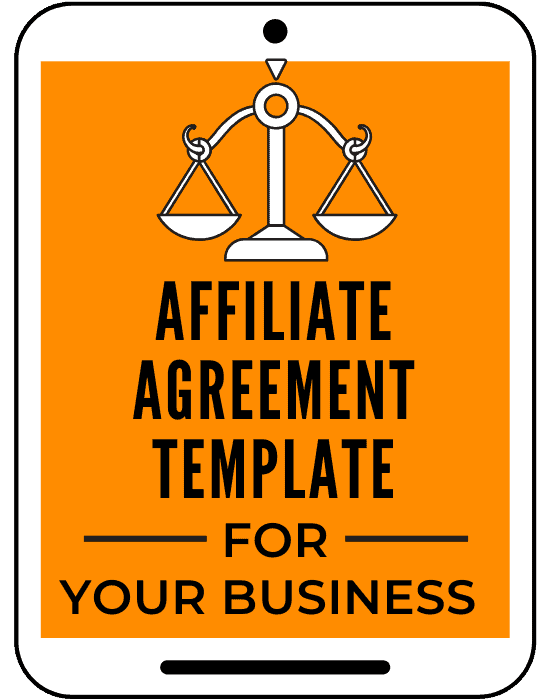 Important Things Your Affiliate Terms and Conditions Needs to Include:
If you are thinking about having an affiliate promote your products in exchange for a commission, you need to protect yourself as the creator and include essential terms like:
The affiliate commission you'll pay and when it will be due
No spamming or false advertising (after all, you need to protect your business reputation)
What's the cookie period for your affiliate links
How affiliates can promote your products
Legal rights to use your images or not as part of their promotions
Termination of the affiliate relationship
Compliance with the FTC affiliate disclosure requirements
Limitation of legal liability
As you can see, there are a lot of important legal things you need to include in your affiliate program, which is why I put together this easy-to-use legal template that you can plug and play.
This template helps protect you and your affiliates by making sure that all legal terms are in place and that both you and your affiliates are on the same page!
It helps to make things easier for anyone who has an interest in getting into the world of blogging legally.
You can grab it as part of my VIP legal bundle here (which gives you the 16 essential legal templates and 16 incredible bonuses not found anywhere else!)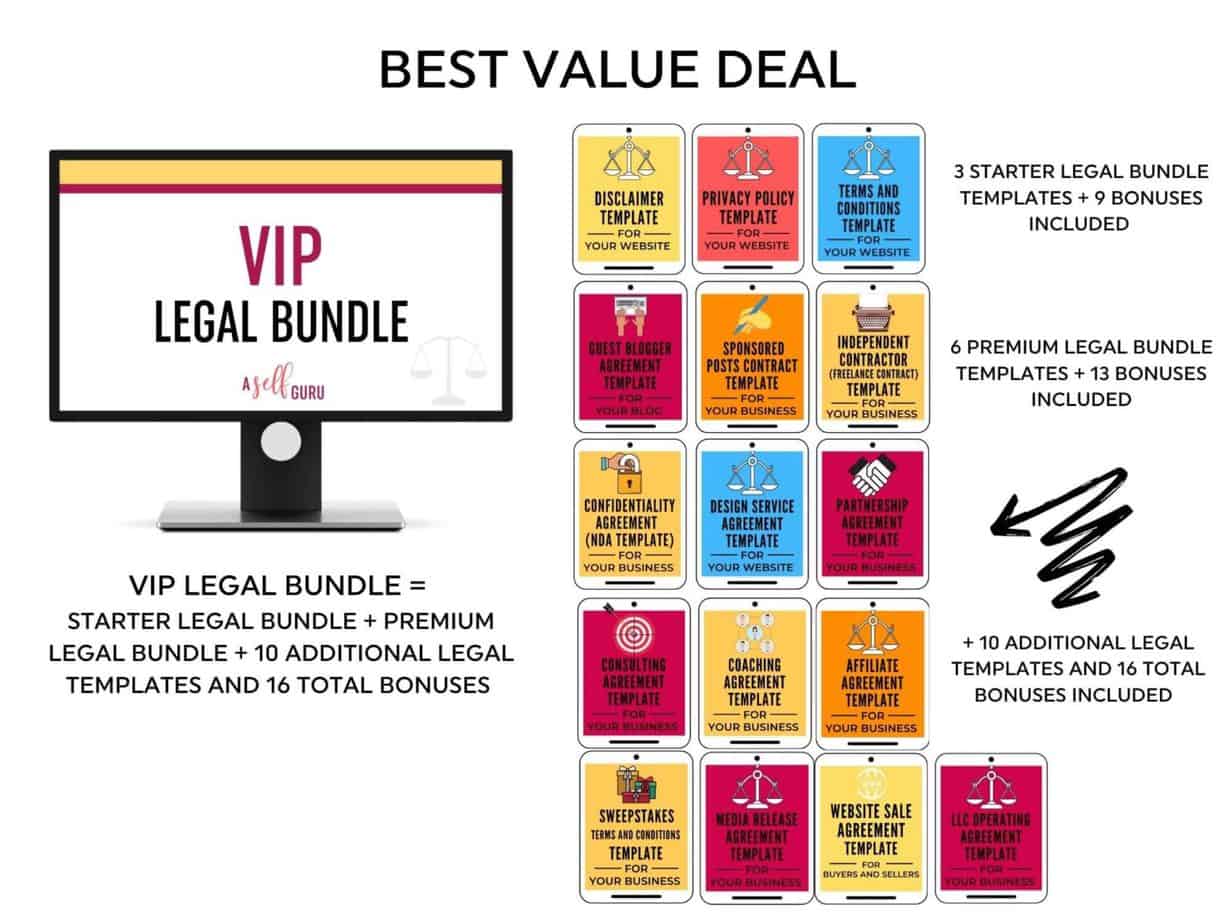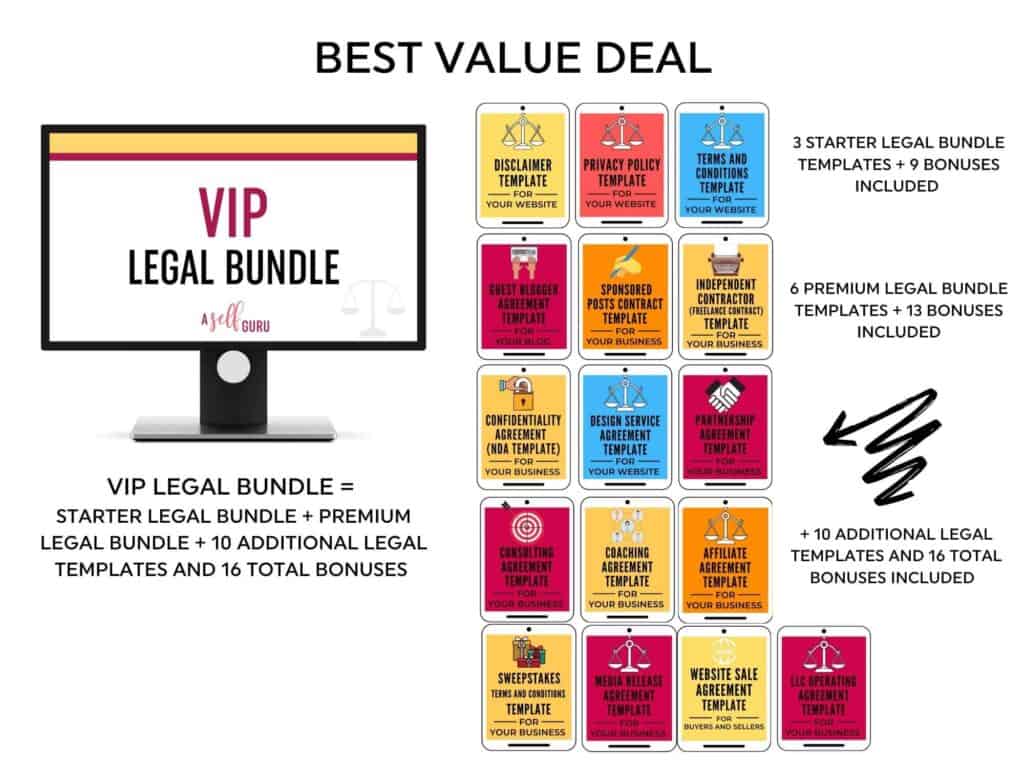 8. Always Get People's Permission Before Using Their Content
Under copyright law, you need to get permission from the owner of the original content BEFORE you can use it minus some fair use exceptions.
This applies to all types of content, including images, text, and audio or video recordings. You must obtain explicit permission from the creators or copyright holders of this content before using it on your blog or in your project to avoid copyright issues.
Failure to do so could result in legal action being taken against you including being sued for copyright infringement.
Here's an example of a blogger who barely made $6 from his blog but was sued for $150,000 for a copyright violation.
Additionally, copyright law also prevents others from using your original content without permission. Therefore, it's important to protect your work and make sure it isn't used without your authorization.
When seeking permission to use someone else's content or creative work, it is important to be respectful and considerate.
Always respect the wishes of the copyright holder and do not use copyrighted material without their permission.
Additionally, make sure that you have all necessary documentation and this release form in place before using any content in your project.
This will help protect both yourself and the copyright holder in the event of any potential legal issues.
Learn more about a Media Release form in this blog post, and you can get this template individually from my store or save money and get it as part of my popular VIP legal bundle here.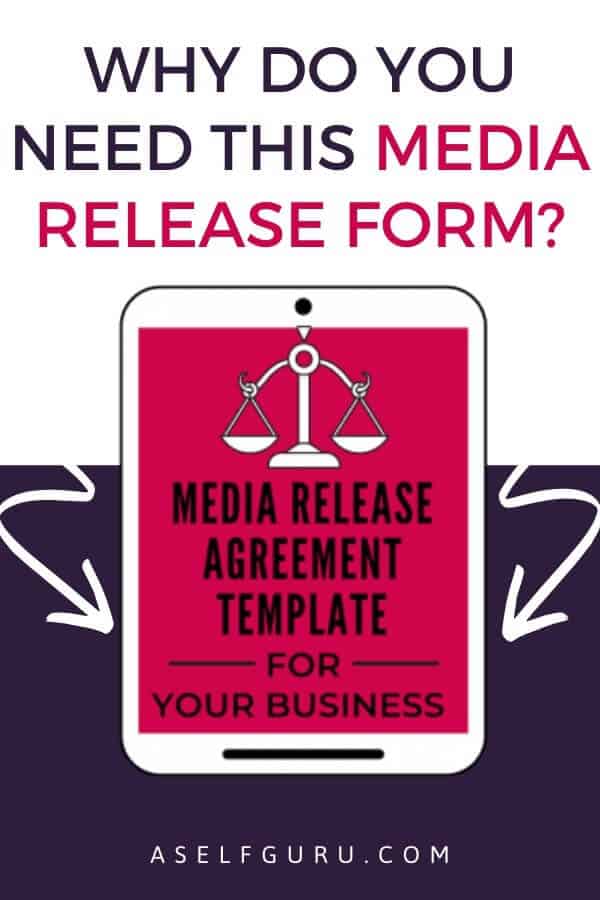 Related Agreement: License Agreement Template
There may be times when you'll need a license agreement to be able to use copyrighted works like software, books, music and so forth. 
A license agreement is a legally binding contract between the licensor, who owns the certain intellectual property (IP), and the licensee who is using that IP.
The agreement outlines all of the terms and conditions under which the licensee can use the IP, including how much it must pay for different levels of use.
It also outlines any restrictions on use, as well as any other liabilities or obligations the licensee is responsible for.
By signing a license agreement, both parties agree to all of the terms and conditions outlined in the contract, ensuring that each party's IP is protected and respected.
If you need that legal template, you can grab it here from my legal store.
9. Use Copyright Free Images to Blog Legally
When it comes to blogging legally, I see many new bloggers make the mistake of using any image from Google and posting it on their website thinking realizing that's copyright infringement.
I have seen many bloggers get into costly legal trouble for doing that.
I know a blogger who recently ended up paying $8,000 in legal damages for simply grabbing an image from Google and posting it on her blog.
So you always want to make sure that you are using copyright free images when you blog.
Thankfully, there are plenty of sites out there where you can find copyright free images and use them legally in your blog.
Some of the most popular ones include Pixabay, Unsplash, and Pexels.
They all offer thousands of royalty-free photos that you can use on your blog and when in doubt, always read their terms and conditions to make sure you can use those images freely.
Also, you should credit the creator of the image and include a link to their website whenever possible. This is not only best practice, but also a great way to show appreciation for them and build relationships with content creators in the long run.
By using copyright free images legally, you can avoid any costly legal troubles and help make your blog look great at the same time.
Watch this video to learn more tips on how to blog legally (and please subscribe to my YouTube channel for more legal and blogging tips)
10. Make Your Blog and Website Accessible (Compliant with the ADA)
Another important part of blogging legally is making sure your blog and website are compliant with the accessibility laws. 
This includes the Americans with Disabilities Act (aka ADA). In the last couple of years, we have seen a huge increase of lawsuits being brought against bloggers and website owners for not having their website compliant with the ADA.
That's why I put together this ADA website legal bundle to help you take the steps needed to ensure compliance.
It gives you the:
ADA Guide explaining what the law is and how it applies to your website, why you need to comply, recent lawsuits, and website accessibility guidelines you need to follow. $50 VALUE
ADA and WCAG Checklist that shows the 16 steps you can take to improve website accessibility and ensure compliance. $100 VALUE
BONUS: Website Accessibility Statement Template that you must post on your website to demonstrate compliance (available for a limited time only! This template alone is worth the price of the bundle). $100 VALUE
BONUS: Two Recommendations for Accessibility Plugins you can use on your website to improve accessibility, make your website design accessible to all users regardless of their impairment and ensure compliance. You only have to use one plugin. $50 VALUE
If you're still procrastinating on making your website accessible, then that's a huge legal risk you are taking!
Complying with the ADA is a hot legal issue these days. The number of lawsuits keep increasing year after year.
So, if you have not made your website legally compliant yet, then it's time to grab this legal bundle that I put together to save you stress, headaches, and costly legal issues. This is an invaluable resource for small business owners.
Also, start using this tool to add subtitles to your videos.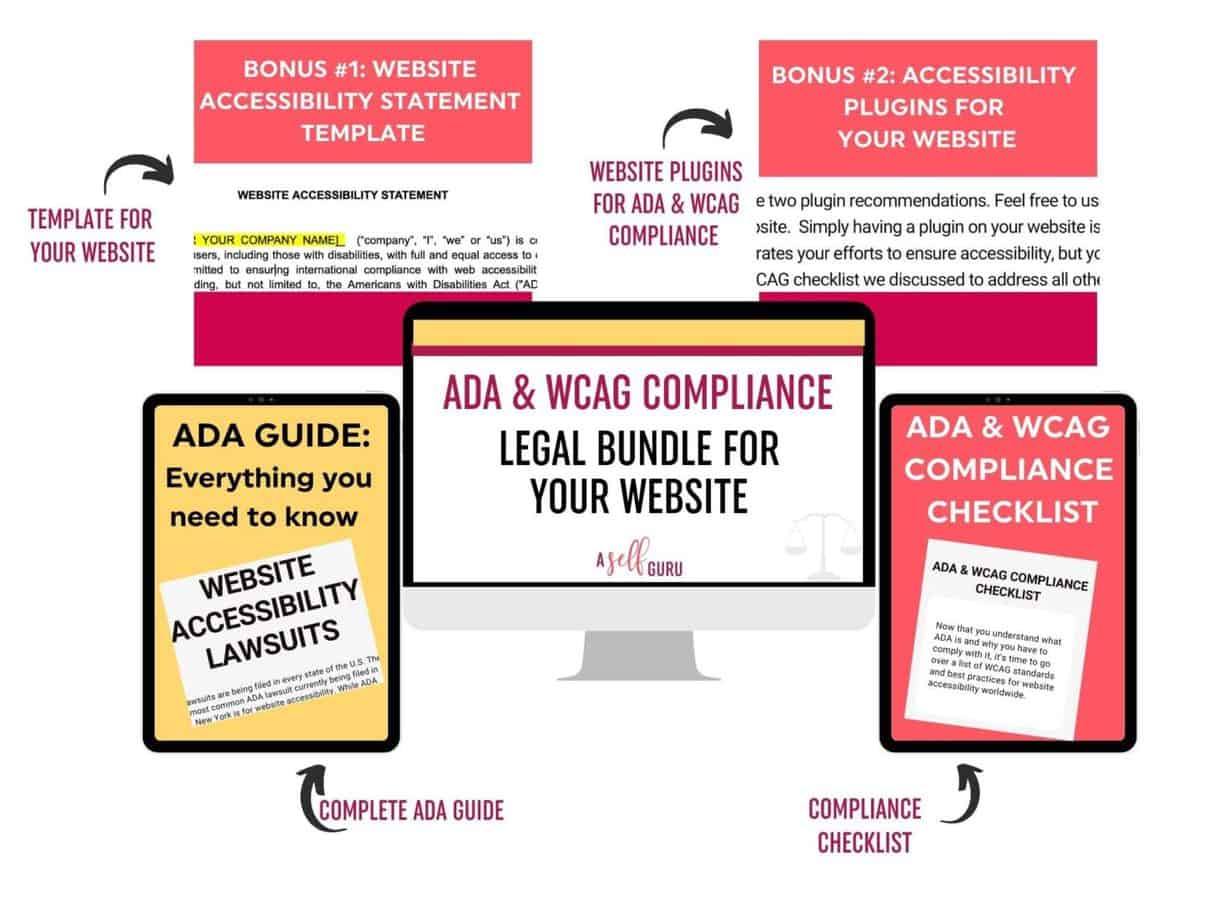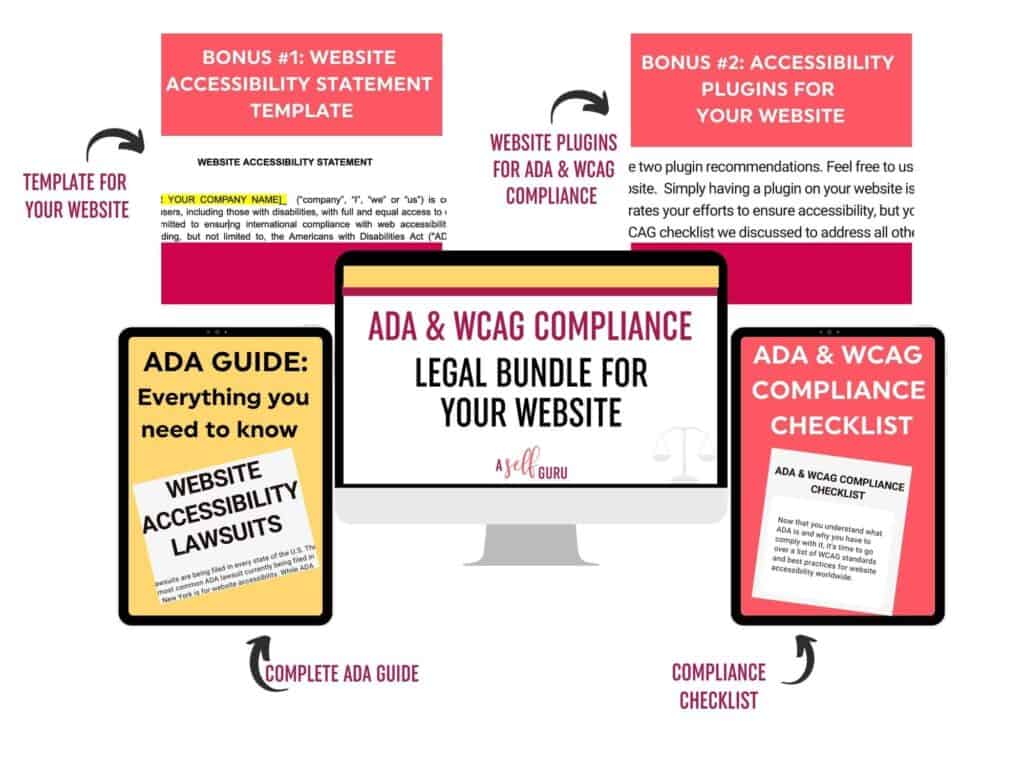 11. Don't Accept Guest Posts on Your Blog Without an Agreement
When it comes to blogging legally, it's important to make sure that you have an agreement in place with any guest bloggers who are providing content for your blog.
Just because you receive the guest post from another blogger does not make you the copyright owner of that content.
Therefore, it's essential to make sure you have a proper guest blogger agreement in place that clearly outlines your website rules and obtains the legal rights for you to be able to make edits and publish the guest post as you wish.
After all, you don't want to find yourself in a sticky situation later on!
Learn more in this blog post, and this is the Guest Blogger Agreement template you'd use.
Since I accept guest posts on my website, this contract template also includes the guest post guidelines you would list on your website for your guest bloggers to use and comply with.
You can also get this template at a discount when you purchase my Premium or VIP legal bundle here.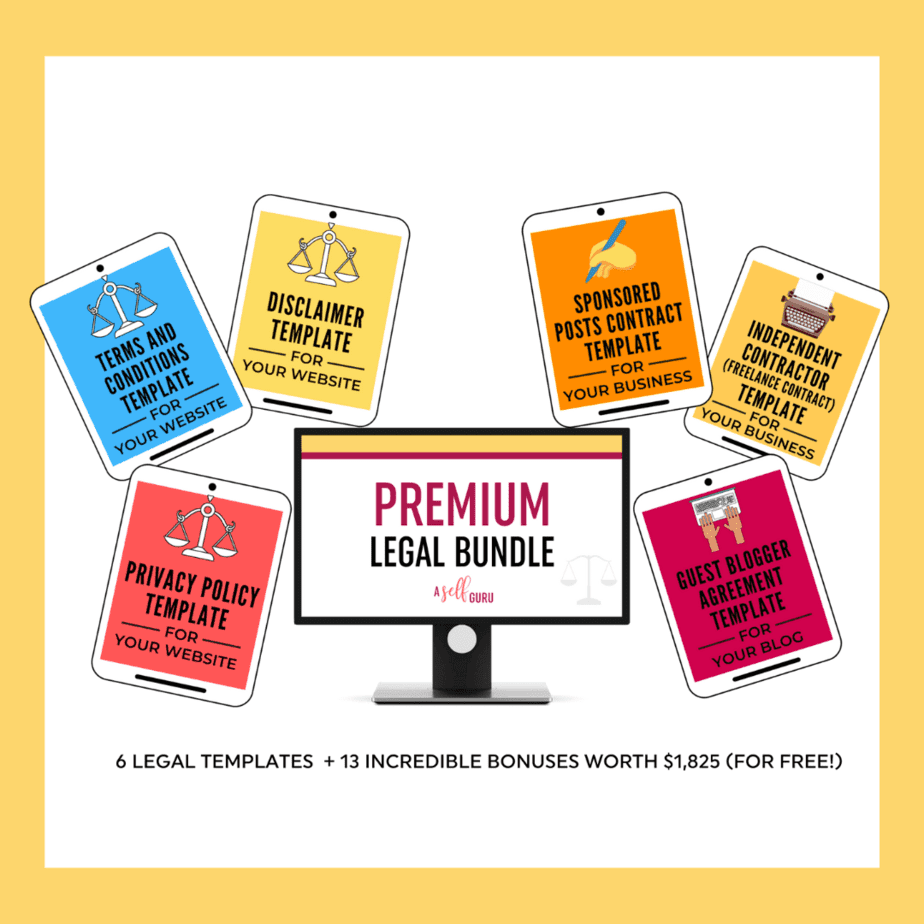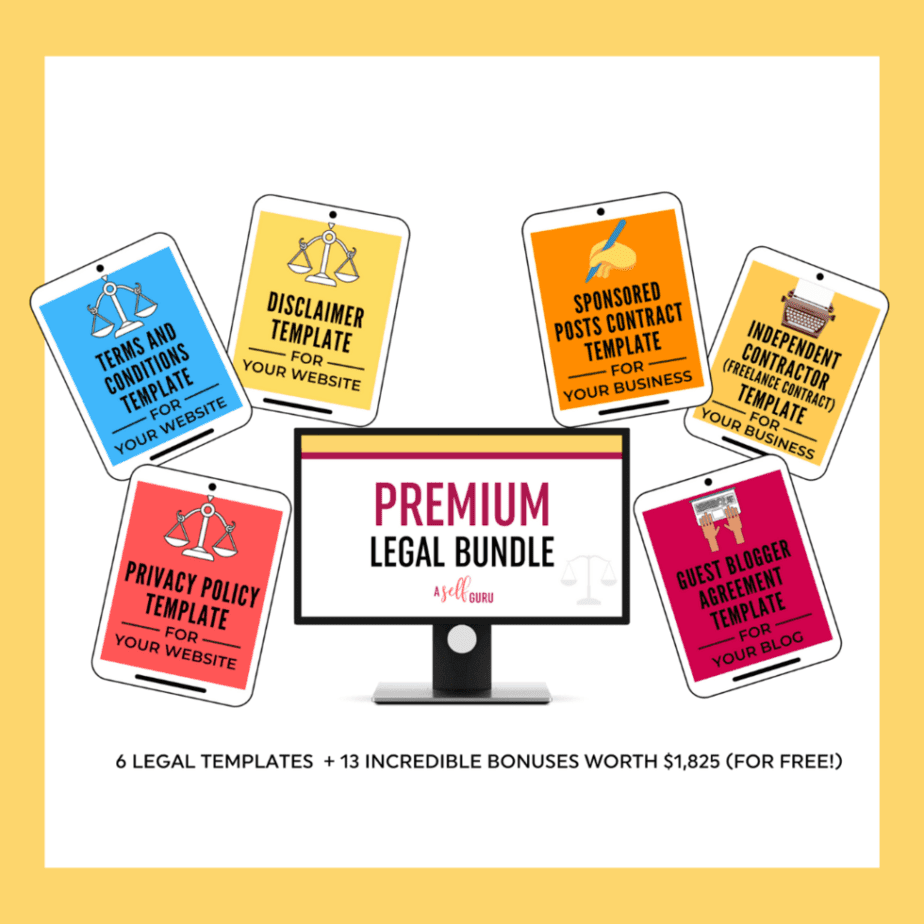 12. Use Business Contracts While Working with Others
Contracts are the bread and butter of blogging legally.
They lay out the terms and conditions agreed upon between you and anyone working on your blog, including freelancers, sponsors, advertisers and business partners.
Avoid any potential legal trouble down the line by setting up a contract right away to clearly outline expectations, deadlines and payment details.
It also makes sure everyone is on the same page from the beginning, so you can worry less about potential legal issues and focus more on blogging. 
After all, that's why you signed up for this whole blogging gig in the first place!
4 Most Important Contracts Bloggers Use
If contracts make your head spin or you don't know where to start, let me tell you about the 4 most important legal contracts you'll need for different reasons, and you can easily grab my legal templates for these in my VIP legal bundle.
1. Sponsorship agreement
Whenever you are going to work with brands to create sponsored content for them (think getting paid to write blog posts, post on social media, create a video, etc), you always want to protect yourself and make sure to use a Sponsorship agreement.
This will ensure you get paid on time for your hard work and clearly define the scope of work for the brand.
I have seen many bloggers doing the hard work upfront for a brand collaboration and then waiting forever to get paid and some of them didn't even get paid for there work. 

2. Freelance contract
A freelance contract is one legal contract that I use all the time! And you will too once you start outsourcing such as hiring a virtual assistant, graphic designer, blog post writer, SEO editor, and any other freelancer. 
This is why I put together this Freelance agreement (also known as the Independent contractor agreement) that both freelancers and clients can use to work together safely.

3. Partnership agreement
Many bloggers decide to go into the business of blogging with another partner, whether it's a friend or someone else.
Just make sure to have a partnership agreement in place that outlines each partners roles and responsibilities, as well as how profits will be divided. This will help to ensure that everyone is on the same page and can avoid legal disputes down the road.
4. Coaching Agreement
As a blogger and online business owner, you may decide to offer coaching services whether 1:1 or group coaching.
As a coach, you need to protect yourself from legal liability and also make sure that you get paid for your work.
That's why it's a good idea to have a coaching agreement in place when blogging legally.
A coaching agreement sets expectations, grants rights and responsibilities, and outlines the scope of services being provided by the coach.
It serves as protection for both parties in case something goes wrong or a misunderstanding arises.
It also helps to establish a sense of trust between the two parties and provides structure for the coaching relationship.
So, make sure you're blogging legally by getting yourself a coaching agreement!


13. Protect Your Blog with an LLC
As part of legally protecting your blog, you should consider forming an LLC to to help shield yourself from personal liability and protect your personal assets.
Forming an LLC for blogging is an easy and cost-effective way to ensure your blogging business is properly managed, as well as secure from any potential legal issues.
Plus, it will give you a sense of legitimacy that lets your readers know that you take blogging seriously.
Here's a helpful blog post on when you should form an LLC, and if you need help, sign up for my 1-hour Done-with-you LLC service.
See what my customer, another blogger, had to say about this service and my VIP legal bundle templates: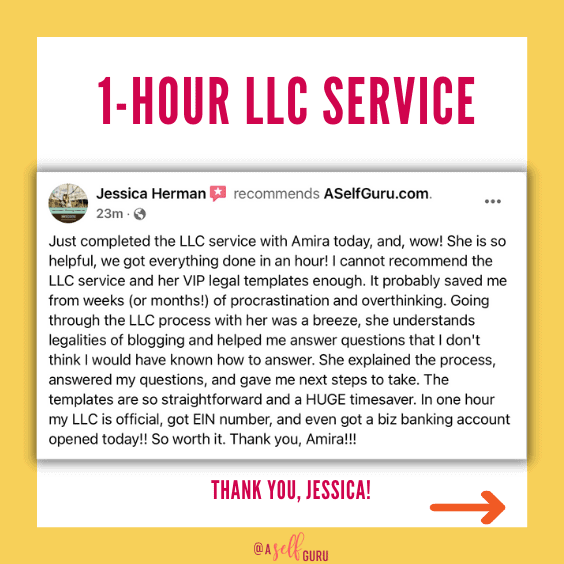 14. Make Sure Your Blog Giveaways are Legal
When it come to running giveaways on your blogs, you need to make sure that your approach is completely legal.
That means being aware of the laws surrounding giveaways, and making sure that all the requirements for a legally binding contest are met.
So it's important that you know what legal steps you must take before hosting a giveaway!
I explain more in this blog post, and this is the legal template you'd use to outline your giveaway terms and conditions.
Also, you should avoid the 3 most costly legal mistakes with your blog, which I share in my FREE legal guide below so make sure to grab it to learn more!
15. Protect Your Blog Name with a Trademark
You can use a trademark to protect your blog name, tagline, or logo from being used by someone else without your permission.
A trademark is a word, phrase, or logo that identifies the source of a product or service.
Here's a complete guide on trademark law so you can learn more!
And if you have any questions about the intellectual property law and how it applies to your business, schedule a consult with me.
Also, here are 15+ legal questions to ask a lawyer before starting a new business. 
FAQ on Blogging Legally
Below are the answers to the most common questions I get as a business lawyer and if you need personalized help, you can book an online consult with me here to learn the key ways to protect your blog or online shop and to make sure that you are blogging legally.
You also have an option of booking my blog legal audit where I review your entire blog to make sure you are blogging legally.
See how my customer Kamal protected his business and website with this service: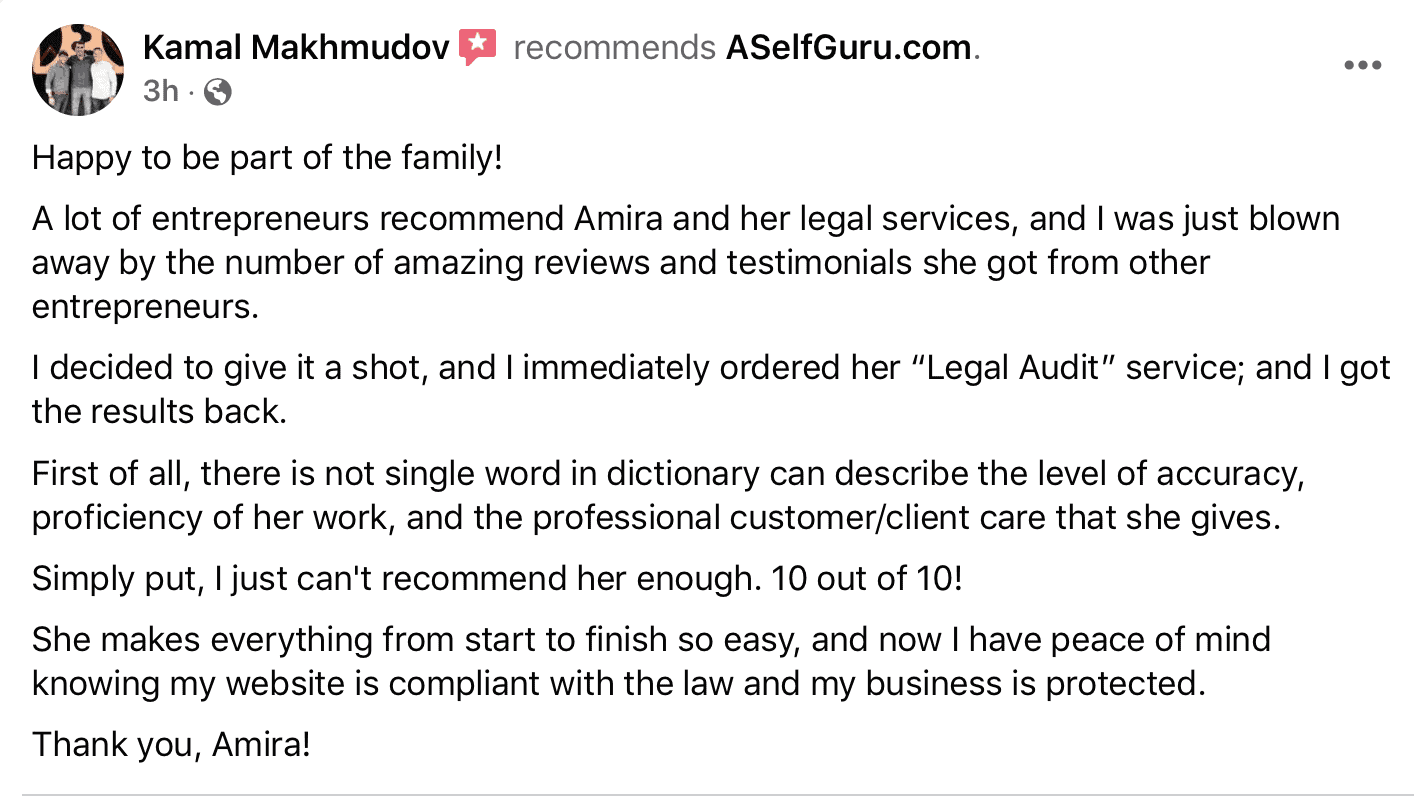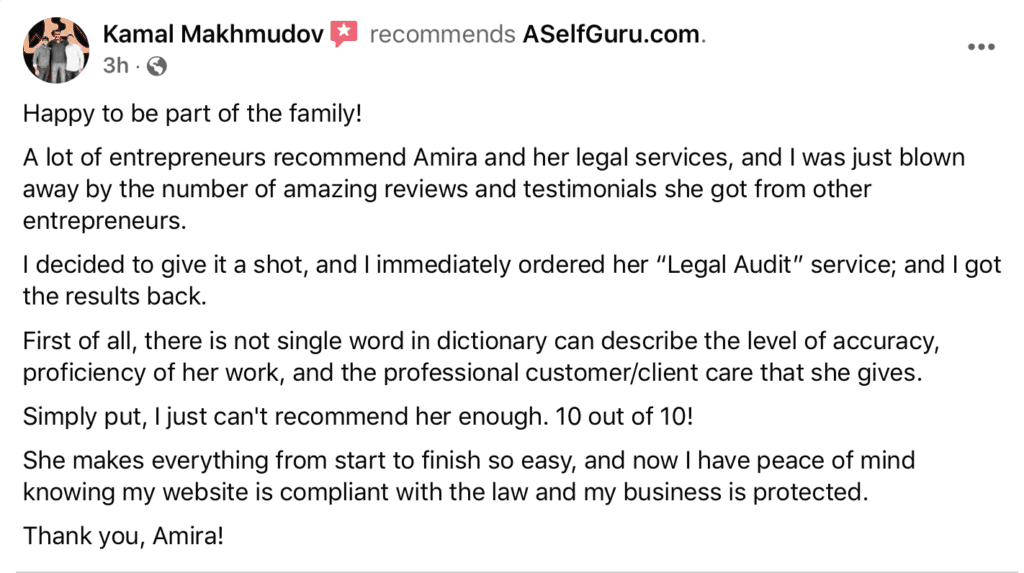 Can I get sued for a blog?
Yes, you can definitely get sued for a blog and run into all kinds of legal issues such as:
breach of contract lawsuits,
customers suing you over products and services (prevent those issues with proper terms and conditions in place)
Do you need an LLC to run a blog?
You are not legally required to form an LLC to run your blog but it's generally recommended to limit your legal liability and to protect your personal assets such as home, car, personal checking accounts, and more!
By forming an LLC for your blog, you avoid personal liability for any actions taken on behalf of the company.
For example, if someone were to sue your blog for copyright infringement or defamation, you would not be held personally liable as long as all business was conducted under the LLC.
Additionally, forming an LLC can provide tax advantages and help protect your personal assets from creditors should something go wrong with the blog.
Finally, forming an LLC can give your blog more legitimacy and clout with companies when dealing with business partnerships and sponsorships.
Companies are more likely to take you seriously if you have an official business entity such as an LLC.
So while it is not legally required, forming an LLC for your blog is a smart idea!
And if you need help forming an LLC, you can book my 1-hour "Done with you" service here.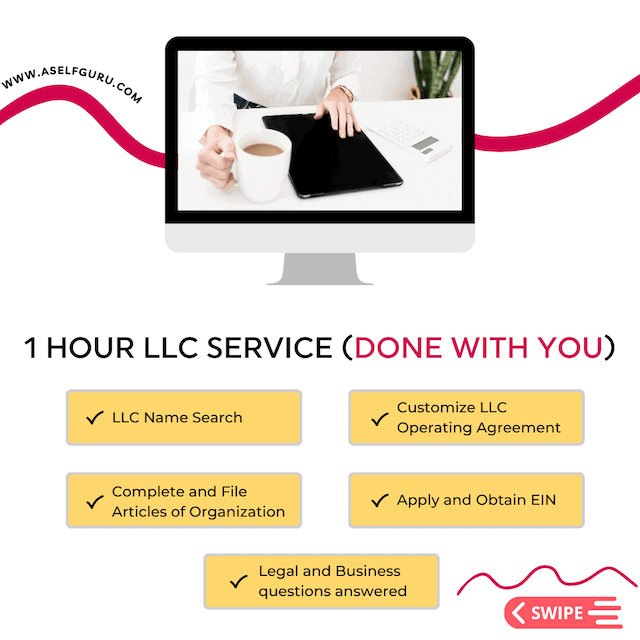 Do bloggers pay taxes?
Yes, you are legally required to pay taxes on the income your blog generates.
The type of taxes you need to pay and the amount will depend on where you reside, but typically bloggers must pay income tax and self-employment tax on their earnings.
You may also be subject to other taxes such as sales tax or property tax.
It is important to keep track of your blog's income and expenses for accurate reporting when filing taxes.
Make sure you know the rules and regulations for tax filing in your area and consult with a financial advisor or accountant if needed.
Talk to a lawyer if you are unsure how to structure your blog business.
It is also important to remember that as a blogger, you may be eligible for certain deductions such as office supplies, travel expenses, and other costs associated with running the business.
Keeping accurate and organized records of your blog income and expenses will help you save money on taxes in the long run.
Finally, make sure to file your taxes on time to avoid penalties or interest. If you are unsure about filing taxes for your blog income, consult a qualified tax professional for advice.
Here are some helpful time saving tax forms from a CPA that you can use; and here's a helpful tax handbook for bloggers as well.
If you want to learn more, then grab this tax course from the CPA. It's a really affordable CPA solution!
What legal documents do I need for a blog?
We discussed the 3 important legal documents you must have for your blog, and these are the essential legal pages you will need.
Here are 16 more legal documents with tons of important legal provisions for bloggers and online entrepreneurs to protect themselves.
Watch the video below to learn more (and please subscribe to my YouTube channel here for latest legal news).
Final Thoughts on Blogging Legally
So there you have it – blogging legally doesn't have to be a pain in the neck. I know the legal stuff can be complicated, confusing and even intimidating.
Follow these legal tips and best practices outlined above to ensure you have the proper legal policies posted on your blog along with the essential legal contracts to protect your blogging business.
Trust me, having a strong legal foundation for your own blog from the very beginning will take away the anxiety and give you great peace of mind as shown by my customers here.
In my years of blogging and legal career as an international lawyer, I have had the honor of helping over 50,000 entrepreneurs (not just bloggers) protect themselves and their businesses with my legal templates and services.
And grabbing my VIP legal bundle will give you the ultimate peace of mind and ensure that your blogging is compliant with the laws. 
RELATED BLOG POSTS ON BLOGGING LEGALLY
In addition to protecting your blog legally, you should check out the following helpful blog posts and tools for your business:
Visit this freebies page to get 5 awesome free business, blogging and legal tips!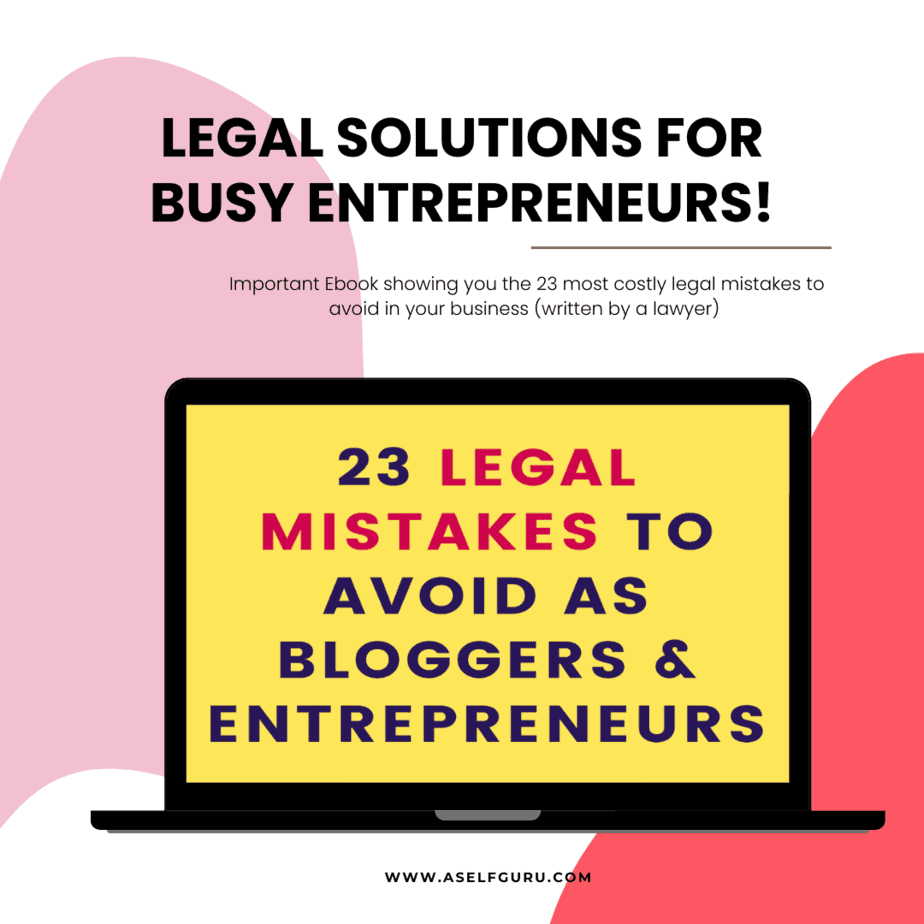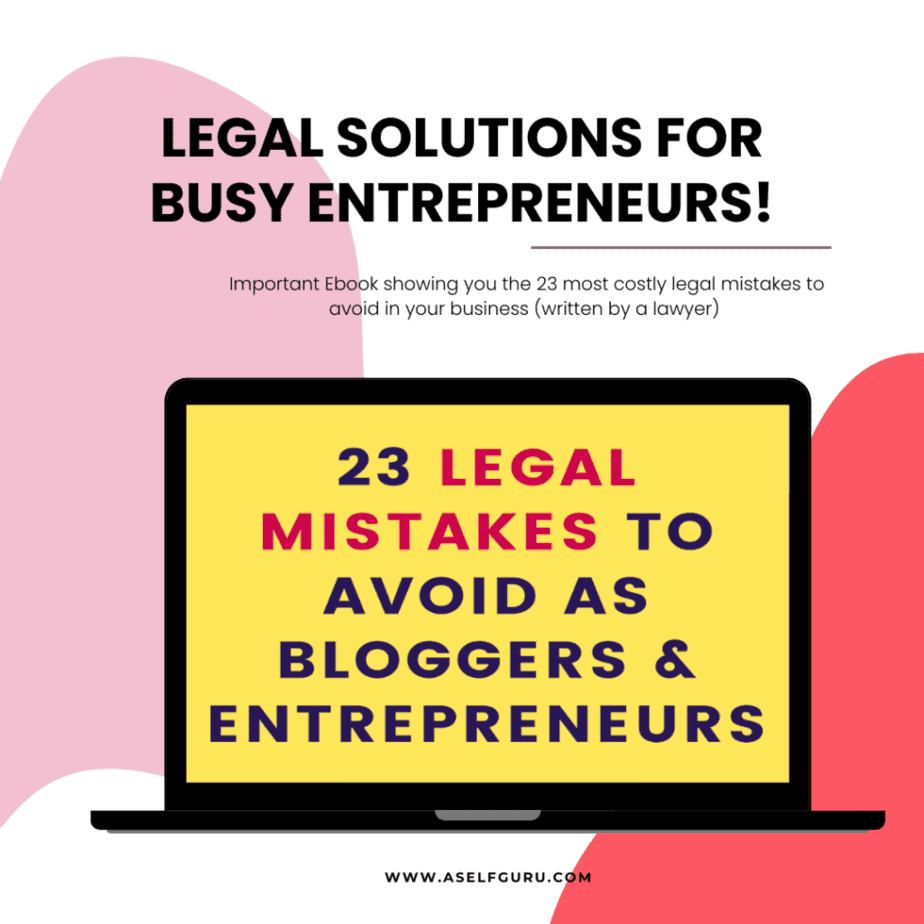 Below are some more helpful blog posts, legal tips, tools and resources that you should check out next:
Outrank your competition and enhance your content creation
16 Best Niches for Online Courses (#7 and 10 are most profitable)
15 Expensive Legal Mistakes Entrepreneurs Make (and How to Avoid them)
What's an LLC and when to form one?
How to Legally Protect Your Book (with Proper Copyright Notice and Disclaimer Examples)
CPA Solution Membership to get all your tax and accounting questions answered!
Get The Simple SORT Handbook: The New Entrepreneur's Roadmap to Setup, Operate, Record and Tax Slay a Successful Business
AI writing tool to write blog posts 10x faster, create social media content, videos, and any kind of content to save time in business
This SEO tool to make sure your blog posts rank on the first page of Google 
MORE TOOLS TO GROW YOUR BLOGGING BUSINESS