Did you know there are some amazing books on blogging that can help make you a six-figure income even with a full-time job?
Have you started a blog but are feeling a little overwhelmed by everything you need to create a profitable blog? You're not alone!
Starting a successful blog is more difficult than most new bloggers believe. The best way to start a profitable blog is to learn what you don't know.
But taking a different blogging course for every aspect of blogging like growing your traffic,  search engine optimization, email marketing, writing the perfect blog post, and much more can be expensive.
And there are some great comprehensive blogging courses and bundles out there (this is the pro blogging bundle I took to become a 7-figure blogger). However, they are a much bigger investment.
So, what's the easiest way to learn the things you don't know without breaking the bank? The answer is to buy one of the best books on blogging so you can learn what you need to know at a fraction of the cost. You could also consider them business books because they will help you turn your blog into a successful business.
Personally, I love reading books! They are quick and simple, and you can get a lot of value in a matter of hours as opposed to a course.
In this article, I'll show you the best blogger books you should read to start and grow the profitable blog of your dreams.
Before we get to that list, here are 10 important things to do before starting a blog (please subscribe to my YouTube channel for more blogging and legal tips)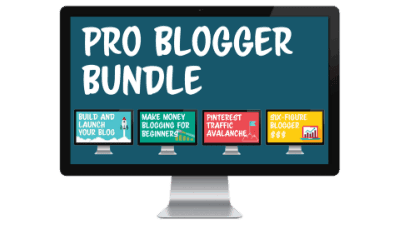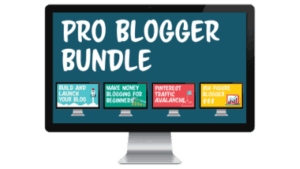 This is one of the best blogging books for beginners in 2022. Even though it came out several years ago, it's very relevant because the author is the Queen of the blogging world.
Ruth is best known for her comprehensive blogging course Elite Blog Academy, which recently changed to the Activate Coaching Program and is very expensive.
Thankfully, this fairy blog mama wrote this book as a step-by-step guide to start and grow a successful blog.
Learn how to create compelling content that attracts your true tribe and how to grow your audience with proven traffic strategies. You'll also learn how to monetize your blog with things like affiliate marketing and products and transform it into a successful business.
If you struggle with passive income and making money from affiliate links then give this book a read!
This is the first book I read during my blogging journey.
Darren Rowse is well-known for his blogging business, ProBlogger, which has an awesome job board. You can find freelance jobs so you can make money offering services while you grow your blog. This is one of the best books on blogging.
This book is the ultimate guide to making money from your blog with tips and tricks from these two very successful bloggers. Even brand-new people will learn how to choose the right blog topic for them, how to analyze the market, set your blog up, promote it, and much more.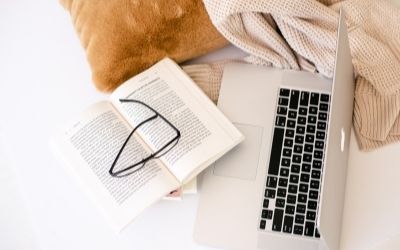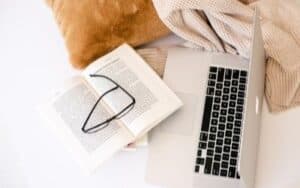 RELATED VIDEO ON BEST BLOGGING TOOLS
Before we get to the next best book on blogging, watch this video to learn the secret 11 best blogging tools I recommend for all bloggers (and please LIKE the video and SUBSCRIBE to my YouTube channel):
What makes this one of the best books on blogging is it doesn't necessarily show you how to start a blog step by step. Instead, it illustrates the habits successful bloggers have so you can use them to set and reach commercial blogging goals.
You'll learn:
Six proven monetization systems to make more money from your blog
The most common traits of great content creators so you can steal their strategies.
How to pick a niche so your work remains exciting and profitable
Methods to keep you on track even on those bad days when everything seems to go wrong
Hacks on how to think much bigger so you can increase your ambition
And much more!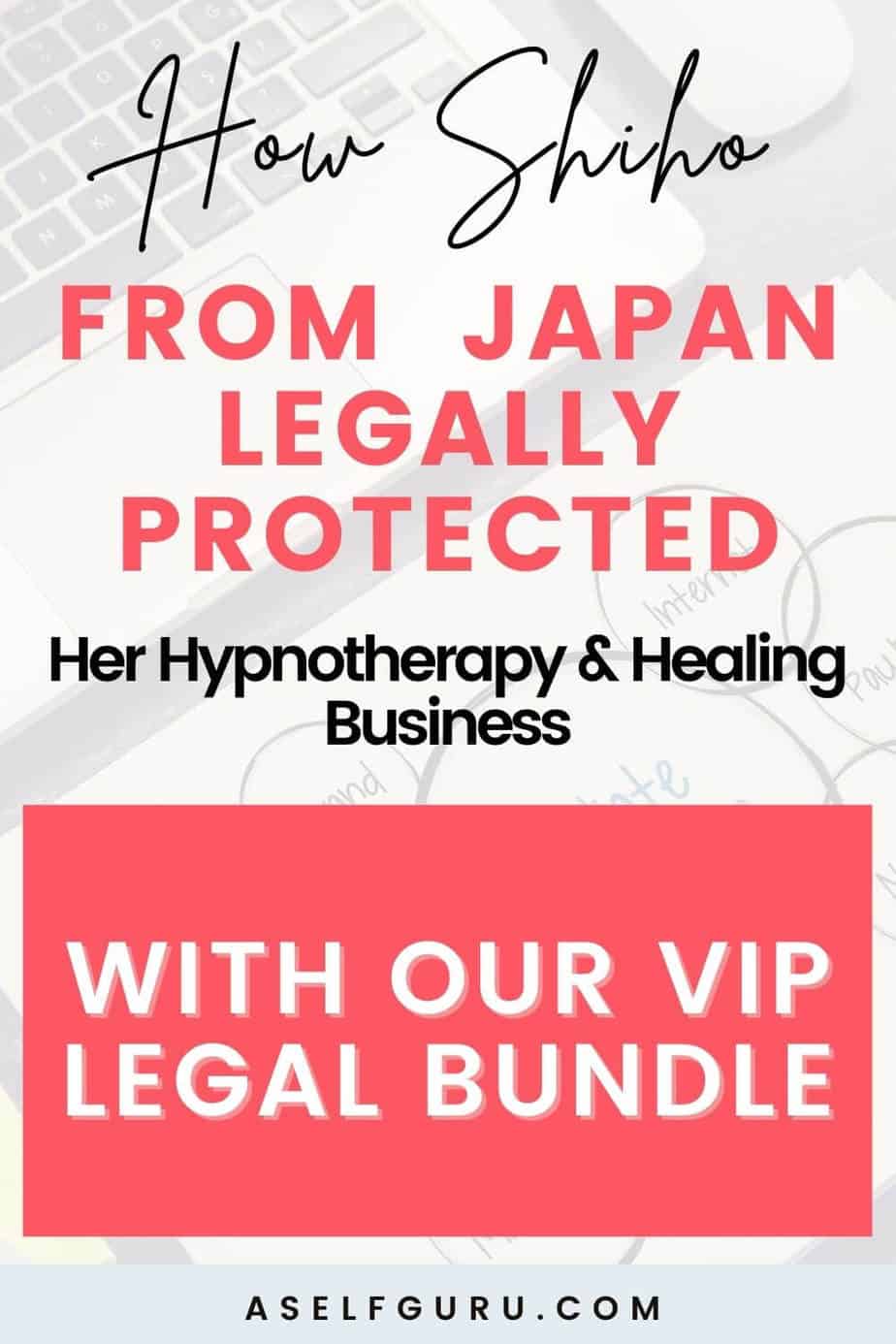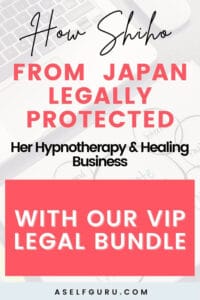 This blogging book is an amazing guide on how to grow your blog traffic that Lena used herself to go from 17K to 400K in just 10 months. It comes with a keyword optimization training video and a free guide on how to get thousands of more page views from the content you already have.
You'll learn interlinking secrets, how to niche down for better results, how to get featured and showcase your most popular posts. Also, you'll learn how to write more by planning. All these strategies can help you make money blogging.
Use any of these 7 best planners for bloggers. Learn how to write your own book in just 30 days with these 21 tips.
This book also teaches you how to focus on just a few social media platforms, how to duplicate what's already working for you, why titles matter, and much more. It's a great read.
Building your first website can be scary, and finding the right platform is confusing because there is so much information out there. Here's a fact, you need to start your blog on a wordpress.org self-hosted website.
Why? There are many reasons like being able to use helpful WordPress plugins, monetize your blog, control all the design elements, and much more
But WordPress is a little harder than free websites like Blogger and Wix, which is where this book comes in. It's a step-by-step guide on how to build your own WordPress website and register for your domain. You'll also learn how to choose web hosting, learn about themes, best email marketing platform, and more.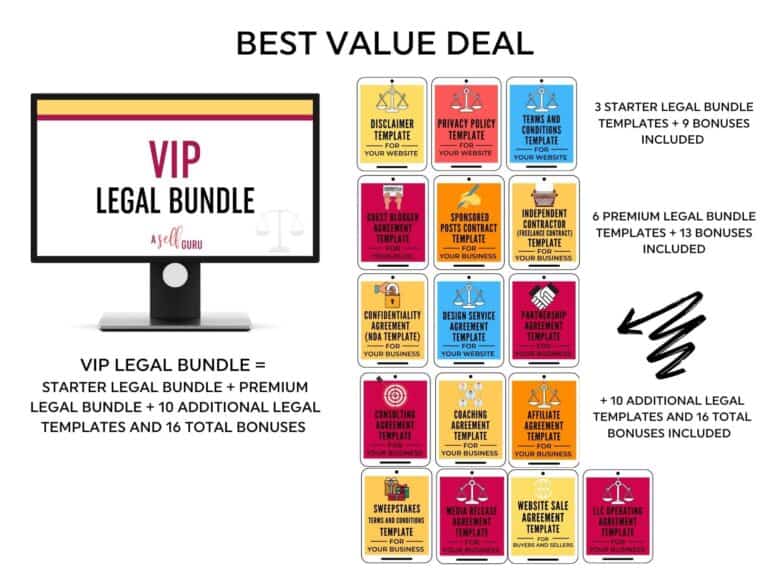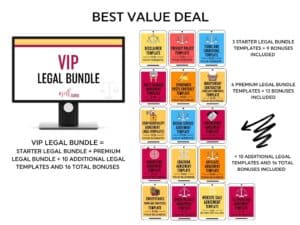 If you're struggling with social media marketing for your blog, then this is one of the best books on blogging to read. It was just updated in Spring of 2021, so the information is relevant right now.
500 Social Media Marketing Tips includes hundreds of actionable tips for success on Tik Tok, Facebook, YouTube, Pinterest, Instagram, Twitter, LinkedIn, Snapchat, and more.
You'll learn how to develop a marketing plan for consistency. Also, how to attract loyal followers, increase your brand awareness, reach your business goals, gain loyal readers and customers, and more.
It makes this list of the best books on blogging because it provides clear and concise knowledge and tips for busy people. If you don't like social media then learn how to market without it here.
This recently updated book is all about rapidly growing and scaling your audience on social media. The key is how to take advantage of the millions of messages posted on social media every day and beat the algorithms.
Brendan is known as a social media wizard. He has built online platforms for superstars such as Rihanna and Taylor Swift.
His whole career as a growth hacker has been spent finding the best tools to turn nobodies into top influencers by publishing a popular blog or talking to the camera.
Now he's sharing his secrets with you. His helpful tips and tricks make this one of the best books on blogging.
This may not be a book on how to start a blog; however, most of us create our blog while working full-time at our day job. So, there's a lot to do and little time to do it in. Manage Your Day to Day helps you stop doing the busy work and get things done.
If you're stressed and overwhelmed, then you need to change the way you work. And this book will help you do that with input from 20 of the world's creative minds. It also includes is a toolkit for tackling the challenges of working 24/7 on your blog and business.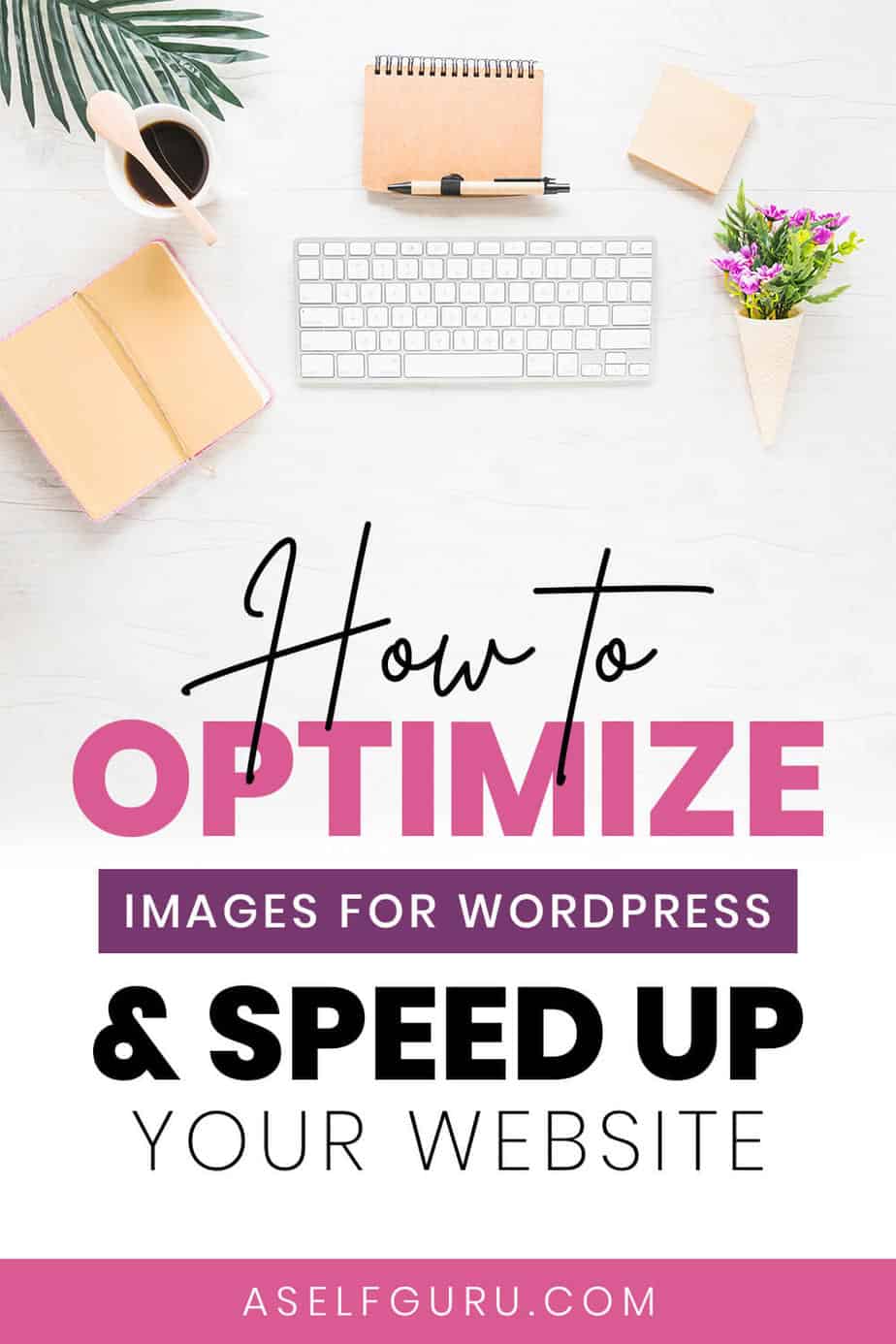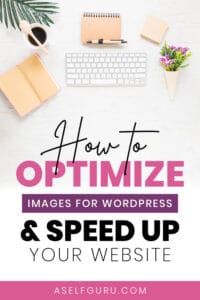 You can probably see why this resource made the list of the best books on blogging. Content is critical for a blog, and Meera teaches you how to find endless content ideas and services easily.
This book is for you if you're constantly chasing content trends and struggle to come up with blog post ideas.
Get a year's worth of blog content that connects to your products and services and boosts your sales and traffic all in just 60 minutes.
We all know that Content is King for bloggers and other businesses because it's a content-driven world. Many people think that writing isn't that important anymore because of the content trend of short, clickbait headlines, gifs, and videos.
But it's more important than ever. Ann explains that our words are a currency and tell customers who we are. So, our writing can make us look stupid or smart. So, what do you do when you need to choose your words well? Buy this book, of course.
Ann Handley provides expert insight and guidance into the content creating and publishing process. Use her tips for all your writing, including social media, landing pages, your other web pages, and blog posts.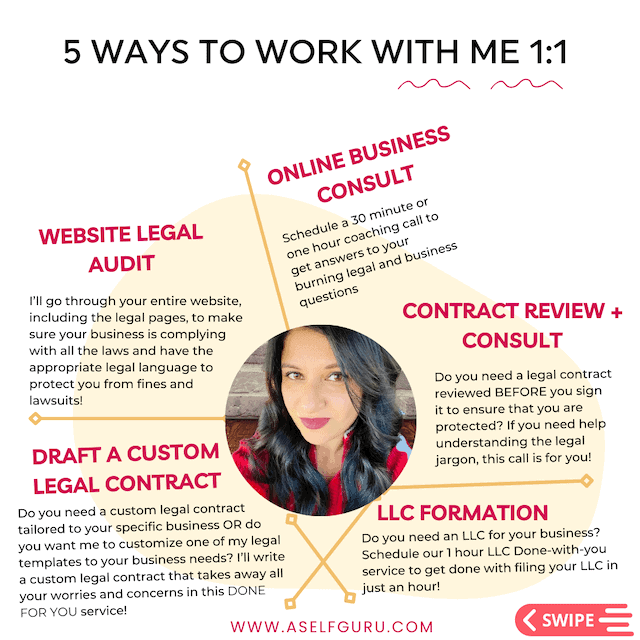 No one will buy your product if you use the wrong words.
Business owners struggle to connect with their customers. We live in a world with distractions everywhere. It is helpful to learn how to cut through the noise and show up right in front of them when they need what you're selling.
Donald has created a proven system to help you engage and influence your customers called the StoryBrand process. This book teaches you how to use the seven universal elements all great stories have to connect better with your audience and grow your business.
Easy On-Page SEO is all about how to optimize your articles for SEO and readers.
It's basically everything you need to know about On-Page SEO. It shows you how to outline your article, use your keywords, site speed and everything related to the blog post.
It includes a printable 12 step checklist for every post and the 9 steps to take right after you publish to get your article indexed and ranked faster in search engines.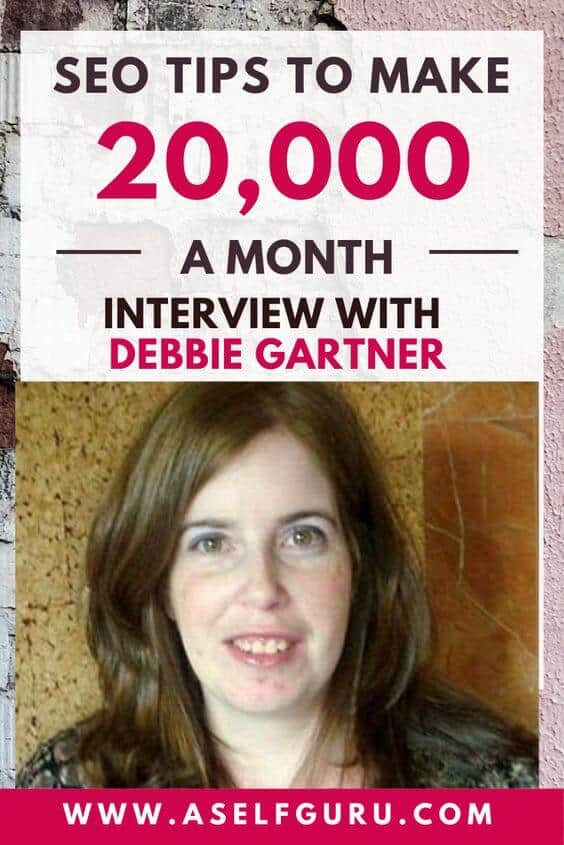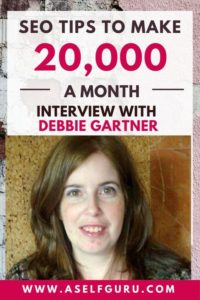 Easy Backlinks for SEO is all about how to build Backlinks and trust authority so your articles will do better.
Many newer bloggers don't realize that On-Page SEO is about 50% driven by the blog post and site experience, but the other 50% is driven by backlinks. If you want to do well, you need BOTH.
In this ebook, Debbie shares 31+ places and ways to get easy backlinks, as well as more advanced methods you can use as you grow and become more advanced.
If you wanted to save money, you can grab her discounted bundle of both ebooks here. It's a must for any blogger and definitely one of the best books on blogging that will give you actionable SEO tips.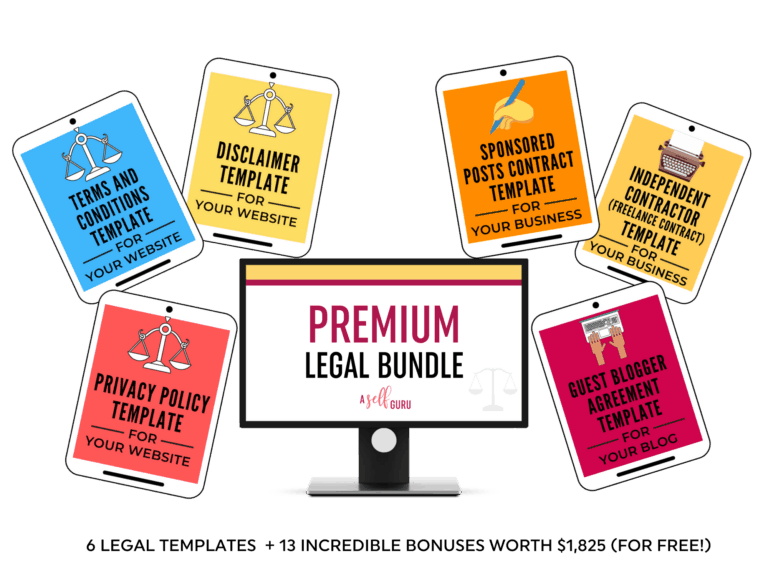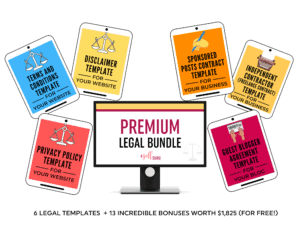 I saved the best for last! Keep in mind that legal is the glue that holds your blogging business together. Without a proper legal foundation to protect you, you don't have a sustainable business.
After working as a lawyer for over 12 years, I discovered some common legal mistakes that business owners make. Not because they want to, but because they are unfamiliar with the legal aspects of their business.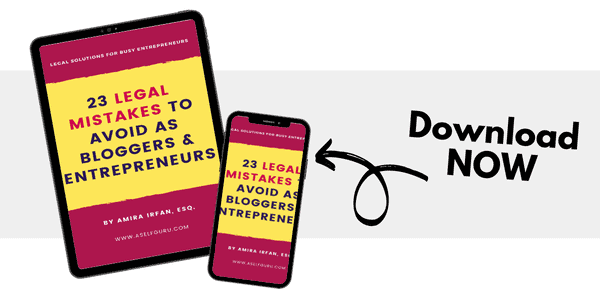 I get a lot of legal questions from entrepreneurs just like you on how to protect their online businesses legally and what costly legal mistakes to look out for?
One simple legal mistake can cost you a fortune. 
Most of you know my story about why I became a lawyer…how my entrepreneur dad was sued for $90,000 and we lost our entire family business as a result of that.
We lost a lot more than money such as our peace of mind, happiness, appetite, you name it. I've lived through that nightmare.
I don't want anyone to ever experience that devastation and financial loss. By the way, get in the habit of using this tool to track your expenses and profits from the beginning. 
That's why I'm so passionate about helping you avoid the legal mistakes I see entrepreneurs making all the time (including my dad).
So I've packaged all that information into my new ebook for you, which will show you the 23 common legal mistakes to avoid! 
Watch how Michael and Jen felt after purchasing it:
This is a great book packed with immense value and most importantly, I go over not only the common mistakes but also how to avoid them fast…giving you a comprehensive guide and actionable tips you can implement instantly.
If you have ever purchased my legal templates here then you know that I'm known for providing fast, easy solutions that won't suck your time or cause any overwhelm!
Brooke had "no idea these legalities even existed" until she read my ebook.


As it is, I know the legal stuff can be confusing, time-consuming, and even boring 🙂
So don't worry, I've kept this ebook only 50 pages long, and it won't take you more than 30-40 minutes to read!
It only took 40 minutes for my customer Suvd to go through it – here's what she had to say about it: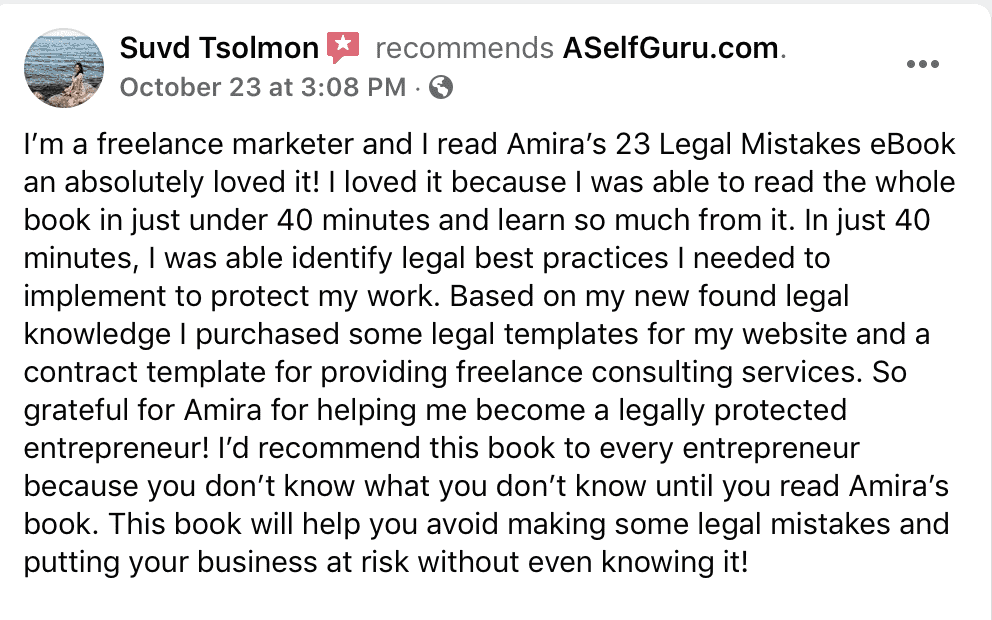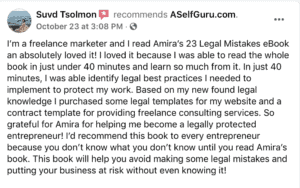 After purchasing this book, Suvd realized exactly what was missing in her business and what legal templates and protections she needed to put into place without stressing out or wasting valuable time!
Not only you will learn the 23 legal mistakes to avoid in business but you will also receive the actual solutions to those. 
Mistakes like …how to keep your business and personal stuff separate, what legal contracts are essential, how to ensure compliance with email marketing laws, how to use other people's images legally, and so much more!
(at least 23 legal mistakes you need to know whether you are a beginner or experienced blogger/entrepreneur)
Using this book, Julie was able to find out what was missing in her online business and fill in those holes by protecting herself LEGALLY: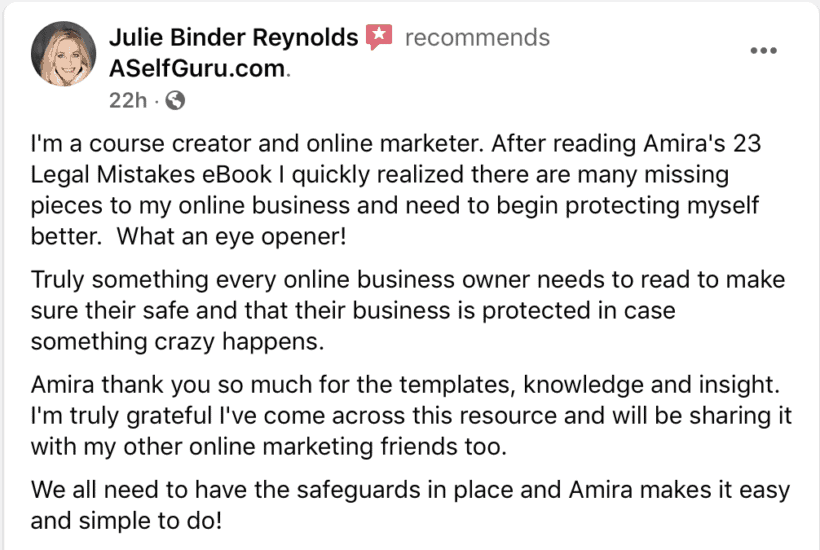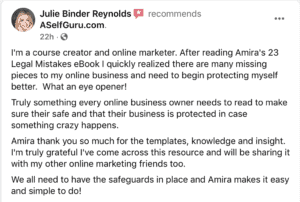 PLUS receive 3 Extraordinary BONUSES with it for a limited time!
Bonus #1 ($50 Value): Legal Checklist for your business
Use this checklist to make sure you are running your business legally and not making any costly mistakes!
Bonus #2 ($50 Value): Top 5 Contracts Every Entrepreneur Needs
By now, you know that every contract is important in its own way! But I'm often asked, "which legal contracts or documents I should buy first to get started"?
So I'll share my list of top 5 legal documents and contracts every entrepreneur needs, and these are some of my popular legal templates too. You will find out exactly why you need them.
Bonus #3 ($150 Value): Your 20% off Coupon Code!
As a special thank you for purchasing this ebook, you'll receive a 20% off coupon code that you can use on ANY individual template of your choice from my legal store here!
I'm so excited to be able to offer all of this to you!
This is the most "eye-opening book" Swapna has read in a while: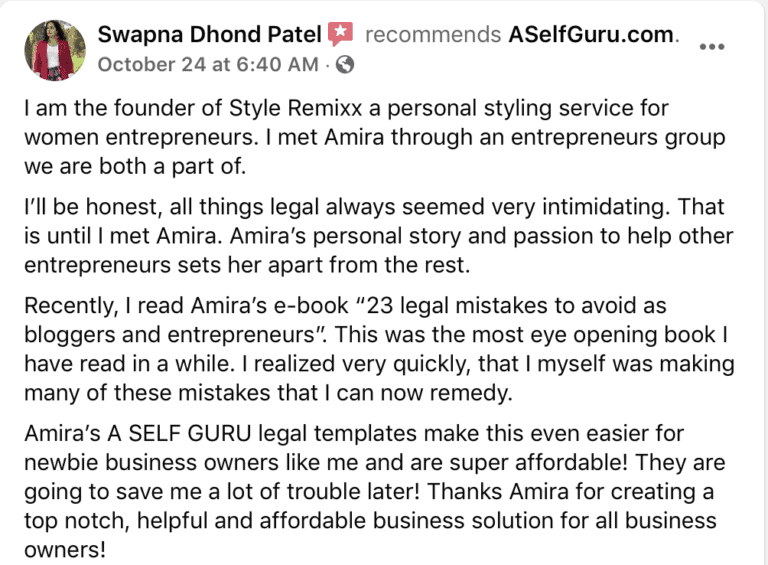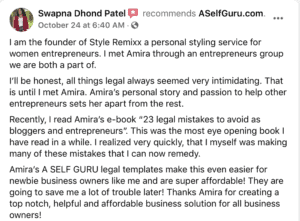 Snag your copy here (official sales page coming soon!)
This is another book that I feel every blogger and entrepreneur should read to increase their productivity and creative potential.
The 4-hour Work week by Tim Ferriss is all about lifestyle design and how to make the most of your time so you can achieve your goals.
One of the things that I love about this book is that it really makes you think outside the box when it comes to working and how you approach your business.
It's not just about working hard, it's about working smarter and using your time effectively. Ferriss provides readers with a ton of actionable tips that you can use to make the most of your time long term.
If you're looking for a book that will help you increase your productivity, The 4-Hour Workweek is a great choice. It's packed with useful information and the best part is that it's written in an engaging, easy-to-read style.
As a new blogger, you will struggle with getting traffic to your website. So you will need to leverage Pinterest because it can skyrocket your pageviews and give you long-lasting traffic on autopilot.
And this ebook shows you exactly how to do that!
Get instant access to this 380-pages e-book (PLUS FREE BONUSES) so you can start building loyal followers and drive massive traffic from Pinterest back to your blog!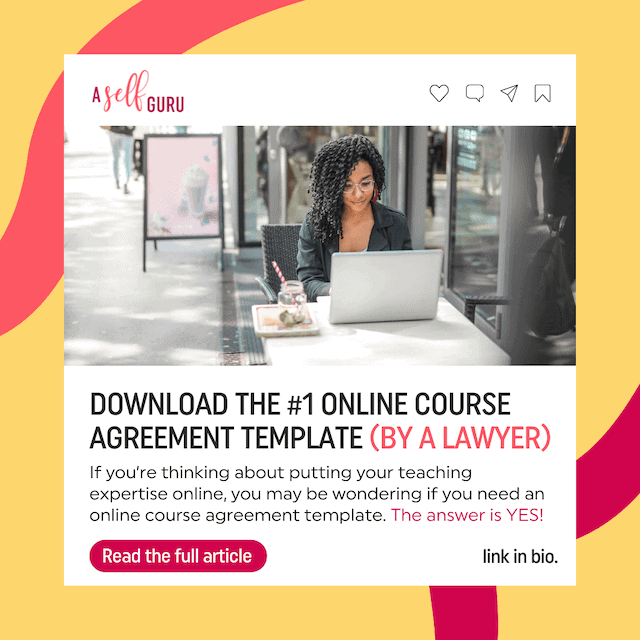 Habits of Highly Successful Bloggers
You may be wondering what are some good habits you should form as a new blogger. Check out this blog post which is a complete guide of 20+ habits of top bloggers and entrepreneurs to guarantee success!
It's definitely a great starting point and worth reading! It will also show you the different ways and best practices for growing a successful business too.
Online Courses For Newbie Bloggers
As an aspiring blogger, a great way to build a successful blog is to learn from most professional bloggers out there. And the good news is that you can take some awesome courses to learn blogging tips and other useful tips for content creation and internet marketing to become a better writer and blogger.
Here are my favorite blogging courses that I have taken (more in this blog post) to increase my blogging skills:
Also, check out this blog post of 5 top blogging courses you need and this blog post of the top 6 Pinterest courses and tips to increase your blog traffic!
Content Marketing for Your Own Blog and Social Media Channels
As you can imagine, writing great content is not enough. You have to learn content marketing on social media channels as well. This means creating an audience that will want to consume your content on a regular basis. Creating this type of audience requires you to be strategic with your content marketing.
One of the best tools I use to help with creating well-written content for my blog is this.
Jasper is my secret content strategy tool that gives me virtual freedom and also improves my writing skills.
In fact, this blog post is also written by Jasper. You should definitely try it for free here!
And then use this tool to make sure your blog posts start ranking on the first page of Google.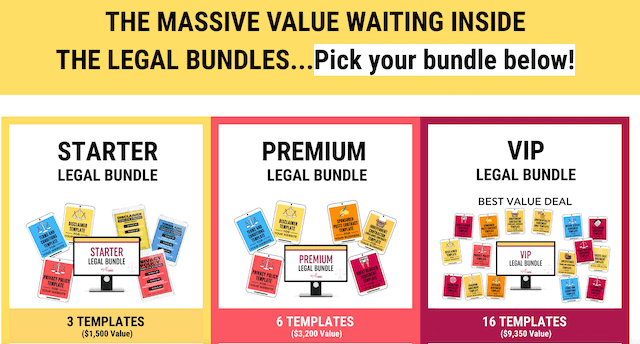 Final Thoughts on the Best Books on Blogging
Now you have some incredible resources in these best books on blogging. Reading a book is a cost-effective way to learn the things you don't know about blogging. It's a minimal investment that's affordable even for a beginner blogger with no money.
You can learn everything you need to know about blogging from books that you can carry with you anywhere. You can even listen to some while you're doing laundry or other chores.
But there are a few more resources you need to run a successful blogging business, and they're about the legal side of blogging.
First, you need to make sure that you're blogging legally by ensuring you have these three legal pages on your blog –  privacy policy, disclaimer, and terms and conditions.
You see, the legal side is often overlooked. It can be overwhelming when there are so many other things to remember. But the legal aspect of your blogging business is the most important. If you don't have the legal contracts and pages you need for your blog; you can get fined, audited or even sued.
So, I create legal contract templates that are easy to customize and use. As a blogger, you collaborate with others and you should be using proper contracts to protect everyone legally.
Listen to what a fellow lawyer, Elisabeth Wise, had to say about my Freelance Contract and Starter Legal Bundle.
I hope you found this blog post about the best books on blogging helpful. I truly want to see you succeed and make a profit in your business so you can have the freedom and flexibility that becoming a full-time blogger means.
DO YOU HAVE A FAVORITE BOOK ABOUT BLOGGING? LET ME KNOW IN THE COMMENTS BELOW. 
Related Posts to the Best Books on Blogging
Now you got to see the best books on blogging but there are some additional books for female entrepreneurs that you should check out!
Here are 11 top books for female entrepreneurs that will inspire you!
If you're serious about treating your blog like a business, then you'll want to check out my legal tips page, where you can learn more about running a blog business without encountering scary legal problems.
Here are some more blog posts to help you grow your blog and protect your online business legally: