The use of online paraphrasing tools has made the process of paraphrasing much simpler, but not all of these tools are created equal.
Paraphrasing tools are widely used by bloggers to rewrite content, make it exclusive, or produce fast content without wasting time.
Paraphrasing resources are useful not just for authors, but also for students, webmasters, freelancers, and marketers. When done correctly, paraphrasing is awesome, and all you have to do is modify a few words to rewrite the sentence in a new way.
This article will cover everything there is to know about paraphrasing, as well as the best paraphrasing resources for bloggers in 2021.
So let's get started!
What are Paraphrasing tools and how are they useful?
Paraphrasing tools are online tools that use sophisticated algorithms to alter the words in a context in order to make it more unique or efficient.
The paraphrasing is performed in such a way that the original thoughts of the material are preserved; instead, the terms are replaced with synonyms to retain the essence and uniqueness of the content.
Bloggers use paraphrasing tools for a number of reasons, including the following:
To make the article unique
A common legal mistake bloggers make is copying the content from another website. That is a copyright infringement, and you can not do it! (Not even by chance).
Make your content unique. To do so, you'll need to modify the words, which you can do with the aid of a paraphrasing tool.
To increase the readability of writing
When writing unique content, it's likely that the words and concepts you use would be difficult for readers to comprehend. Your readability score will suffer as a result, which is an important factor in user experience and SEO.
Paraphrasing tools are used to adjust the structure of sentences in a way that enhances user comprehension, and you can easily make the content user-friendly as well.
To improve sentence structure
The flow of a sentence is important for your blog because you want to make sure that your sentences and paragraphs are well-formatted and understandable from the viewpoint of your readers.
Reading the entire blog post and attempting to develop the sentence structure can be very complicated and time-consuming, but it can be automated with the aid of an online paraphraser.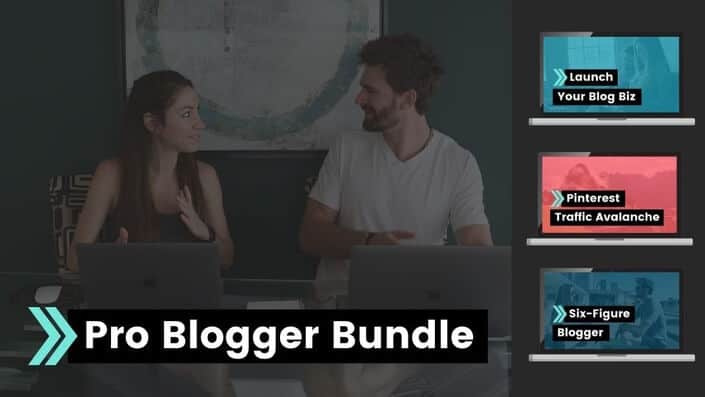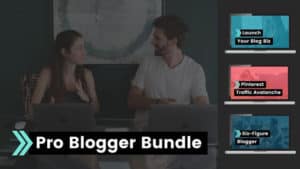 Before we get to the top paraphrasing tools, one of the best ones you'll love is this one!
So many of you emailed and thanked me for sharing this incredible tool to produce content faster in your biz. 
You have to try it for free if you haven't already.
Many business owners don't want to reveal their secret tips or tools but not me!
When I find something that truly helps my business in a big way, I share it with you openly!
THIS TOOL can write Facebook ads, Google ads, copywriting frameworks, emails, landing page copy, and more.
• Save time by enabling AI to write high-converting copy
• Get a wide variety of marketing content with just one click
• Stop wasting your time on tedious and overwhelming tasks
• Increase ROI on your ad campaigns
• Write more content in hours than you would in months
You won't have to mess around writing copy anymore, because you can do it with this tool instead.
Click here to try it for free!
7 Recommended Paraphrasing Tools
So now that you understand why paraphrasing tools are effective, let's talk about some of the best paraphrasing tools you can use for blogging.
There are 7 excellent paraphrasing tools available online that use artificial intelligence and Natural Processing Language algorithms (NLP). They will help you develop the structure of your writing, which both readers and search engines appreciate.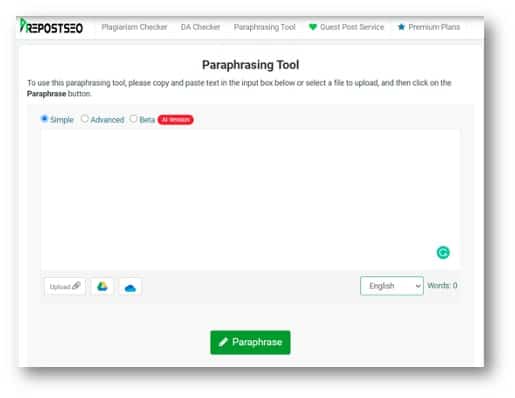 Since it integrates artificial intelligence, this paraphrasing tool is at the top of the list. There are three possibilities for paraphrasing in it:
Simple
Advance
BETA (AI-Based)
In the Simple mode, the paraphrasing is done automatically without any additional modification to the content.
In the Advance mode, it will change the words and sentences, and before finalization, it will let you change the content however you want.
For instance, the changing of the word's synonym is possible in this option and users can select the synonyms that are provided by the tool itself from its database.
The BETA version is the most amazing as it is based on artificial intelligence algorithms. This will change the structure of your sentences and helps make your content look more professional.
This paraphrasing tool offers multiples additional features like importing the document from your computer or smartphone, getting the document directly from Google Drive or OneDrive.
The tool is also available in 8 different languages including English, Spanish, French, Indonesian, Dutch, Portuguese, and Turkish.
You might be thinking about how much this paraphrasing tool costs? The great news is that it's completely free for everyone. Whether you want to use it for a single document or wish to paraphrase multiple pieces of content, this tool can be helpful.
The tool has no restrictions over the word count but the BETA Version of this tool can only paraphrase 5,000 words at a time.
Rephraser is one of the best online AI tools that can assist in renewing old content and making it more appealing to read.
So, if you have text that isn't engaging, you can get assistance from this AI rephraser and polish the quality of the content here.
This tool will make changes in the content by replacing the words with their alternatives and improving it from the actual content.
Some of the top features of this paraphrasing tool are:
It corrects the spelling errors in the content and makes it perfect to read.
You can check up to 500 words for free. To increase this limit, you can go for the premium version.
This online tool can be quite effective in improving text quality.
The content rephrased in this online tool will be just like human-written.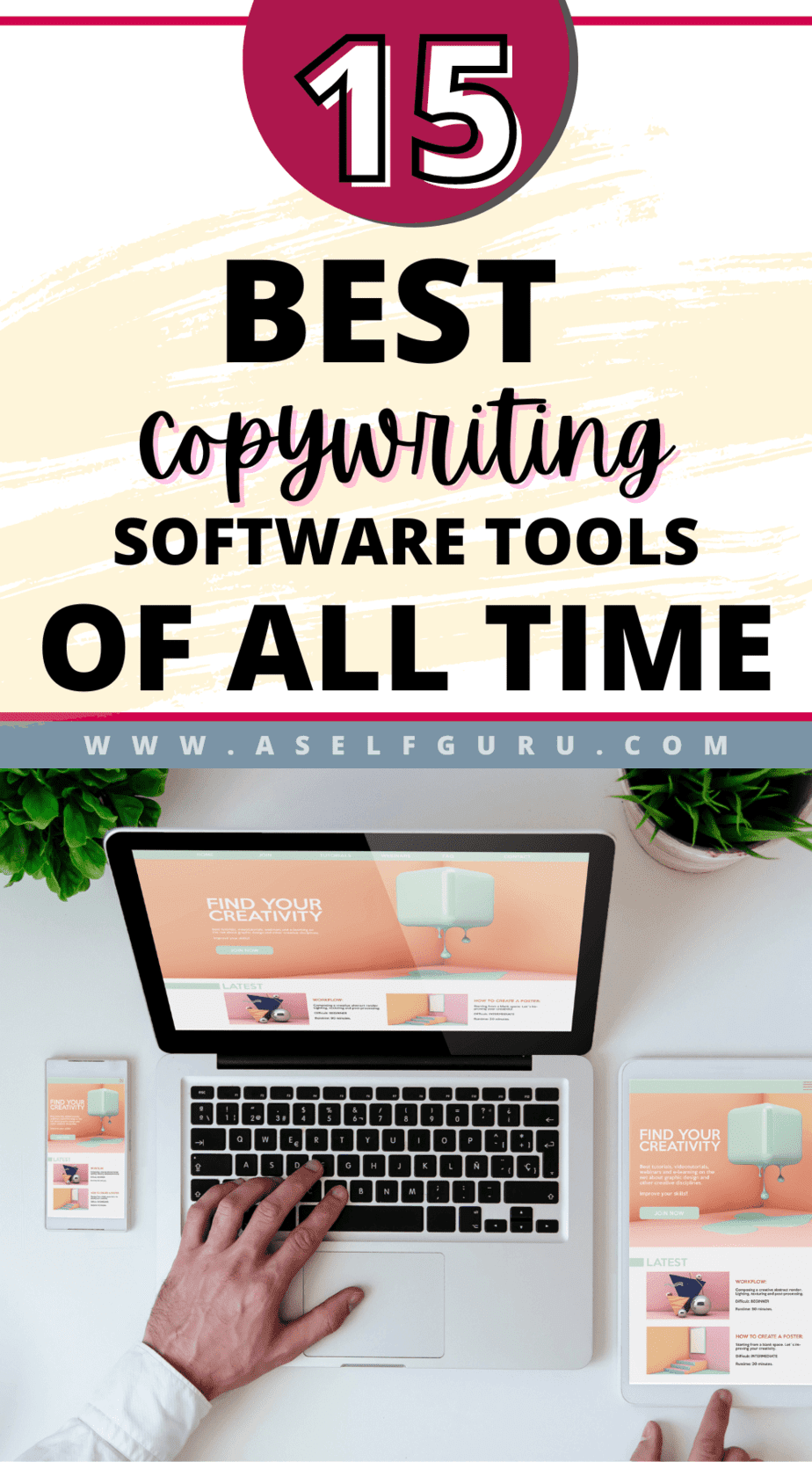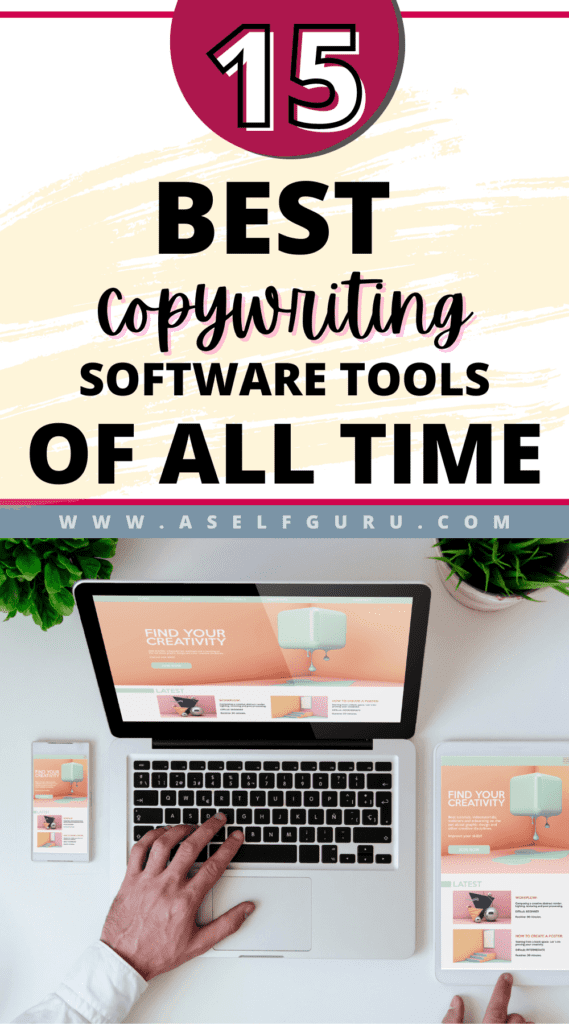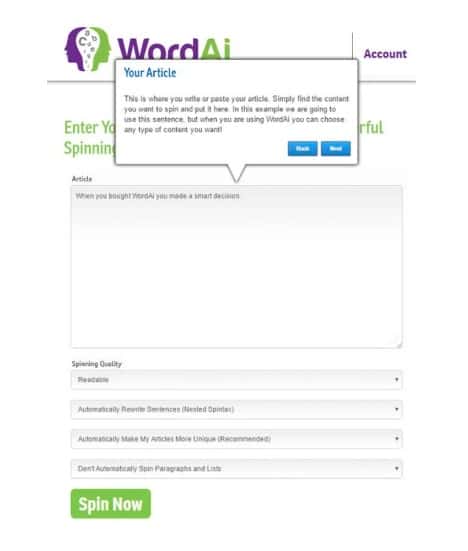 WordAi is another one of those paraphrasing tools that is powered by artificial intelligence. It works great in terms of changing most of your words.
Unfortunately, there's no free version of WordAi but you can try it for free for 3 days and see how you like it!
It has different options like an automatic spinner, spintax, etc.
There are different levels of paraphrasing in this tool such as:
Extremely Readable
Readable
Unique
Very Unique
Extremely Unique
Through selecting these options, you can easily generate the content according to your goals. For example, if you want to make your content more readable than unique then you pick your option accordingly.
WordAi also has some additional features like Spintax where you can paraphrase a bulk article in a single click.
Its custom synonyms feature allows you to add synonyms to your dashboard and you can pick the words that you don't wish to change.
One of the amazing features of this tool is that it generates the heading according to your paragraph, which helps write faster and makes your content unique.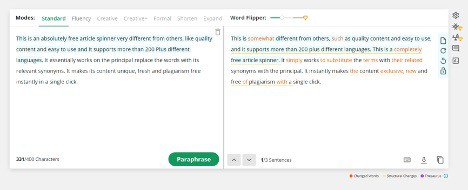 The Quillbot is another paraphrasing tool that works efficiently and faster than many other tools.
It's a free tool that millions of bloggers and other professionals rely on to paraphrase their work. I love this tool. 
This tool has modern technologies in the backend where it also contains artificial intelligence.
The Quillbot offer different options for paraphrasing tool and some of these are:
Standard
Fluency
Creative
Creative+
Formal
Shorten
Expand
Not all the modes are free – some of the amazing modes like Creative and Creative+ are only available for premium accounts.
This tool allows visitors to paraphrase up to 400 characters for free, while registered users can paraphrase up to 700 characters.
Premium users who have purchased a subscription can use this tool without any limits on the number of words they can paraphrase.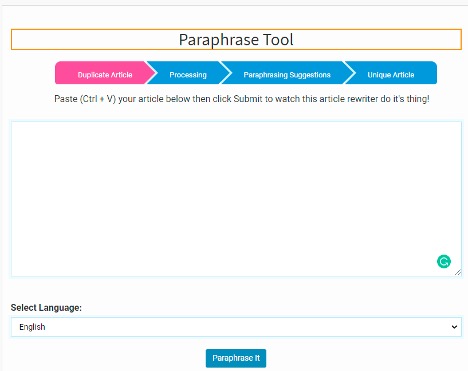 This is another paraphrasing tool that you can use online but it doesn't have advanced technologies to make a better copy of an article.
The SEO Tools Centre works quickly but it only changes some words, not the sentence structure. This means if you are looking for a tool that can change words (like give you synonyms) but doesn't improve the sentences then you can check it out.
This paraphrasing tool is a favorite among newbie bloggers and students because it's free!

Total assignment help is one of the most famous paraphrasing tools used by students. It's also helpful for bloggers because it provides an editing option before or after the paraphrasing.
The Total Assignment help is free, and it doesn't have any restrictions on the number of words you can paraphrase. Not only this, you don't need to spend time on any registration or any subscription either. You can simply log in to the website and enter your text to paraphrase.
This assignment paraphraser tool is best for students and teachers, particularly when they need to find a fast tool for paraphrasing, as its name implies.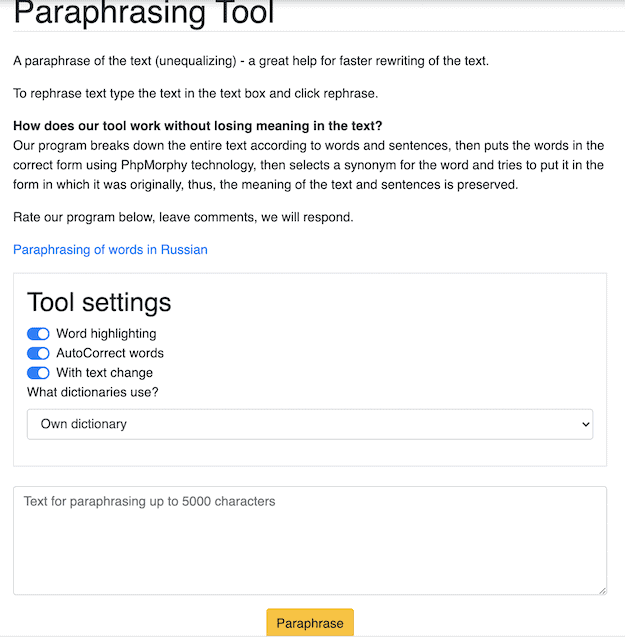 Rephrase-tool is another paraphrasing tool that's often used by bloggers and students. It's free to use.
The most important benefit of using this online tool is that it produces a report for paraphrased content that illustrates the discrepancies between the original and paraphrased versions.
Some of the features of this paraphrasing tool include:
Highlighting the words that are rephrased or changed
It corrects spelling mistakes
You can check up to 5000 characters in a free version
It defines the number of changes that will be made during the paraphrasing, as well as the characters that will be changed.
It shows you the time it takes to change the words
and more!
This is a paraphrasing tool that helps you to reword sentences and integrate them into your writing. This tool was developed especially for people who need to paraphrase the content in bulk.
It motivates you to work quickly and efficiently. Rather than paraphrasing and then proofreading, this tool will automatically detect and correct the error, saving you time and effort.
It changes most of the words whereas it doesn't change the actual meaning of the writing. This makes the generated content similar to the source content but with uniqueness.
This online paraphrasing platform was developed especially for people who need a lot of content.
This paraphrasing tool will help you boost the effectiveness of your content by enabling bloggers and other professionals to make their content more distinctive than the original.
Final Thoughts – Best Paraphrasing Tools for Bloggers
While there are hundreds of online paraphrasing resources, not all of them are appropriate for professional writing.
The majority of these paraphrasing methods misrepresent the original meaning of the text, posing a serious problem for your writing.
The paraphrasing methods we discussed in this article have all been tried and tested and can be used with any form of writing.
Which paraphrasing tool is your favorite? Let us know in the comments below! 
Related Blog Posts to Paraphrasing Tools
In addition to paraphrasing tools, there are many other blogging tools that bloggers need to make money.
Here are my 50+ top blogging tools that made me six-figures in my first year blogging. More awesome recommendations are on this page as well.
As mentioned above, when using content online, make sure to keep it original. Also, make sure you are legally allowed to use other people's photos and images on your site. You may also want to read this article on what you can trademark in your business 
OR what to do when someone steals your content?
Are you blogging legally? Check out this legal tips page where I've put together helpful blog posts and videos for you on various legal and business topics!
Here are some more blog posts to help you grow and protect your online business legally: