Are you looking for a design tool that's easy to use and helps you create beautiful graphics for your blog or business?  Well, you're in the right place!
When comparing Canva vs PicMonkey, it's hard to choose which one is the best.
Both programs have their pros and cons, and they're two of the most popular design platforms for small businesses and entrepreneurs out there.
The ability to design eye-catching blog and social media graphics is critical to your success. But most of us don't have the time to learn a complicated program like Adobe Photoshop or InDesign. Graphics are an important part of growing your social media presence, marketing, and much more.
In this article on Canva vs PicMonkey, you'll learn the great features of both programs. Also, I'll cover the differences between them so you can decide which one is the best for you. The interesting thing is that many people like both and you may want to use both too.
What is Canva?
Canva is one of the most popular graphic design platforms today. With over 30 million active users across 190 countries, the platform makes designing graphics easy even if you aren't an experienced graphic designer.
With thousands of templates and every design you can think of, it's one of the most robust image editing tools out there. You have just about everything you need with the free plan, but Canva Pro offers way more!
It has unlimited folders for organization, access to millions of photos and elements, 3000 free audio tracks, 14 animation effects, and more. You even get 100 GB of cloud storage which is a lot.
I personally can't live without Canva Pro.
I love the brand kit because you can upload your logos and fonts and select your brand colors, so they are handy when you're designing graphics. You can have multiple color pallets, which is convenient if you have clients or multiple websites.
People love Canva because it's easier to use than other software like Adobe Photoshop or InDesign and saves time. It's very intuitive, and the editor is easy to use. Essentially, anyone can use Canva even if they have no experience.
Pros
Easy to get started and navigate
Intuitive layout and design
Amazing design options
Unlimited folders for organizing
Unlimited color pallets
Canva autosaves as you work
100 GB of cloud storage
Free music
Mobile app
Cons
Many of the stock photos are only available on the pro version.
You can't layer as many effects and filters as PicMonkey.
Here are some examples of Pinterest templates made on Canva to show you!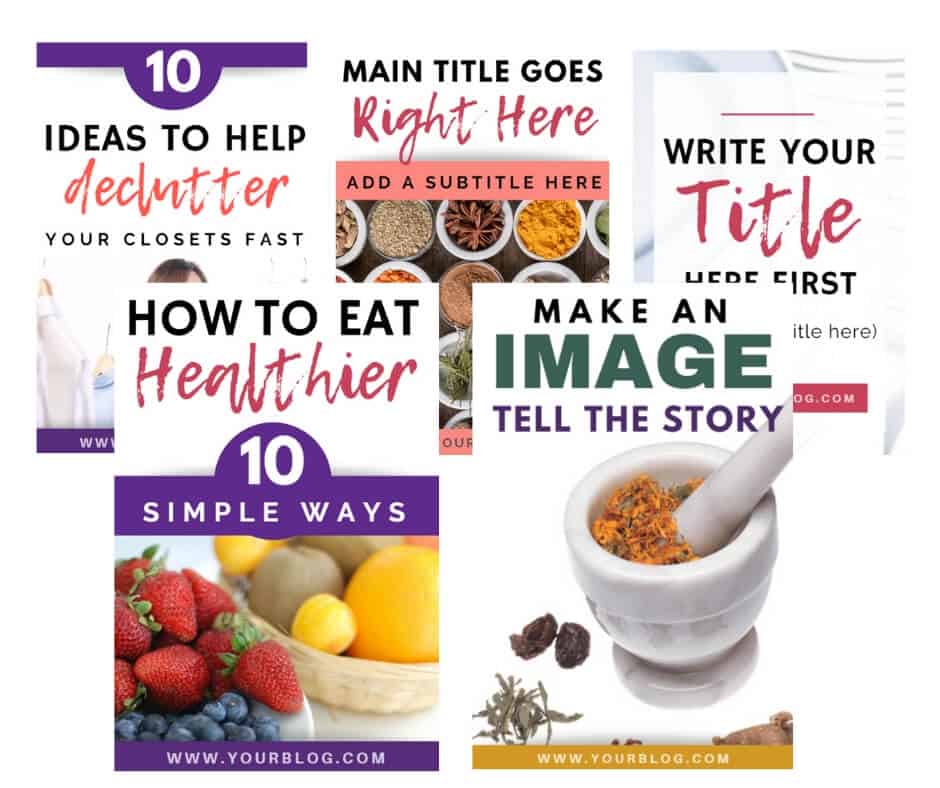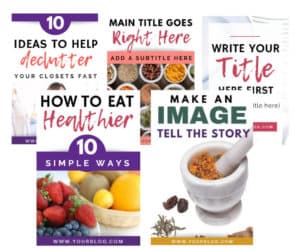 What is PicMonkey?
PicMonkey is another popular design platform that's easier to use than Photoshop and similar programs. It has extensive editing capabilities. You can take your designs to the next level with layers and masking.
The photo editor stands out with PicMonkey, and it includes touch-up tools. You can even remove the background just like Canva. It's easy to use and offers textures, gradients, and more. PicMonkey lets you apply multiple layers to images to create amazing graphics. You can even copy the look to apply the same effects to another photo.
PicMonkey offers plenty of great design templates to make your graphics look professional and clean. While PicMonkey doesn't include native support for printing graphics and images, you can outsource it or print at home.
This graphic design platform has more than one million stock photos from Unsplash, a high-quality and unique stock photo site, all for free. With the Pro subscription, you get access to over six million images from iStock by Getty.
It's no wonder that PicMonkey is such a popular design program.
Pros
Amazing photo editor
Easy to use and get started
Access to millions of images
Ability to layer multiple effects and filters and edit them
Touch up tools
Masking and blend modes
Easy-to-use templates
Mobile app
Cons
No free plan
No native printing capabilities
Fewer photos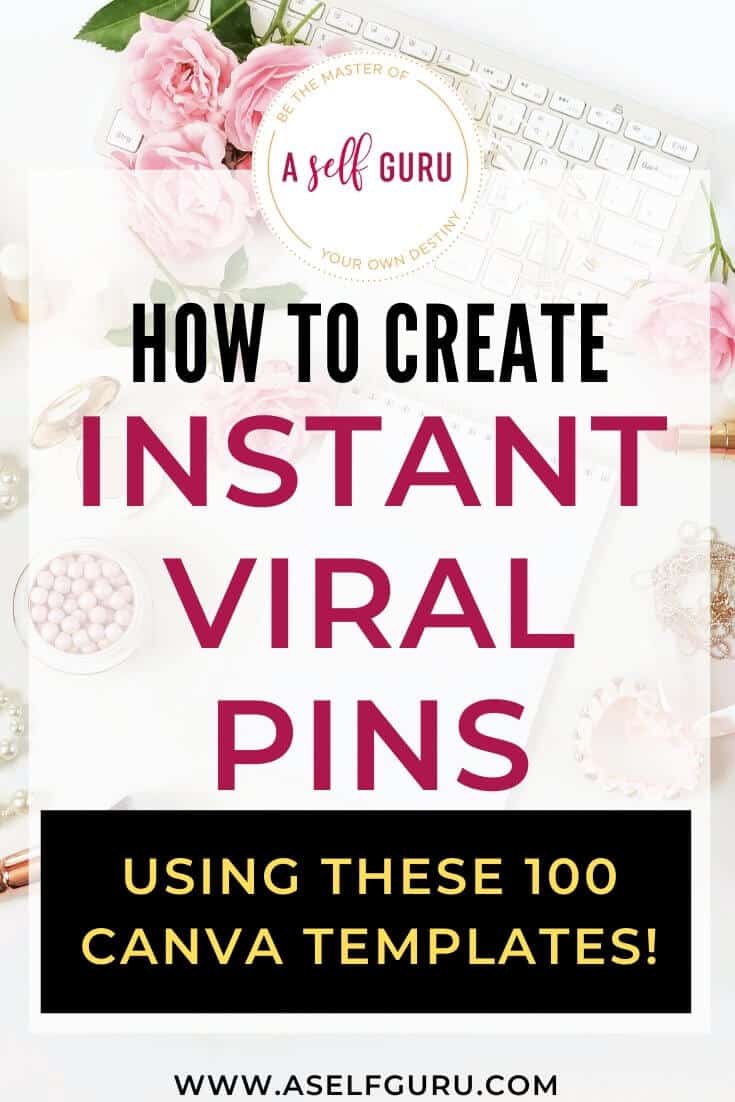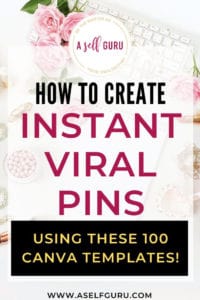 Which one is Better – Canva vs PicMonkey
Comparing Canva vs PicMonkey, it's almost like comparing apples and oranges. As you can see, both graphic design platforms help even novices create beautiful graphics.
If you want to get more traffic from Pinterest, Facebook, or other social media platforms, you need a tool that helps you create next-level graphics.
It's more a choice of what works better for you. But let's look at some of the features and benefits to compare PicMonkey to Canva.
Which one is Easier to Use – Canva vs PicMonkey?
Both apps are easy to use and get started. Canva's intuitive interface is simple, even for beginners. The same goes for PicMonkey. You can use either one easily to create eye-popping graphics without taking an extensive design course. Both graphic design platforms are pretty easy to use, but this depends on which one works best for you.
Both include advanced editing features and templates so you can create beautiful graphics faster. But you can also start from scratch if you want to create your own unique design.
PickMonkey offers a free trial, so I encourage you to take advantage of it and the free Canva plan. Compare the two programs and see which one suits your needs better.
Pricing of Canva vs. PicMonkey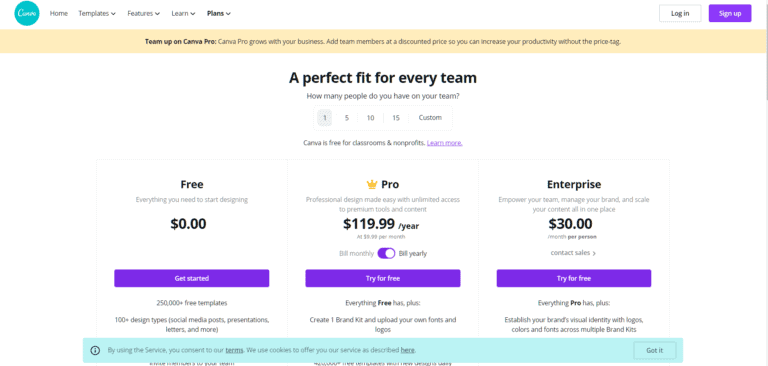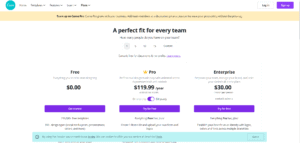 How Much Does Canva Cost?
The best thing about Canva is their free version is amazing.
But the Pro version is a lot better – for only $119.99 a year or $12.99 per month, you get tons of things.
Canva's Pro plan expands to include team members and the cost raises for each person you add. It costs $9.99 for the first person and then $4.99 a month for each team member after that.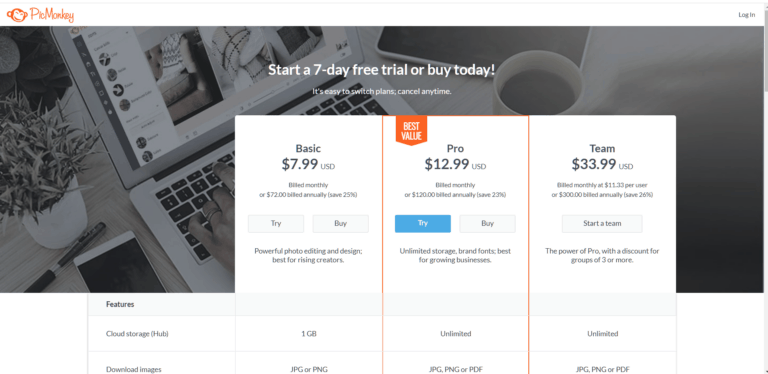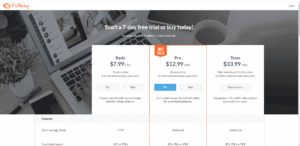 How Much Does PicMonkey Cost?
PicMonkey has three main pricing tiers. The Basic is $7.99 a month, and the PicMonkey Pro version is $12.99 a month. They also offer an option for teams at $33.99 a month. PicMonkey also offers the option of paying yearly so you can save as much as 26%.
Photo Editor – Drag and Drop vs. Layered Designing in Canva vs. PicMonkey
The two image editors are slightly different, with PicMonkey leaning more towards layering with a few drag and drop elements. Canva is mostly a drag and drop design platform with some layering. Some people prefer Canva because the layered editor in PicMonkey might be too complex. The same goes for Canva, as the drag and drop editor may be confusing or difficult to use.
The layering feature in PicMonkey helps you visualize the layers, where in Canva, you simply click on any parts you can layer. These two design programs just have two distinct ways to edit, and it all comes down to preference.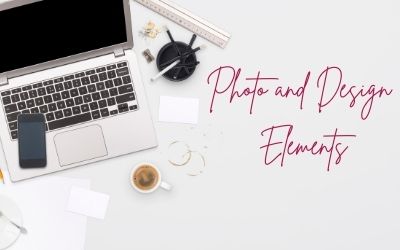 Photos and Design Elements of Canva vs PicMonkey
Canva clearly wins this debate. With Canva, you get access to more than 400,000 extra photos and graphics you can use in your designs for free. If you don't pay for the Pro version, you only have to pay $1.00 for each design element.
But that doesn't mean PicMonkey isn't great either. It has plenty of incredible images and design elements. Here's an in-depth look at some of the different design elements these two design platforms include.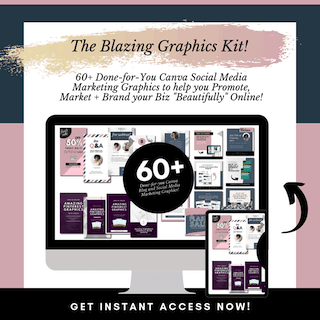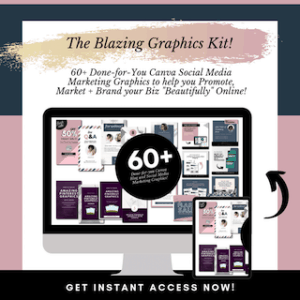 Templates
Both PicMonkey and Canva have templates galore! Templates allow entrepreneurs with no background in design to create beautiful graphics that make you look like a pro. You can create any size or type of graphic design for social media, your website, projects, products, and much more.
Canva templates start with photo size first, and from there, you can pick templates. It's easy to hit the back button or erase templates easily if you decide one doesn't fit what you need.
Some people may prefer Canva's way to choose templates over PicMonkey, but I don't think it lacks here. PicMonkey has plenty of inspiring templates, and you can easily filter them by size, tags, or category.
Frames and Collages
Both design programs include a large variety of frames and collage options. With Canva, you use grids to make collages, and you can make many different combinations. The collage feature is an older feature of PicMonkey, so it's a little out-dated, but you can access many different types of collages.
Textures
PicMonkey wins here because it lets you add more depth to your pictures with layers and textures. This platform has better texture options. You can add foil, glitter, marble, and more and apply filters and layers, so your pictures have awesome effects.
Canva lets you add textures too, but you need to upload them into Canva and then layer them on your elements. It's not built-in like in PicMonkey.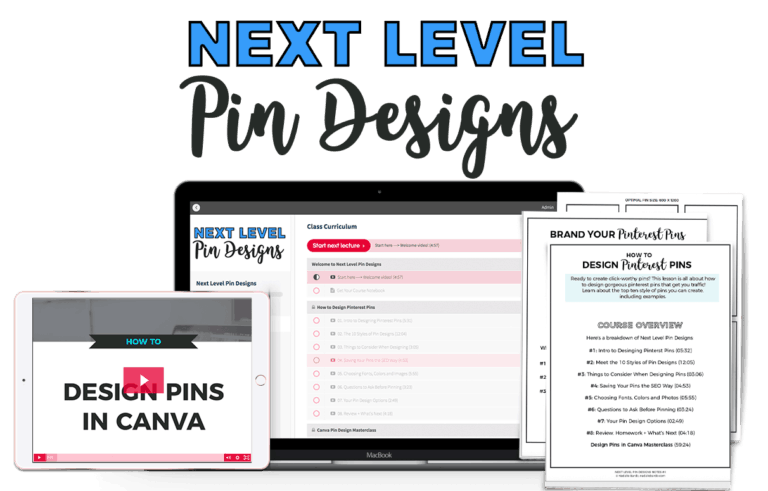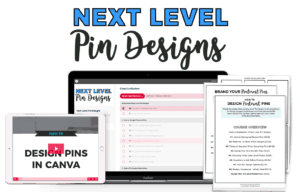 Support
Both websites have extensive knowledge databases. The most significant difference is that PicMonkey's is on SkillShare while Canva's is on its platform.
Neither one offers phone support, but this is common. You can open a support ticket or email them for assistance with issues. They are both great at answering questions and solving problems quickly.
Canva even has a design school for design tips and inspiration.
Canva vs PicMonkey – FAQs
Now that you know the ins and outs of Canva vs PicMonkey, I wanted to take the time to answer the questions I often get asked about these design platforms.
Is Canva as Good as Photoshop?
Adobe Photoshop is a professional design program, while Canva is for the design newbie. Both programs have their pros and cons. You can start using Canva right away as a beginner, but Photoshop is more difficult to learn.
If you love graphic design and know your way around Photoshop, it creates stunning designs with depth. But new people don't always have the time to learn a new program, so Canva is often best for beginners. If you're new and don't mind learning Photoshop, it's an excellent design tool.  Canva is simply easier to use with its drag and drop editor.
What is Better Than Canva?
Again, with Canva vs PicMonkey it comes down to preference and how much experience you have. Adobe Photoshop usually scores higher than PicMonkey and Canva. PicMonkey is probably the best alternative to Canva if you're new to designing graphics.
Some other alternatives include Stencil, Crello, Adobe Spark, Visme, Easil, Design Wizard, and Snappa.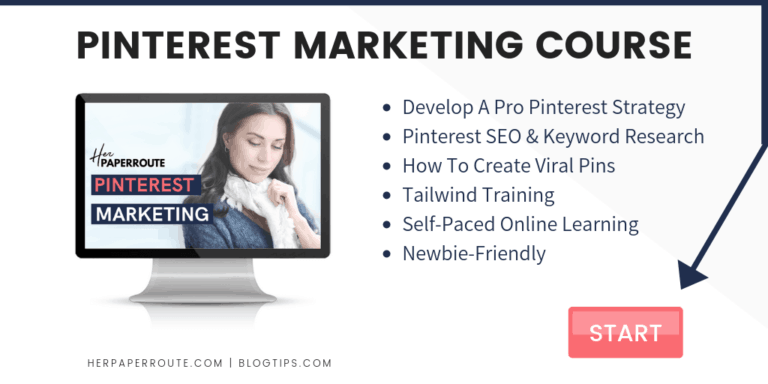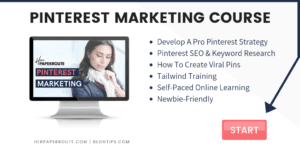 Final Thoughts on Canva vs PicMonkey
Both PicMonkey and Canva are incredible design programs that make creating graphics for your blog, website, and social media easy. It comes down to preference.
Do you want an easy drag and drop builder or one that uses layering? This factor has a huge impact on which tool works best for you.
PicMonkey seems to be lacking in a few areas like printing capabilities, fewer images, file sharing, and third-party integrations. It only supports mp4 files for videos. Plus, there is no free version of PicMonkey.
Canva offers more images, templates, and other design elements, and the free option makes it one of the most popular design tools out there. PicMonkey allows you to layer more elements, and many like its photo editor better.
Both platforms have excellent customer service and support, as well as the ability for teams to collaborate, which is very helpful. Another great perk is that they both have mobile apps, which means you can take them on the go.
Try Canva free and use PicMonkey's free trial to see which one you like the best. Whichever one you choose, you'll be able to create beautiful designs that people want to share and a business you can be proud of.
If you want to learn more about social media platforms like Pinterest and Instagram, I have some great resources to help you out! Successful online marketing is a combination of killer graphics and the right strategies.
Here's a list of courses and eBooks that can take you to the next level with your social media marketing:
Pinterest Ninja tricks
Pinterest Traffic Avalanche to get a million views from Pinterest to your site!
Facebook Ads for Bloggers
Best Collection of Pinterest Templates You Need
WHICH ONE DO YOU PREFER, CANVA OR PICMONKEY? Let me know in the comments below! 
Blog Posts Related to Canva vs PicMonkey
When you design graphics for your blog or website, you must consider important legal aspects such as copyright laws for images. Just make sure you always know the copyrights of any graphics and pictures you use. You may also want to read this article on what you can trademark in your business 
OR what to do when someone steals your content?
Are you blogging legally? Check out this legal tips page where I've put together helpful blog posts and videos for you on various legal and business topics!
Here are some more blog posts to help you grow and protect your online business legally: