Going through GDPR for bloggers is essential to protect your blog and comply with the law. There are different requirements you need to fulfill as a blogger to make sure your website is GDPR compliant.
If this all sounds scary to you, know that you have options to help you figure it all out. One of those options is this blog post where we will cover GDPR in detail and also walk you through the legal documents and templates you need.
Working with me (a lawyer and blogger) will make it easy to create any documents, forms, or opt-ins you need. You will also get the peace of mind knowing you have fulfilled every item on your checklist.
Becoming GDPR compliant can be as simple as checking the right boxes. 
Keep reading to find out exactly what GDPR is and how you can become compliant in simple steps. 
But first, let's begin with a quick overview of what GDPR for bloggers is.
What is GDPR?
GDPR stands for General Data Protection Regulation, and it sets legal guidelines for collecting and processing personal information of people within the European Union (EU).
The GDPR came into effect on May 25, 2018.
If you have traffic to your website from one of the EU countries, you need to ensure GDPR compliance.
You'll need to know what rules to follow, so you don't receive a big fine. There are serious fines for non-compliance up to EUR 20 million or 4% of your annual turnover (whichever is greater) and you can be sued as well.
Although most bloggers have heard about the GDPR, they don't fully understand it. It's a complex Regulation that's not easy to comprehend.
Keep in mind that the GDPR applies to you whether you are a small blogger making NO money or a big online entrepreneur making millions of dollars. You both need to follow the same legal requirements!
At a minimum, you will want to be sure you have a privacy policy like this and a blogger cookie notice in place for your European readers. To learn more, you can grab my FREE legal guide for bloggers that will list all the legal pages you need to make your blog GDPR compliant. 
Also, read this blog post where I go into detail about the 3 Legal Pages you must have on your website!
Who has to comply with the GDPR?
Some bloggers assume that the GDPR doesn't apply to them. That's not true.
So who has to comply with the GDPR?
It's not just the people in the EU but anyone that has visitors to their website from the EU is subject to the GDPR.
This means if you are in the US for example, and you have visitors or subscribers from the EU, you are now subject to the GDPR too. So GDPR has a broad scope and pretty much wherever you are in the world, your website will most likely have visitors from the EU.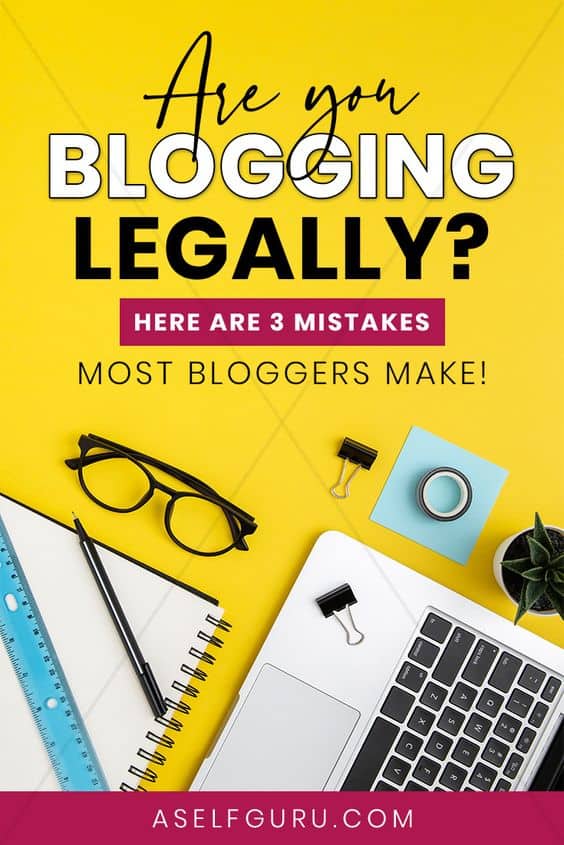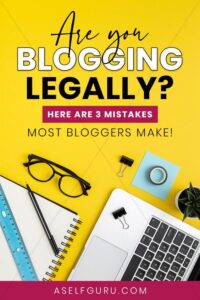 How to Make Your Blog GDPR Compliant
To make your blog GDPR compliant, you need to have legal documents and pages in place that your users can access easily. I go over all of them in this video.
Click the link below to watch (and don't forget to subscribe to my YT channel for more legal tips for your business!)
GDPR gives certain legal rights to EU visitors such as the right to obtain consent lawfully and you must disclose how you collect and store their data.
When you think about consent, think your email opt-in forms and about collecting and storing data, think about your Privacy Policy whether it's GDPR compliant or not? 
EU visitors have the legal right to lodge complaints against you with their supervisory authority and can even sue you!
In order to make your blog GDPR compliant, you'll need these 3 things in place:
A proper Privacy policy that outlines the rights offered to EU visitors

Cookie consent and policy

Your email opt-in forms with checkboxes
Get done with your Privacy Policy and Cookie Policy in less than 30 minutes with this legal bundle (written by a lawyer).
Though these official documents sound complicated, a lot of blogging tools today have what you need built-in. Other compliance steps are as simple as adding a cookie policy or privacy policy for bloggers based on a template that you enter your name and business information into.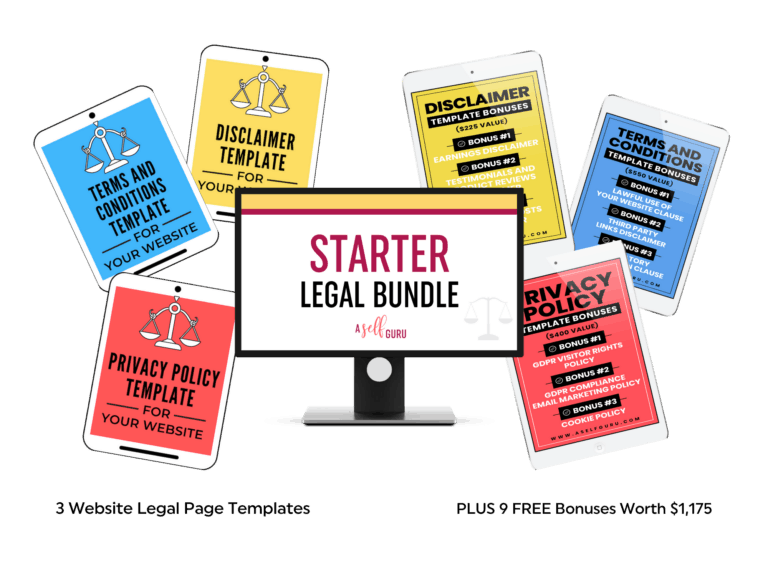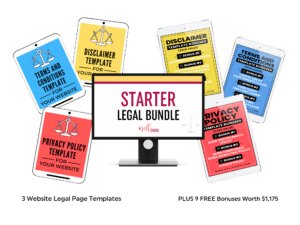 Be sure to grab the three main legal page templates you need to protect your blog. These legal templates are easy to use and come with insane bonuses.
Related Blog Post on Blogging Legally
Check out these 15 best tips from a lawyer to learn how to blog legally and avoid legal trouble! 
GDPR Compliant Privacy Policy for Bloggers
Even if you aren't in the EU, you will still need a privacy policy. 
A privacy policy is a legal requirement that should include your data processing practices. It should alert your users to the way you collect data, the reasons for it, and the types of data you collect. 
Creating a privacy policy might seem daunting because most bloggers aren't sure what data they collect. If you're like most bloggers, you set up apps like Google Analytics and don't know exactly what information they are getting from your site or your users.
Even if you have an idea if you're not a lawyer, you won't know how to word a privacy disclosure statement. 
You don't have to worry about choosing the right words for a privacy statement. Based on where you are and what apps you are using, you can find a template that will cover everything you need in a privacy policy.
The same goes for any other kind of legal documents you need on your website. The right template will help you navigate with ease.
Check out this list of 16 DIY legal templates most bloggers and entrepreneurs need to protect their online business legally!
Some documents won't be found as a page on your website because you'll use them as actual business contracts to protect your business from legal problems.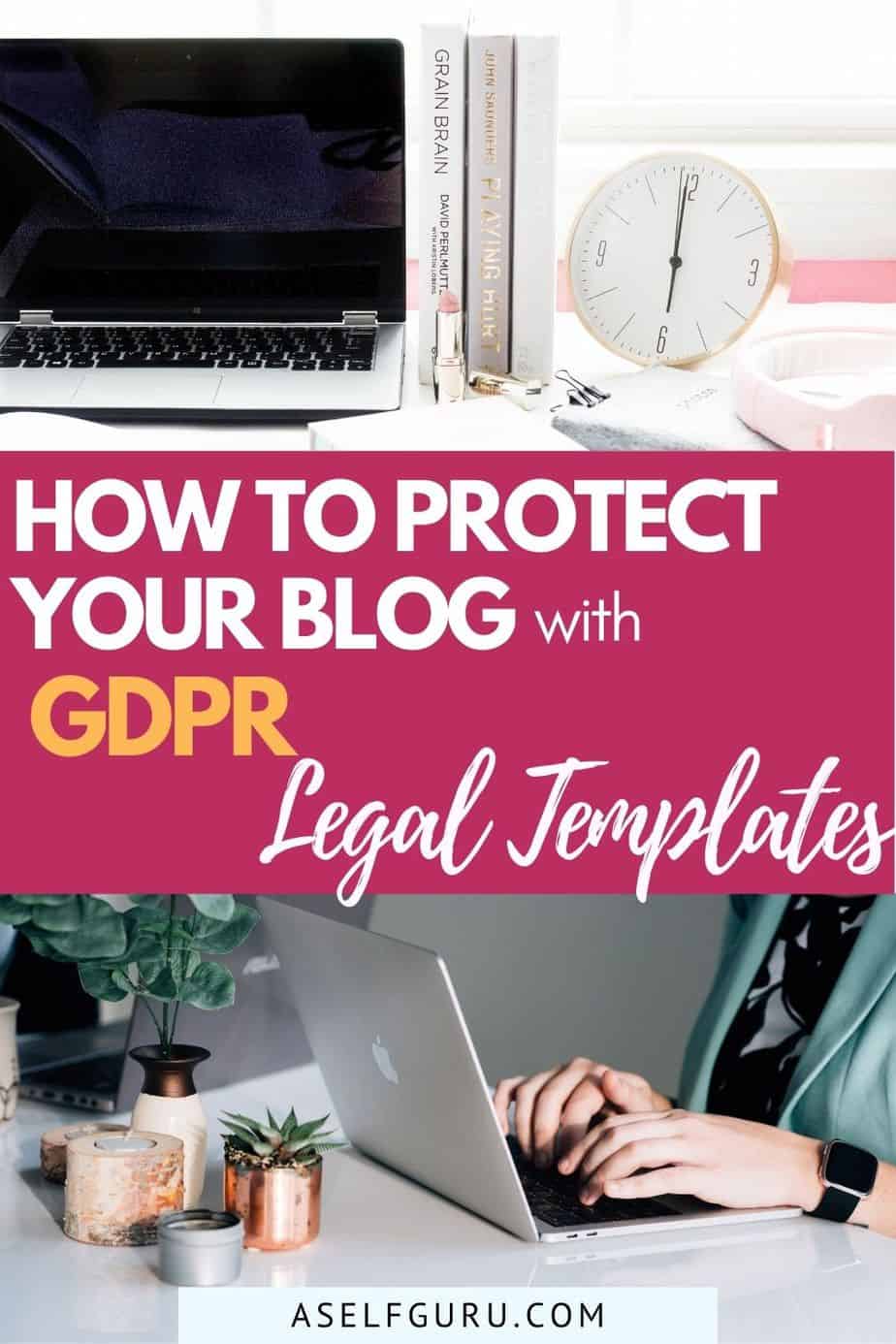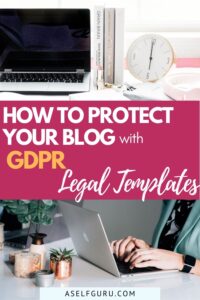 What is a GDPR Opt-in and Consent?
Another legal requirement under the GDPR is obtaining proper consent from EU visitors. Before they can become your subscribers, you will need consent to send them emails. 
That is where a GDPR email compliance comes in. It is the most critical step of GDPR for bloggers who have an email list. It's easy to break these rules, and you don't want your emails getting classified as spam.
A GDPR opt-in is a mechanism that allows your subscribers or readers to opt into your information. It can't be a pre-checked box. Readers must know exactly what they are subscribing to by checking a box stating that they agree or "opt-in."
GDPR requires that consent must be freely given, specific, informed, and unambiguous.
Some GDPR email opt-in examples are the pop-ups you see asking if you'd like to subscribe to an email list. You must choose yes and sometimes check more boxes to agree to receive additional information. 
Email subscription services give you the option to add double opt-ins. This means your email subscriber gets an email that asks for an action to show that they truly do opt into your newsletter or service.
Double opt-ins are not required but certainly, help to show evidence of consent received from your subscribers.
Email tools make it simple to be sure you are a GDPR complaint blogger.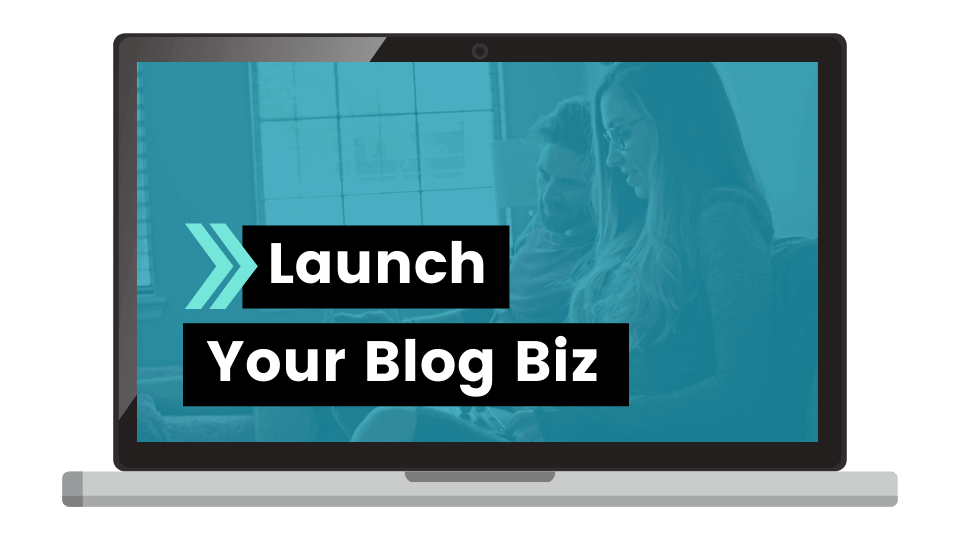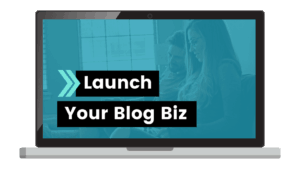 How to Make Your Email Opt-In Forms GDPR Compliant
A more sophisticated email marketing service provider that I use personally makes it even easier to meet this requirement by showing checkboxes only to your EU visitors to obtain consent.
This way, you don't have to worry about turning all your visitors off with this additional step, especially if your primary audience is in the US.
This makes GDPR compliance so much easier – see my example below: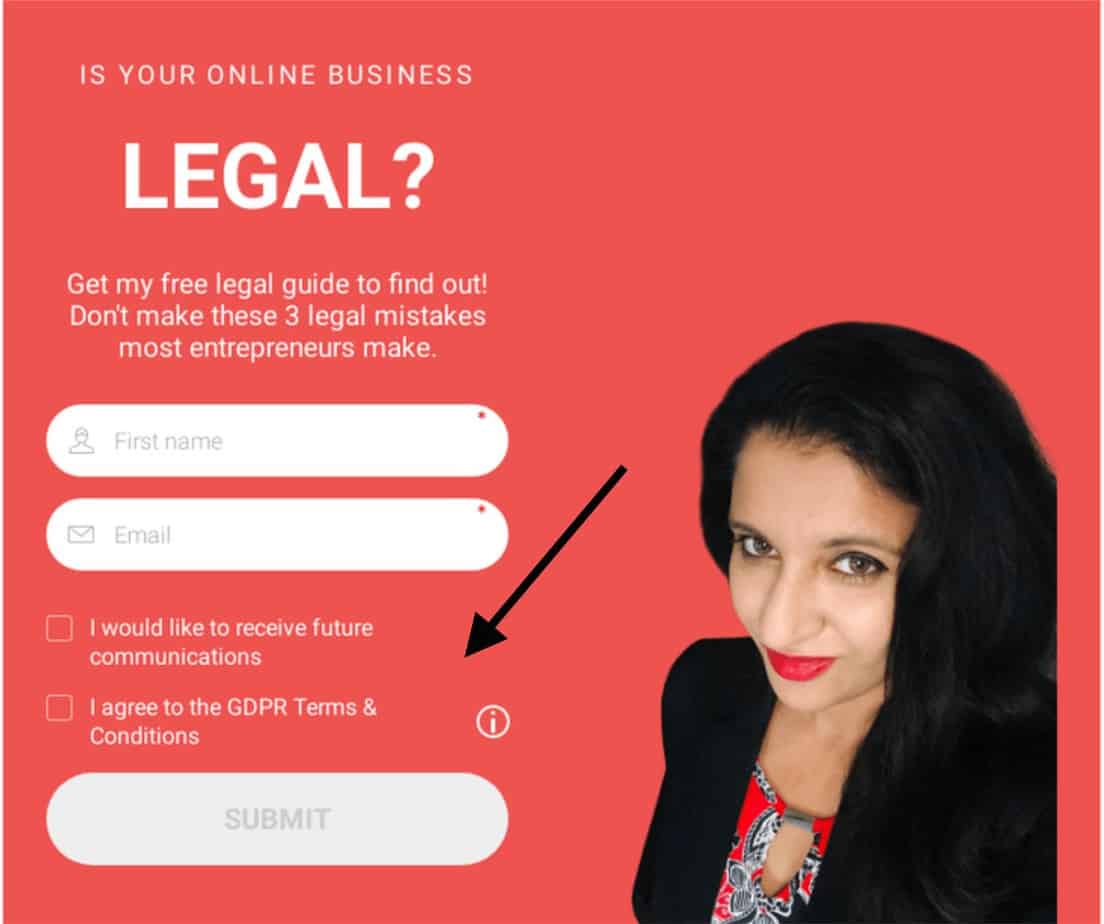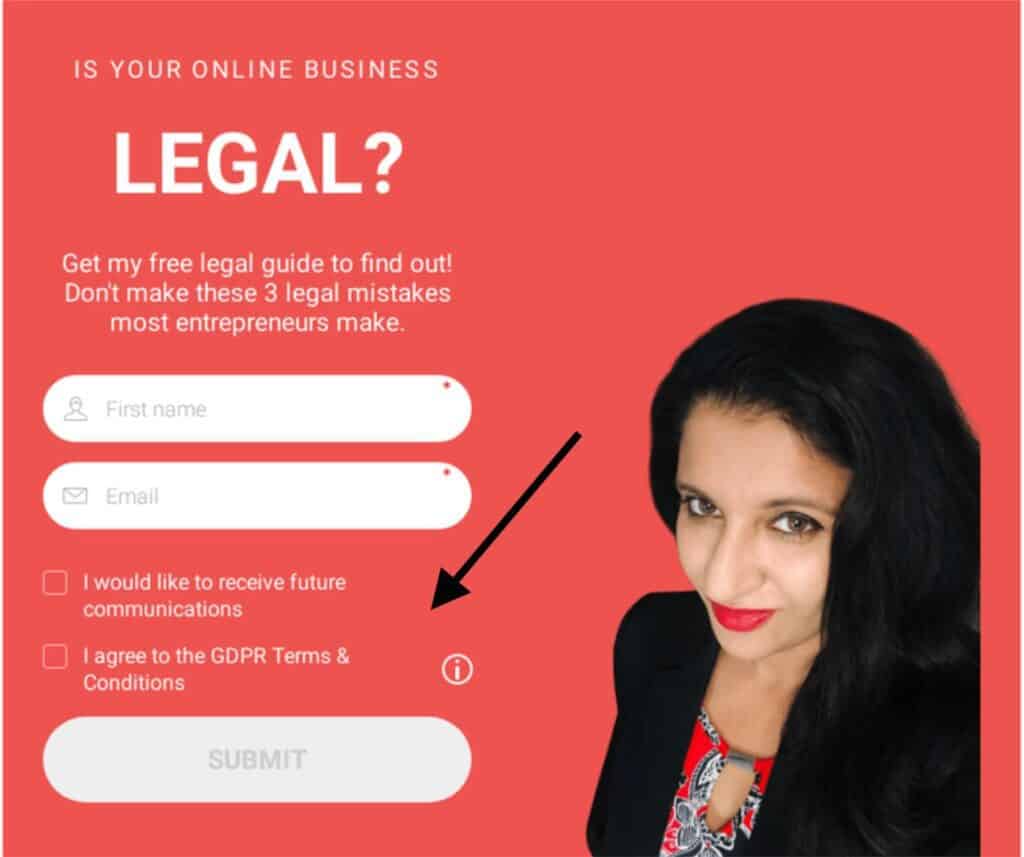 Notice that in my email opt-in form example above, consent is freely given – the EU subscriber can still receive my freebie but in order to receive future communications from me, they would need to affirmatively click the checkbox.
I kept the consent separate and didn't say, "by clicking here, you agree to our GDPR Terms and Conditions AND will receive future communications." This sort of language wouldn't be GDPR compliant because, in this example, the consent is not free and clear. 
If you go with this checkbox option to make your email opt-in forms GDPR compliant, you'd need to include GDPR Terms and Conditions, which includes your Privacy Policy as well.  So if you don't have any of these legal documents, make sure to grab this discounted legal bundle!
I've had the honor of helping over 10,000 bloggers comply with the GDPR by using my legal templates. Check out 100's of 5-star reviews of my templates here on my Facebook page. 
Watch this video to see why entrepreneurs LOVE these EASY, QUICK and AFFORDABLE legal templates!
GDPR Compliance Checklist for Bloggers
The best way to be sure you are compliant is to get a checklist covering everything you need. Even if you reach out for legal advice or tips, you will still want to make sure you've got everything on your list covered. 
A GDPR compliance checklist for bloggers will be a cheat sheet to follow to help you make sure you have done everything right. You can follow a GDPR compliance checklist online on gdpr.eu.
The checklist includes four major categories:
Lawful basis and transparency

Data Security

Accountability and Governance

Privacy Rights defined in your Privacy Policy
In each category is an explanation of what you need for your readers and why. Not only will you get a checklist to follow, but a good understanding of why GDPR compliance is essential. 
If this is too detailed or hard to follow, try a plugin on your WordPress site called WP GDPR Fix. It shows you right on your website if your blog is compliant.
When you have what you need on your site, for example, cookie consent, it will add a checkmark. The app also allows you to add default text to notices, show cookie consent only to EU visitors, and refuse EU traffic.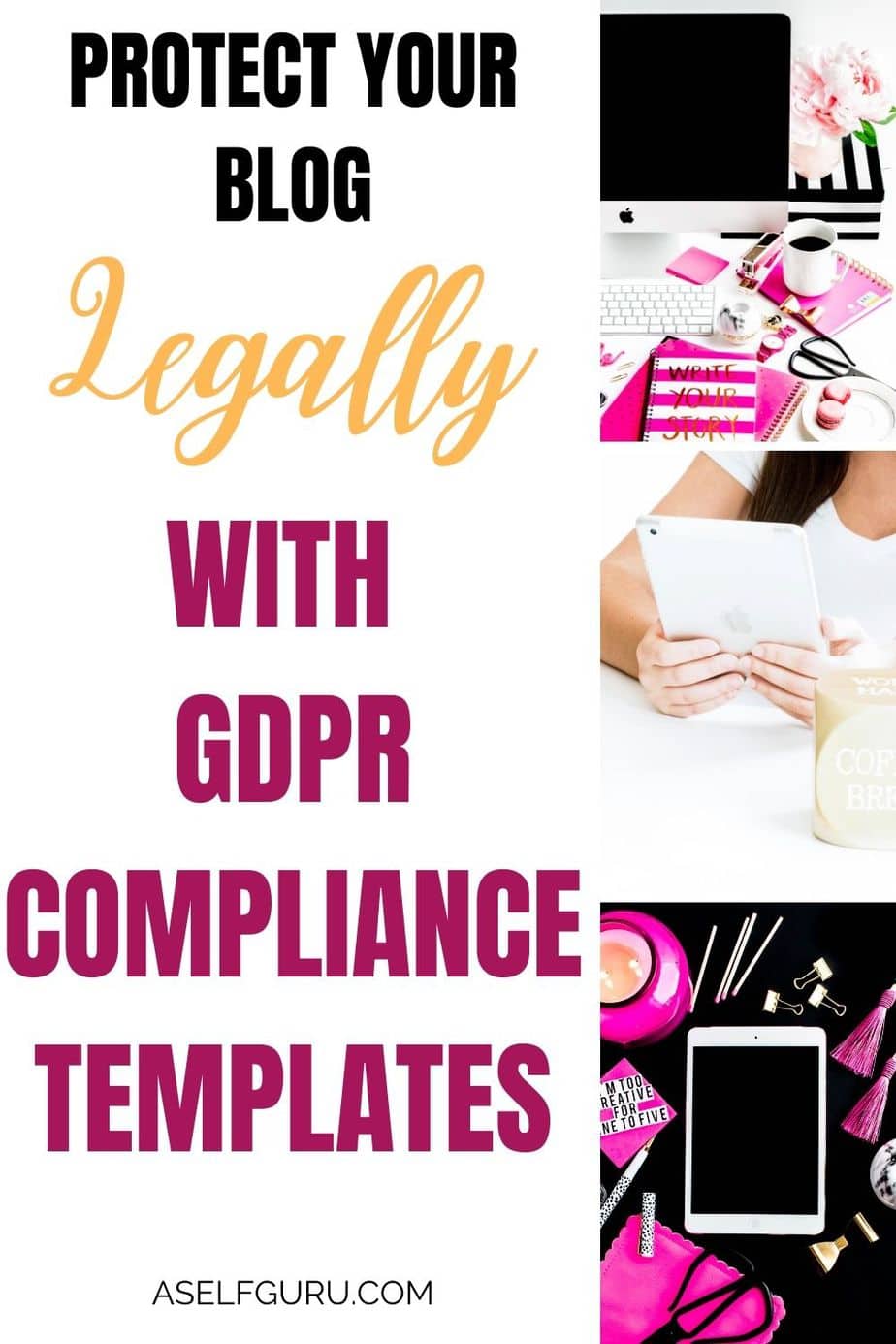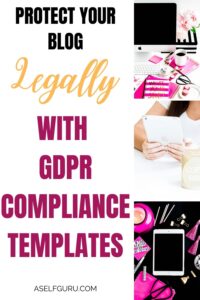 GDPR Principles
The GDPR rules were made to achieve certain principles to protect people on the web. It's about being lawful, fair, and transparent. You'll benefit from following the rules in more ways than one.
GDPR compliance is important to follow if you don't want fines, and you want an easy user experience. Even if you don't operate in the EU, you'll still need legal templates like Privacy Policy and Cookie Policy to ensure GDPR compliance.
As a recap, make sure you have:
a GDPR compliant Privacy Policy like this
Cookie Policy (which is included for FREE as a bonus in my Privacy Policy template)
Email compliance (your email opt-in forms are GDPR compliant and that's easy to achieve with any email marketing service you use)
GDPR for bloggers doesn't have to be scary. Luckily today, it's easy to find help from a trusted lawyer and use checklists from apps right on your blog.
If you want to become a six-figure blogger and be your own blog boss the right way, make your blog GDPR compliant today, no matter where you operate! 
RELATED POSTS TO GDPR for Bloggers
You may be wondering what other legal documents or contracts do I need to run my online business legally?
Visit this page on my site for all kinds of legal tips for entrepreneurs. In addition to GDPR for bloggers, I also created this helpful video for you below where you can learn how to avoid 13 other costly legal mistakes in your business! (don't forget to subscribe to my YouTube channel). 
Here are the most popular blog posts to help you! Check them out below:
For more blogging, legal, and business tips, make sure to join our FREE Facebook support group here!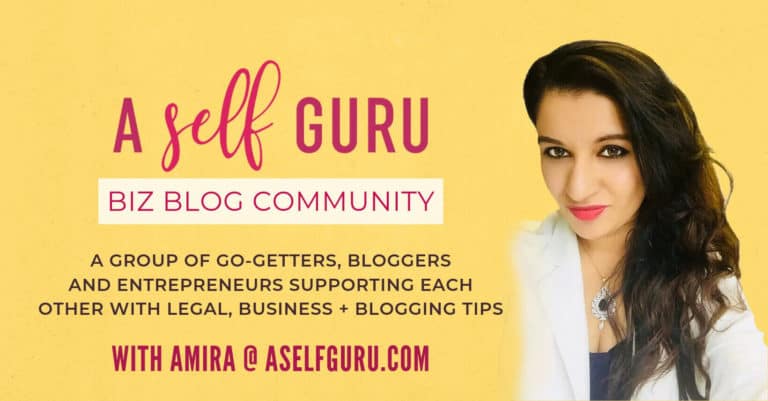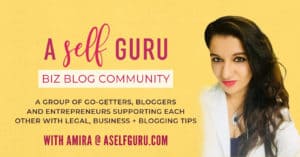 Comment below if this post helped you as a blogger? Do you have a proper GDPR compliant Privacy Policy on your website?