Are you looking for contracts for creatives?
Whether you are a freelancer or have your own business, having the right contracts in place is essential to ensure that you and your creative businesses are legally protected.
So in this post, you will learn the 13 best contracts for creatives and how to put together your own contract with these legal contract templates easily and quickly.
Why Contracts Are Important for Creatives
First, as a contract attorney myself, I want to emphasize the fact that contracts provide a solid foundation for both parties in a business relationship.
And having clear terms and conditions allows you to set expectations and protect yourself from potential problems that may arise during the course of the project or afterward.
I know this firsthand because before I became a business lawyer, I watched my own dad's business get sued for $90,000 for failing to use a written contract with one of his service providers. You can read my story here.
That's why I'm so passionate about helping small business owners and freelancers protect themselves with the right contracts.
To help you get started, I have compiled a list of 13 best contracts that are essential for creative professionals such as photographers, videographers, bloggers, graphic designers, web designers, writers and more.
We will also discuss some of the most important clauses your legal contracts should include for complete peace of mind.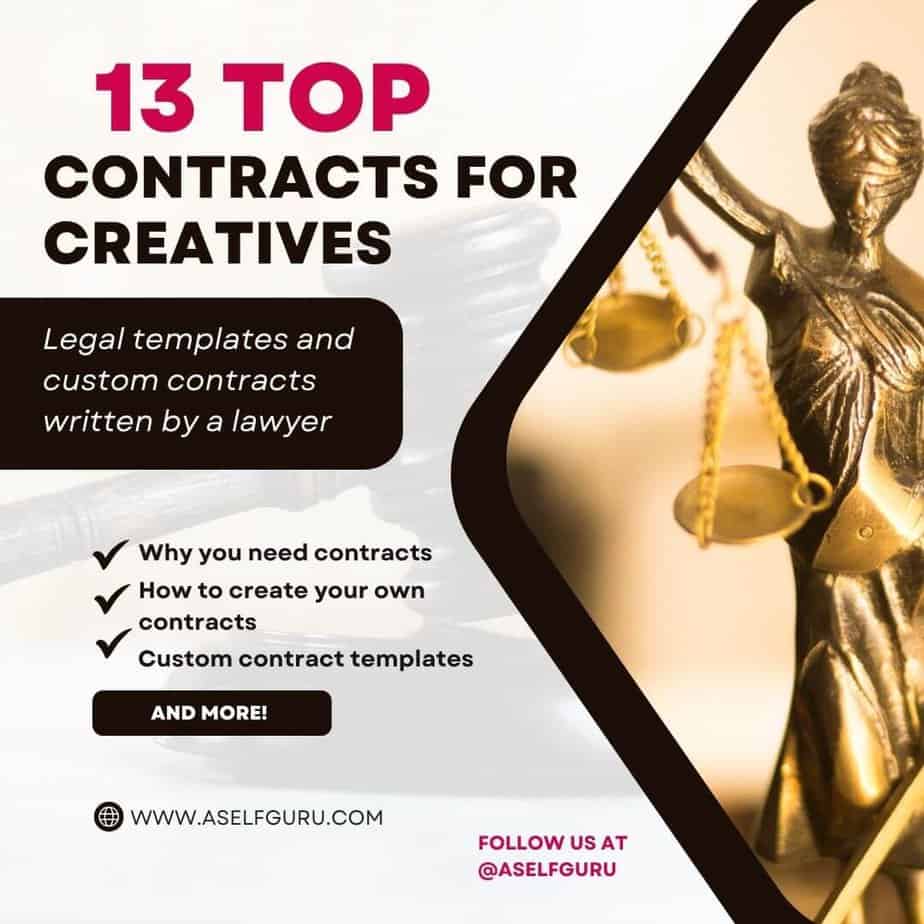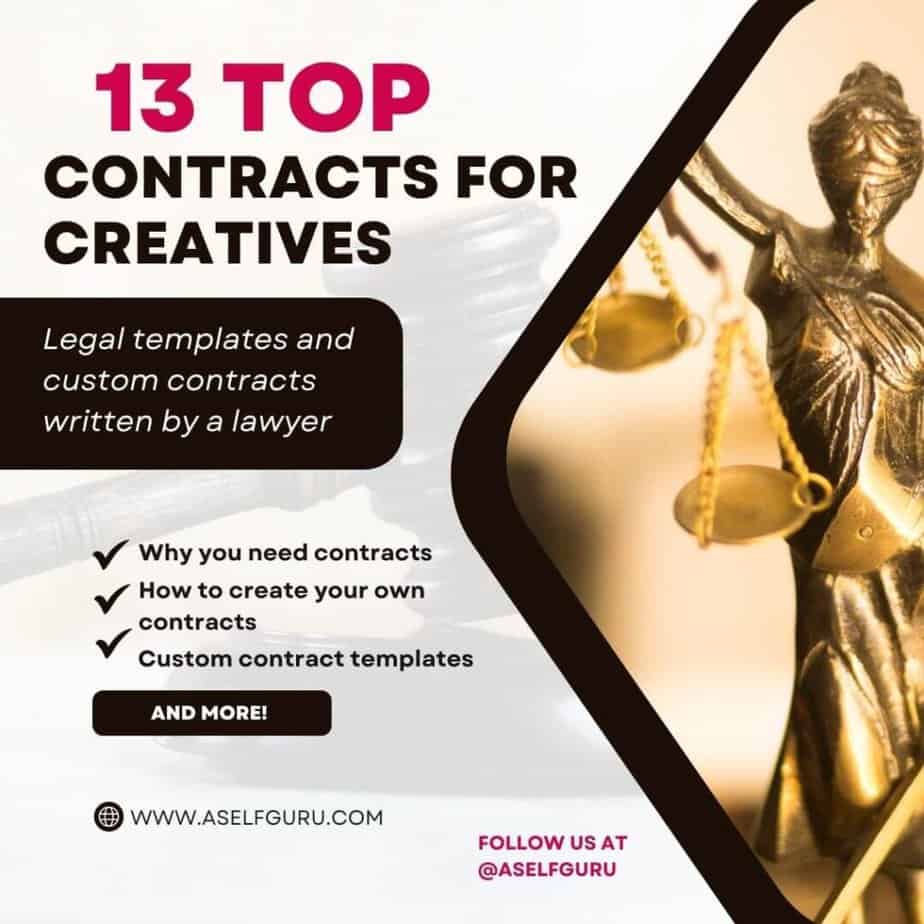 13 Best Contracts for Creatives to Protect Themselves
When it comes to creative contracts, you will need some if not all of these contracts as a small business owner:
1. Independent Contractor Agreement (Aka Freelance Contract or Work-for-Hire Agreement)
Whether you hire a graphic designer, independent artist or perhaps you want to offer your own freelance services to clients, in both situations, you will need an Independent Contractor Agreement to outline the business relationship and avoid any legal issues.
This legal contract is also known as a Freelance Contract.
It is a written agreement that outlines the scope of the services to be provided, as well as terms such as payment information, confidentiality, scope of work and other important details about the project.
This is the same contract template my dad wished he had while working with the independent contractor he had hired, who ended up suing him and his business for $90,000.
So if you are thinking of hiring contractors in your creative business or want to offer your own freelance services such as VA, graphic design, writing, and so forth then you will definitely need this solid contract template that includes all the essential legal terms you need to protect yourself.
I also have a freelance legal bundle of templates and some incredible bonuses that you should check out here.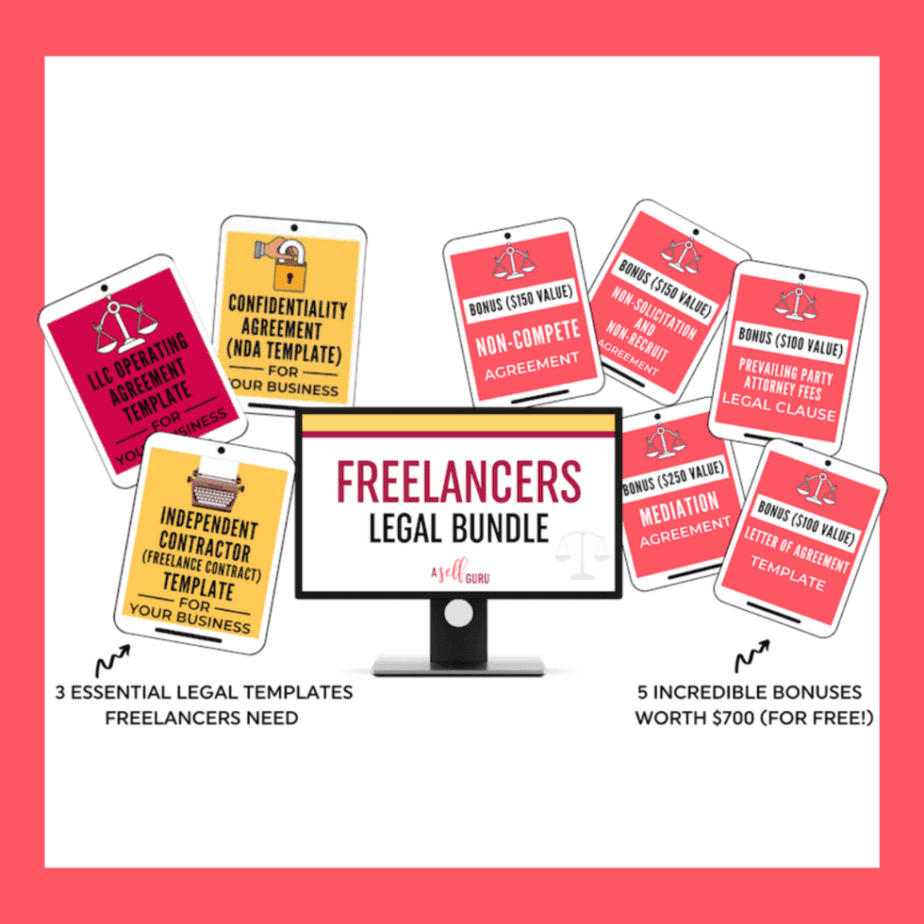 Trust me, it's the best investment for your business in the long run because you can use these templates over and over again for all your future creative entrepreneurship projects.
Plus, you get free access to me in my Facebook group here where you can ask your legal questions and get more help.
Watch this video where I explain this Independent Contractor Agreement template in more detail and click here to grab this template.
And you can use this awesome tool to boost your sales page conversions! 
2. Work-for-Hire Agreement
As a creative business owner, you might work with independent contractors to develop software, design logos, or write content for your company.
An agreement defining the terms of a contract between a business owner and an independent contractor is known as a work-for-hire agreement. This agreement specifies the amount to be paid, the due dates, and who owns the finished product.
This is the same as the Independent Contractor Agreement template here. Just different names referring to the same legal contract.
A contract for work-for-hire assures that you hold all intellectual property rights to the work produced by the contractor and bars them from claiming ownership or royalties.
This safeguards your commercial interests and makes sure that you have complete control over how the work result is used and distributed.
–Paul Somerville, Editor-in-Chief, Electric Scooter Guide
3. Custom Contract (by a Lawyer)
While legal templates are awesome, every once in a while, you will need a custom legal contract drafted that's tailored to the specific needs of your business.
In a custom contract, you can be more creative and list your particular terms such as fees, specific conditions, individual rights, late payments, choice of law, and other specifics that both parties agreed upon.
As a licensed attorney, I'm often approached by independent creatives and business owners to custom write contracts for them. You can see a list of those creative contracts and book that service here.
For example, I recently wrote a contract for Carly, who is working with a company that is paying her to advertise on her Facebook page, but there were specific conditions that Cary wanted to outline in the agreement to make sure both parties were on the same page.
So we were able to do that and below is what she had to say about this service.


Another example, meet my customer Amber who purchased my VIP legal bundle of templates but also needed two custom contracts – a Licensing Agreement to license her software and a Waiver and Release of Liability agreement to limit her legal liability for her online course where she teaches yoga and fitness to her students.
In both of these situations, the contracts had to be tailored to Amber's creative businesses to make sure her interests were fully protected.
See how great Amber felt after booking a custom contract drafting service with me.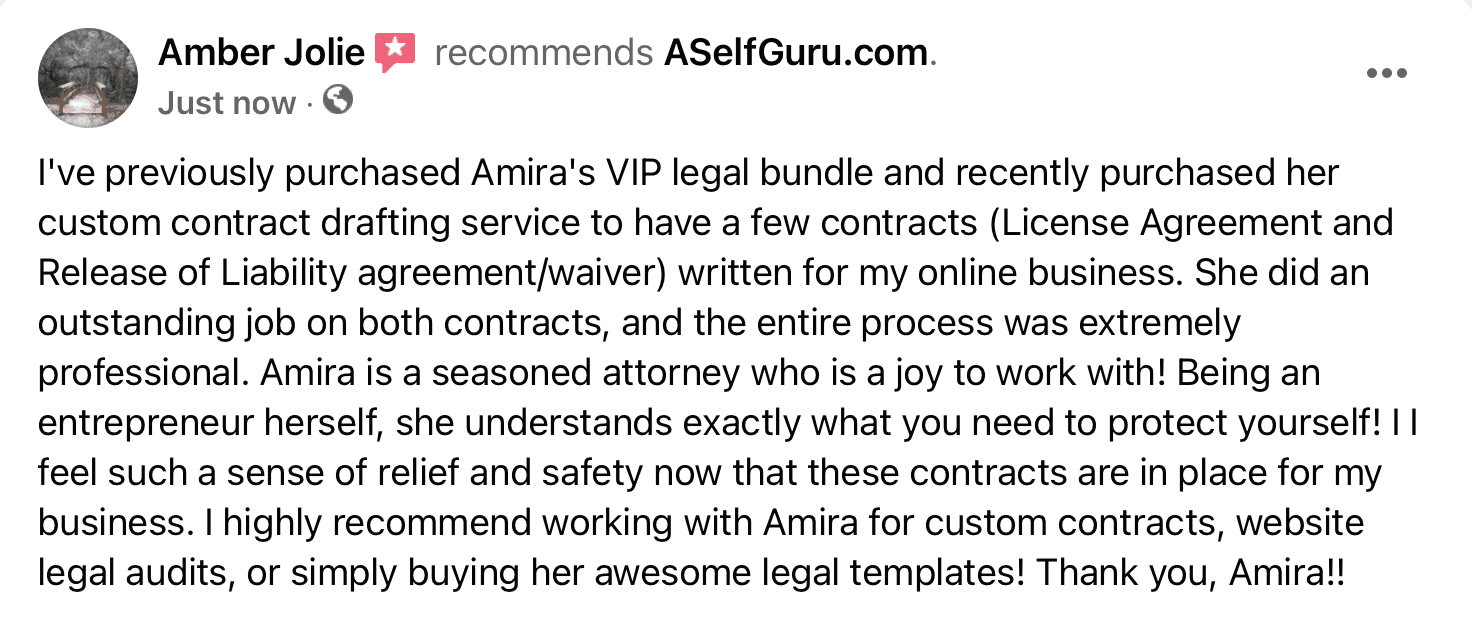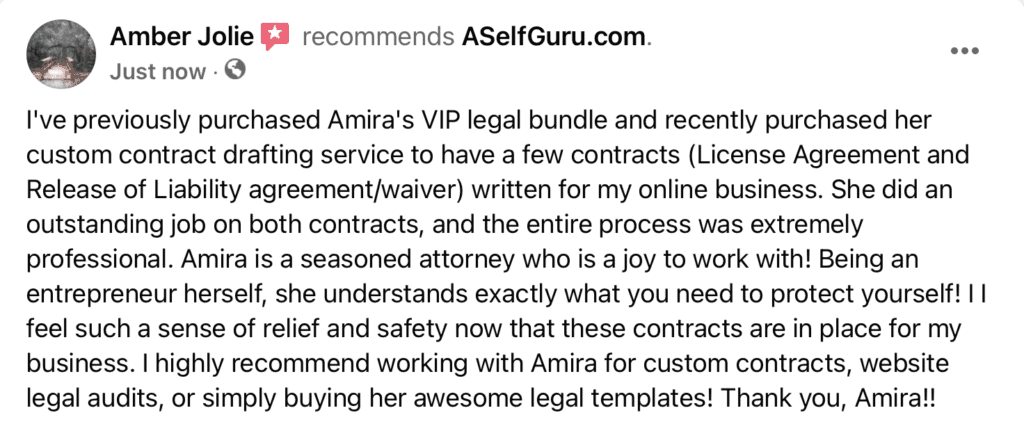 So if you can relate and need legal help, make sure to book this service.
Maybe you have a contract you need reviewed instead or simply need a website legal audit or your questions answered, I'd be happy to help you!
This is the best way to ensure that your contract is legally binding and protects you in case of any legal issues.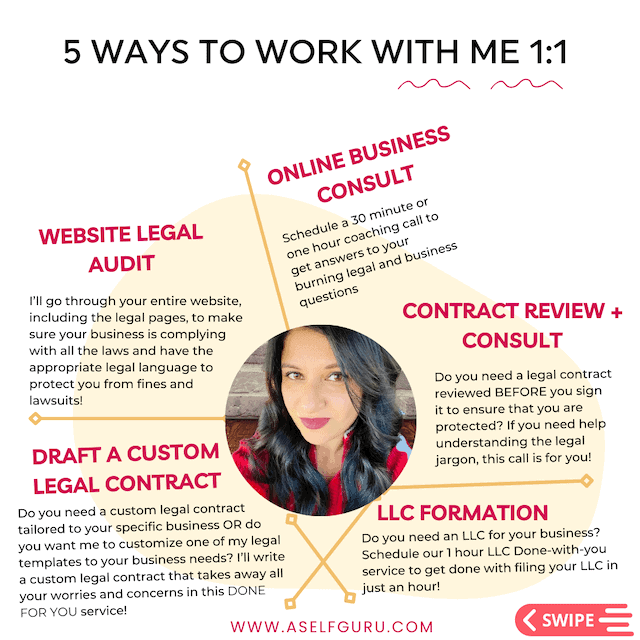 4. Licensing Agreement
A license agreement grants one party access to use your intellectual property, but keep in mind that this contract has its own limitations.
Successful creative entrepreneur Cameron Adams, co-founder of Canva, for instance, uses licensing agreements to create brand extensions. If you are in the fashion industry, you can also prepare an extended licensing agreement to expand your product distribution.
The agreement serves as proof that both parties agree to fulfill the conditions stipulated in the contract.
–Becky Moore, Founder, Global Grasshopper
A license agreement grants permission for someone else to use your intellectual property in some way. This could include allowing them to use your work commercially or for private use.
License Agreement Template
Protect your intellectual property with this license agreement template (written by a lawyer).
​Let's say, you have a digital product or software for which you need to define your license terms, such as how others can use your free or paid product (SVG files, printable, software, etc) then this is the License Agreement template you'll need.
This license agreement template can be used to license any kind of intellectual property and outlines the terms of its use.
You can even use this agreement with another person/company to resell your products in exchange for a license fee to you OR maybe you want to get legal rights to resell their products instead. Both the licensor and licensee can use this template.
This license agreement template will help avoid disputes and ensure that your products are being used the way you intended them to be. It's an essential tool for any business that wants to protect its valuable intellectual property.
As an added BONUS, you also get a shorter version of the License Agreement (your License terms for website) that you can easily post on your website and that governs the rules associated with your digital downloads for personal and commercial use.
You use this template with anyone who makes a purchase from you or simply downloads your digital product. ($150 Value)
Click here to download this license agreement template today!
5. Social Media Policy and Disclaimers
Social media plays an ever-growing role in business marketing strategies, and having these contracts in place allows you the ability to protect your own interests.
Without a Social Media Policy and Disclaimers, one has no legal recourse against accusations or claims someone may make about them on platforms such as blogs or YouTube.
These contracts also need to be regularly updated in order to keep up with fast-paced changes within the industry; this level of protection ensures small businesses are not taken advantage of or wronged by potential clients.
-Johar Inam, Project Manager, Solar Panel Installation
Grab our Disclaimer template in any of our legal bundles here to get the social media policy and disclaimers you need to limit your legal liability and prevent lawsuits.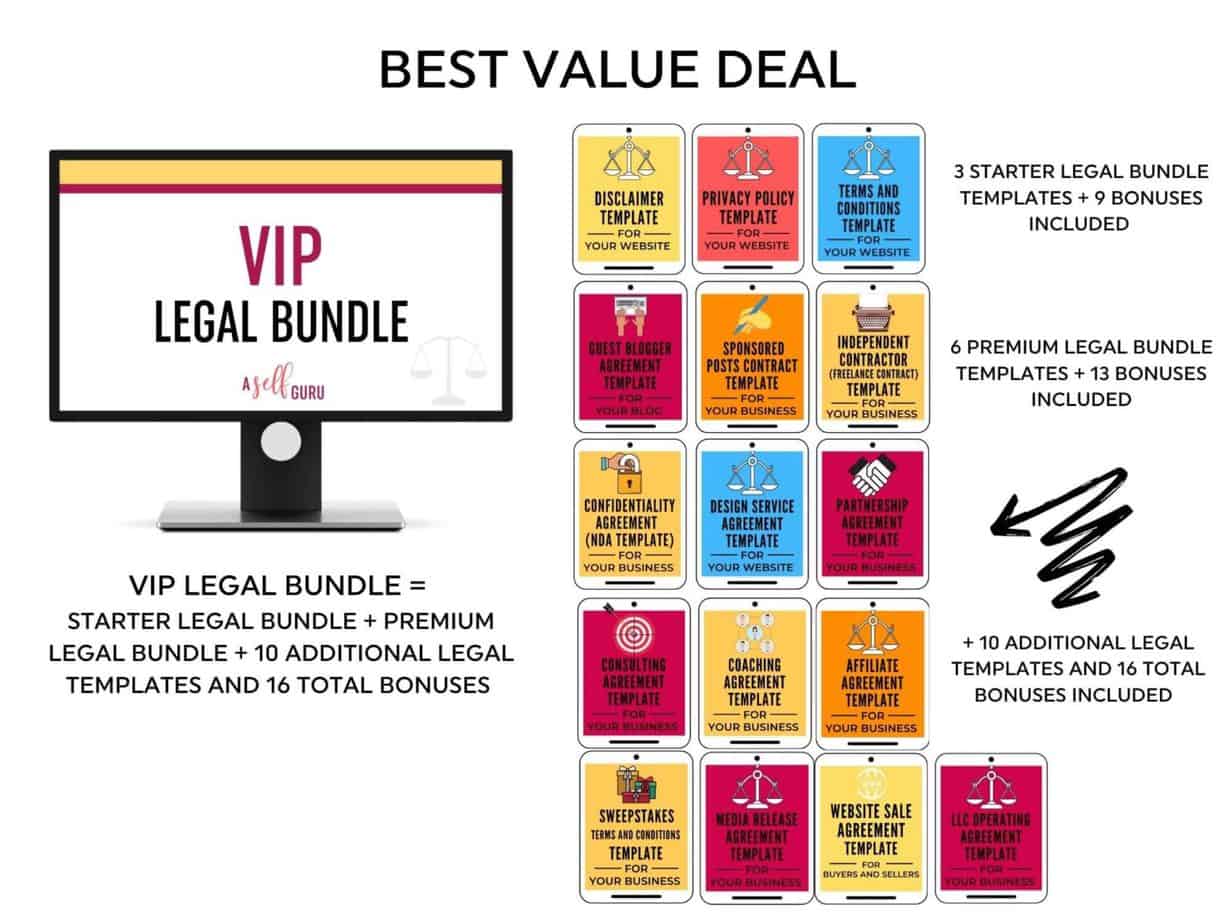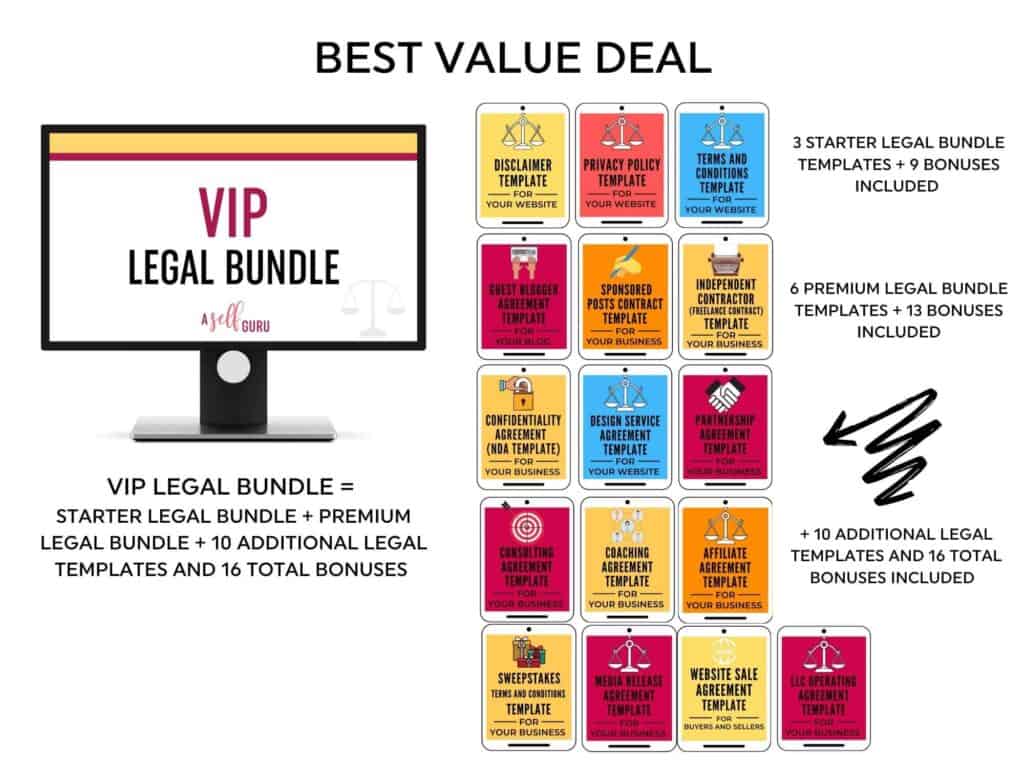 6. A Website Terms of Service (aka Terms and Conditions)
You need a Website Terms of Service (also known as Terms and Conditions) as a creative entrepreneur.
While you aren't legally required to have one, it's an additional layer of security and protection for your intellectual property when users visit your site.
It provides the necessary legal disclaimers when someone sues you for the information you provide on your website.
Like any online business, a great Website Terms of Service protects you as a creative business. There are templates and resources you can use online to create one.
-Grant Polachek, Head of Branding, Squadhelp
You can grab our Terms and Conditions template here that gives you everything you need to protect your website and online business.
You can buy this template individually or grab it as part of our discounted legal bundles here, which saves you so much money and time!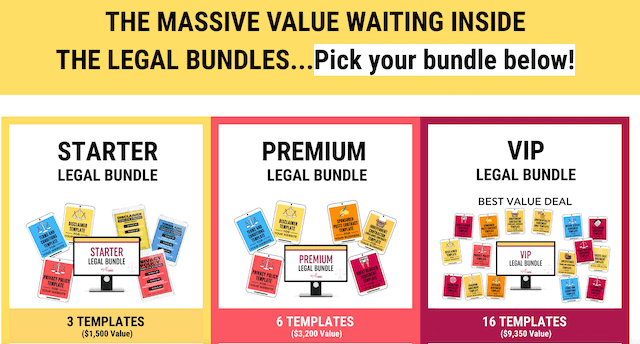 7. Privacy Policy
Talking about legal documents and website compliance, you also need to make sure you have a proper Privacy Policy posted on your website.
At the bare minimum, you need these three legal documents on your website:
-A Privacy policy because it's legally required. It outlines how your business collects, stores and uses personal information and data.
-Terms of Service which is a contract between you and your customers and website visitors.
-A Disclaimer to help limit your legal liability for the content you share and publish online.
You can find more information on website compliance here.
So make sure that you have these documents in place if you are running an online business.
I know all this legal stuff can be confusing and complicated, so to make things super easy, I have put together these legal bundle of templates you can instantly download to protect your business in just 15 minutes.
Here's a helpful video on the things you need to make your website legal. Please subscribe to my YouTube channel to learn more!
I have helped over 50,000 entrepreneurs in the creative industry protect their businesses with my legal templates.
Check out all the 5-star reviews and testimonials here.
8. Creative Collaboration Agreement
One contract that a creative entrepreneur may need is a Creative Collaboration Agreement.
Because collaborative projects often involve a significant amount of time, effort, and resources, a clear agreement can help ensure that everyone involved is on the same page.
For example, two software engineers decide to work together on a project for a client. The agreement would say how big the project is, what each engineer's job is, and how any profits or credit will be shared.
Without clear goals and rules, disagreements can happen during a project, which could hurt the quality of the end result or even lead to a legal battle.
This kind of contract can also help creative professionals build trust and strong relationships with each other, which can lead to future business opportunities and chances to work together.
-Pete Evering, Business Development Manager, Utopia Management
9. Sponsorship Agreement
Talking about collaborations, another important contract creative business owners often need is a Sponsorship Agreement.
A sponsorship agreement is used when a company sponsors your work and agrees to provide financial support in exchange for access to the work or its promotion.
This is a written agreement between an individual or business and a sponsor.
It outlines the terms of the relationship including the rights and obligations of both parties.
This document should also include details such as payment schedules, branding requirements, promotional objectives, competition rules (if any) and other relevant information.

For example, a brand might pay you to post on Instagram and share their product or service.
In that case, you would use this Sponsorship agreement to make sure you and the brand are on the same page as to the scope of work, payment schedule, and other important terms you both agreed upon.
You can grab this contract template at a much discounted price in my VIP legal bundle here.
10. LLC Operating Agreement
It's best practice for creative entrepreneurs to form an LLC as a shield of protection for their business.
Forming an LLC includes creating a legal document called an Operating Agreement.
You need an Operating Agreement for LLCs because it outlines the rules, regulations and operations of your business, including ownership structure, rights and responsibilities of members and how profits and losses are distributed among members.
​If you need help forming an LLC for your small business, book a call with me here and grab this LLC Operating Agreement template here.
11. Confidentiality Agreement (aka Non-disclosure agreement or NDA)
If you're dealing with sensitive information or confidential data, it's important to protect yourself with a Confidentiality Agreement or Non-Disclosure Agreement (NDA).
This agreement outlines the terms of the relationship between two parties (you and your client), including what information is subject to confidentiality and any restrictions on how that information can be used.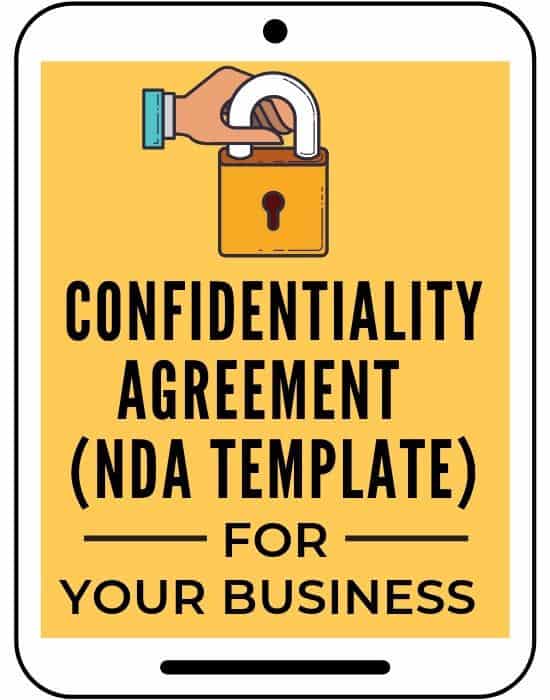 It also includes liability for breach of contract such as monetary compensation if either party fails to keep the information confidential.
This type of agreement is used to protect confidential information you exchange with someone else.
It prohibits the other party from disclosing any sensitive information about your business to a third party such as their competitors or other entities, without your permission.
More importantly, if you have trade secrets or confidential information about your business then you don't want disclosed to competitors, you would also need this agreement template in place.
With the increasing frequency of ideas getting stolen, it's important to protect your creative work, thoughts, and confidential information with a Non-Disclosure Agreement (NDA).
If you don't have a proper NDA then it's time to download this must-have template as part of our VIP legal bundle.
12. Partnership Agreement
 A partnership agreement is used when two people decide to enter into a business relationship and form a new company.
This contract outlines the roles, responsibilities, and ownership rights of each partner.
If you are going into business with someone else (whether a friend or family member), make sure to grab this Partnership agreement template and have it in place to prevent any legal issues.
You'd be surprised to know many lucrative partnerships fail in the end and result in costly legal cases because they never had this document in place. Don't let that happen to you!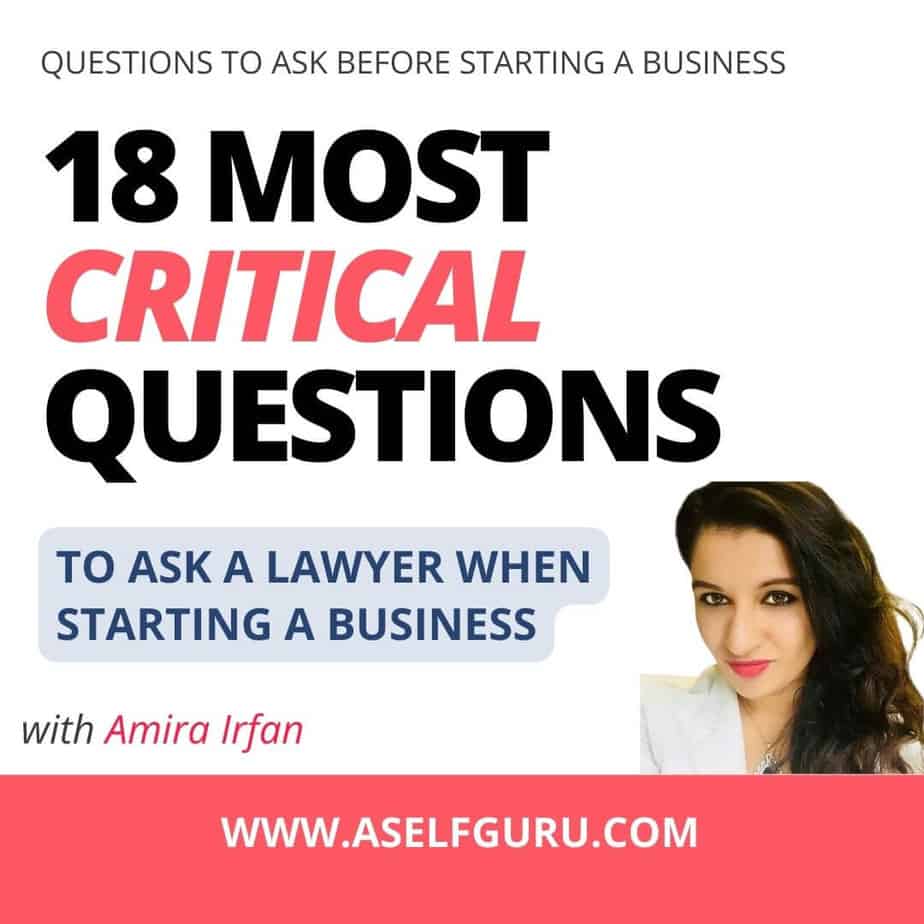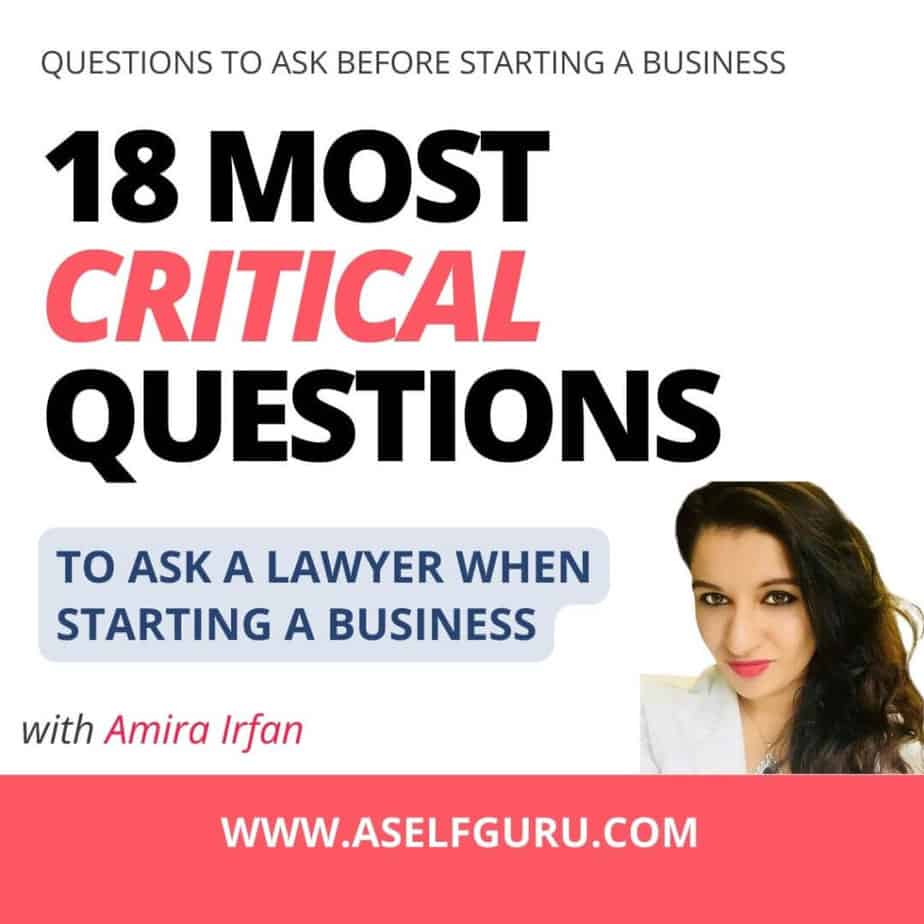 13. Affiliate Agreement
As a solo entrepreneur, affiliate marketing may be a great way to make additional income.
An affiliate agreement is a contract between you and your affiliates (other creatives), outlining the rules of the relationship.
This legal contract should include details such as payment terms, duties of both parties, commission structure and other relevant information.
Make sure to use this affiliate agreement if you have a product or service that others are promoting for you.
And you can also get this template as part of our best-selling VIP legal bundle (a no-brainer deal!)
Key Elements of Contracts for Creatives
Now you know about the important contracts for creatives.
But when it comes to a properly written contract, there are a few key elements it should include.
That's why it's best to grab a template written by a lawyer or hire a lawyer to custom write the contract as per your terms and conditions.
Here are some of the important things to include in your contracts for creatives:
Scope of work
Scope of work is a critical component that outlines the specific tasks or deliverables that are expected from both parties.
It helps avoid conflicts relating to the work being performed and ensures that both parties are clear on what to be expected.
Payment Terms
Payment terms should be explicitly defined in the client agreement to avoid payment conflicts or misunderstandings.
For example, payment structure, payment schedule, payment methods, and any other payment-related information should all be included.
It should be made clear whether the payment is fixed or hourly, and whether a deposit or retainer fee is required.
Payment terms should also include information on what happens if a payment is late or not made at all. This may include additional fees or penalties for late payment, as well as the right to cancel the project if payment is not received.
-Cindi Keller, Communications Coordinator, The Criminal Defense Firm
Payment terms are also essential, as they define the amount and timing of payments that will be made. Deadlines are another crucial element, as they establish the timeline for completing the work and delivering the final product.
Late Payment fee clause
​One of the elements of a good contract is including a late payment fee clause or defining clearly the consequences of a late payment. What if there's a breach of contract?
In such cases, you should have a written agreement that outlines the procedure for handling late payments – this could include charging interest or any other reasonable consequence.
This clause will help protect your business from any potential financial losses due to delayed payments.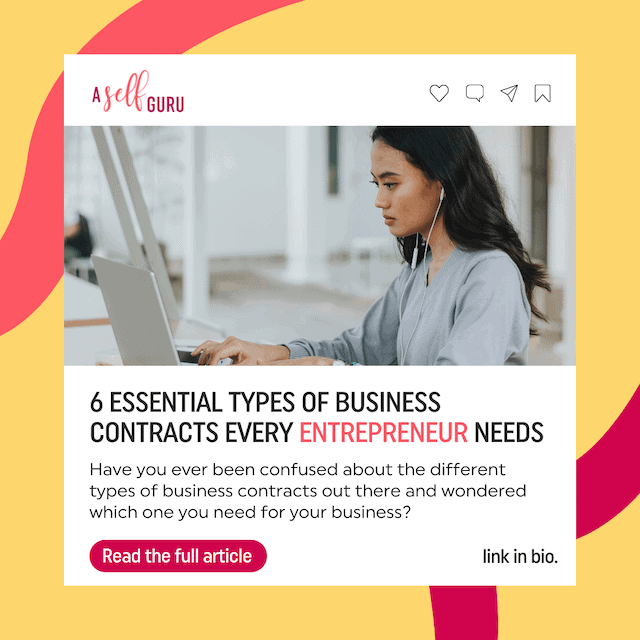 Dispute Resolution
In my opinion, the dispute resolution portion of the agreement should define the method for addressing any disagreements that may develop between the parties.
Mediation, arbitration, or litigation are all possibilities.
It is critical to establish a clear framework for conflict resolution in order to avoid legal challenges and the accompanying expenses and delays.
The agreement should also mention which state laws will govern the transaction and any potential conflicts.
Overall, I feel that a well-written client agreement can help to protect a creative entrepreneur's business, prevent disagreements, and ensure that projects are effectively finished.
It is critical to thoroughly comprehend each component of the agreement and to consult with a legal practitioner to verify that it meets all legal standards and protects the business's interests.
-Tim Allen, Director, Oberheiden P.C.
Communication
The agreement's communication and collaboration section should detail how the parties will communicate with one another during the project.
This may include the preferred form of communication, such as email or phone, as well as the frequency with which communication will occur.
It is also critical to create clear guidelines for the parties' participation.
This could include how input will be supplied and how project modifications will be conveyed. I believe that by setting clear communication and collaboration norms, the project can be kept on track and both parties satisfied with the result.
-Gerrid Smith, Chief Marketing Officer, Joy Organics
Ownership of Intellectual Property
Do you want to retain intellectual property rights over your creative work?
If so, you'd better document your role and rights to the creative work in a signed agreement. Otherwise, your creative work may be owned entirely by the customer as a "work made for hire."
In some creative fields, retaining ownership is critical for business growth and the continual improvement of work products. A creative entrepreneur should understand their rights and protect them when necessary and appropriate.
–Derek Colvin, Attorney, Waldrop & Colvin
Ownership of intellectual property is a critical consideration because it determines WHO has the rights to any intellectual property that is created during the course of the project.
As lawyer, we often see lawsuits arising over this issue so make sure your contract clearly defines who will be the owner of the work being created.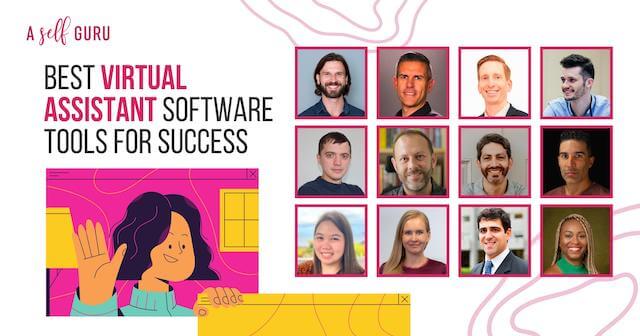 Confidentiality provisions
Confidentiality is another important element, as it ensures that sensitive information is kept private and not shared with unauthorized parties.
You can use a separate confidentiality agreement for added security or add some of the important provisions in your existing contract.
Termination clause
Obviously, you will need a termination clause to outline the circumstances under which the contract can be terminated and the consequences of doing so.
This is another important part of any contracts for creatives.
Force Majeure clause
This is an important clause that is often included in a contract, which allows either party to be excused from performing certain obligations due to circumstances outside of their control.
For example, if there was an extreme weather event or a pandemic that made it impossible for you to complete your contractual obligations, this clause could be invoked and the terms of the contract adjusted accordingly.
These are just a few of the key elements that should be included in any contract, but there are many others depending on the specific nature of the project or agreement.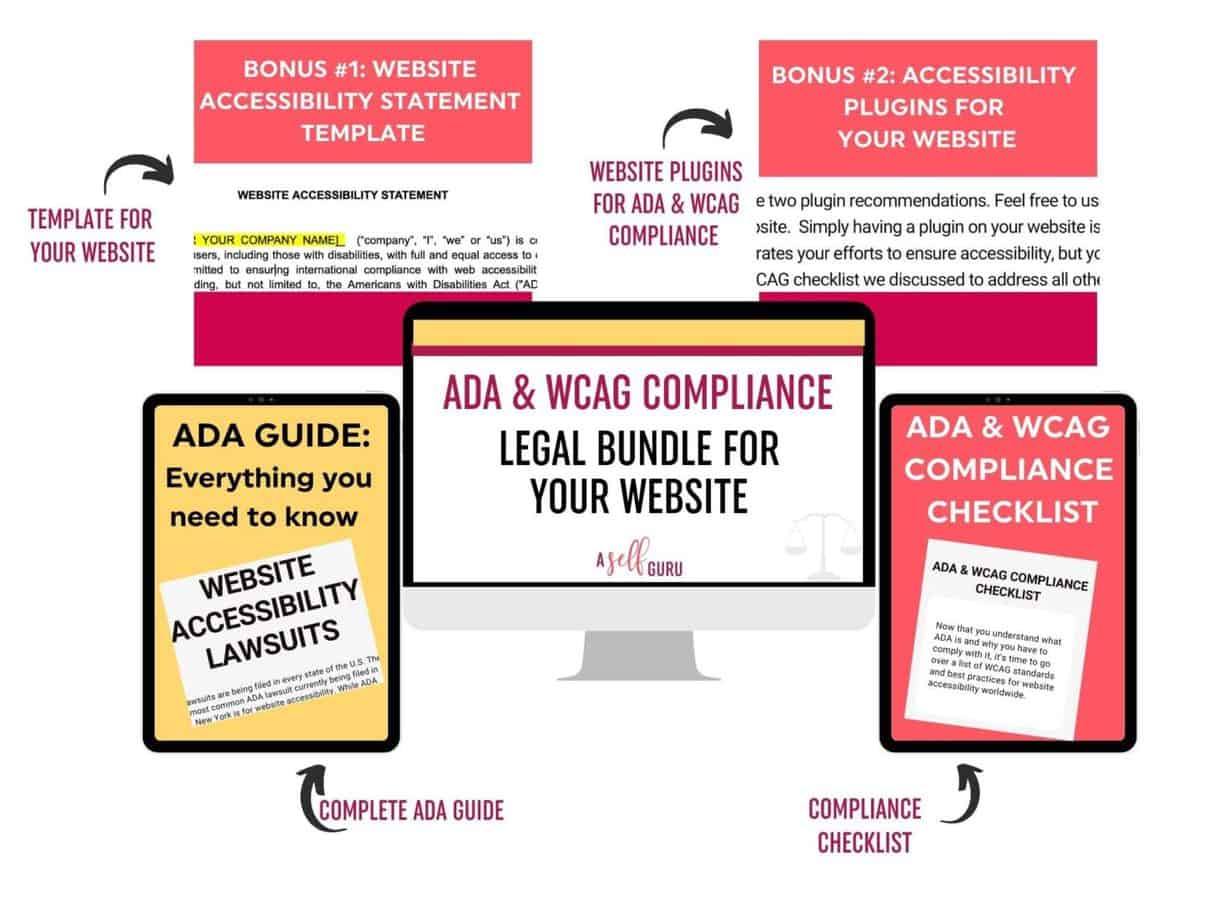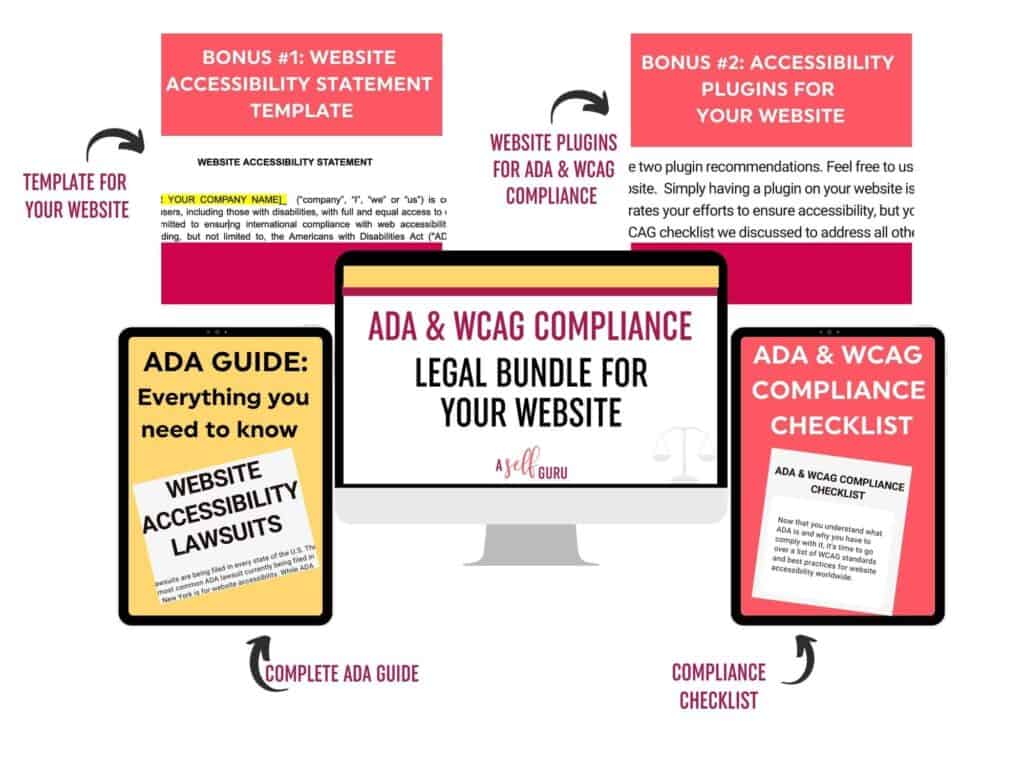 Final Thoughts – Common types of contracts for creatives
Creating contracts is an important step in protecting yourself and your business when working with clients or customers.
I've outlined 13 of the most common contracts for creatives, to help ensure that you are properly protected. Save this post for future reference! 
These include independent contractor agreement, licensing agreement, and non-disclosure agreement, among others, which you can easily download as part of my VIP legal bundle here.
Remember each type of contract serves a specific purpose and outlines the terms and conditions of the agreement between the parties involved.
Having a solid contract in place is crucial for creative entrepreneurs because it helps to protect their intellectual property and ensures that they are fairly compensated for their work.
A well-written contract will also help prevent disputes and lawsuits. And if you need any help with creating custom legal documents or have any questions, feel free to book a consult with me or my contract drafting service here.
I can't wait to work with you!
If you'd like to learn more, grab this ebook to avoid these 23 most common legal mistakes in your business!
RELATED BLOG POSTS ON CONTRACTS FOR CREATIVES
In addition to contracts for creatives, you should check out the following helpful blog posts and tools for your business:
Visit this freebies page to get 5 awesome free business, blogging and legal tips!
Below are some more helpful blog posts, legal tips, tools and resources that you should check out next:
Outrank your competition and enhance your content creation
16 Best Niches for Online Courses (#7 and 10 are most profitable)
15 Expensive Legal Mistakes Entrepreneurs Make (and How to Avoid them)
What's an LLC and when to form one?
How to Legally Protect Your Book (with Proper Copyright Notice and Disclaimer Examples)
CPA Solution Membership to get all your tax and accounting questions answered!
Get The Simple SORT Handbook: The New Entrepreneur's Roadmap to Setup, Operate, Record and Tax Slay a Successful Business
AI writing tool to write blog posts 10x faster, create social media content, videos, and any kind of content to save time in business
This SEO tool to make sure your blog posts rank on the first page of Google 
MORE TOOLS TO GROW YOUR ONLINE BUSINESS