Do you have questions to ask a lawyer when starting a business?
As a business lawyer and entrepreneur myself, I get lots of legal and business related questions all the time.
The best way to get answers to your legal questions and avoid any legal issues in your new business is to book a consult with me here.
But you may be wondering, "what are the most helpful questions to ask a lawyer when starting a business and why?"
We engaged several business owners for input on their legal needs, and below are the questions they would love to know the answers to when it came to running their own business.
From "How much will paperwork cost me?" to "What type of legal entity should I form for my firm?", check out the list of questions to ask a lawyer when starting a new business.
You may not have considered some of these before. 
18 Most Important Questions to Ask a Lawyer When Starting a Business
Here are the key questions that you should be asking a lawyer before starting a business to make sure you and your business are legally protected and to avoid these expensive legal mistakes.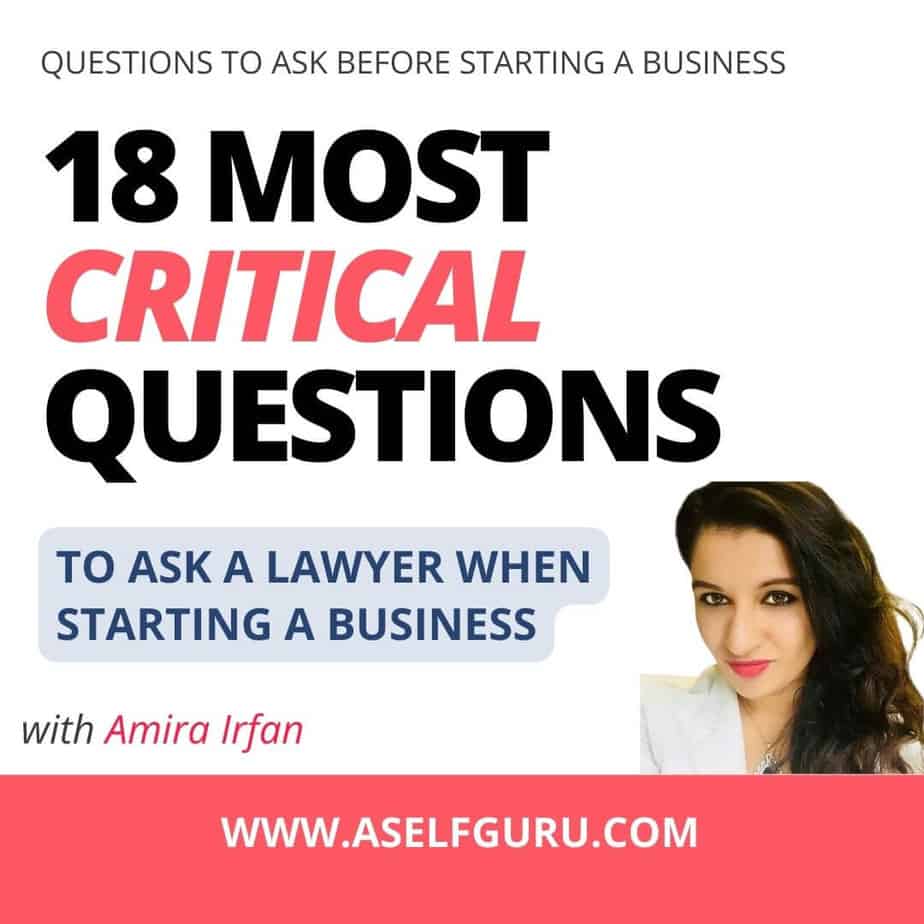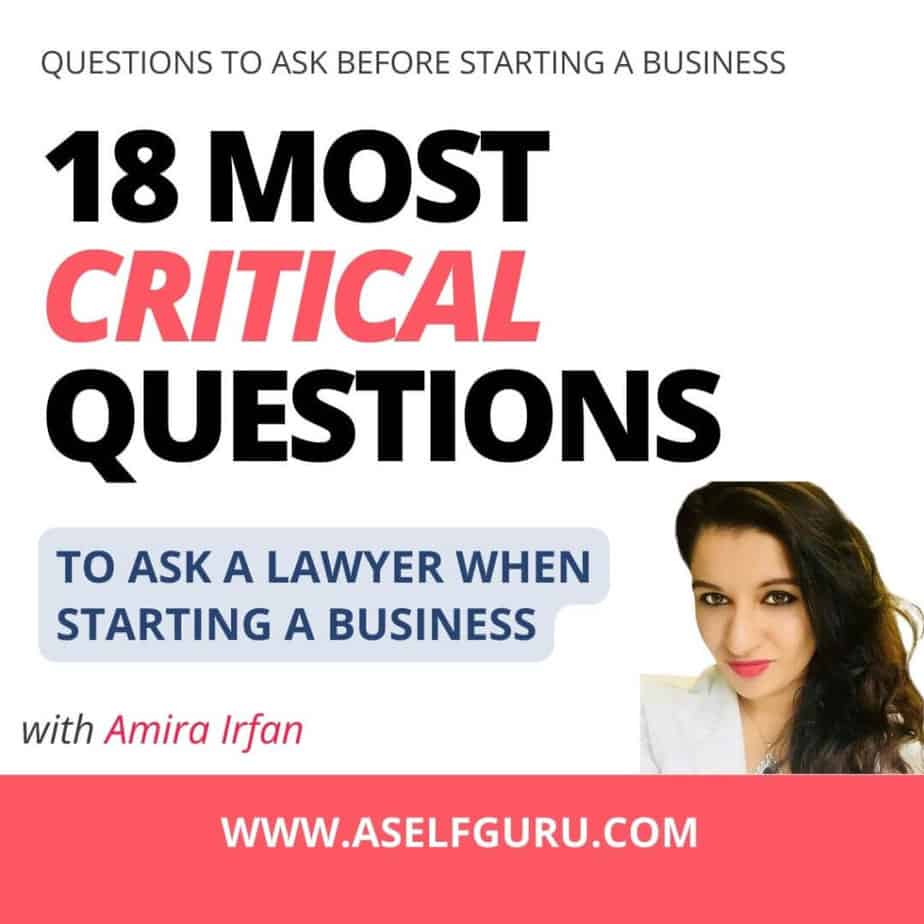 How Do I Protect My Personal Assets from the Business?
Starting a business can expose you to legal risks. 
In some situations, if your company is sued, your personal assets may be at stake. 
I believe a lawyer can assist you in understanding the different choices for shielding your personal assets from business responsibilities, such as forming an LLC or incorporating your business.
-Andrew Priobrazhenskyi, CEO and Director, Discount Reactor
How to Form an LLC to Limit My Personal Liability?
Another related question I often get is "how to form an LLC" or "should I form an LLC". 
The answer obviously depends on the type of business you have. Here's a helpful guide on forming an LLC with important legal tips you need to know when filing your corporate entity with your secretary of state.
And this is LLC Operating Agreement you'd need no matter where you file your LLC.
If you happen to be in Florida then here's another comprehensive legal guide on LLC's in Florida.
If you need help forming an LLC, book an LLC service with a lawyer to get done with all the paperwork in just one hour!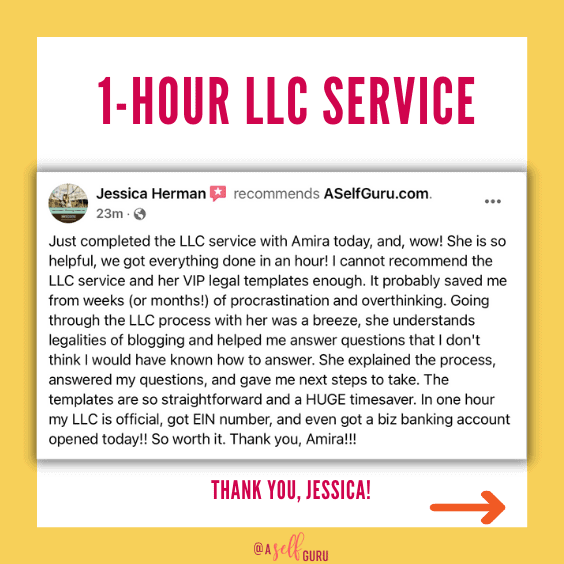 What Type of Legal Entity Should I Form for My Business?
Another important question to ask a lawyer when starting a business has to do with picking the right legal entity for your business.
Picking the right legal entity is one of the most important steps when launching a new business. The success of your business depends on it.
There are many types of entities to choose from, including sole proprietorships, partnerships, limited liability companies (LLCs), corporations, and others. 
Each type of entity has different benefits and drawbacks in terms of taxation, liability protection, ownership structure, and management.
For instance, an LLC gives limited liability protection to its members, meaning their personal assets are not at risk if the business has legal troubles. 
A corporation, on the other hand, provides comparable liability protection, but it is susceptible to double taxation, so profits are taxed on both the business and its shareholders.
-Tim Allen, Director, Oberheiden P.C.
Difference between a Sole Proprietorship, Partnership and LLC (Entity Formation)
It all boils down to whether you want to go it alone or share the load and the profits. Do you want total control, or are you willing to share decision making and ownership with others?
The entity type will depend on your business matters.
Sole Proprietorships are for solo entrepreneurs.
You will have complete control, but also unlimited liability for all debts and obligations of the business. It's a great starting point for those who want to jump in and run with their ideas.
Partnerships involve two or more people sharing ownership, profits and losses.
You will need to establish a partnership agreement that outlines each partner's rights, responsibilities and liabilities. This is a great option when collaboration can help drive success.
LLC stands for a limited liability company that provides limited liability protection against business debts and obligations, so your personal assets are protected.
LLCs also allow multiple owners to be part of the company as members. This is an attractive option for those who want a more formal business structure that provides some of the advantages of a corporation.
Ultimately, it's up to you to decide which is best for your situation.
A good idea is to consult with an accountant or lawyer who can advise you on the pros and cons of each type of legal entity.
Then you'll be able to make a well-informed decision and set your business up for success.
Related Blog Posts on Questions to Ask a Lawyer When Starting a Business:
How Do I Handle Multiple Owners?
Investing in a business is not just about purchasing shares, and that is why you should talk to a lawyer and ask them about what those legal responsibilities entail if more than one investor is involved.
Multiple owners can create a great deal of confusion as task responsibility and who assumes liability can encompass every part of a business. 
Therefore, avoiding oral agreements with investors and asking a lawyer about what legal responsibilities are assumed with any ownership, how percentage of shares affects liability, what responsibilities in day-to-day operations are assumed, and then putting it into writing so every investor is clear on expectations is critical to protect all involved.
By asking a lawyer about responsibilities and liabilities of a business that has multiple owners, you can avoid disputes and better protect your business.
-Cody Candee, CEO, Bounce
Partnership Agreement Template
If you are going to have multiple owners then you should definitely use this Partnership agreement.
You can also get this contract template as part of my VIP legal bundle, which is a much better deal as shown by 100's of testimonials here.
It's a great way to make sure everyone's on the same page when it comes to partnerships – from deciding who gets what cut of profits to sharing the responsibilities between different owners. 
One of the costly mistakes I have seen business owners make is not using any contract with multiple owners, which only results in ugly disputes and legal fees.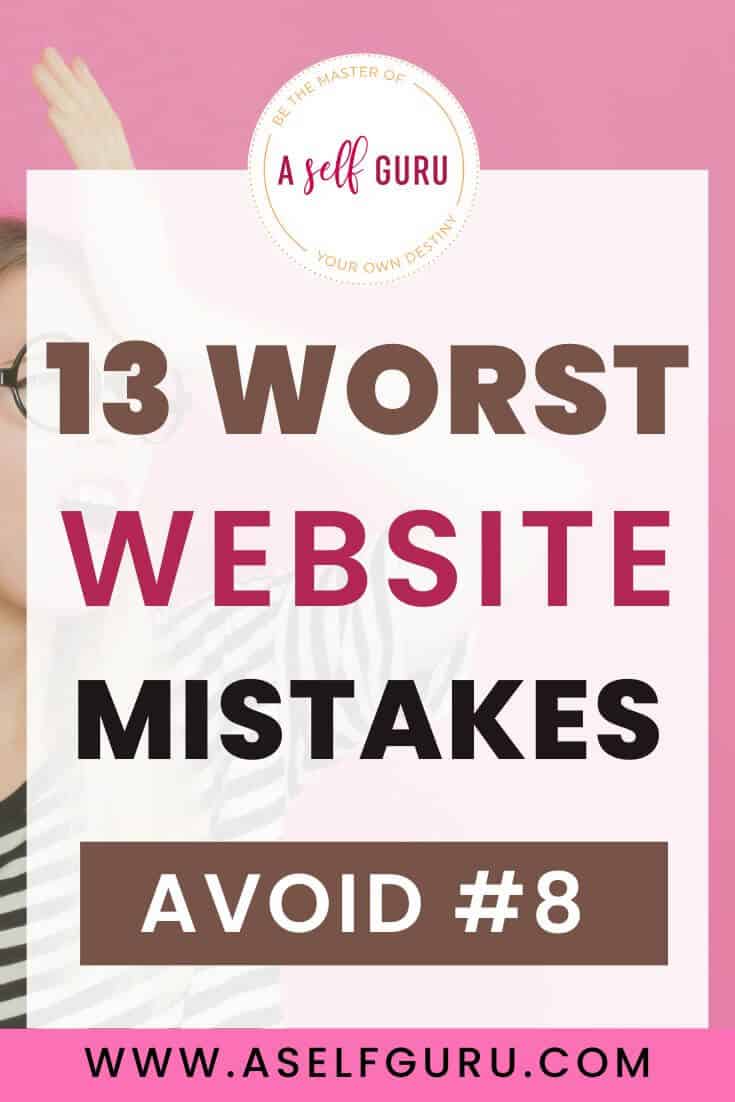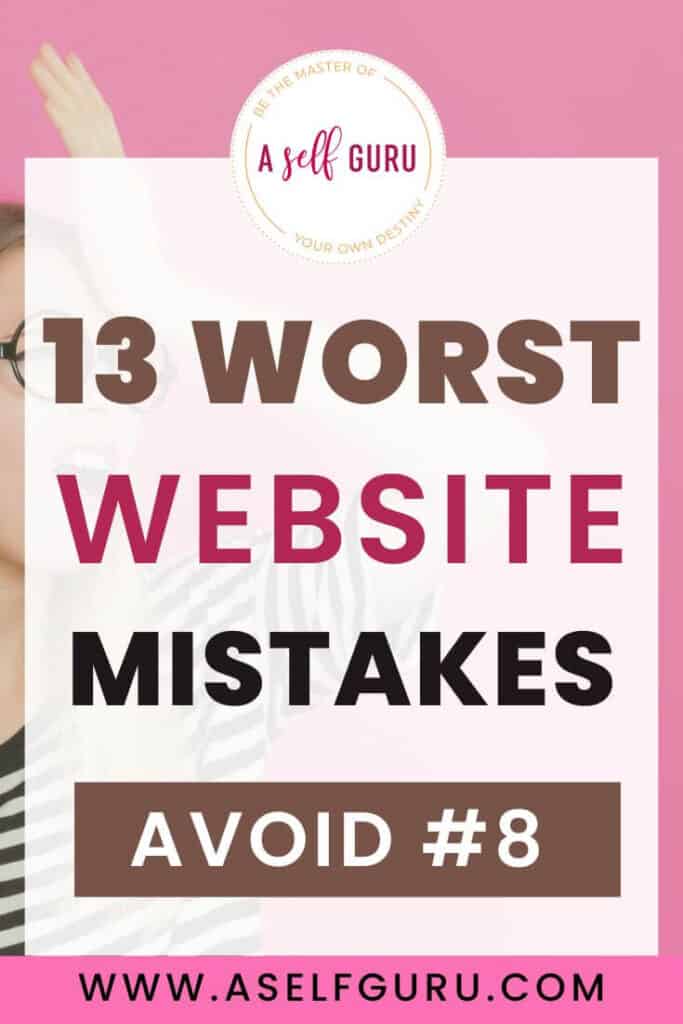 What Are My Data Privacy and Cybersecurity Responsibilities?
Businesses must take data privacy and cybersecurity seriously in the digital age.
You may be subject to a variety of data privacy rules and regulations, such as the General Data Protection Regulation(GDPR) or the California Consumer Privacy Act (CCPA).
I believe a lawyer can help you understand your legal requirements and establish ways to assure compliance.
They can also advise you on how to safeguard your company from cybersecurity threats and data breaches, such as installing strong data security measures and developing privacy policies that adhere to current rules.
-Kenny Kline, President and Financial Lead, BarBend
Privacy Policy Template For Website (Written by a Lawyer)
If you operate an online business, you must post a proper privacy policy on your website to ensure compliance with different federal laws and data privacy state laws.
This privacy policy template is written by a lawyer, so it gives you the same legal protection without having to hire a legal counsel. 
A privacy policy document tells users what types of personal information you collect, how you use it, and under what circumstances it is shared with third parties.
Related Blog Posts on Questions to Ask a Lawyer Before Starting a Business: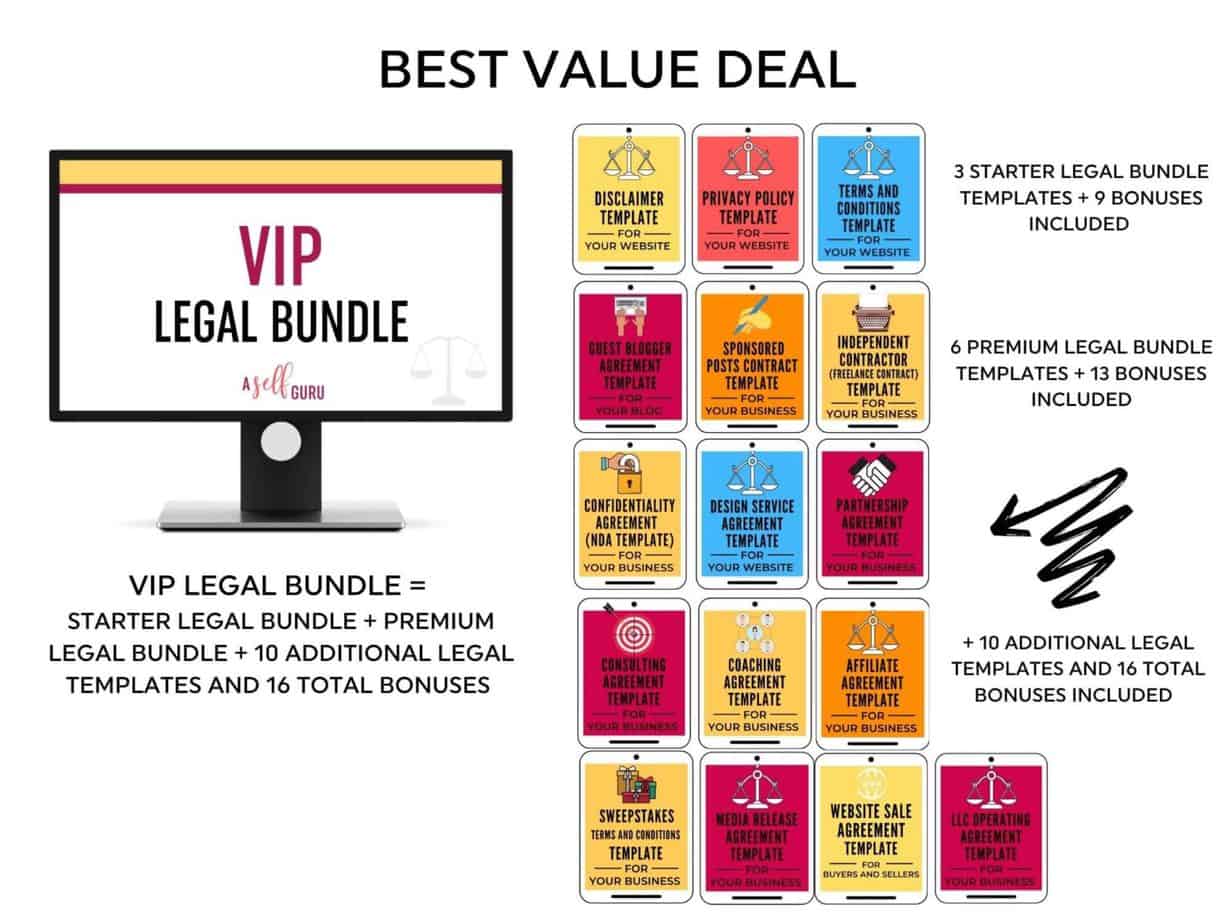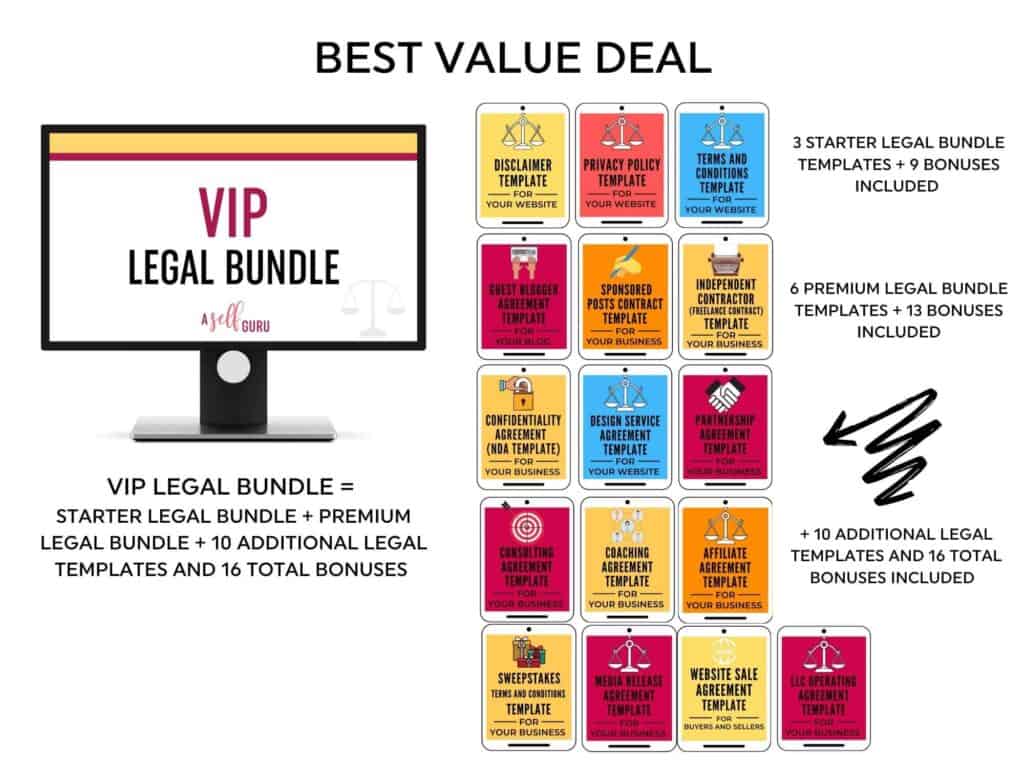 What Should I Put in My Website's Terms of Use and Privacy Policy?
If your company has a website, I believe it is critical that you have clear and thorough terms of service and a privacy policy in place.
A lawyer can assist you in drafting these legal documents and ensuring that they conform to all applicable rules and regulations.
The rules and instructions for using your website, such as prohibited activity and liability limitations, should be outlined in your terms of use.
Your privacy policy should describe how you collect, utilize, and protect user data, as well as notify users of their rights under applicable data privacy laws.
-Max Whiteside, SEO and Content Lead, Breaking Muscle
Watch this video to learn how to legally protect your website and online business (including the 3 essential legal pages you need to post on your website):
What Major Contracts Do I Need to Have in Place?
Whenever two or more parties enter into a business agreement, I believe it is essential for them to have a legally binding document that spells out the agreement's terms and conditions.
Depending on your industry, you may require a variety of contracts, including independent contractor agreement, employee agreements, supplier contracts, vendor agreements, and others.
A lawyer can assist you in drafting and reviewing these contracts to ensure that they are legally enforceable and protect your interests.
-Tiffany Hafler, Marketing Coordinator, Blockchain Lawyer
Need a custom contract drafted or reviewed by a lawyer for your small business? Check out the legal services here.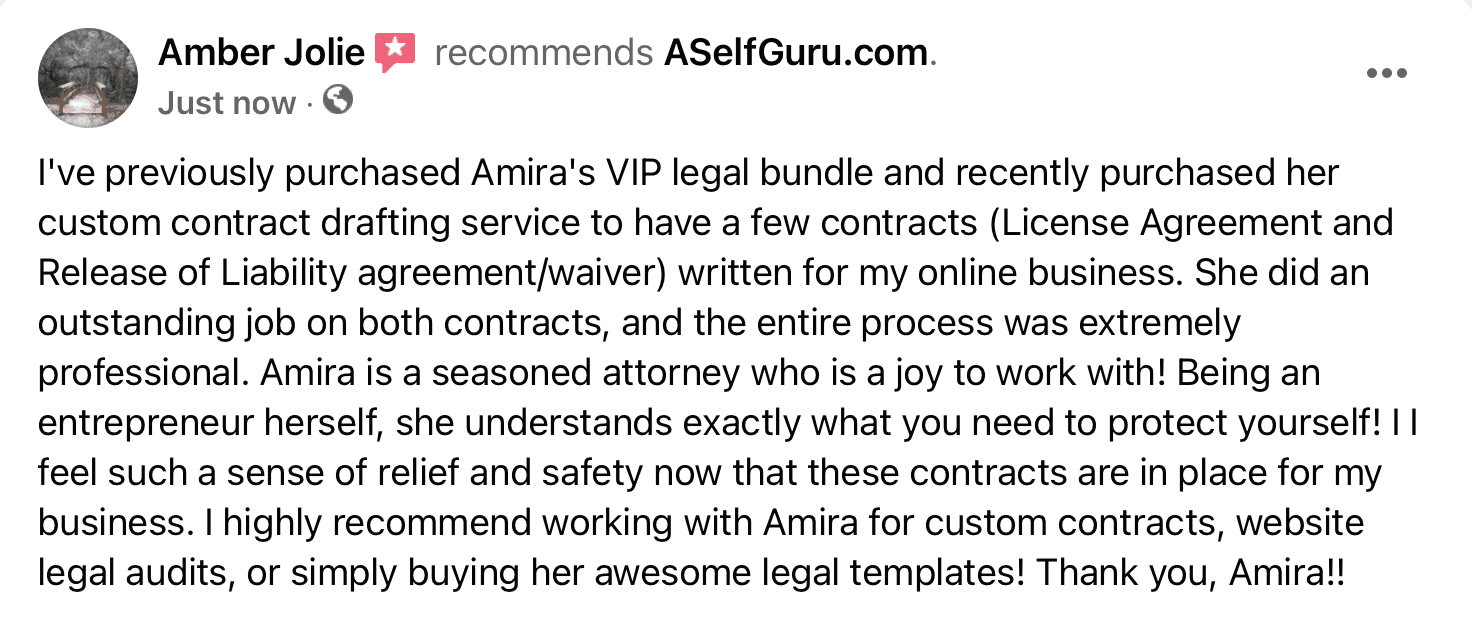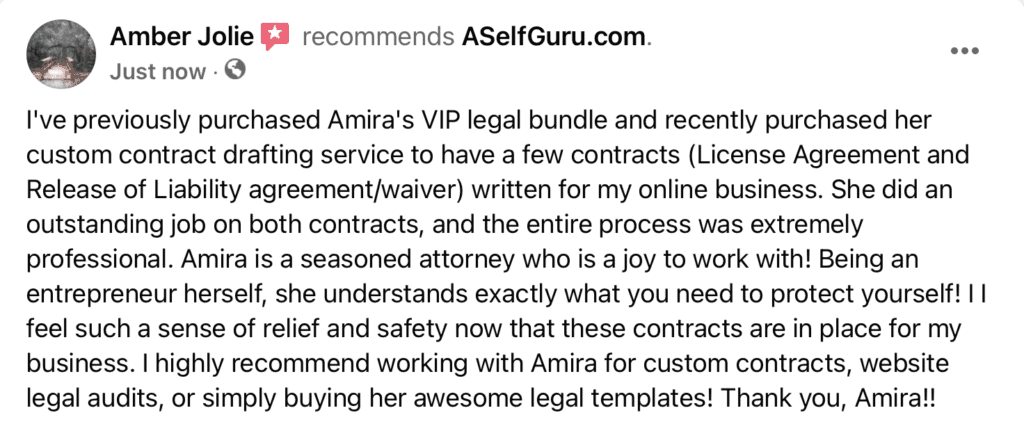 Related Blog Posts on Questions to Ask a Lawyer When Starting a New Business:
To learn more about what kind of contracts you need for your small business, check out these helpful blog posts:
How Much Will the Paperwork Cost Me?
Established business owners and entrepreneurs know well how legal and regulatory paperwork and compliance requires considerable resources.
To someone starting a new business, this aspect is even more critical. 
Every business entity must adhere to a predefined legal framework regardless of industry, product, or service. And this costs money.
From trademarks and registrations to the necessary permissions from regulatory authorities, these legal aspects of a business drains enough resources to include it in your financial blueprint.
Checking in with a good lawyer and collecting relevant information on how much this will cost (and continue to cost) your business helps you get off to a smooth start, both legally and financially.
-Riley Beam, Managing Attorney, Douglas R. Beam, P.A.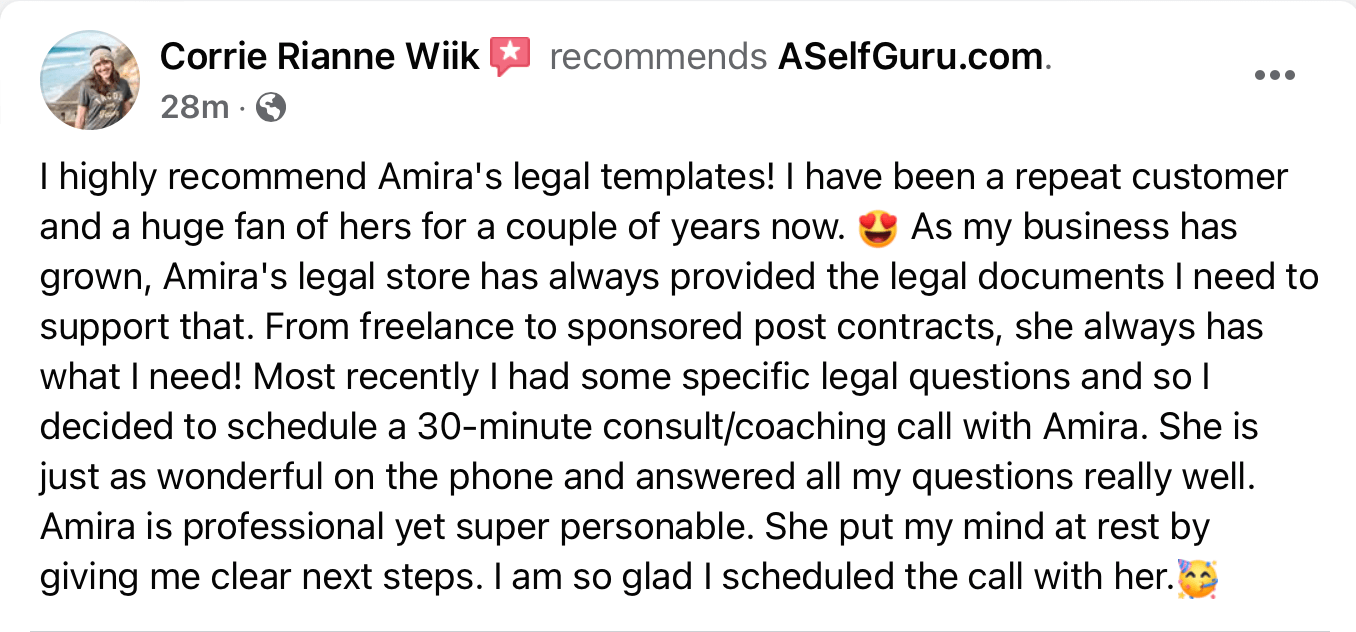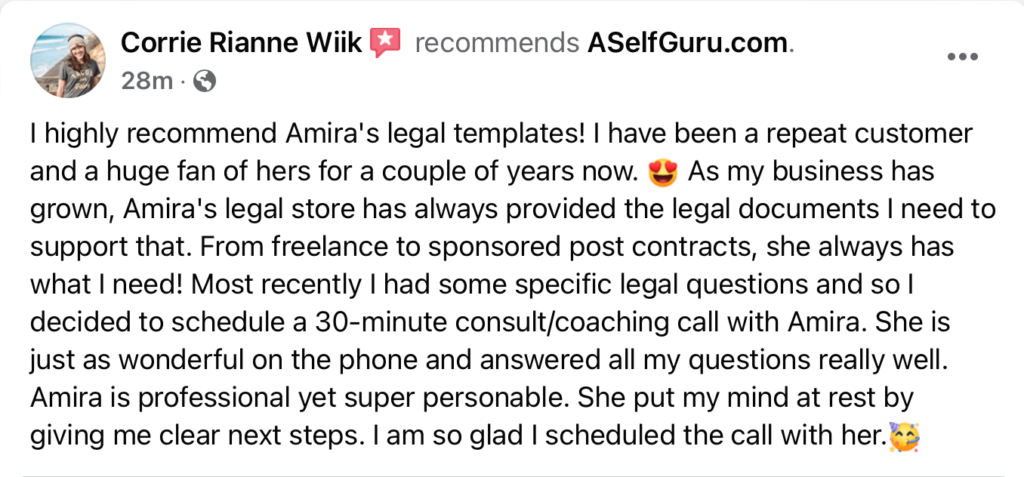 What Should I Do if I Face Legal Action?
Despite your best attempts to avoid legal problems, you may find yourself in court at some point during the course of your business.
In such instances, I believe it is crucial to seek legal representation as soon as possible. 
A lawyer can assist you in understanding the legal proceeding and advising you on the best course of action.
They can also represent you in court or during negotiations in order to protect your interests and obtain the best possible outcome for your company.
It is essential to take legal action seriously and work with your attorney to develop a strategy that addresses the issues at hand.
–Edward Mellett, Co-Founder, Wikijob
What Compliance Practices Should I Follow?
When establishing a company, you must consider all internal and external conditions your business must comply with.
Consult your lawyer about your company's policies, procedures, bylaws, taxes, and other legal prerequisites. 
You must also tackle keeping records of business licenses and contracts, having a board of directors, and holding annual meetings.
Moreover, be proactive in asking about your legal obligation to future employees, such as the required minimum wage, providing leave benefits, maintaining safety standards, and offering insurance. 
You can also talk about how to make your business more engaged in social causes and your legal and moral obligations to the people outside the company.
-Riva Jeane May Caburog, PR and Media Coordinator, Nadrich & Cohen 
What Can You Tell Me About Fair Use?
How do I protect myself in case I want to use another creator's content?
Fair Use is NOT the blanket protector everyone thinks it is.
If you take someone else's content and don't get permission and don't cite it properly, you won't have much legal protection if the original owner of the content sues. 
However, Fair Use provisions provide some legal protection—and you need to call upon an attorney who is knowledgeable on the subject to provide you with a specific list of what to do and what not to do whenever you're relying on someone else's content.
-Rachel Blank, Founder and CEO, Allara
Pro Legal Tip from a Lawyer:
Use this Media Release Agreement or a License Agreement to get permission to use other people's content legally(images, videos, any other kind of intellectual property) and avoid any legal issues.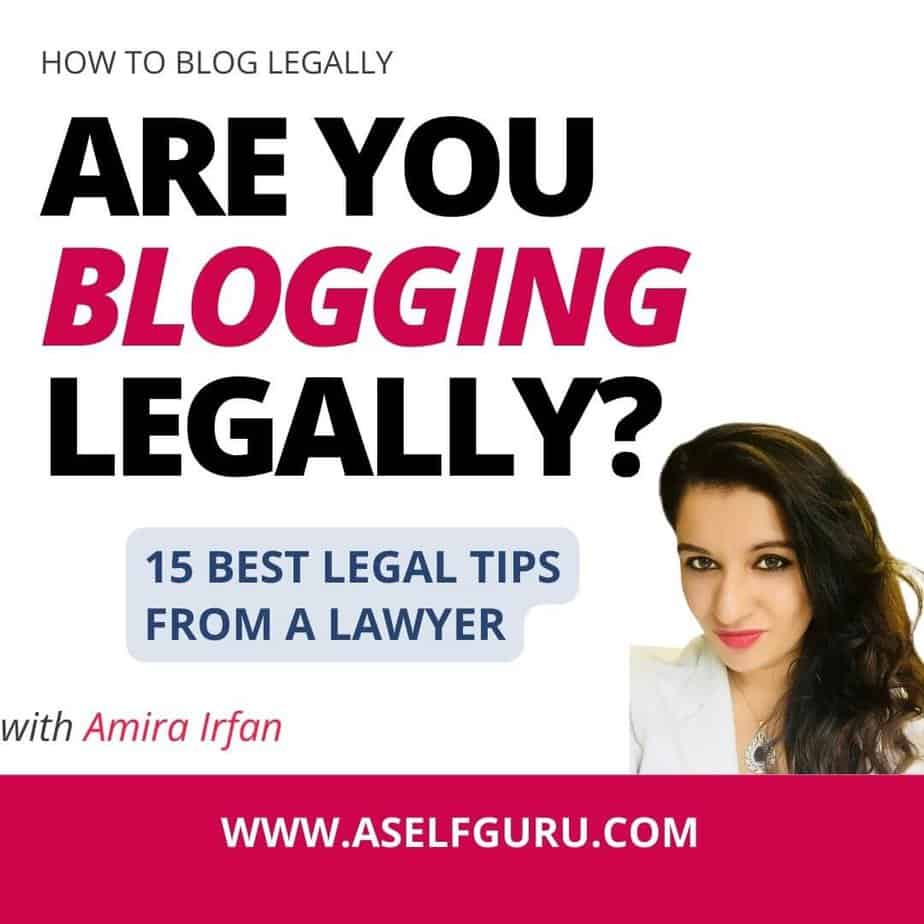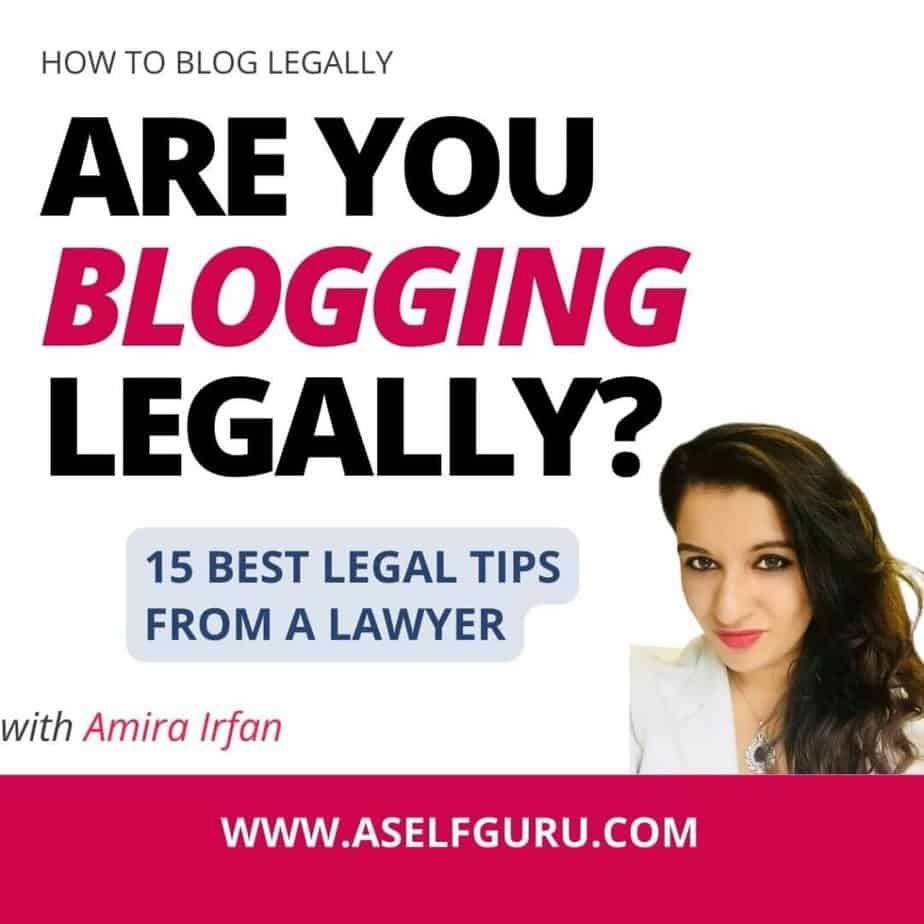 What Permits and Business Licenses Do I Need?
When starting a business, it is important to know which permits and licenses you will need in order to operate legally.
This is something that you can discuss with a lawyer, who can give you specific advice based on your business plans. 
There are a variety of permits and business licenses that may be required for your business, depending on its nature and location.
For example, you may need a license to sell certain products or to operate in a certain area. You may also need to obtain permits for construction or other work related to your business.
It is important to be aware of the permits and licenses that you will need for your business in order to avoid any legal problems down the road.
A lawyer can help you understand what you will need and can provide guidance on how to get the permits and licenses.
-Amy Adlerstein, Senior Retention Marketing Manager, Canvas People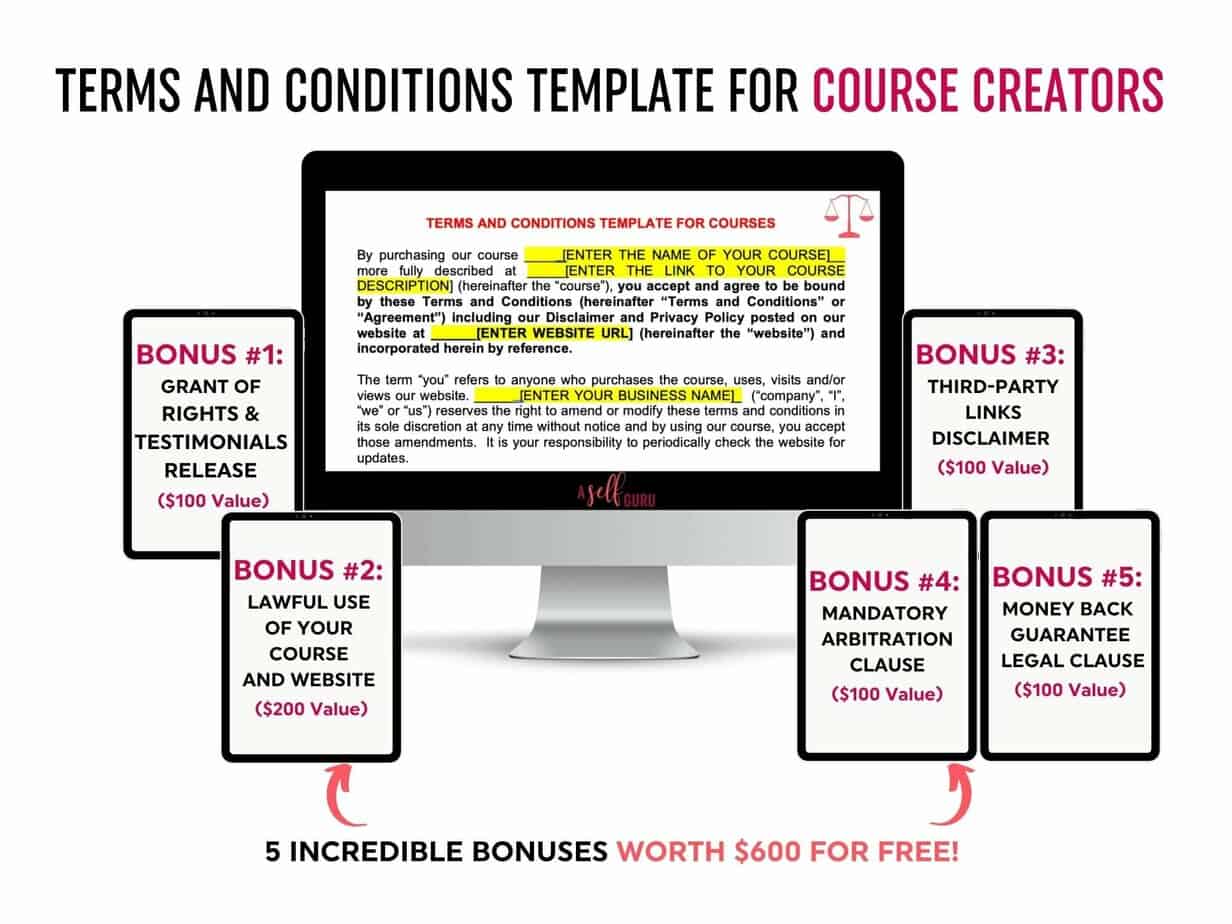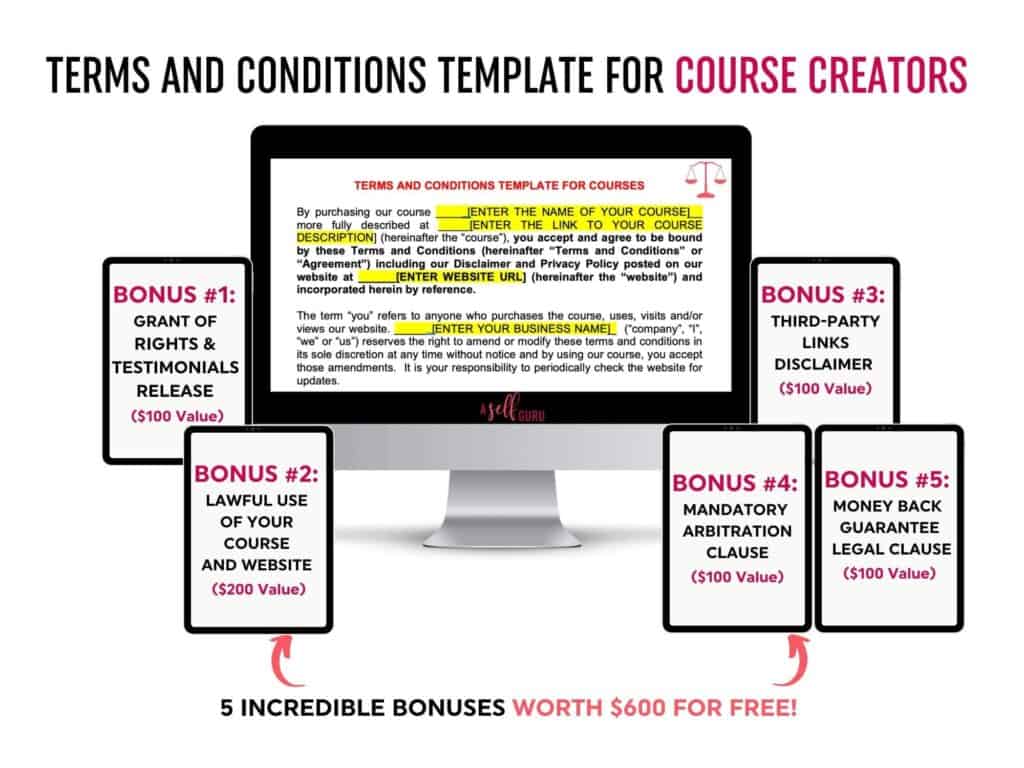 How Do I Choose a Name for My Business?
A lawyer can help you understand the legal requirements for choosing a brand name, best practices and help you avoid potential trademark issues.
It is important to choose a unique name that has the potential to become a recognizable brand and one that will not create confusion with similar businesses. 
A lawyer can also advise you on how to make sure a chosen name meets all legal requirements for trademark protection, as well as any other considerations you need to consider before committing to a particular business name.
In addition, an attorney can help protect your business from future trademark infringement claims by helping you search for and register trademarks if necessary.
This is essential to ensure that another company does not attempt to use your chosen business name or logo in the future.
-Bruce Kramer, Managing Partner, Buttercup Venues
Do I Need to Hire a Specialist Lawyer?
Like doctors, lawyers specialize in specific areas, such as employment laws, tax, mergers and acquisitions, etc.
Working with a specialist can help you legally address other segments of small business creation that a general business lawyer may not. 
A general business lawyer can help you with about 80% of the legal tasks of a small business setup, such as choosing a business structure, a name for the business, applying for permits, hiring contractors, etc.
A specialist lawyer does the remaining 20%.
For example, an employment lawyer can help you classify employees as exempt or non-exempt under federal and state labor laws or as employees or independent contractors to avoid violations of the Fair Labor Standards Act (FLSA).
-Daniel Petkevich, Founder and CEO, Fair Square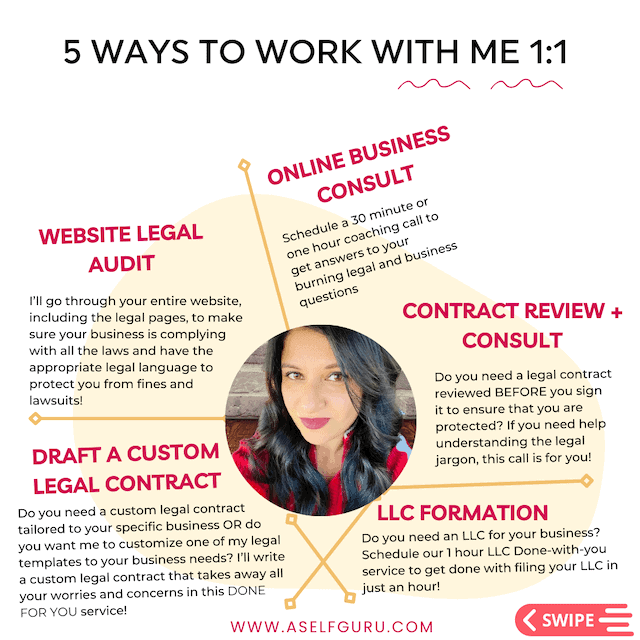 What Risks Should I Be Guarding Against?
Starting a business is filled with risks, both legal and financial. 
To guard against potential risks, ensure that you are familiar with the applicable laws in your jurisdiction, have the proper licenses to operate, create comprehensive contracts to manage relationships with vendors and other stakeholders, and secure insurance coverage.
You should also familiarize yourself with the tax implications of starting a business and set up proper bookkeeping records to ensure compliance.
Finally, it is crucial to consider potential risks associated with intellectual property protection and ensure that your business operates within acceptable parameters.
-Marcus Fernandez, Attorney, KFB Law
How Do I Protect My Brand Assets?
Registering a trademark for your company will set your brand apart from the competition while giving you powerful legal protection against infringement.
But be aware there are several steps you must take for your company name, logo, labels, slogans, and packaging to be considered trademarks.
Also, it is a complex process that can take 12 to 18 months.
However, the time it takes is worth it, as trademarking these brand assets will deter any would-be copycats from using them as their own.
Many online businesses can help you get started, but you can also head directly to the U.S. Patent and Trademark Office website.
There, you'll find a comprehensive outline of the trademark registration process, including step-by-step tutorials and videos on how to fill out the application. 
You can also submit a patent application if you have an invention. Advice and support with trademark registration are services a business lawyer can provide. However, a patent lawyer is necessary for patents.
-Brian Lee, Co-Founder and CEO, Arena Club
Do I Need to Register My Business With the State?
This is an important question because registration can give you legal protection for your company and its assets, as well as provide liability insurance.
Registration also helps guarantee that no one else has registered a similar name, giving you exclusive rights to use the name of your business. So it's an important step and one of the most important decisions you'll make as a new business owner with the help of the right attorney.
Registering your business will also ensure that it has credibility in the eyes of investors and customers.
-Roksana Bielecka, Community Manager, ResumeHelp
What Taxes and Fees Do I Need to Pay?
Understanding the applicable business taxes and fees and how they apply to your company can help you avoid financial pitfalls in the long run.
Additionally, understanding the tax structure of your business can help you make sound decisions about investments, expenses, and growth strategies. 
Ultimately, having the right information about taxes and fees helps you structure your business for success and maximize potential profits. 
-Leo Vaisburg, Managing Partner, Amazon Suspension Lawyer
How Can I Minimize My Tax Liability?
I believe taxes are an important factor for any organization, and it is critical to establish a tax strategy that reduces your tax liability.
A lawyer can help you find potential tax deductions, credits, and incentives, as well as advise you on how to organize your business to minimize your tax burden.
-Cindi Keller, Communications Coordinator, The Criminal Defense Firm
Tax Questions to Ask a Lawyer When Starting a Small Business:
Check this blog post to learn about the 18 best books on taxes for business owners including important questions you should ask a lawyer when starting a small business.
Additional Questions to Ask a Lawyer Before Starting a Business
Below are some more common questions to ask a lawyer when starting a new business and the answers.
What questions should I ask a startup lawyer?
1. Do you have experience working with startups?
2. What legal services do you offer to startups?
3. How do I legally protect my website?
4. Do you provide website or legal audits of business?
5. What strategies do you suggest to help protect my startup from legal risks?
6. How can you help me manage the costs of dealing with legal matters?
7. Are there any areas where I should be particularly aware of potential risks or liabilities?
8. Could you provide an estimate of fees, including any additional charges that may arise during our business relationship?
Watch this video and learn how to avoid 15 costly mistakes with your startup business:
What is a good question to ask a lawyer?
A good question to ask a lawyer is what experience they have in the field you need help with.
Additionally, it's important to find out how experienced the lawyer is in handling similar cases, their testimonials, how much they charge for their services, and what the expected timeline will be for resolving your issue.
Finally, you should ask how often they communicate with clients and if there are any additional fees or costs associated with their service.
Knowing the answers to these questions can help ensure that you make an informed decision when selecting a lawyer.
What questions to ask when forming an LLC?
When forming an LLC, there are several important questions to ask.
1. What is the purpose of the business? Understanding the goals and objectives of your business can help you decide on its structure and make other important decisions down the line.
2. Where will your company be located? Knowing where your company will operate is important, as this will determine the taxation structure and other legal requirements.
3. Who will be the members of your LLC? Deciding on the members of your LLC is important, as it will determine how much control each member has in the business and how profits are divided.
4. What tax structure will you use? Deciding on a taxation structure for your LLC is essential, as it can impact your company's overall financial performance.
5. How will you manage the LLC? Determining how you will manage your LLC is key, as it can dictate the success or failure of your business.
This is the LLC Operating Agreement template you must have for your LLC to outline how it is managed. It also serves as evidence that your business is indeed separate from your personal assets. 
By asking yourself these important questions before forming an LLC, you can make sure that your business is fully prepared to succeed.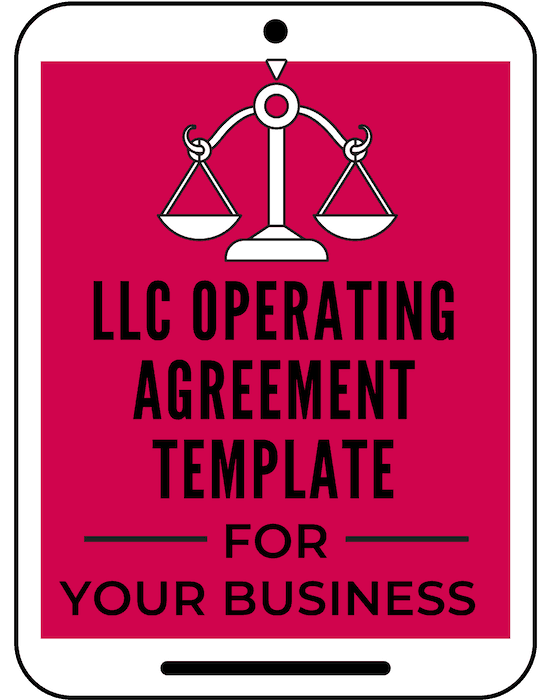 Final Thoughts on Questions to Ask a Lawyer When Starting a Business
Asking the right questions to a small business attorney when starting a business is vital for ensuring that your business succeeds.
Ignorance of the law is never a wise decision because I watched my own dad's business get sued for $90,000 for this legal mistake.
It's important to find an experienced lawyer who has experience in the industry you are entering, and make sure to ask questions surrounding your business plan, business formation, legal policies, contracts, and taxes.
Be prepared to share your business activities and business operations with the right lawyer to make sure you get the right legal advice.
Here are the common questions I get as a business lawyer from entrepreneurs, so feel free to schedule a consult with me to discuss your specific business needs.
Additionally, research local laws in your area that could affect your types of businesses so that you can be prepared for any potential hurdles.
With the right questions and preparation, you can start a successful business with confidence.
Related Blog Posts on Questions to Ask a Lawyer When Starting a Business
In addition to what questions to ask a lawyer before starting a business, you should check out the following helpful blog posts and tools for your business:
Visit this freebies page to get 5 awesome free business, blogging and legal tips!
Below are some more helpful blog posts, legal tips, tools and resources that you should check out next:
Outrank your competition and enhance your content creation
16 Best Niches for Online Courses (#7 and 10 are most profitable)
15 Expensive Legal Mistakes Entrepreneurs Make (and How to Avoid them)
What's an LLC and when to form one?
How to Legally Protect Your Book (with Proper Copyright Notice and Disclaimer Examples)
CPA Solution Membership to get all your tax and accounting questions answered!
Get The Simple SORT Handbook: The New Entrepreneur's Roadmap to Setup, Operate, Record and Tax Slay a Successful Business
AI writing tool to write blog posts 10x faster, create social media content, videos, and any kind of content to save time in business
This SEO tool to make sure your blog posts rank on the first page of Google 
MORE TOOLS TO GROW YOUR BLOGGING BUSINESS