Business contracts are the foundation of any business. Have you ever been confused about the different types of business contracts out there and wondered which one you need for your business?
A contract is something you absolutely must-have in your business, whether you are just starting out or have been in business for a long time.
With so many businesses moving online, it's more important now than EVER to cross your t's, dot your i's, and make sure your business is safe from damaging lawsuits.
You could consult with a lawyer for $350 to $500 per hour … OR, you could save a TON of time and money with these contract template bundles written by a lawyer.
Most online businesses fail to recognize that, despite operating in an online environment, they are still a "business." And, as a business, you need contracts to ensure that you are not only legally protected, but also that you are following certain federal and state laws.
If you have a website, which most online businesses do, then you'll need 6 types of business contracts, at the very least.
Let's look at what those business contracts are, as well as a brief explanation of why they're required and how they'll protect your business. Before we get started, grab your FREE legal guide to find out if you are making these 3 common legal mistakes and how to avoid them! 
6 Different Types of Contracts in Business You Need
1) Privacy Policy
A privacy policy informs visitors about how you collect and use their personal information. It is legally required.
Think of the privacy policy as a type of business contract between you and your site visitors. If you don't have a Privacy Policy on your website AND you collect information from your visitors, you're breaking the law. You could face serious consequences if someone filed a complaint with the Federal Trade Commission (FTC).
Many business owners have been audited, fined, and sued for failure to have a proper Privacy policy on their website, as shown here.
You must comply with the privacy laws out there including the General Data Protection Regulation (GDPR) that you may have heard about! Failure to comply with GDPR results in serious hefty fines, and learn all about them in this blog post.
As an online business, you are most likely operating all over the world. So you need to ensure compliance with all these privacy laws and protect your business from being audited or sued.
Learn more about it in this blog post.
Fortunately for you, my Starter, Premium or VIP legal bundles include a privacy policy template that's GDPR compliant and you can begin using it right away!
Example of a Privacy Policy
In this video, you'll see why having a proper privacy policy is so important! Kristen purchased my legal template because one of her customer's actually asked her how she was protecting their data and privacy.
2) Independent Contractor Agreement or Freelance Contract
The second essential type of business contract every entrepreneur needs is an independent contractor agreement. It's also known as a Freelance Contract.
Many entrepreneurs overlook the importance of this contract until they run into a costly legal mistake (just like my dad did!)
Watch this video to avoid the $90,000 legal mistake my dad made with his freelancer, and I also share 13 biggest legal mistakes to avoid in your business (please don't forget to subscribe to my YouTube channel too!)
An independent contractor agreement or freelance contract is a type of business contract that outlines the specific expectations and provisions for a freelance project or assignment. It can be used when two businesses work together on a project, or when an individual hires a contractor to provide a specific service.
An independent contractor agreement is important because it protects both the business and the contractor. It ensures that both parties understand the terms of the project and what is expected of each party. It also outlines how payment will be handled, what happens if the project is canceled, and any other important details.
If you're considering hiring a contractor, it's important to have an independent contractor agreement in place. This will help protect you and ensure that both parties are clear on the expectations for the project.
Read this blog post to learn the 15 essential things to include in your Freelance contract (as a client or contractor).
I've also put together a freelance contract template that already includes everything you need OR save more money and grab my Freelance contract bundle here to protect your business (these are the same business contracts my dad wished he had and we could have avoided a massive lawsuit).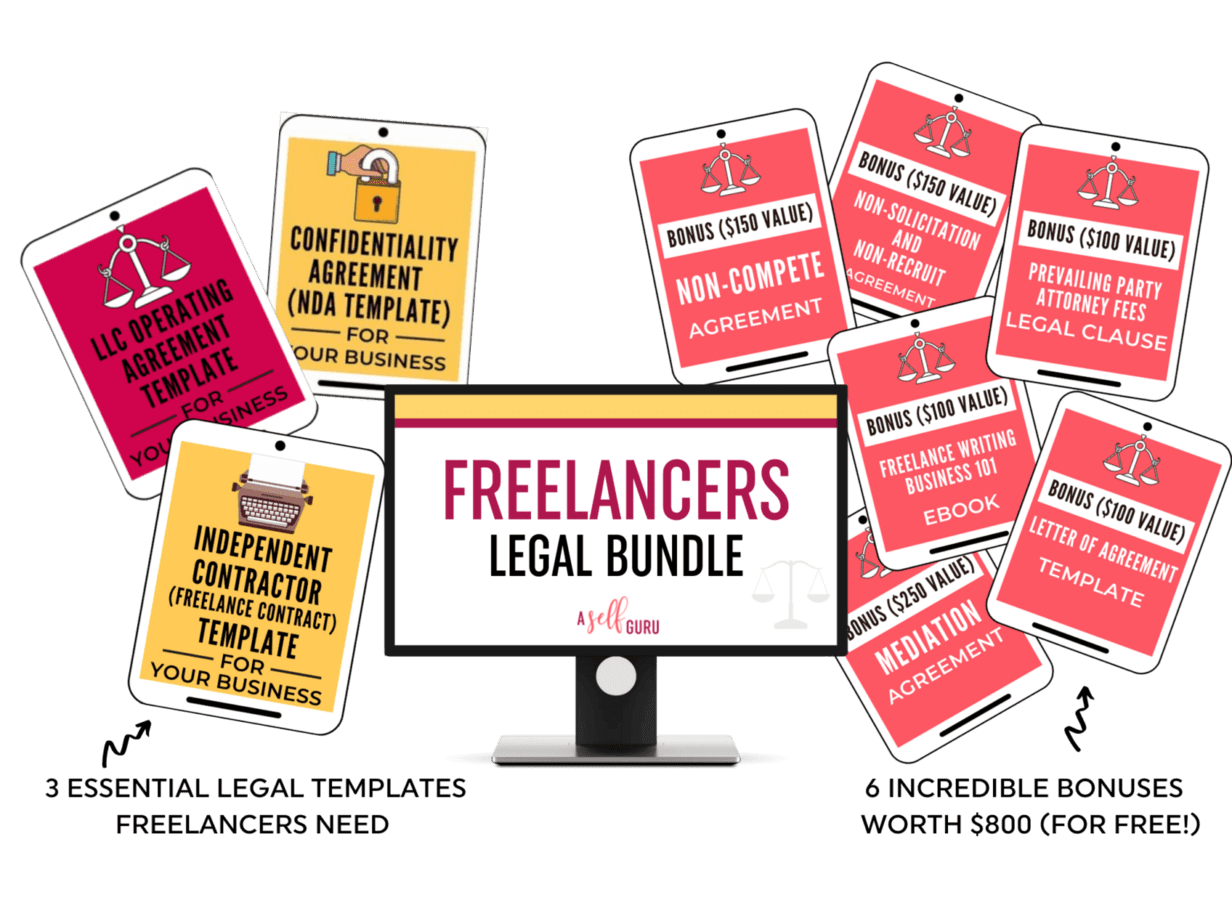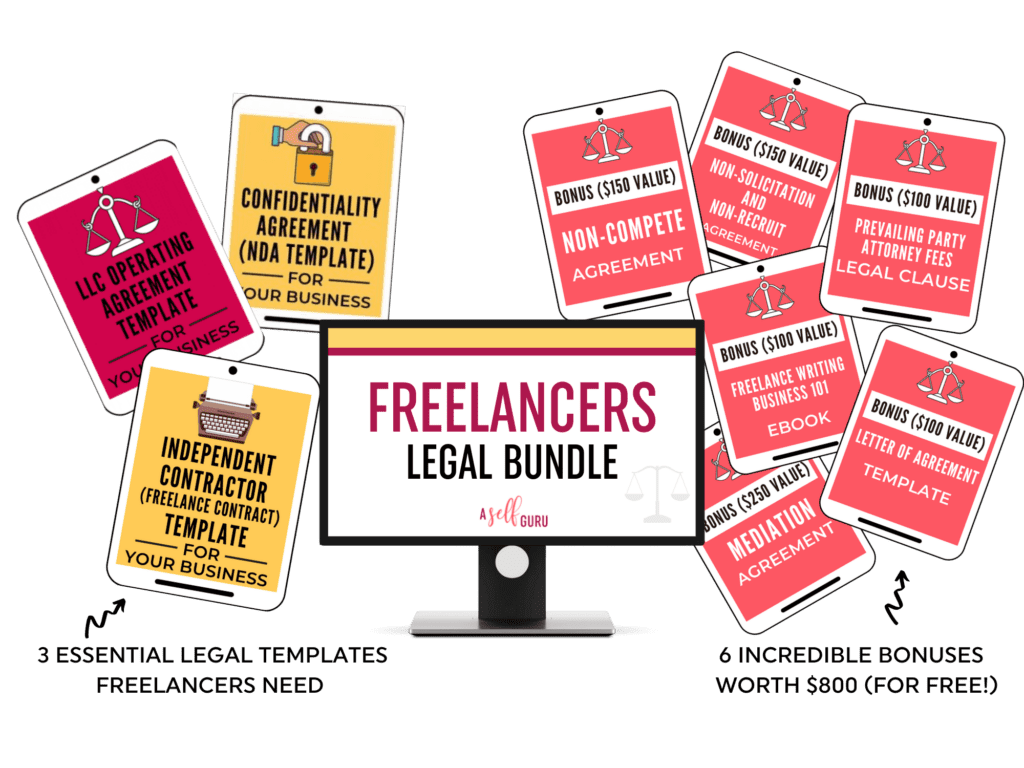 3) Confidentiality Agreement (aka Non-Disclosure Agreement)
When it comes to the types of business contracts that every entrepreneur needs, one of the most easily overlooked is a Confidentiality Agreement (also known as NDA).
A non-disclosure agreement, or NDA, is a legal contract between two or more parties that outlines confidential information that will not be shared with any third-party individuals or businesses.
NDAs are commonly used in business settings, such as when two companies are considering a potential partnership, but can also be utilized in personal relationships, like when sharing trade secrets with a new employee or freelancer you hire.
There are a few key reasons why entrepreneurs should consider using a non-disclosure agreement:
1. To protect sensitive information – Whether it's the details of your upcoming product launch or your company's proprietary formula, protecting your confidential information is essential for safeguarding your business interests. An NDA can help ensure that this information remains confidential.
2. To avoid legal repercussions – If someone breaches the terms of your NDA, you may be able to take legal action against them. This can help protect your business in the event that confidential information is leaked.
3. To create a level of trust – When two businesses are considering working together, having an NDA in place can help build trust between the parties involved. This can be especially important when sharing sensitive information.
Learn all about NDA's in this blog post.
If you have no idea how to put together a proper NDA agreement then grab my template here or purchase my VIP legal bundle here that includes this business contract template along with 15 other essential legal documents you'll need.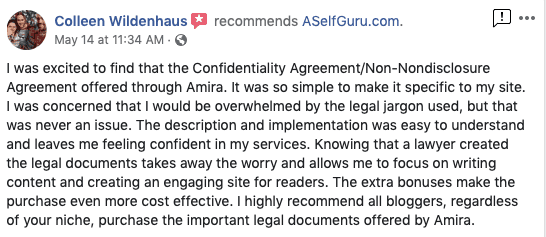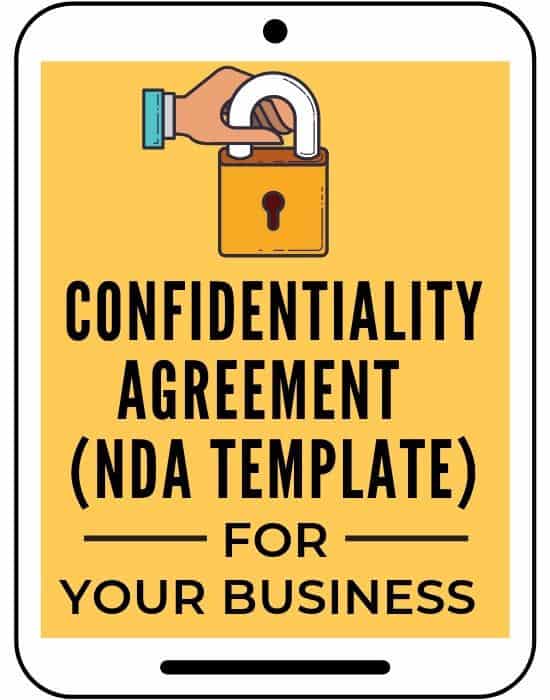 4) Partnership Agreement
If you are thinking about going into business with someone else then one of the most important types of business contracts you'll need is a Partnership Agreement.
A partnership agreement is a legal document that outlines the business arrangement between two or more business partners.
It can be used to clarify the roles and responsibilities of each partner, as well as how profits and losses will be shared. Partnership agreements are especially important for entrepreneurs, who often need to protect their investments and business interests.
If you're considering starting a business with someone else, it's important to draft a partnership agreement early on. This will help avoid any disagreements or misunderstandings down the road.
What to include in a partnership agreement?
A good partnership agreement should include the following:
1. The name of the partnership
2. The purpose of the partnership
3. The ownership structure of the partnership
4. The management structure of the partnership
5. The financial arrangements of the partnership
6. The termination procedures of the partnership
7. Any other relevant information
A well-drafted partnership agreement like this one can help ensure a smooth and successful business partnership. It's something that all entrepreneurs should consider before starting a new business.
Read this blog post to learn more about a partnership agreement.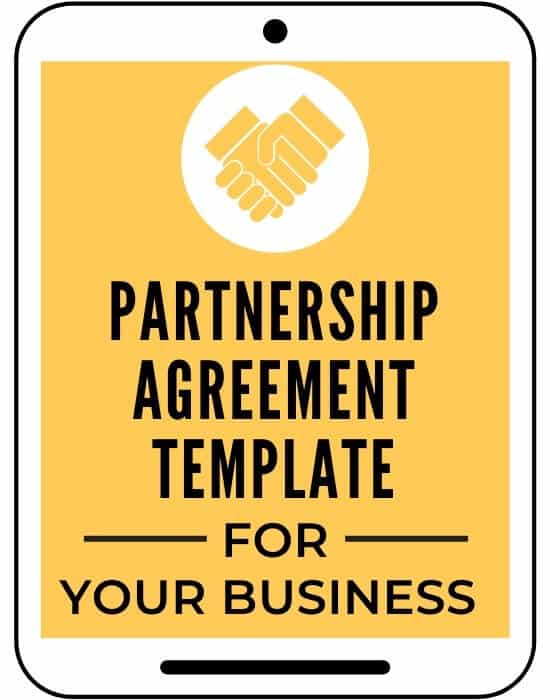 5) Media Release Agreement
If you want to use other people's photos, videos or audios legally then protect yourself with a media release agreement in place. This will protect both you and the person whose content you are using.
A media release agreement is a type of business contract that you should have access to at all times. This document will help ensure that you're using other people's intellectual property legally and prevent any potential legal troubles.
Without this protection, you could be sued for copyright infringement.
Learn all about it in this blog post.
Grab this Media Release agreement and simply incorporate it as part of your website terms to get electronic legal consent. It also comes in my VIP legal bundle here.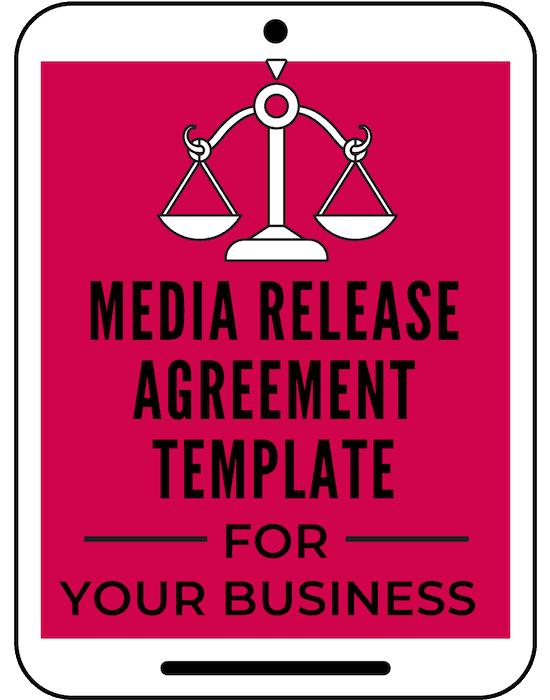 6) Terms and Conditions
Terms and conditions are one of the essential types of business contracts every entrepreneur needs because they are a set of rules that govern the relationship between an entrepreneur and their customers.
By having clear terms and conditions, entrepreneurs can protect themselves from legal action, ensure that they are paid for their products or services, and set expectations for how customers should behave.
Terms and conditions are also a great way to build trust with customers by demonstrating that you are a reputable business.
Many entrepreneurs choose to forgo terms and conditions, thinking that they are not necessary. However, without them, you may be opening yourself up to legal action if something goes wrong.
It's always better to be safe than sorry, so make sure you have clear terms and conditions in place before starting your business.
Learn all about them in this blog post.
Plus here's a Terms and Conditions template that you can instantly use instead of wasting time trying to figure out how to write them yourself.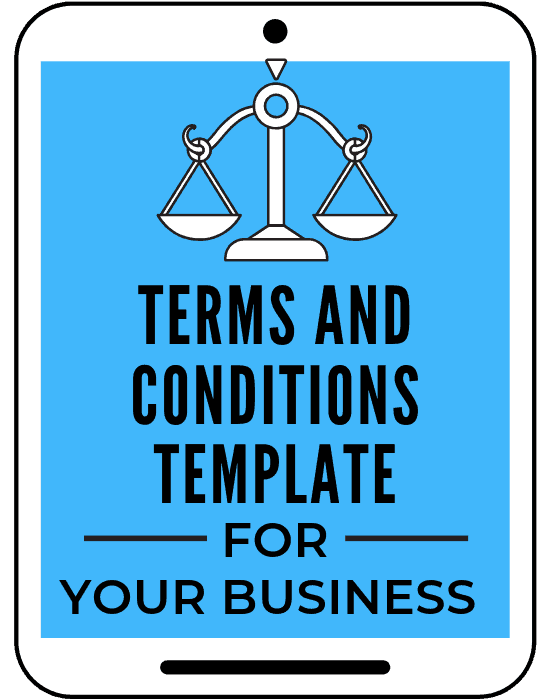 Benefits of Business Contracts
There are many benefits to business contracts such as minimizing risk, clarifying expectations, and protecting your interests. By clearly defining the terms of your agreement in a contract, you can help reduce the likelihood of misunderstandings or disputes down the road.
A well-written contract can also serve as a valuable reference point if disagreements do arise.
Another important business contract you need with your affiliates is called an Affiliate Agreement. Learn more about it in this video:
Final Thoughts on the Types of Business Contracts Every Entrepreneur Needs
In conclusion, business contracts are important for entrepreneurs because they help to protect the interests of both the entrepreneur and the business.
Contracts can help to clarify the expectations and responsibilities of each party, and can also help to resolve disputes if they arise.
As mentioned above, you'll need different types of business contracts depending on what you are doing and who you are going to work with.
Additionally, business contracts can be used as a tool to help attract potential investors or partners to a business. By having a well-drafted contract in place, entrepreneurs can rest assured that their business is protected and have peace of mind knowing that any potential disputes will be resolved in a fair and timely manner.
Get instant access to all types of business contracts we discussed above in my VIP legal bundle (plus you'll receive 16 incredible bonuses with it!)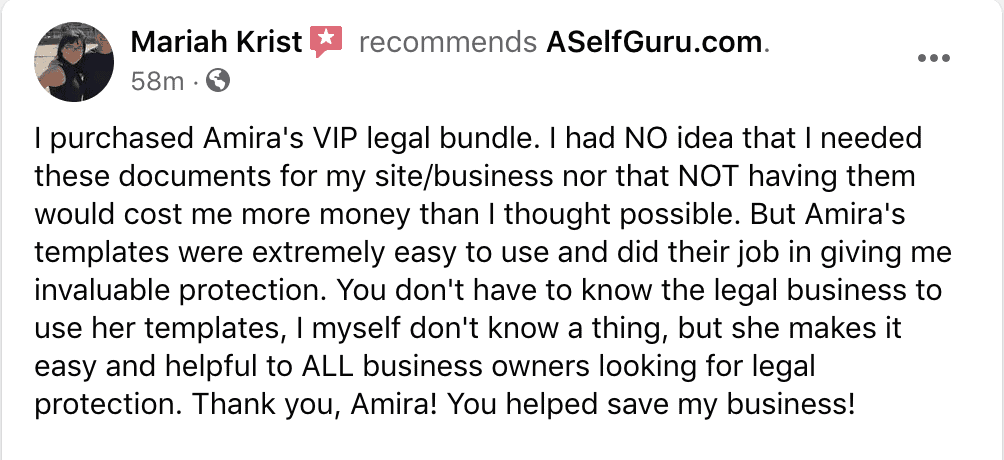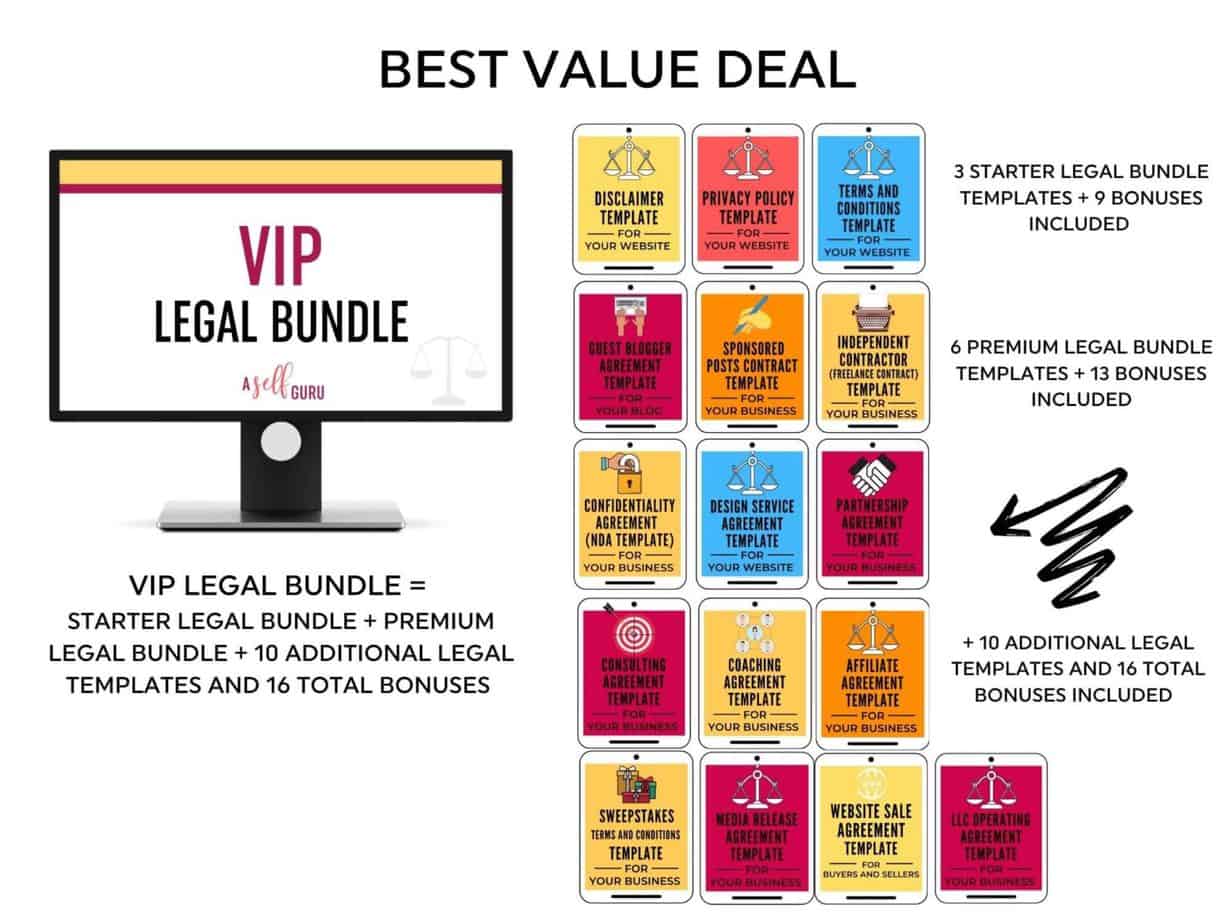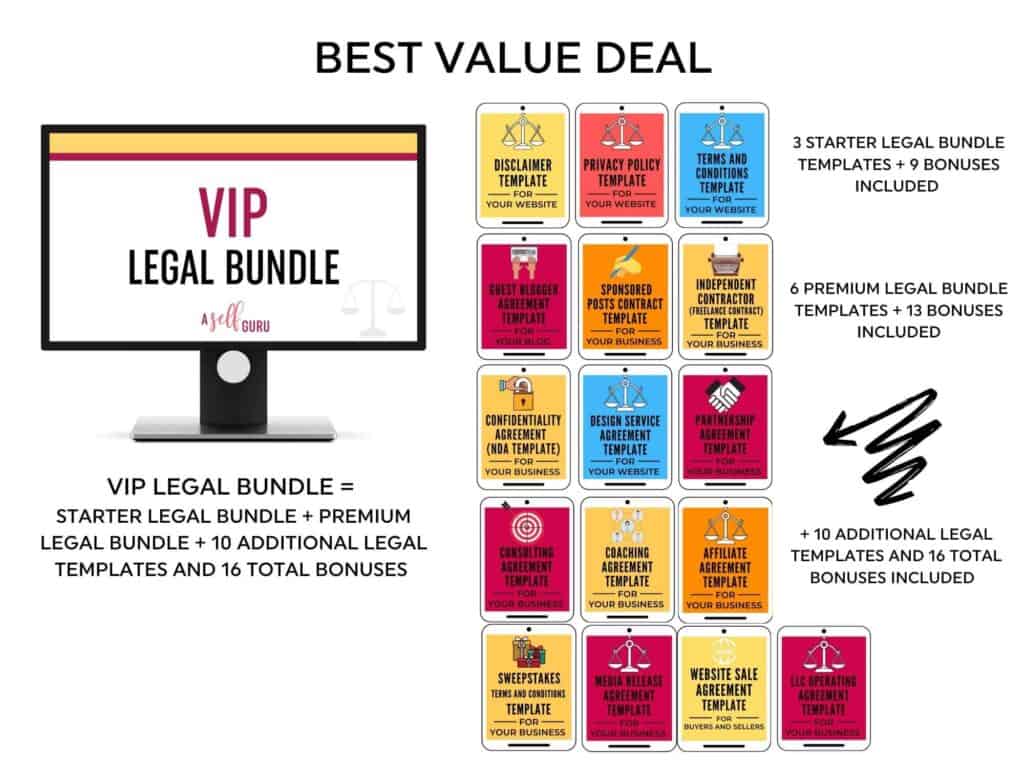 Also, here's a helpful video on how to make your website legal and other important things you need to know as an entrepreneur.
Join my Facebook support group for free here to learn more!
Related Blog Posts on the Types of Business Contracts Entrepreneurs Need
If you are looking to avoid more legal mistakes made by startups, check out the helpful blog posts I put together on various legal topics here.
You also need to make sure your website is ADA compliant. So check out more helpful blog posts below to learn more!