There are several ways in which bloggers monetize their blogs (7 different ways here). One great way to make money from your blog is by writing sponsored blog posts. They're a great way to diversify your income.
There's a good chance that you've been blogging consistently for a while now. You're attracting an engaged audience, they want to learn from you, and they're addicted to your blog.
As your blog and audience grow, you'll start attracting companies and brands that want to work with you.
Here are 17 companies that pay you to post links for example.
Are you feeling excited? Keep reading!
In this post, I'm going to tell you everything you need to know about making money with sponsored posts, and how I make thousands from it.
What Is a Sponsored Post? 
A sponsored blog post is when the blogger is paid to publish an article on their blog, which is written either by the blogger or the advertiser (the company that's paying you to blog it).
Basically, you get paid to talk about a brand or product that you love and share it with your audience while the brand gets the exposure from your promotion. So it's a win-win for both the brand and you as the blogger.
In other words, a sponsored blog post is a method for organizations and brands to partner with influencers to recommend, bolster, boost, endorse, publicize, popularize, and market their goods and services.
The goals of a sponsored post are to cultivate, inform, develop, foster, galvanize, and provide brand awareness.
Think of it like a paid advertisement but it doesn't have to be a written blog post.
These partnerships can be videos, Facebook ads, email marketing, social media shares, and multiple blog posts. If you are a blogger with followers, you are an influencer. You bring value to a brand and you get paid for it.
The easiest and fun sponsored posts are when you get paid to post on Instagram, Twitter, Facebook, and so forth.
One of my recent sponsored posts was actually getting paid to post on Instagram.
Not only I got paid for it but I received the product for free to test it before sharing it with my audience! This is because I only promote products that are the BEST fit for my audience.
Also, sometimes the brand or company will provide you the actual sponsored blog post they want you to publish making it easy for you to publish.
You don't have to create the sponsored content yourself but sometimes, you are asked to create a unique piece of content as part of your agreement with them.
Before you get all excited and accept any sponsored gig that comes your way, make sure the sponsored content and topic is compelling, engaging, and in sync with the blog's niche and target audience.
You don't want to confuse or mislead your audience by publishing anything random.
For example, if you are a personal finance blogger and you get approached by a beauty company to produce sponsored content. That won't be the RIGHT fit for your audience.
Similar thing happened to me where I publish content related to blogging, business, and legal tips on my blog here but I often get approached by beauty/fashion companies who are willing to pay me to create sponsored content for them.
I have to respectfully refuse those offers because those are not the right fit for my blog.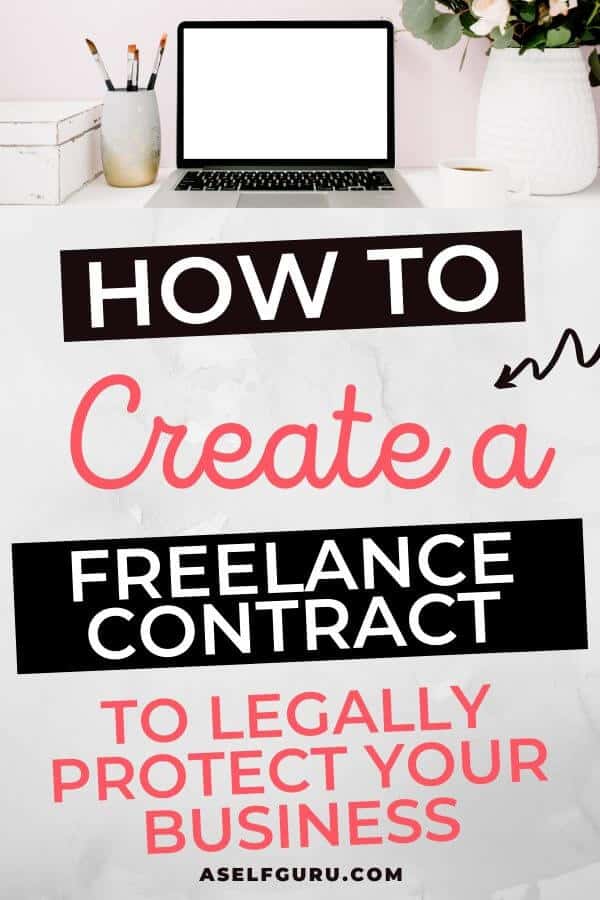 How to Get Sponsors or Sponsored Posts for Your Blog?
There are several ways that you can pitch to brands and companies for sponsored blog posts. But before you start joining sponsorship networks, you need a media kit.
Media Kit
A media kit is your credentials and blueprint about the important facts and statistics about your blog. It is a resume about your blog that you give to brands and advertisers that you want to work with.
The blogger media kit talks about thing like:
your blog,
your photo,
your bio,
what is your unique value proposition,
your target audience
prior brand collaborations
your stats like the number of followers on each social media platform
how you will benefit the brand
You should also list all the services you offer, collaborative options, and what you bring to the table. You need to sound attractive and professional.
This course has some great examples and shows you how to create an awesome media kit.
The media kit should include a picture of you and your logo.
Make sure there are graphics involved and previous brands you have worked with. Include your statistics like followers on all your social media channels, subscribers, page views, unique visitors, and demographics. If one social media has taken off from 300 to 1000 visitors in a few weeks, mention that.
Your media kit should not be dull or too long. Be creative with it and it's a way to sell yourself!
Include a price list for your services so the brand manager knows what your rates are and whether they can work with you.
Finally, have a work with us or an advertising page on your blog that is similar to the media kit.
Create a Profile on Sponsored Posts Websites
Brands generally hang out on a few websites looking to pay bloggers to promote their products or content.
I've only listed a few, but there are plenty more websites than this.
Additionally, there are sponsored blog post websites for particular niches such as motherhood, travel, finance, beauty, and more.
When signing up for these websites, be as detailed as possible. Fill out as much information as you can about yourself and your blog.
Don't forget to make your blog sound exciting, engaging, and fun!
Here are a few websites that I recommend using:
Being Proactive
Make sure that you always display your email address on your blog. Companies do outreach themselves so make it easy for them to reach out to you.
Also, follow some big-time bloggers in your niche. Pay attention to some of the companies they're working with. Reach out to the companies that they're working with if you're interested in working with them as well.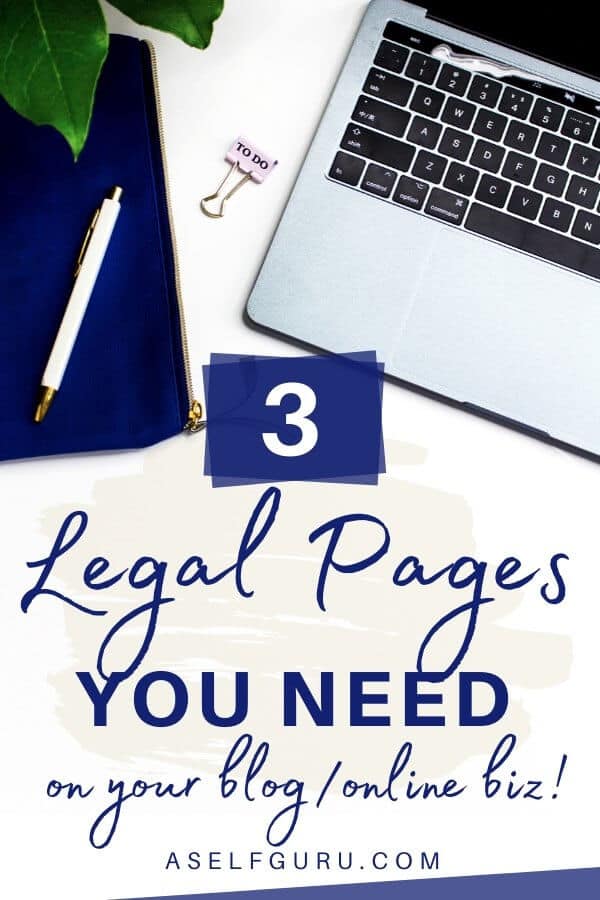 How Much Money Do Bloggers Make From Sponsored Blog Posts?
Bloggers can make anywhere from $250-$1000+ per sponsored blog post. Everyone has a different opinion on this.
As a general rule of thumb, I don't think bloggers should charge less than $250 for a sponsored post.
I wrote my first sponsored blog post for only $150 when I was a beginner blogger but as I grew my business, I raised my prices to $250 per post. I charge even more than that depending on my negotiations with the brand.
You're taking the time to write a great sponsored post for them, putting their brand on your blog, so you should be fairly compensated for your time.
Plus you'll be communicating with them a lot to make sure that you're including everything they want you to include.
Bigger brands are tougher to work with. I don't mean this in a negative way. The bigger the brand, the more likely you'll go back and forth with them to make sure that the sponsored post is perfect.
You have the potential to make an unlimited amount of money on your blog with sponsored posts. I have made thousands of dollars from sponsored posts myself, and here are a few other bloggers who make $10,000 per month on their blog JUST from sponsored posts.
How to get your first sponsorship gig?
Honestly, the fastest way to get sponsorships is to learn all the tips and tricks from people who have already mastered the art. That's why I highly recommend these sponsored post courses to help you get started, and these courses will teach you everything you need to know! They have certainly helped me so much.
Aside from the sponsored posts courses, you will also need a legal contract that memorializes all your discussions and negotiations with the brand in writing, so you get paid on time! Here's my Sponsored posts contract template for that.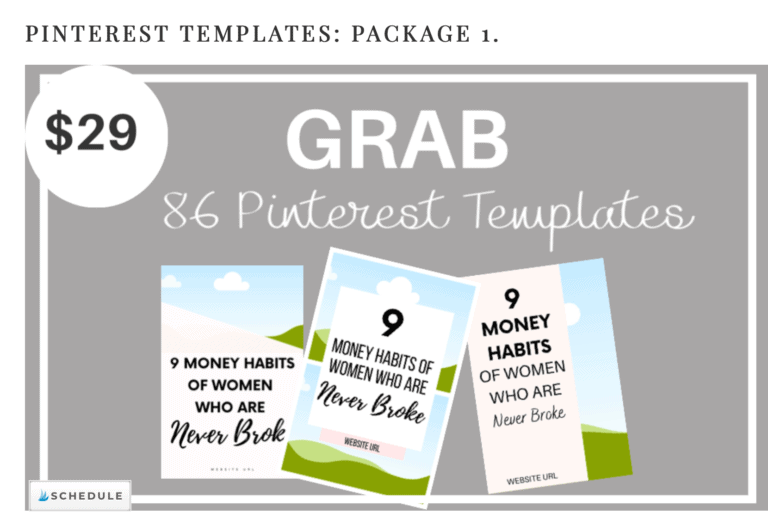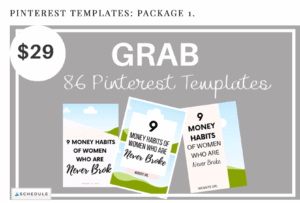 How Much Should I Charge For a Sponsored Post?
As I've already mentioned, there are a lot of factors that come into play when charging for sponsored posts.
This all depends on things such as your traffic, social media presence, open rates on your newsletters you send via email, engagement, and more.
The brand you are working with will sometimes ask you for these numbers beforehand so do your best to give them exact figures. Other times, they will be happy with just your social media followers and blog traffic numbers.
Another factor that will influence your rate comes from the time it took you to write the sponsored blog post, if you're including photos and videos, social media engagement, and more.
You will use all of these factors collectively to determine a portion of your price. If your total comes out to less than $250, you should reconsider. You should never charge less than this for a sponsored blog post.
Keep in mind that you may be promoting the sponsored blog post on your social media channels such as Facebook and Pinterest. You may even do an email blast to your subscribers promoting your post. So I charge extra for those additions.
For example, the brand may ask you to share the post three times on Pinterest. You need to calculate the time it takes you to create those three pins and pin them to Pinterest.
If you're unsure whether you're charging the proper rates, check out Social Blue Book. This resource will help you make sure that you're charging the appropriate rates.
I strongly recommend never to low ball yourself. I learned that after taking this course because as a beginner blogger, I made the mistake of undervaluing my work and time. I didn't do too bad considering I charged $150 for my first sponsored blog post but still, I could have charged $250 instead.
You need to get paid for your value. If you have worked with other brands, show that. Show the brand the services you offer and differentiate yourself.
It is very important to under-promise and over-deliver. The goal is for the brand to become a repeat customer. Your goal is to deliver exceptional value so you get paid.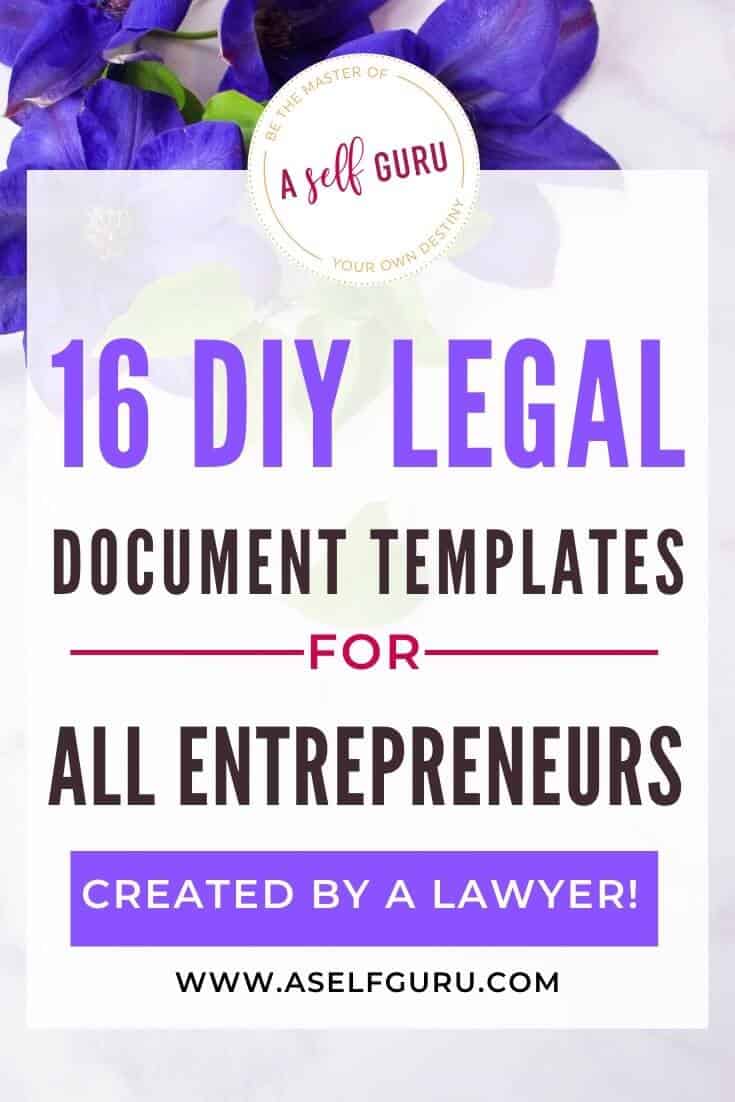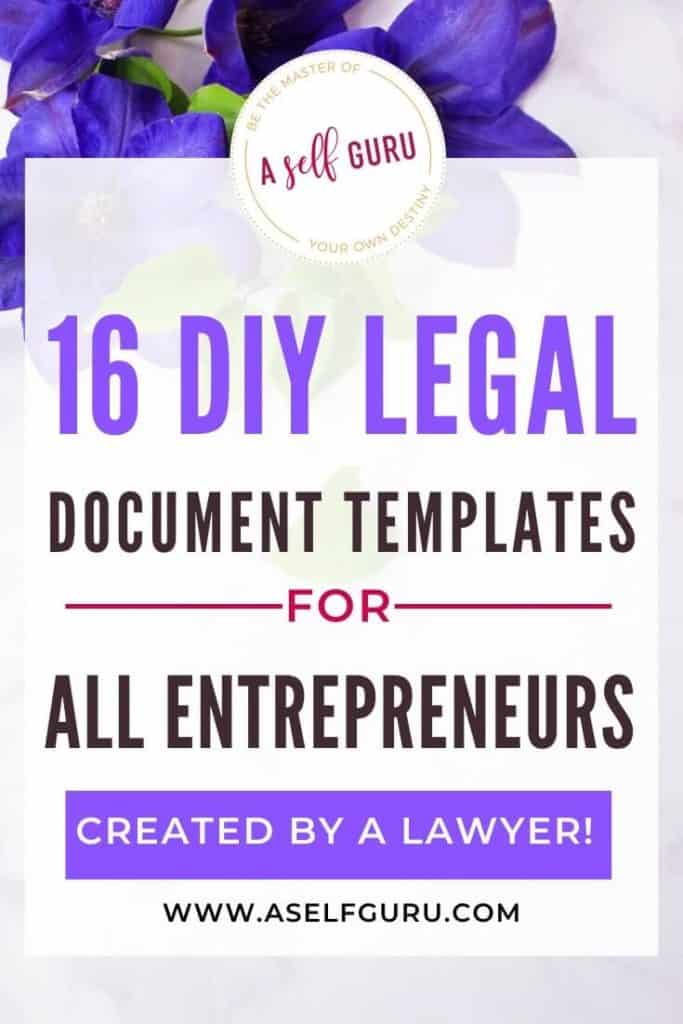 How to Disclose Paid Sponsored Posts (FTC Disclosure)
The Federal Trade Commission (FTC) requires that you disclose any paid sponsorships as you can see their guidelines here.
The FTC has strict guidelines that need to be followed when you are being paid to promote a brand. You have to have a disclosure policy, that is easy to read, easy to find, and labeled.
It is vital for the blogger to let the audience know that they are being paid to promote the product. You have to be transparent with the audience. The readers trust your opinion and need to know that financial factors are influencing your writing. The moment they realize they are being misled; they will never read another sponsored post again.
In a sponsored post, the disclaimer should be right at the top. When a reader watches a video, sees a post on Instagram, or reads a post they need to know that it is sponsored content. This way you have put your reader first.
In a sponsored video, the disclaimer should be verbally made by you. Not some small description at the end of the video. Look in the camera and tell the viewers that it is sponsored content and if you got any free products from the brand.
The FTC is serious about consumer protection and not disclosing your business relationship with the brand could land you in breach of ethical, legal, and moral requirements.
So make sure to protect yourself and comply with the legal requirements to avoid any issues. As a lawyer, I have seen the FTC regularly conducting investigations of influencers and bloggers that fail to give the proper legal disclosures.
If you want to see this FTC Disclosure in action, check out this sponsored blog post that I wrote. It's in the first few paragraphs before the Table of Contents.
Related Post
Aside from sponsored disclosures, make sure you give proper affiliate disclosures too if you are going to use affiliate links in a post. To learn more about those, read this blog post.
Sponsored Posts Disclaimer to Legally Protect You
Keep in mind that this isn't the same as the FTC Disclosure that I discussed above.
If you write sponsored blog posts then you must protect yourself legally with this Sponsored posts disclaimer for your website! It's included in your Sponsored Posts Contract template for FREE to add to your website's legal pages! (I'll go over this in more detail below!)
It's a $150 value by the way that I'll be giving to you for free with my Sponsored Posts contract template 🙂
You also get this Sponsored posts disclaimer for FREE with my Starter Legal Bundle here (the 3 website legal pages you must have!)
Sponsored Posts Contract Template to Get Paid on Time
I know you're already stressed about pitching brands and companies and I don't want to stress you out anymore.
I've created a Sponsored Posts Contract Template that's going to save you SO much time and hassle!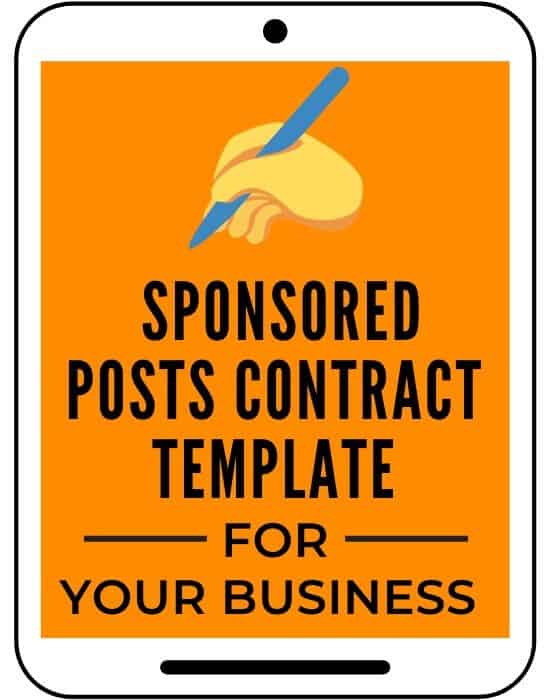 You get an instant download when you get the Sponsored Posts Contract Template here.
Then, you just plug in your information (as instructed) and start using it immediately!
Plus, most people get done in less than 15 minutes as you can see how easy it is to fill in the blanks (and fun, okay, maybe not fun for you but still pretty easy!)
The hard work is done for you!
As a lawyer practicing and working with brands myself, ​I've already included all the legal jargon you need to legally protect yourself when working with brands.
Just have the brand sign it before you start creating sponsored content for them.
Watch this video below to learn more about the template + 3 AMAZING bonuses worth $500 that come with it:
This Sponsored Posts Contract Template is legit, comprehensive, affordable, AND drafted by a lawyer who is also a professional blogger – me!
This is the same legal template I use for my brand sponsorships and to run my six-figure blog.
This Sponsored Posts Contract Template is your easy and done-for-you legal solution.
Here's what you get with this Sponsorship agreement template:
A detailed Sponsored Blog Posts Contract Template that includes the different kinds of sponsored posts you can create
A comprehensive legal template that's going to protect you from all kinds of legal issues with working with brands.
Drafted by an experienced lawyer who has more than 10 years of legal experience.
It comes with easy idiot-proof instructions to customize the template based on your business in 15 minutes or less!
Instant download so you can begin using the legal template right away!
Lifetime access to free updates.
Trusted by over 10,000+ bloggers, course creators, freelancers, my clients, and other business owners just like you!
Grab your copy of the Sponsored Post Contract Template here.
What Could Legally Go Wrong Without a Sponsored Post Contract When Working With Brands?
With a sponsored posts contract, BOTH you and the brand know exactly what is expected of each other and you will have all the key legal provisions to back you up in case something goes wrong!
Without this legally binding contract, you are out of luck if the brand decides to NOT pay you for your sponsored work on time or forgets to pay you at all!
I see this issue ALL THE TIME. Here's an example from my Facebook group, which you can join here.
This blogger performed her end of the bargain and created the sponsored blog post but has been waiting to be paid for 3 MONTHS!!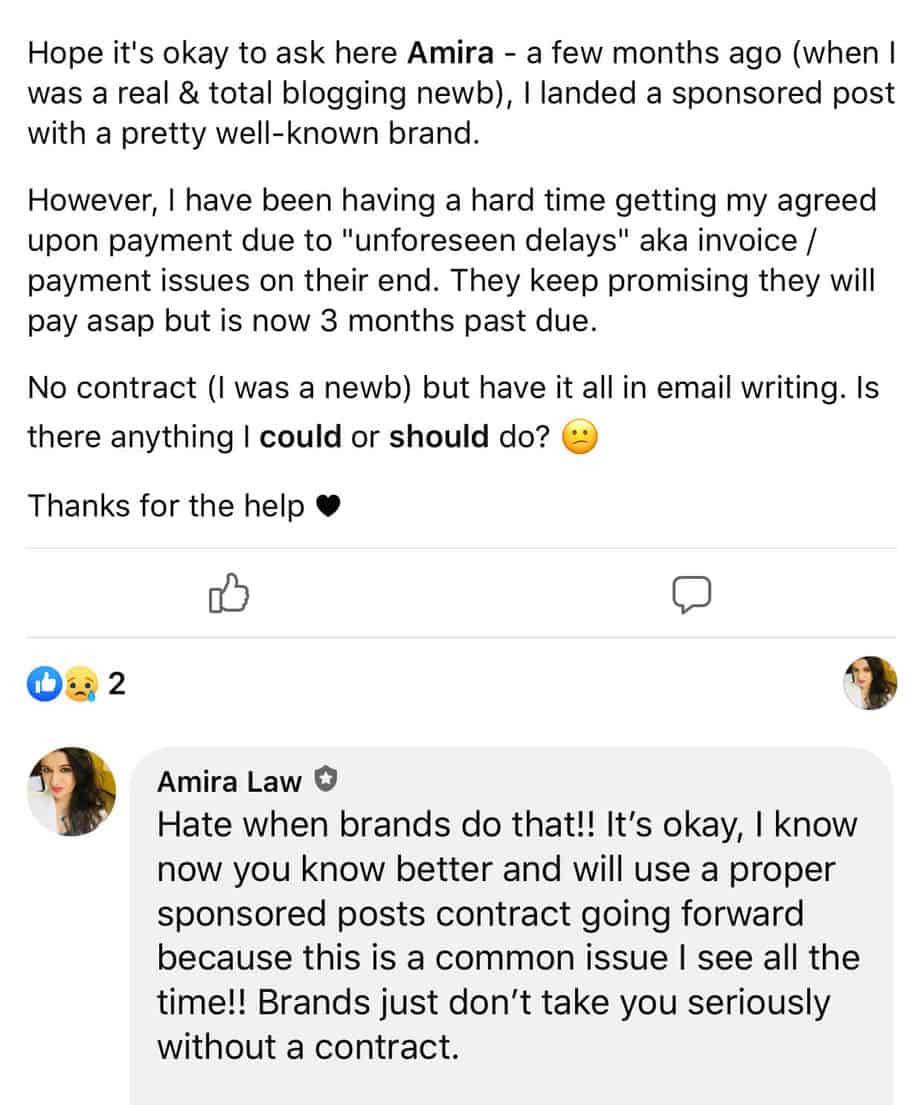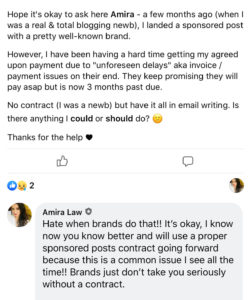 That's why a proper sponsored posts contract is a MUST.
My Sponsored posts contract template lays out all the terms and conditions including the services you're providing, confidentiality provisions, payment terms, legal compliance and FTC disclosures, termination clause, and much more.
Watch how Steffa uses it to give herself a professional look with brands and avoid being taken advantage of here! 
Lastly, here are 100+ 5 star reviews of my legal templates including this Sponsored posts contract on my Facebook page.
Final Thoughts – Sponsored Blog Posts
Working with brands and writing sponsored blog posts are a great way to monetize your blog.
If you want to learn the complete ABC of sponsored posts as I did then definitely enroll in this course OR this one.
I honestly love working with brands and I know you will too!
It's the fun part of blogging where you get paid to write or produce creative sponsored content.
Just make sure to legally protect yourself when doing so!
It's easy and affordable to do so with my Sponsored Posts Contract Template.
RELATED POSTS TO SPONSORED BLOG POSTS
Check out these awesome blog posts on other helpful legal and business topics you need to know:
Do you work with brands? Have you landed your first sponsored post? Do you have any tips to add to the list? Let me know in the comments below!