When I first started blogging, I always wondered how to become a full time blogger?
I would read income reports of successful bloggers making six and seven figure full-time income online and that really inspired me to start my own blogging journey.
Speaking from personal experience, let me tell you that becoming a full-time blogger is an exciting and rewarding journey that can provide you with the opportunity to turn your passions into a career.
I have done it!
I started as a part-time blogger while working full-time as a lawyer.
But I knew it was just a matter of time before my blog income would replace my lawyer salary and allow me to quit my 9 to 5 day job!
You can learn more about my blogging story here and how I made $78,000 in a single month from my blog in this video.
So if you are interested in becoming a full-time blogger then you have definitely come to the right place!
As a professional blogger now, I must tell you that blogging is NOT for everyone.
In order to turn it into a full-time career and make enough money, you need dedication, hard work and commitment, but if you put in the effort, it can be incredibly rewarding. 
In this blog post, we will explain everything you need to know about how to become a full-time blogger so you can take the first steps towards turning your blog into a successful business.
We will cover topics such as setting realistic goals, building an email list, legal mistakes to avoid, joining affiliate programs, learning how to market yourself, monetizing your blog, and more.
With this guide, you will gain all the information necessary to start your journey as a full-time blogger.
Make sure to save this post. So let's get started!
How to Become a Full Time Blogger (19 Best Tips)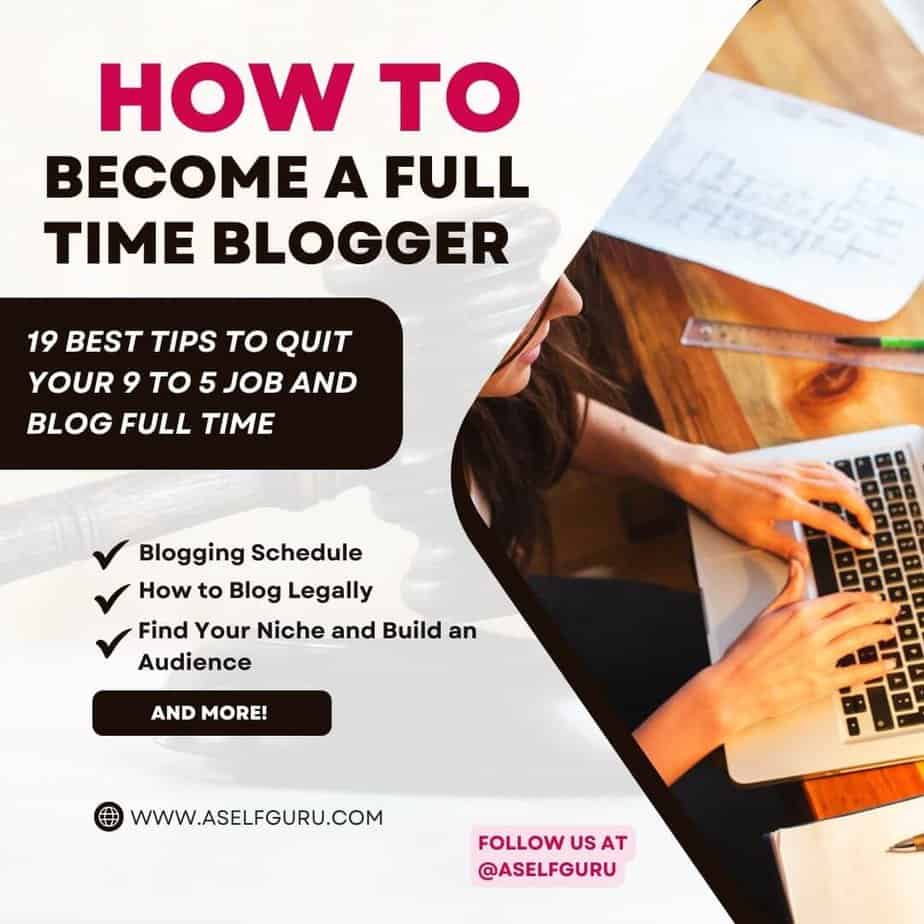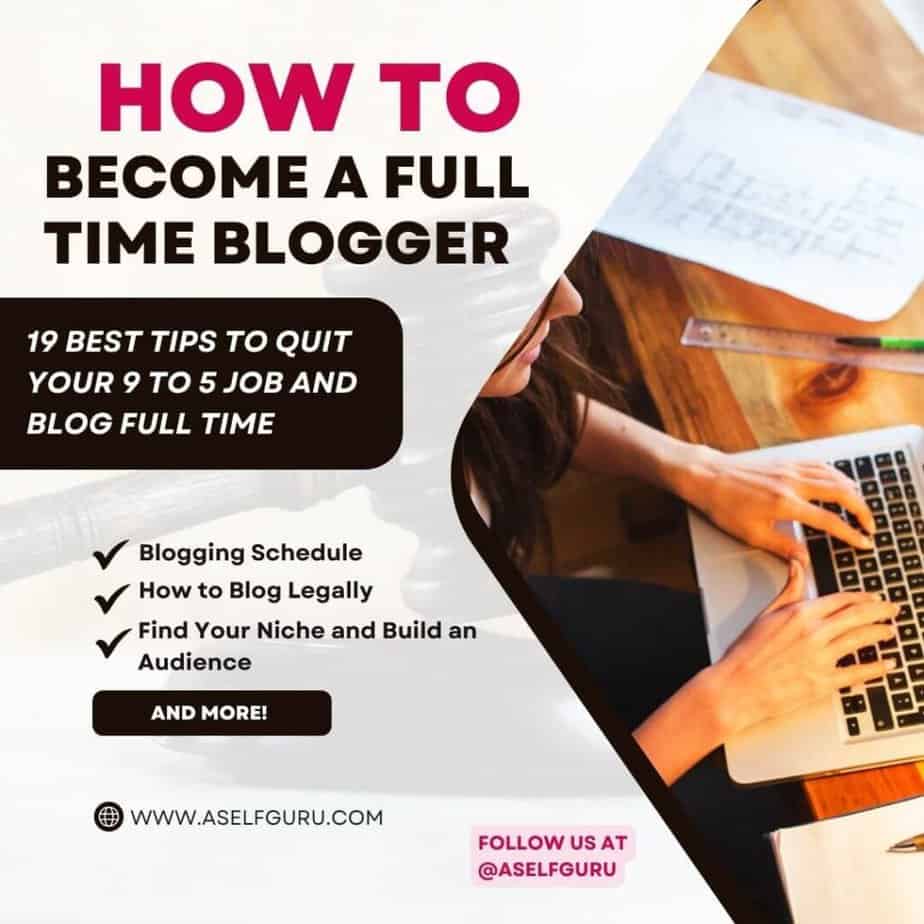 To make money blogging and become your own boss, make sure to follow these best tips for becoming a full time blogger:
Set Realistic Measurable Goals (SMART Goals)
Beginner bloggers often underestimate the amount of work it takes to become successful.
Before you write your first blog post, you need to think about your 7 SMART blogging goals.
Setting realistic, measurable goals (SMART Goals) will help you stay on track and remain motivated as you progress in your blogging journey.
You don't want to overwhelm yourself by setting goals that are too lofty or unrealistic.
Stick to a Regular Work Schedule
One of the hardest parts about blogging full-time is scaling your production without burning yourself out.
When your blog is your business, you can't afford to get writer's block or lose your passion—your income relies on it!
The best way to prevent burnout is to find a schedule that works for you and stick to it religiously.
Don't write more when you're feeling particularly inspired, and, like any other job, choose a daily eight-hour window in which you work and unplug for the rest of the time.
Working long hours and letting those lines between work and life blur can make it harder to take healthy time away to recharge and reset, so separate as much as possible.
-Ruben Gamez, Founder and CEO, SignWell
Protect Your Blog Legally
The first step to blogging full time requires protecting your blog legally.
Before you get busy with building an email list or creating products, you need to have a strong legal foundation for your blog.
This means having these 3 essential legal pages (Privacy Policy, Disclaimer, and Terms and Conditions) at the very minimum, and also making sure your website is compliant with the accessibility laws.
Use this ADA website legal bundle written by a lawyer to ensure your website is compliant and prevent costly lawsuits.
To learn more, grab this ebook that will show you 23 legal mistakes to avoid as a blogger and entrepreneur!
Related Blog Posts on Blogging Legally and Protecting Your Online Business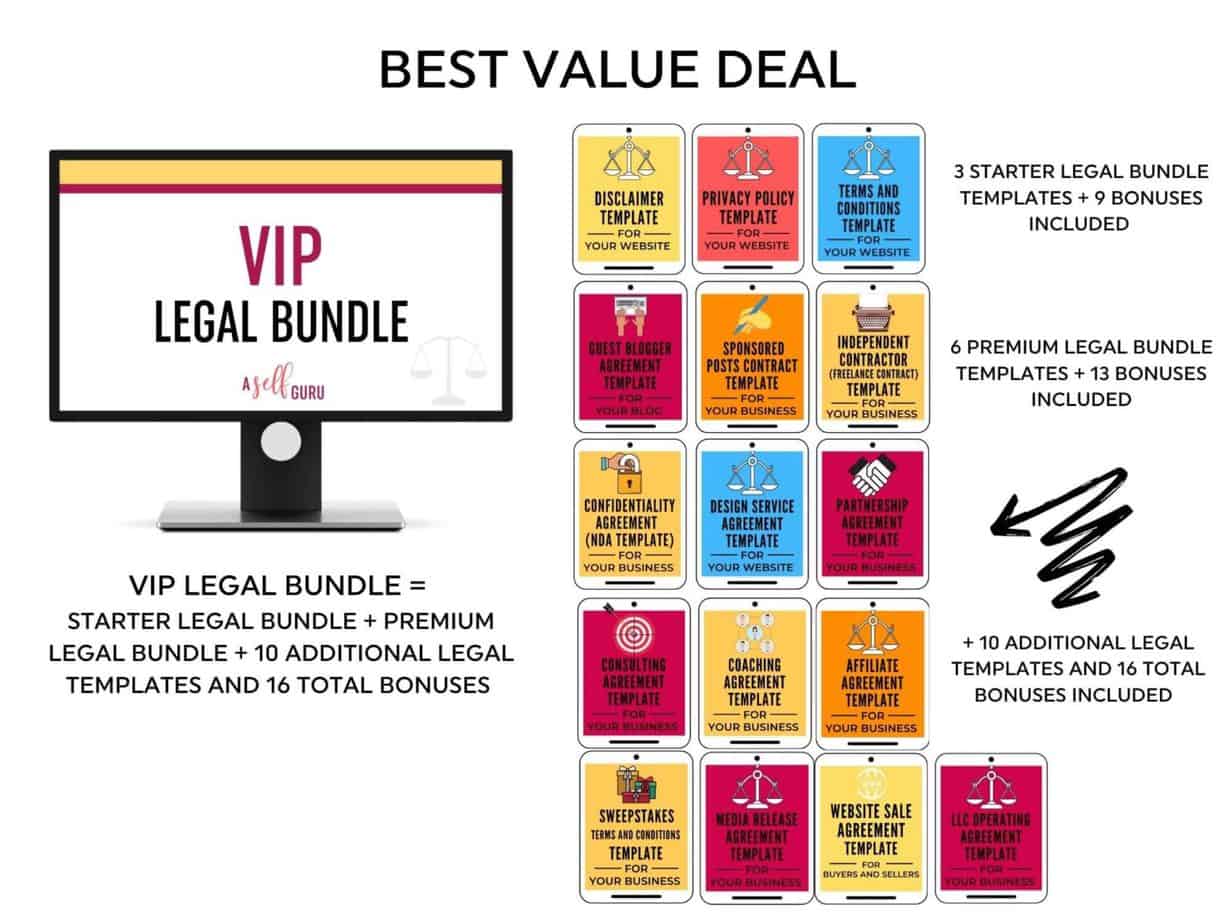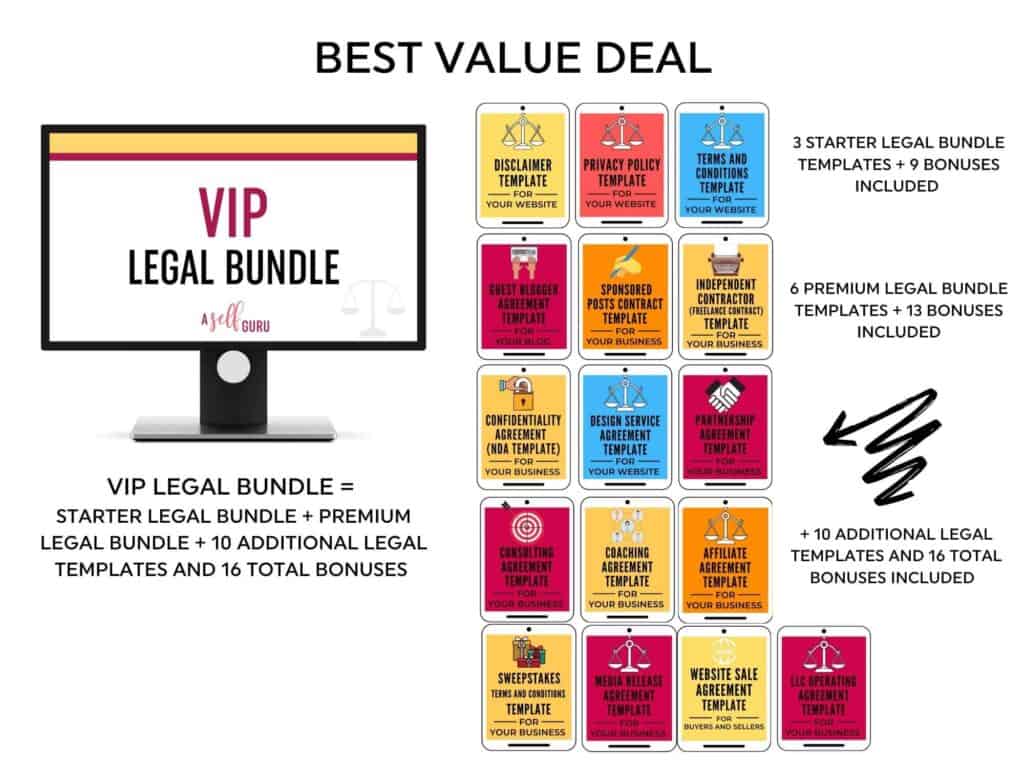 Build an Email List
When you start a blog, you'll need to build an email list of people who will eventually read your posts.
You can use this email service provider or this one.
To build a following of people who will read your content, you'll need to spend a lot of time on a regular basis sharing it on social media, talking to people about it, and getting the word out especially in your first year.
Once you've built a following, you'll have people who are waiting to hear what you have to say, and you'll be able to make a living as a full-time blogger.
-Matthew Ramirez, CEO, Paraphrase Tool
Grow a Strong Social Media Presence For Your Blog
For spreading the word about your blog and attracting new readers, I believe that social media platforms are essential.
Share your material and engage with your audience on social media networks such as Twitter, Instagram, and Facebook groups.
Publish regular updates and interact with your fans on a daily basis by replying to comments and messages.
Social media can also be used as a legit way to network with other bloggers and influencers in your niche.
This can help you in developing relationships, gaining attention for your blog, and even collaborating on initiatives.
-Gerrid Smith, Chief Marketing Officer, Joy Organics
Focus on Evergreen Content
If you want to become a full-time blogger, focus on creating quality evergreen content.
Creating this type of content is time-consuming, but it will always apply to your audience, and once the page authority has built up, these posts will eventually bring you a steady stream of traffic.
Many bloggers see this small return and immediately decide it's not worth the time (which is considerable) to blog. It's difficult, and it combines several skills, including data analysis, copywriting, and content marketing.
It's vital that your content is original: write it yourself with your own insights and expertise, and don't just rewrite articles you find elsewhere on the web. Google will know.
Learn more about copywriting here.
-Nicholas Robb, Founder, Design Hero
Related Blog Posts on Best Ways to Create Content 10x Faster and Build a Profitable Blog!
If you struggle creating content on your own, consider hiring a freelance writer.
And you can use this awesome toolto create any kind of blogging content 10x faster! (I personally use and love it)
Write Everyday
A mistake that I see new bloggers making all the time is watching and not doing. They keep waiting for the "right time".
They'll sign up for countless courses, email newsletters, and webinars, but never open a blank document and start writing.
This is why I believe the most effective way to quickly become a full-time blogger is to write often.
Even the best writers in the world have to start somewhere.
So if you find yourself stuck in this analysis paralysis, my best tip is to bite the bullet and start writing. You'll make many mistakes, and you'll learn from these mistakes, allowing you to improve.
–Scott Lieberman, Owner, Touchdown Money
Find Your Niche and Build an Audience
To become a full-time blogger, you must first identify a niche in which you are interested and then build an audience around it.
This, in my opinion, is choosing themes about which you are educated or interested and developing content that resonates with your target audience.
You may distinguish yourself from other bloggers and establish yourself as an expert in your field by focusing on a certain topic.
Furthermore, establishing an audience takes time and work, so it's critical to publish high-quality content frequently that engages your readers and encourages them to share your pieces with others.
-Daniel Foley, Founder, Daniel Foley 
Produce High-quality Content
My best tip for becoming a full-time blogger is to focus on producing high-quality content that is valuable to your audience.
This means identifying your niche, understanding your target audience, and creating content that resonates with them.
Consistency is also key; maintaining a regular publishing schedule can help you build a loyal following and establish yourself as an authority in your niche.
It's also important to focus on building a strong online presence and promoting your content through social media and other channels, rather than being overly reliant on SEO.
Networking with other bloggers and industry professionals can also help you expand your reach and gain valuable insights and opportunities.
-George Shuter, Owner and Editor-in-Chief, Indie Panda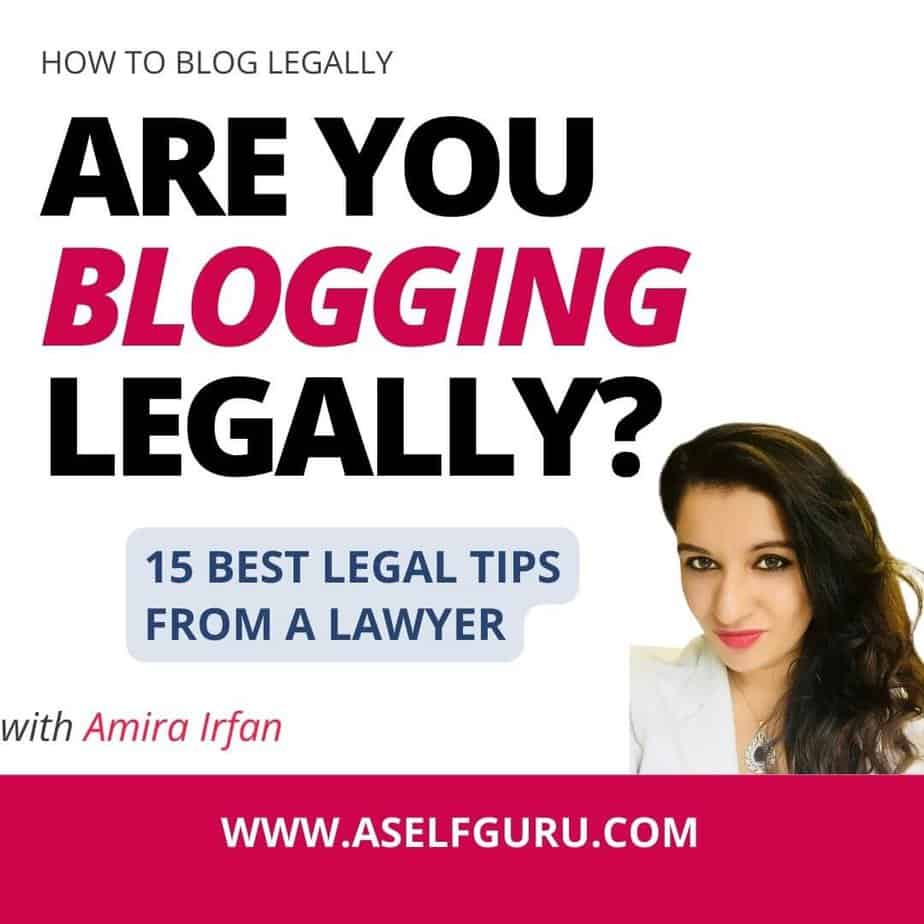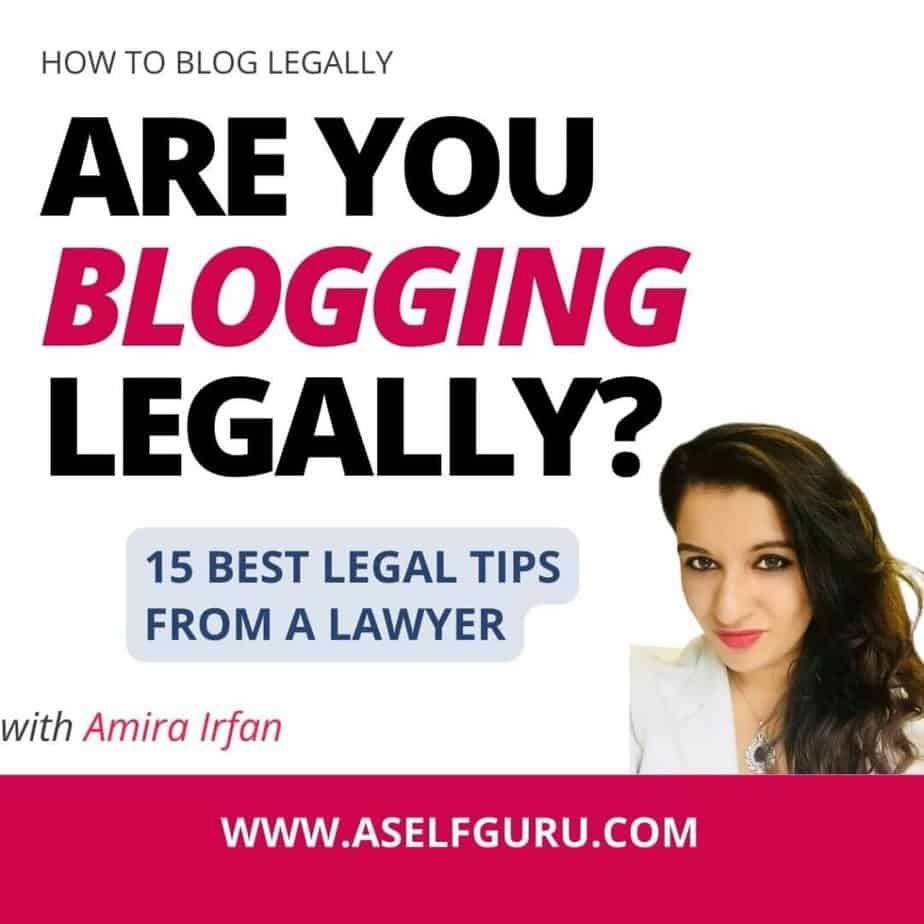 Offer a Unique Perspective
The best tip for becoming a full-time blogger is to be relentless in building an audience.
A great way of doing this is through niche influencer marketing: find experts in your topic and partner with them on initiatives that drive maximum visibility, such as co-hosting webinars or writing shared blog posts.
This allows you to tap into their network of followers quickly, while also establishing yourself as an authority in the field.
Additionally, ensure that your content stands out by delivering value and offering unique perspectives. With these steps combined, you will make considerable progress toward turning blogging into a full-time endeavor.
-Kate Duske, Editor-in-Chief, Escape Room Data
Make Money With Your Blog
The best part about blogging is that there are many different ways to earn a part-time income in the beginning.
Advertising, sponsored content, affiliate marketing, and generating and selling your products or services are all ways to monetize your blog.
It is critical to select the monetization method that is best suited to your niche and audience.
Furthermore, I believe you should be open and honest with your readers about any sponsored material or affiliate links.
-Frederic Linfjärd, Director of Growth Marketing, Planday
Watch how I made $78,000 a month blogging
Learn From the Best
Listen to the podcast "The Blogging Millionaire" and learn from the best.
Host Brandon Gaille has been at the forefront of SEO tactics for a long time, earning him 5 million visitors per month across his many sites.
His episodes are conveniently divided up by topic for a deep dive into that subject.
This is convenient because you can pick and choose which episodes are most applicable to your blog, such as backlinks and ChatGPT, and skip the rest until you need them.
Since the blogosphere is always changing, be sure to listen to the more recent episodes so you don't get outdated information.
If you're going to get into the blog business, make sure you enter it fully realizing what goes into making money at it by giving Brandon's podcast a listen.
-Bridget Reed, Co-founder and VP of Content, The Word Counter
Plan Your Content and Establish a Workflow
Starting a full-time blogging career can seem challenging, but staying organized and motivated is possible by developing a content strategy and simplifying your workflow.
First, decide how often you'll post, which helps create a practical schedule. This provides clarity on the time and effort needed to generate top-quality content every week.
Moreover, using an editorial calendar aids in planning and ensures a steady flow of new content.
It's also essential to create a workflow customized to your blog's specific requirements.
This process can include generating topics, researching, writing, editing, optimizing for search engines, publishing, and promoting.
Effective execution allows you to produce timely, captivating content that appeals to your audience.
Finally, make it a habit to regularly evaluate and fine-tune your workflow for continuous improvement.
-Dilruba Erkan, Consultant, Morse Decoder
Leverage Your Blog to Offer Services
The prospect of starting a blog and making tons of affiliate and ad income as you sleep seems like a dream.
However, getting your blog to that point requires a lot of time investment in content, link building, and other areas of SEO.
To help sustain your blog as you work towards those goals, you can use your blog as an opportunity to offer services like content writing.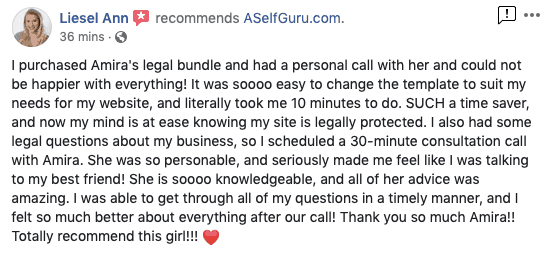 Doing this will help you bring in income while building your core blog.
To brainstorm service ideas, it's helpful to evaluate what you do daily.
For example, if you write five blog posts a week, you can target writing three for clients. With the bonus income, you can re-invest in writers yourself, which can ultimately help you get above the original five-posts-per-week threshold!
With time, as your client base grows, you'll generate sustainable income that allows for full-time blogging while continuing to develop ad and affiliate income streams on the side.
-Axel DeAngelis, Founder and Marketing Strategist, Jumpcoast
Cultivate a Strong Personal Brand
My best tip for becoming a full-time blogger is to develop a strong personal brand.
This involves creating a unique and recognizable identity for yourself as a blogger and using it to build a loyal following and establish your credibility and authority in your niche.
To develop your personal brand, start by defining your unique voice, style, and values as a blogger, and then use that to create a consistent and memorable online presence across all of your channels, including your blog, social media, and email marketing.
Additionally, engage with your audience regularly, respond to their comments and feedback, and build relationships with other bloggers and industry influencers.
By developing a strong personal brand, you can differentiate yourself from other bloggers and establish yourself as a trusted and influential voice in your niche, which can ultimately help you achieve your goal of becoming a full-time blogger.
-Himanshu Sharma, CEO and Founder, Academy of Digital Marketing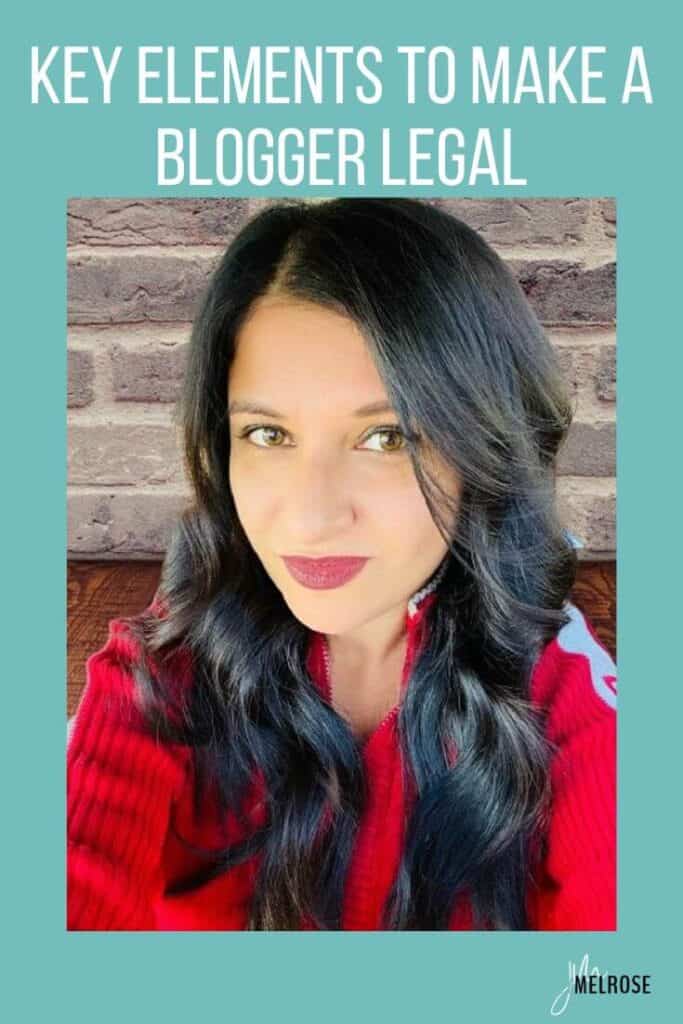 Network With Similarly Sized Content Creators in Your Industry
If you're going to go full-time and want to actually turn a profit, the first thing you have to realize is that you're going to need help.
Usually, this means that you need to build connections with other bloggers and write guest posts, comments, and other collaborative projects.
The reason you want to do this is that this is the most direct way for you to build your following, gain backlinks to help you rank higher in SERP, and build a reputation for yourself without just shooting content into the void.
Don't take my word for it—check some of your favorite blogs and you'll see that they almost always have a section for content creators they partner with or friends of the blog.
-Onno Halsema, CEO, Contentoo
Master Search Engine Optimization (SEO) Basics for Consistent Blog Traffic
Do a crash course on SEO. This should be one of the first things you should focus on.
The foundation of a full-time blogger is regular visitors coming to your site, and there is no better source of traffic than Google for traffic that you can truly scale over time.
The only way you can get that is to really understand what SEO is all about.
You don't have to be an expert, but becoming familiar with the general foundations, such as keyword research and your on-page structure, will give you a massive boost to help you understand what it takes to gain regular, consistent traffic to your posts.
-Harry Boxhall, Freelance SEO Consultant, Harry Boxhall
Know that Blogging Requires Discipline
People often assume the life of a blogger to be easygoing.
They think people in the trade make their own rules, work their own hours, and are carefree.
But talk to anyone from the blogging community, even beginners, and they'll tell you how untrue these notions are.
A full-time blogger's life is a rollercoaster at first. The dizzying routines and all those things on the to-do list that just don't seem to go away are often overwhelming.
After a while, things settle down into a routine, but even then, it's anything but easygoing.
Bloggers quickly learn that discipline is what it's all about, and they rely heavily on their schedule and stick to it no matter what because no one knows better than a blogger how easy it is to slip for a bit only to see everything they've built lose momentum just like that.
So if it's a full-time blogger's life you're choosing, know that you will have to be extraordinarily disciplined.
-Wasim Kagzi, Director of Marketing and Development, MuscleLead
Be Yourself
If you want to become a full-time blogger, my top advice would be to prioritize authenticity.
Pick a topic or theme that you're genuinely passionate about and knowledgeable about. Avoid copying other bloggers, as this can come across as insincere, and your audience will pick up on it.
Authenticity is crucial for building trust, differentiating yourself from the competition, engaging with your audience, and establishing your brand.
By remaining true to your beliefs and personality, you can produce content that truly connects with your readers and drives your blogging success.
-Riya Shah, Marketing Coordinator, Achievable
Treat Your Blog as a Business
When you consider the companies you choose to support, what characteristics come to mind?
Most likely, a consistent product, competent service, appealing branding, happy customers, and a motivating message. The same rules should apply to your own blog as well.
A blog is just as legitimate an organization as, say, a design studio or a marketing firm. It doesn't matter if you started your business in your bedroom; many design studios and marketing firms did too.
You still need to have a huge vision. You need to consider making investments in your company, learning about your target market, staying up to date with market developments, and looking for chances to grow your brand.
-Tiffany Payne, Head of Content, PharmacyOnline.co.uk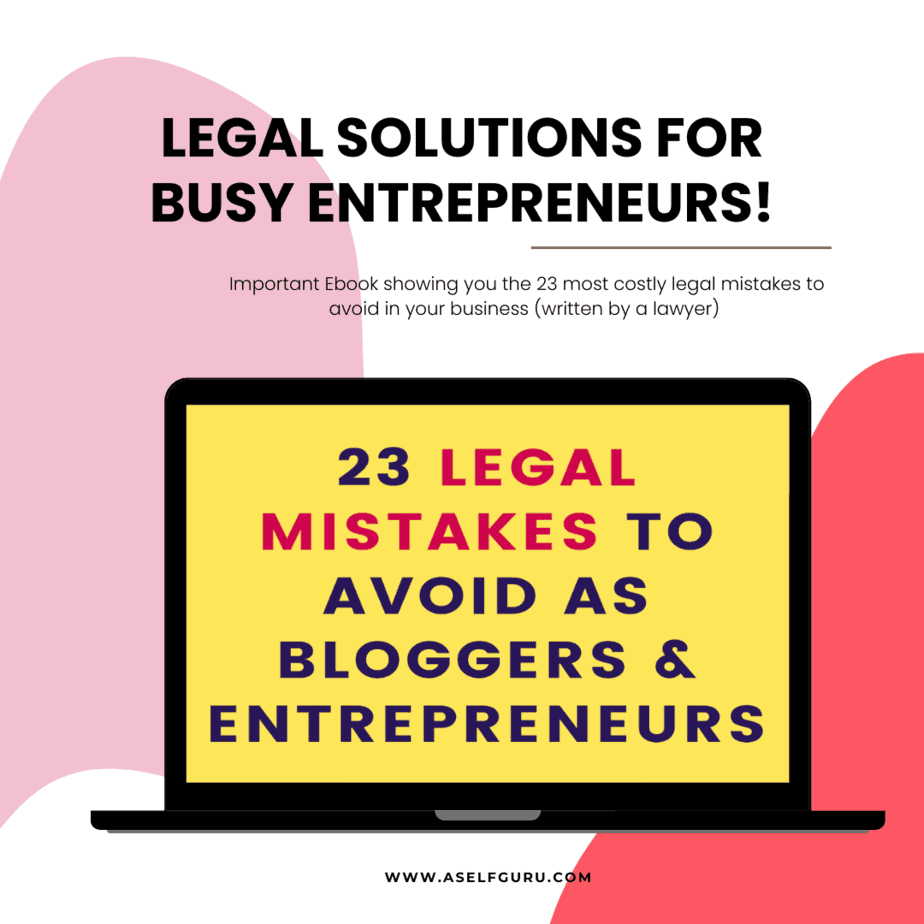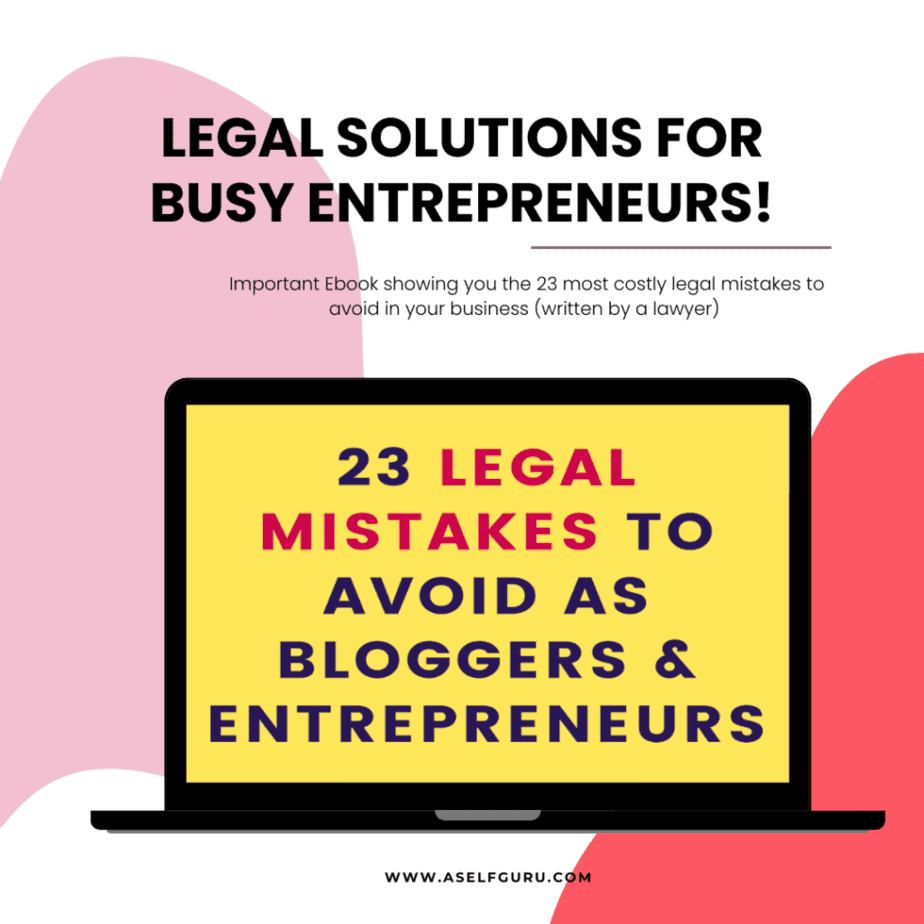 FAQ on How to Become a Full Time Blogger
​Below are answers to the most common questions on becoming a full-time blogger.
How much do full-time bloggers make?
The amount of money you can make blogging is limitless!
Full-time bloggers have the potential to earn anywhere from a few hundred dollars a month, to tens of thousands of dollars per month.
There are so many different ways to make money blogging from ad network to selling online courses to affiliate commissions to working with different companies for sponsorships and more!
It all depends on how much time and effort you are willing to put in, as well as the types of strategies you implement. If done correctly, blogging can be an extremely lucrative and serious business.
The best approach is to focus on 1-2 ways to make money blogging and once you get great at it, then expand your focus on other ways to monetize your blog or even launch additional blogs.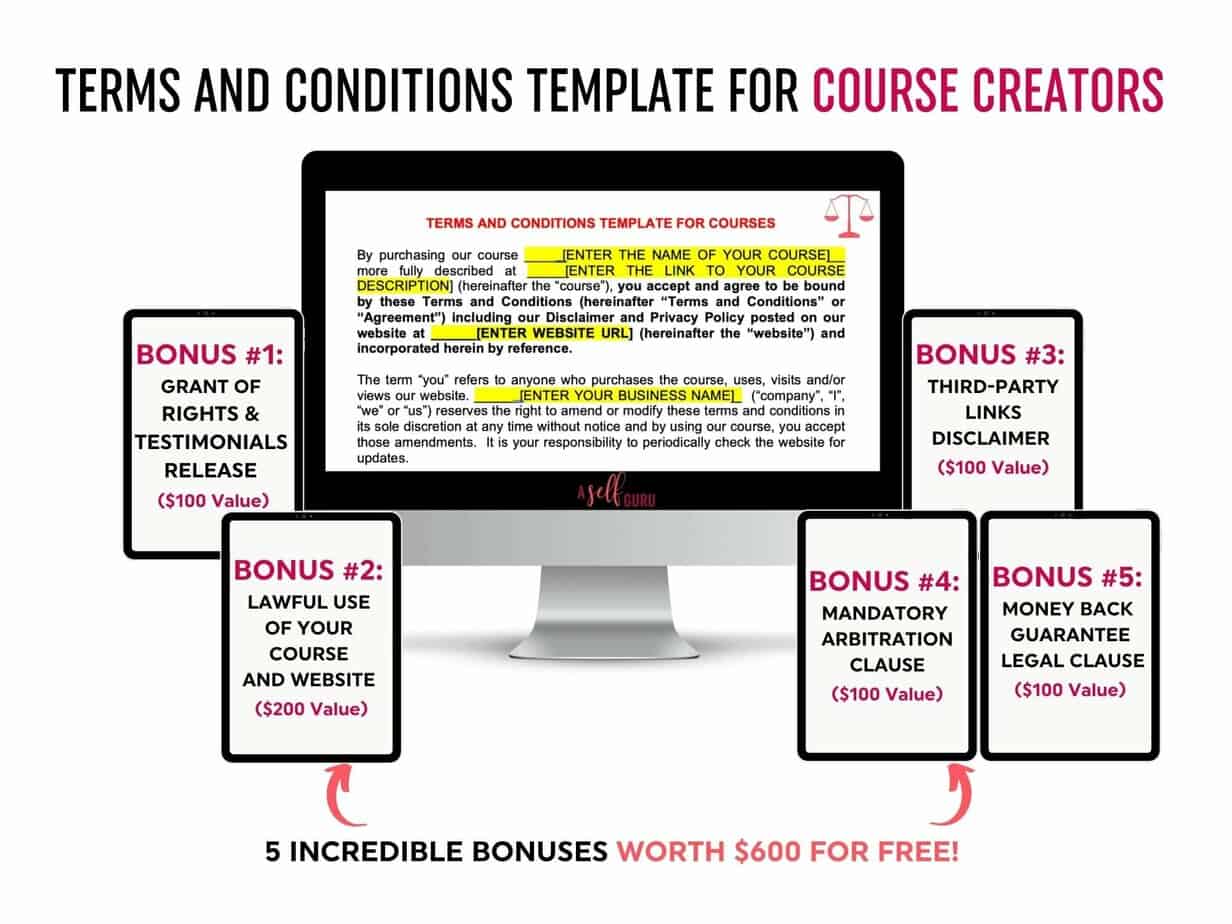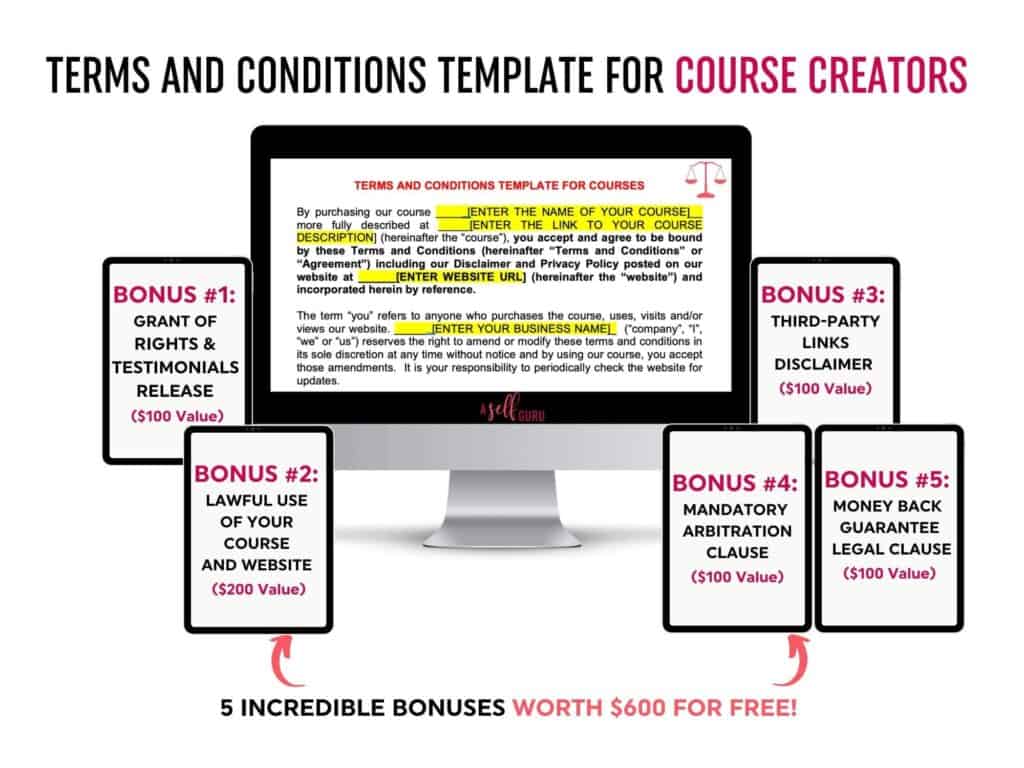 How do bloggers get paid?
Bloggers can get paid in a variety of ways.
Some bloggers receive payment directly from advertisers for placing ads (display advertising) on their blog, while others use affiliate marketing programs to generate revenue.
Other opportunities include sponsored posts or content, selling digital products such as ebooks, and offering services like web design or consulting.
Additionally, some bloggers may even be able to make money by creating physical products. With the right strategy, you can make a lot of money or passive income from your own blog and turn it into a full time job.
Can you make $1000 a month blogging?
Yes, absolutely! I made my first $1,000 in my first month of blogging and I share some of those strategies here.
Feel free to book a personal call with me here to learn my secret tips and tricks.
A lot of people don't use the right strategies to make money blogging, which is why they struggle for a long time.
You should invest in blog coaching or good blogging courses here to get a head start instead of wasting time trying to figure out things on your own.
And here are the BEST Pinterest courses you should look into to get traffic to your blog quickly.
How do I make my blog a full-time job?
Many business owners have a blog but not all of them have been able to turn it into an online business that makes much money.
There are several steps to take in order to make your blog a full-time job.
The first step to have quality content on your blog that is engaging and interesting.
The next step is to use keywords effectively so that search engines can find it easily.
Additionally, you need an effective SEO strategy which will help you bring enough traffic to your site.
You should also use social media to promote your blog and draw in more readers. Make sure you post regularly, include links to your site and engage with potential customers.
You can also monetize your blog by creating your own product or service that people can buy from you. You could offer e-books, webinars, online courses, physical products or even consulting services.
At the end of the day, you need to be disciplined in your approach. This means setting blogging goals and mapping out a plan for how you will reach them.
Make sure you measure key metrics such as traffic, conversion rates and revenue each month so that you can review your progress and adjust your strategy accordingly.
Following these steps will help turn your blog into a full-time salary.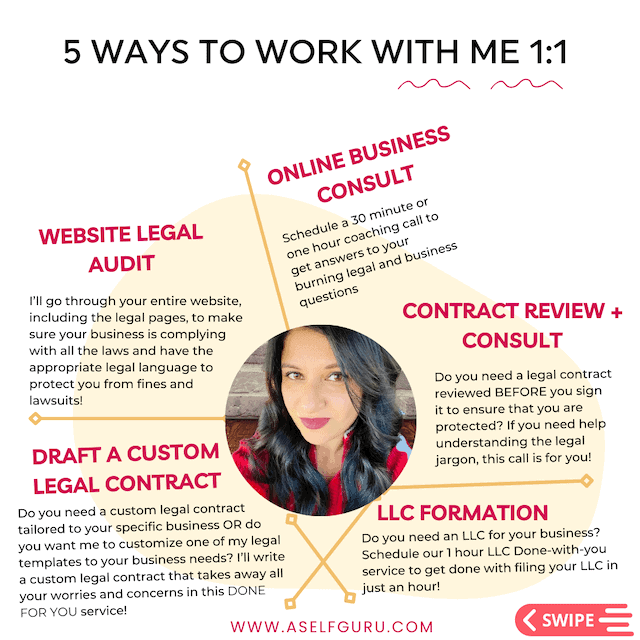 Final Thoughts on Blogging Full Time (How to Become a Full Time Blogger)
I know blogging will push you outside of your comfort zone and you will need to learn new skills to become a full-time blogger.
But in a couple of months, you have the potential of making good income and becoming an amazing blogger.
The hardest part is getting much traffic or page views but that's why you should focus on both Pinterest and Google SEO at the same time.
For Pinterest, learn the tips and tricks in this course or this ebook quickly. 
Remember owning a business is a lot of work! There's a learning curve and if it was easy then everyone would be doing it.
Blogging is a great career path, and it's one of the easiest ways to start your own business from home whether as a stay-at-home mom or dad.
It has given me so much financial freedom and it's been the best decision I ever made. You can do this too!
Good luck on your blogging journey and remember to keep learning every day. Follow me on your favorite social media @aselfguru to stay in touch!
RELATED BLOG POSTS ON BLOGGING FULL TIME
In addition to learning about how to post links for money, join our Facebook group here and you should check out the following helpful blog posts and tools for your business:
Visit this freebies page to get 5 awesome free business, blogging and legal tips!
MORE TOOLS TO CREATE A FULL TIME BLOGGING BUSINESS